What is the Fab 40's group
The Fab 40's is a group of five stylish fashion bloggers from around the globe. Each month we choose a different theme and invite a guest blogger also in their forties to join us. This group's goal is to take on style trends and show how we each interpret and incorporate them into our own lives. With six widely varied views, you are certain to find something that speaks to you each month and encourages you to have fun with fashion after 40.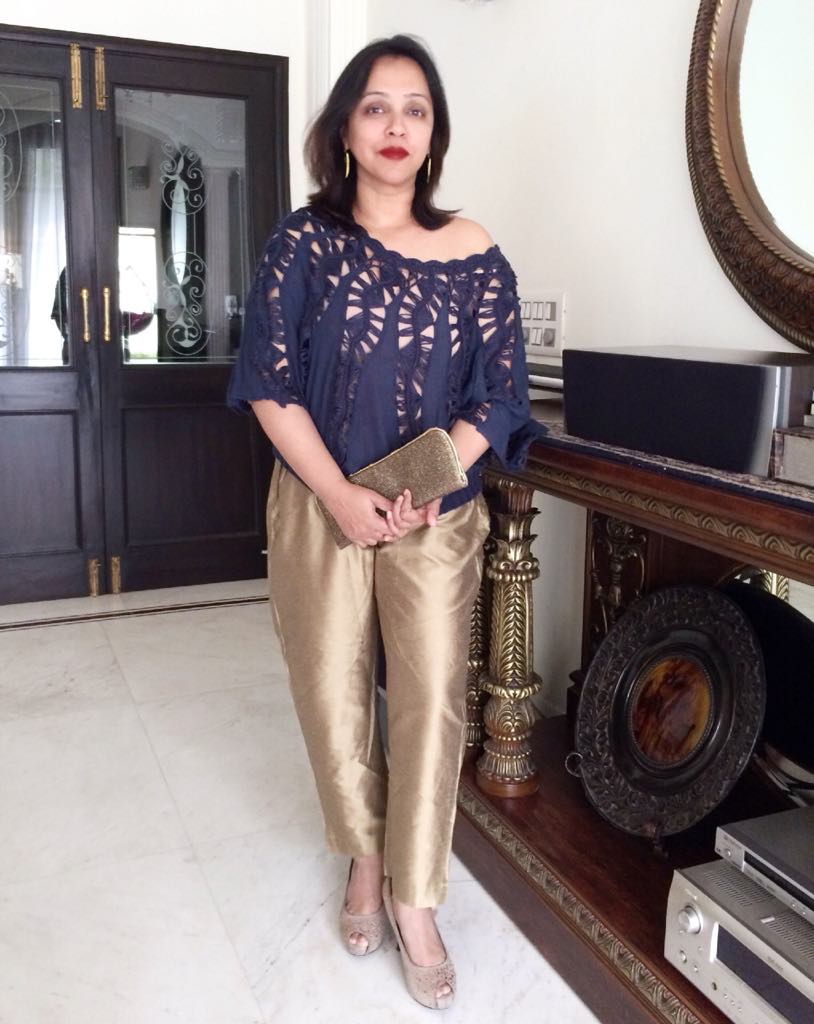 Does "love" have a color? Have you ever visualized yourself in a particular color or a set of colors while expressing love? Can love or the expression of it really change with the color of your outfit? What exactly does the term "Color of Love" mean? Well this is no questionnaire on the color of love! These are just a few questions that set me thinking after Daenel, my beautiful Fab 40 friend, gave us the theme of the month—"The Color of Love". Exciting, fun & most time appropriate considering that February is about all things LOVE! Well personally it was not too exciting for me since love has not been very kind to me. But then that would never stop me from celebrating it or at-least the spirit of it.
Well with almost every color having already been designated with a specific emotion or a certain amount of passion, I was really looking for something fresh and absolutely original. I really wanted to create a look which was not just a manifestation of my love but was also glamorous & sensual at the same time. Decidedly, blue being my favorite color, had to be part of this special look. So while I was rummaging through my wardrobe, I was thrilled to find this gorgeous navy blue mesh crochet top which I remember having bought from a mall in Bangkok a few years ago. I have worn this top a few times in the past but every time it feels absolutely new. Don't you feel that about pieces you love? And this top had just the right balance of sensuality, oomph & passion that I needed for today's look. But my showstopper garment was my pair of gold crop pants that really added the perfect glam quotient. This pair was actually a part of one of my Indian traditional outfits but it looked great with my navy top. A perfect example of sustainable fashion, isn't it?
Well the final touches to my color of love, were my pair of beige sequin studded peep toe heels, an antique gold clutch and a blingy pair of danglers. So all in all my expression of love is all about golds & its nuances and off-course my perennial favorite, blue. How do you like my "color of love" outfit? Do let me know in the comments below. Also do remember to celebrate love & romance in not just a particular month or a day but throughout life. 'Coz this is the only emotion that keeps the world alive……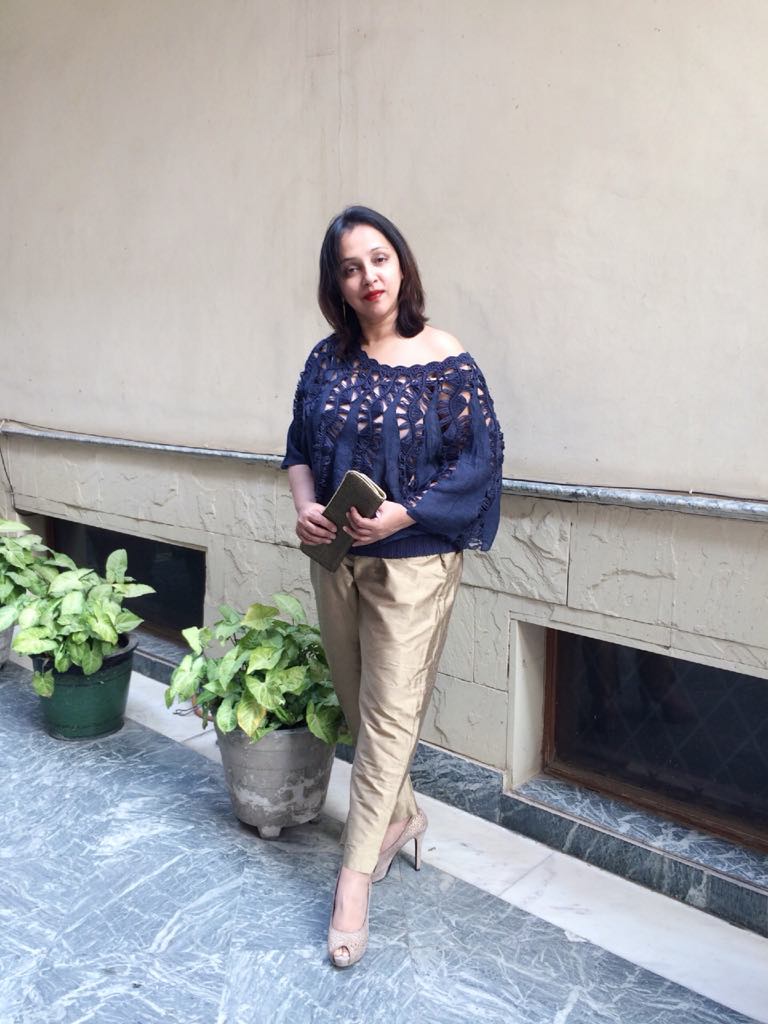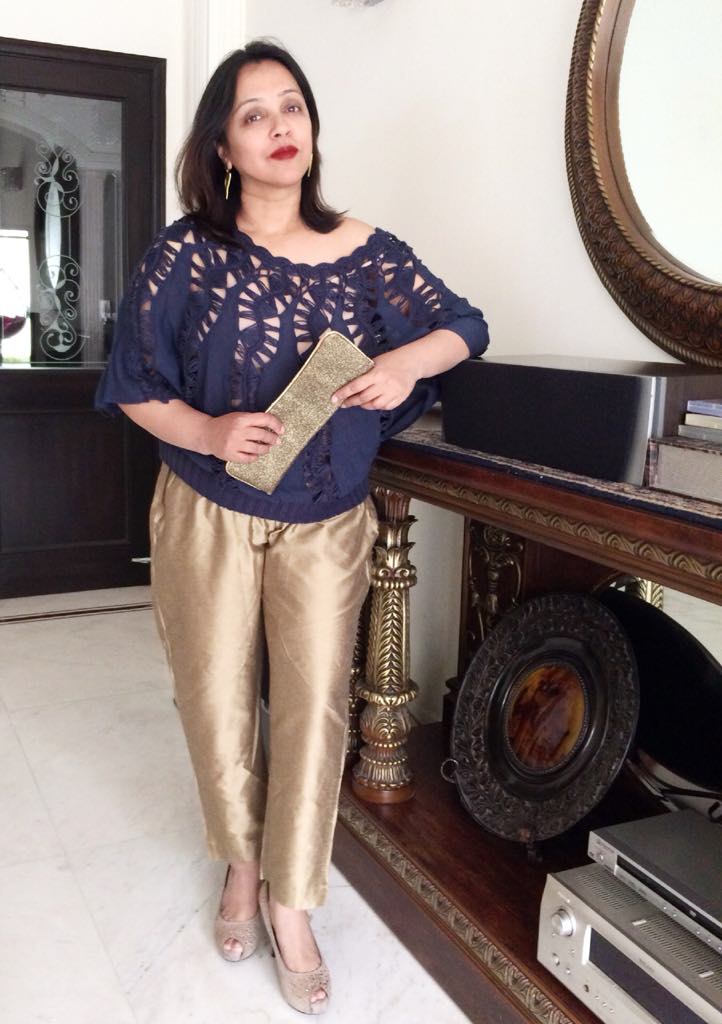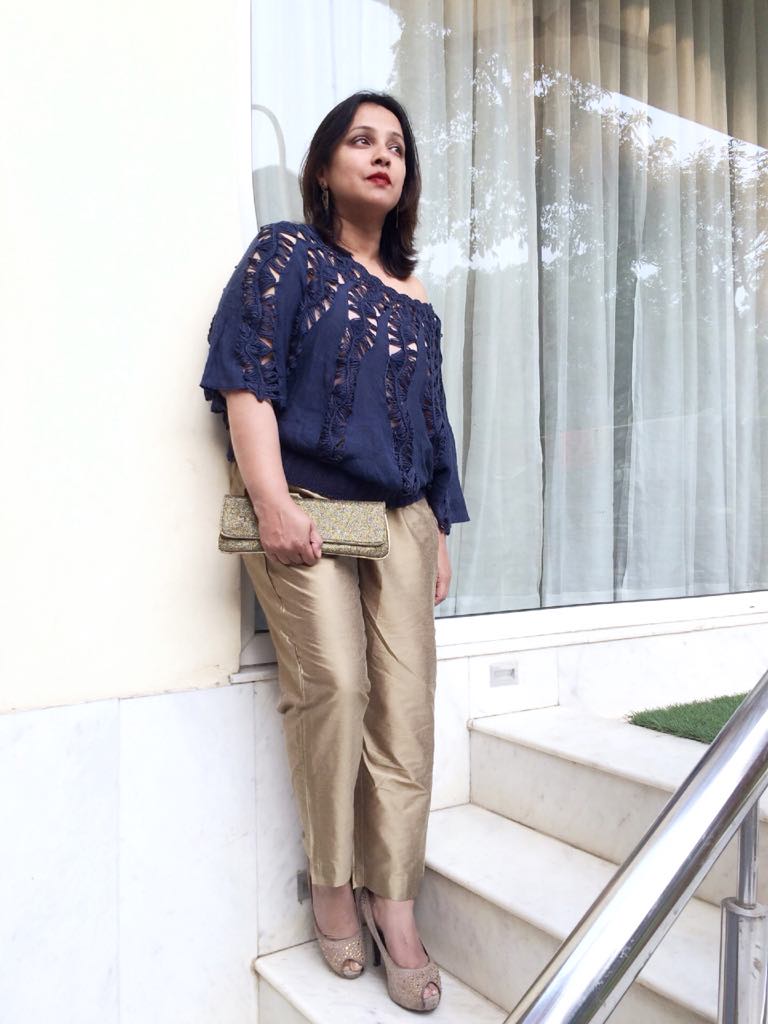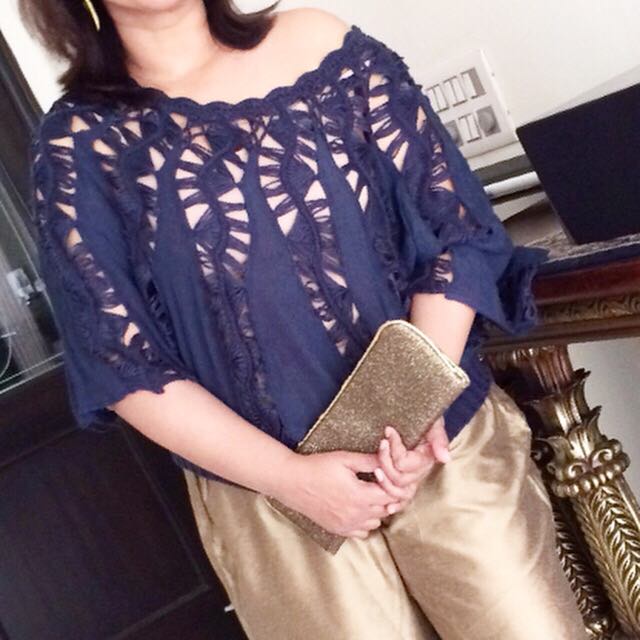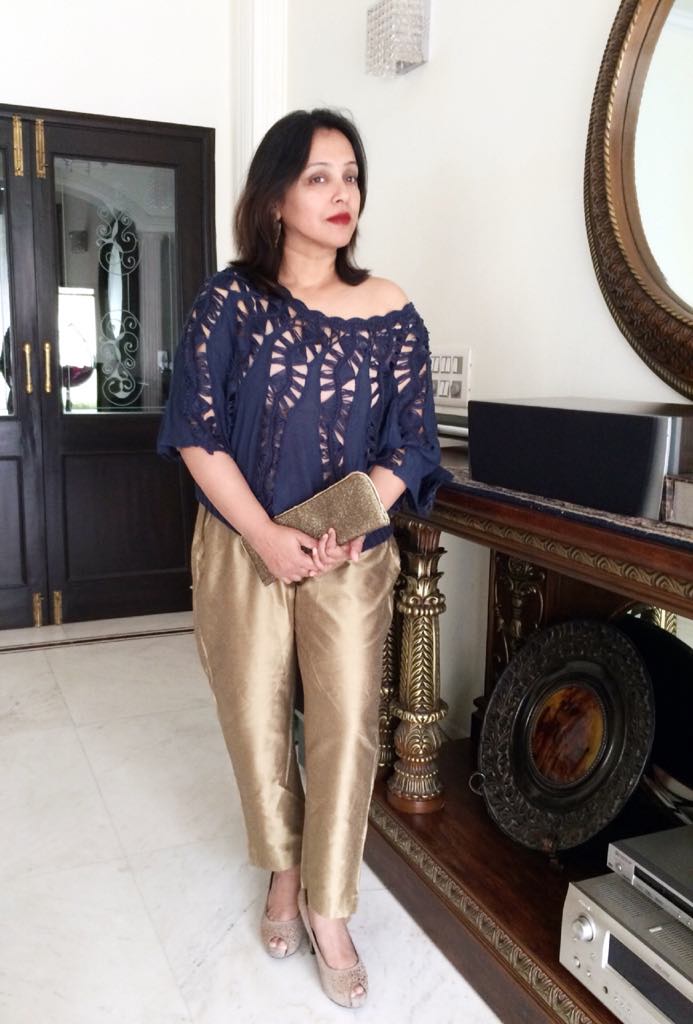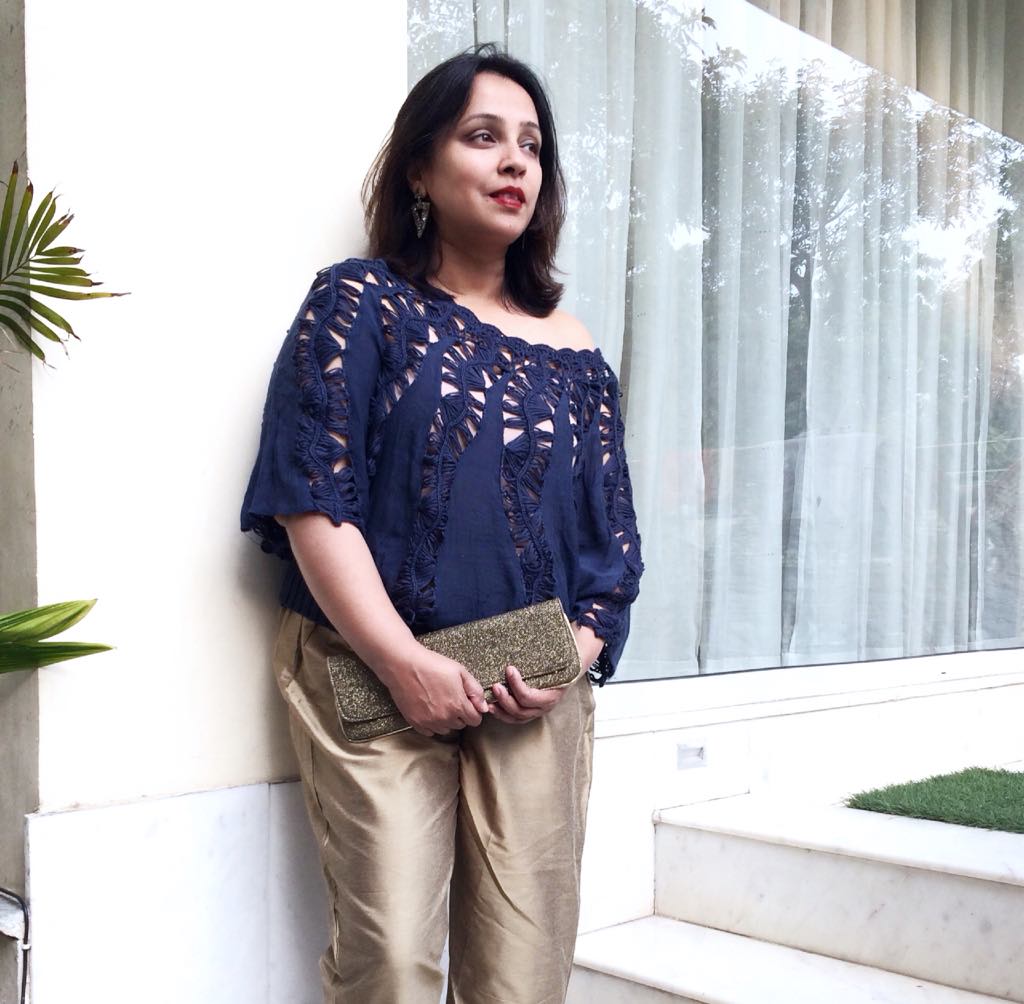 Blue mesh top: Platinum Mall, Bangkok | Gold Pants: Melange for Lifestyle Stores | Beige Sequin Heels: Woodland (Similar here)| Antique Gold Clutch: Rajouri Garden Market | Earrings: Flea Market, Delhi
---
Time to walk you through some of the most stunning, passionate & romantic looks created by my fellow FAB 40 bloggers for this month's theme!
Shelbee | Shelbee On The Edge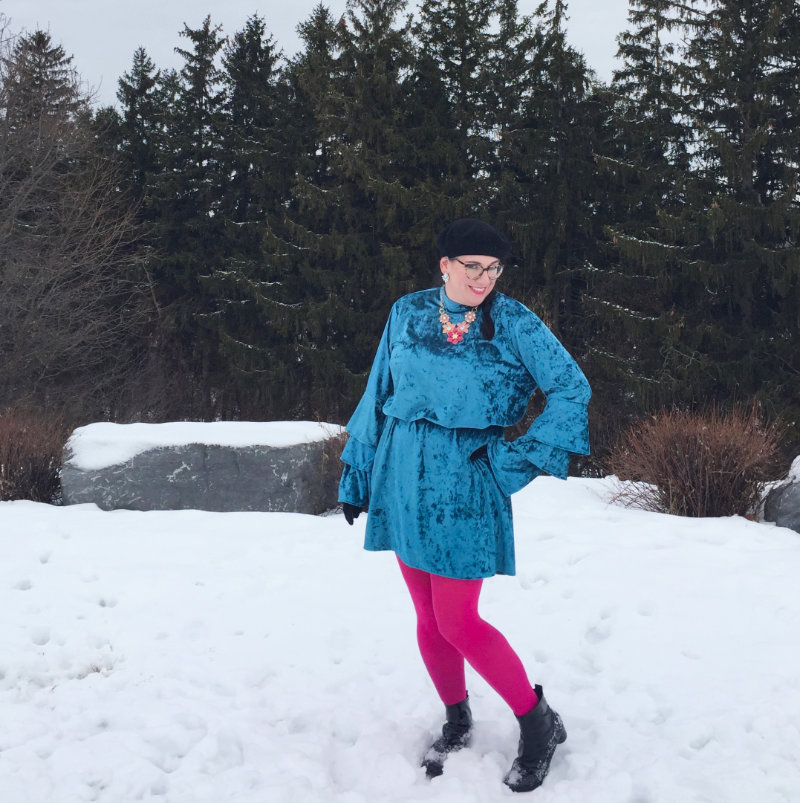 Dress-c/o Zaful | Tights-Sock Dreams | Boots-Shoe Dazzle | Gloves-Isotoner | Beret-TJ Maxx | Necklace-Old | Earrings-c/o Happiness Boutique
Loud, bold, colorful with all sorts of crazy quirkiness is how Shelbee defines her look for today! And I could not agree more. She is giving us bold & bright color palettes to choose from with her teal & fuchsia combination outfit. I mean there is always fun and whimsy in playing with colors and hues and Shelbee proves that right every time. How beautiful is her fuchsia neck-piece with her matching tights against that snow background! Divine….
---
Sheela | Sheela Writes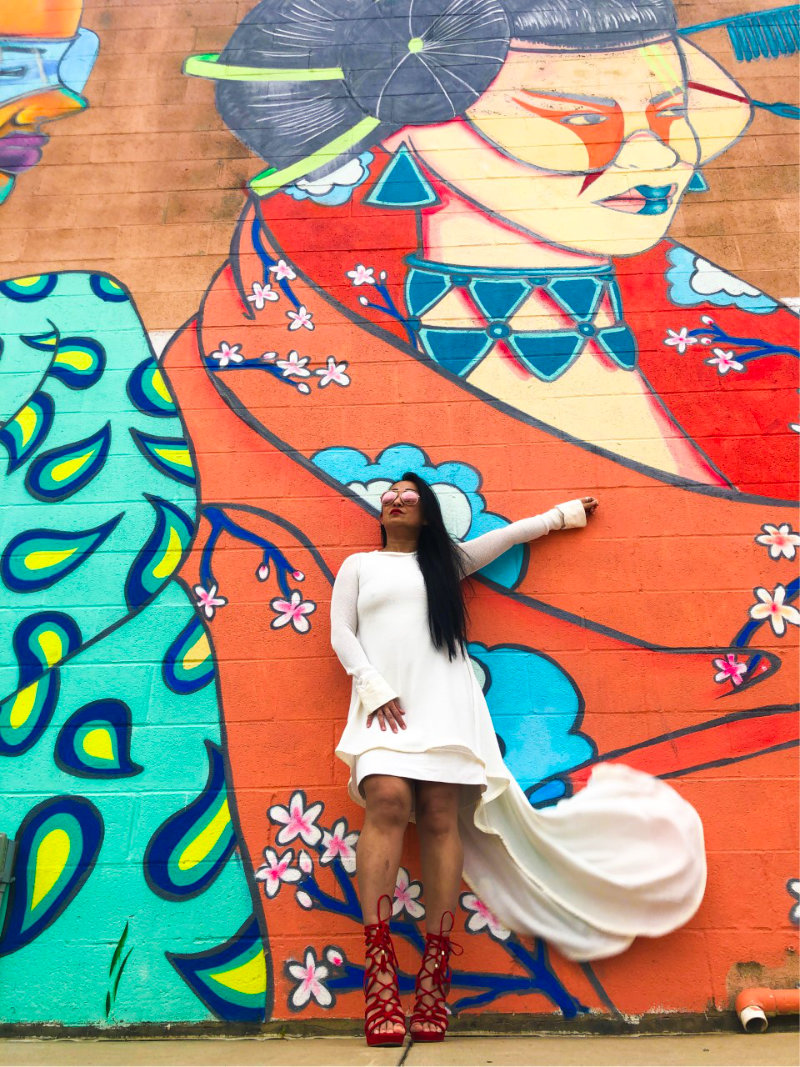 Shift tunic and overdress with train-Thrifted | Sunnies-Thrifted | Heels-New
Sheela is an epitome of bold, sensual love in her flowy white dress and red mesh heels. A perfect example of less is more! With just three pieces, Sheela defines love that is pure, divine, powerful & passionate, all at the same time. Her white dress with a trail is absolutely ethereal; a complete statement piece. And those red slayer heels scream love, passion and romance like nothing else.
---
Suzy | Suzy Turner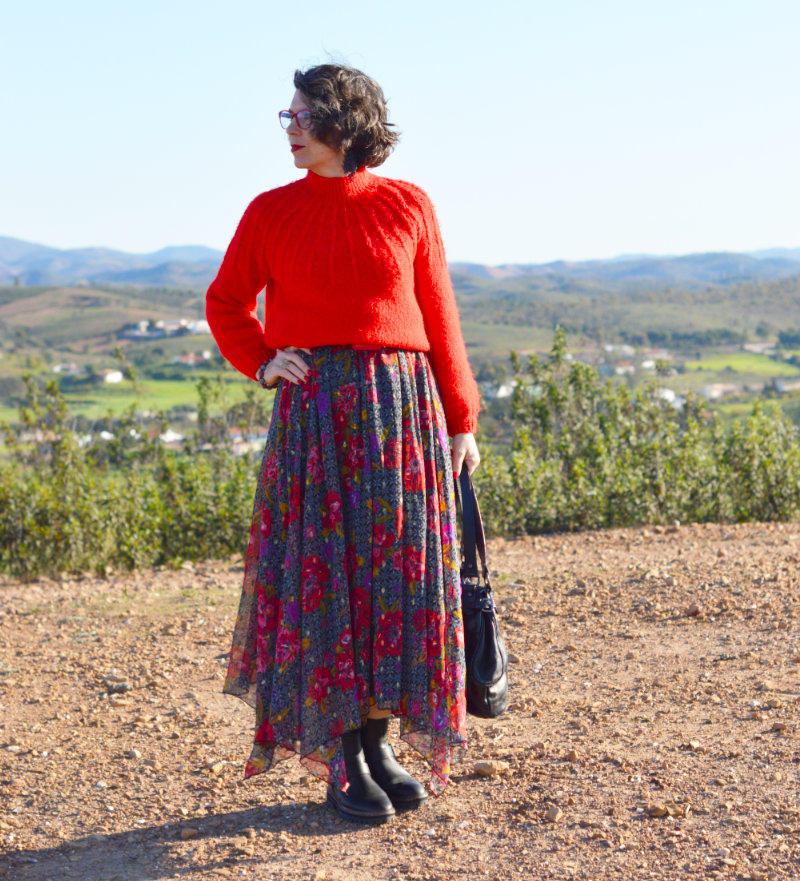 Red jumper-Mango | Red, gold and purple dress-Promod | Black biker boots-Timberland | Black leather handbag-Marta Ponti | Black butterfly earrings & rings-Gifts from mother-in-law
I would wear Suzy's look in a heartbeat. Look at that beautiful floral skirt with muted shades of purple & burgundy juxtaposed with a solid, vivid red jumper…totally romantic & chic! Those biker boots & leather handbag are adding the perfect touch of edginess & trend. I would sum up Suzy's expression of love as traditional, vibrant, passion with a punch of swankiness…..
---
Daenel | Living Outside The Stacks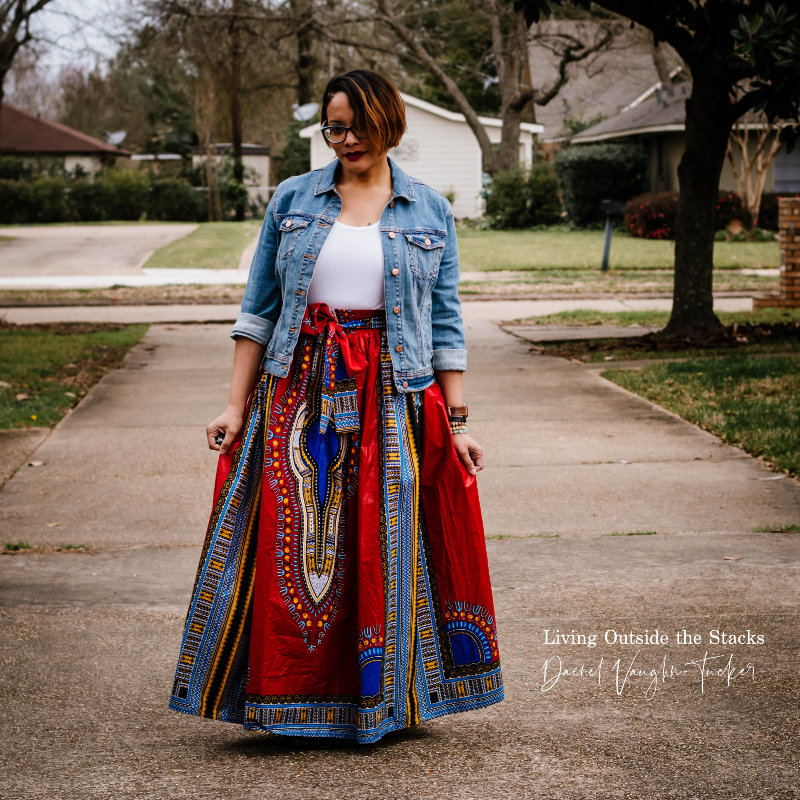 Daenel has captured the very essence of love in her gorgeous, fiery red & blue folk patterned skirt. It only goes on to prove the richness of her love & heart. Paired beautifully with something as basic as a white T and a denim jacket, Daenel has created a statement look that speaks brilliantly of her expression of love. And Daenel, that skirt has a million hearts from me!
---
With five individualistic takes, I am sure your mind must be buzzing with creative ideas to give your own special punch to your color of romance. It is an interesting exercise which will be worth the effort. Trust me on this 🙂
FOR CONSTANT UPDATES, CONNECT TO:  FACEBOOK | TWITTER | INSTAGRAM