Well there was the usual fun, frolic, bling, gossip, hype & all the brouhaha attached to any fashion show organized in the capital.India Runway Week Season 8, S/S 2017 that happened at Delhi's Thyagraj Stadium recently was no different except for the fact that the show truly patronizes the handloom and textile industry of India like no other show in Delhi. Adding glamour quotient to the show along with some serious design elements, the leading designers participated in the event, paying homage to handloom, textiles and other indigenous crafts of India. Having Bibi Russell opening the last season and Daniel Siyem promoting North eastern textiles, Agnimitra Paul doing the finale of season 6 and Shravan kumar being the finale designer of initial season,the magic continued this season as well where IFFD's India Runway Week dedicated day 2 to Indian Textiles and also had a special show for organizations promoting weavers of India which was curated by IFFD. Shravan collaborated with Khadi Gram Udyog giving us major style goals with his amazing collection. Though IRW had loads to offer in terms of styling and concept, what struck me was the textile, fabrics, textures and handcrafted materials used to prepare the different outfits and garments.Here are some of my favorite & hottest textile looks from IRW Season 8 :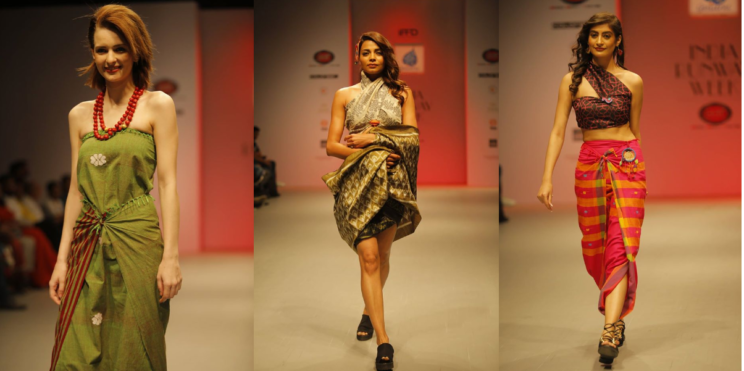 Gestures by Kriti– Handcrafted by Artisans and weavers their products symbolize the coming together of many gestures from Delhi, Bihar, Gujarat, Haryana, Himachal Pradesh, Kerala, Uttar Pradesh Uttarakhand, Maharashtra, Odhisa.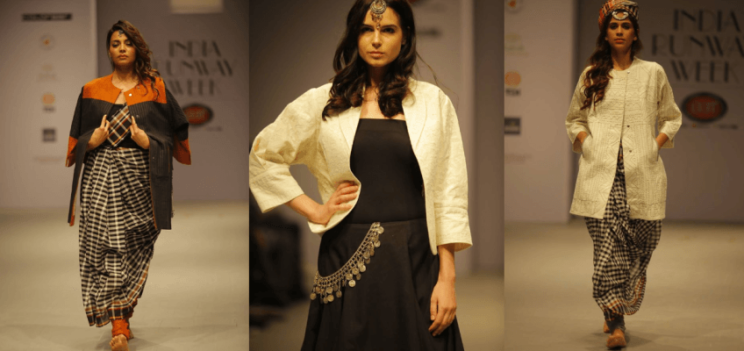 Rangsutra– Called the Be the change collection, this was inspired by Bahaus art movement which was aimed at bridging the gap between art and industry.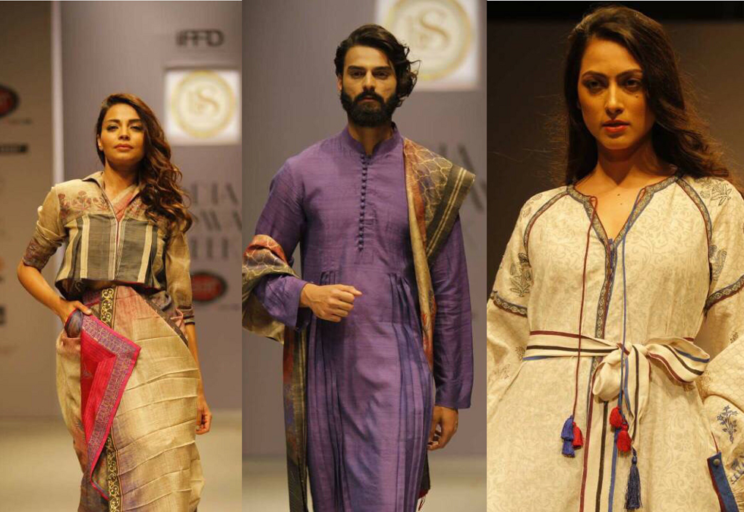 Banka Silk– Displaying work of weavers from Banka, this collection has motifs which show the beauty of Mughal monuments. The clothes have been made for the women of today who balances modernity with traditions.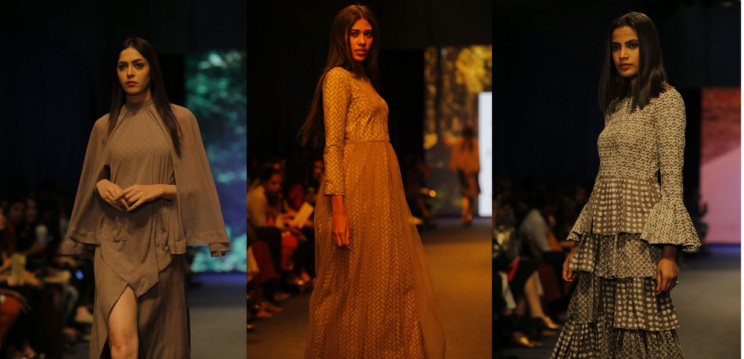 Sejal Jain – 'Defining Lines' is a fusion of the traditional and the modern by taking inspiration from conventional techniques i.e. Dabu Print, tie-dye and hand embroidery and combining it with the modern silhouettes to give it a modern approach and to create a new age look.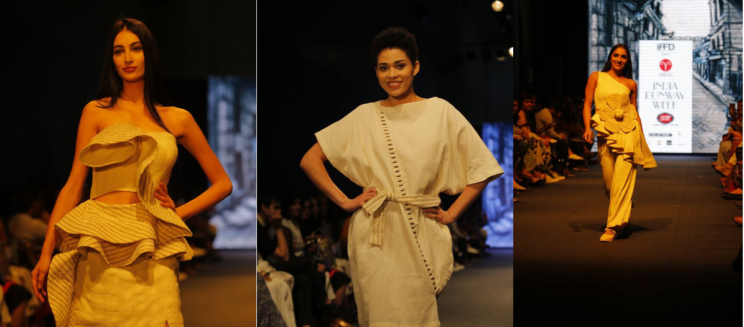 Purnima Gulati– 'The White Scream' collection, Purnima Gulati a zesty designer carries a subtle sense of dressing to devote to the society by expressing her affection for handloom via her label "Thhreads".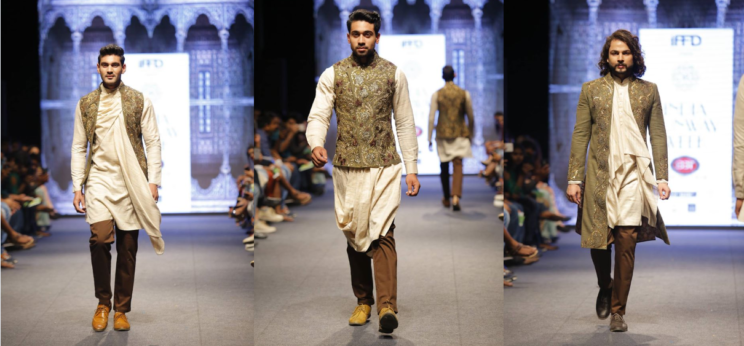 Swarnima Shreya– 'Misery to Miracle' based on the life of the weavers of Jharkhand who make tussar silk and muga silk which have been primarily used in the collection. The misery of their lives and the beauty of the ultimate result, the rugged look of the fabric and rustic life of the weavers; spun into the drapes of the silhouettes and flow of the garments.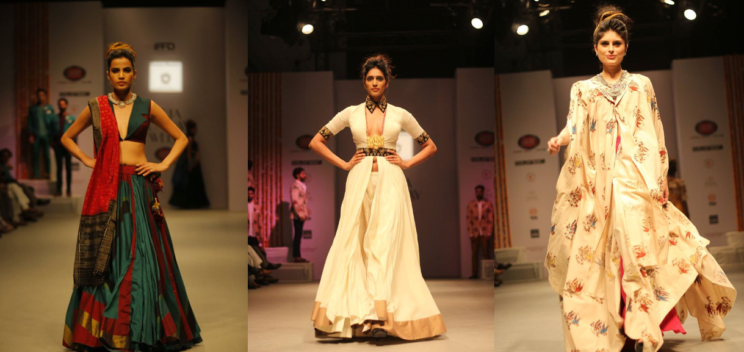 Shravan Kummar – A sheer love for the traditional textiles and passion for working with craft clusters helped me to witness a rare, dying and endangered craft of making a "pachedi" which is a canopy for the mother goddess is totally sustainable, eco-friendly and hand painted with vegetable dyes which is offered to the goddess to fulfill its purpose.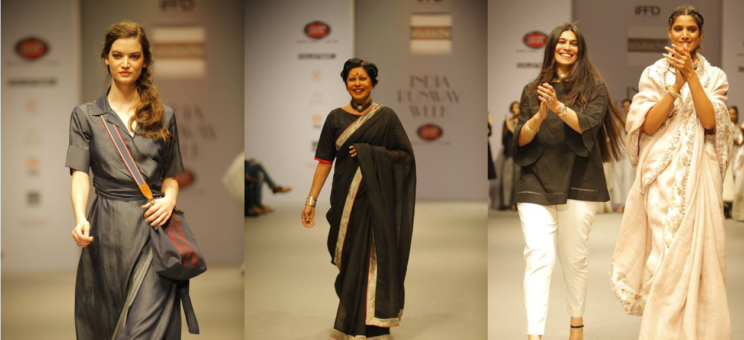 Soutache by Designer Gourika Sharma – The colors used are cool blues, shades of sand, pristine whites and the pale florals of a spring garden. The fabrics are fine linen, linen blends, silk and textured cotton – specially crafted for this collection. The blue outfits are highlighted with pin-tucks, hand worked ladders and tie dye patterns inspired by Shibori.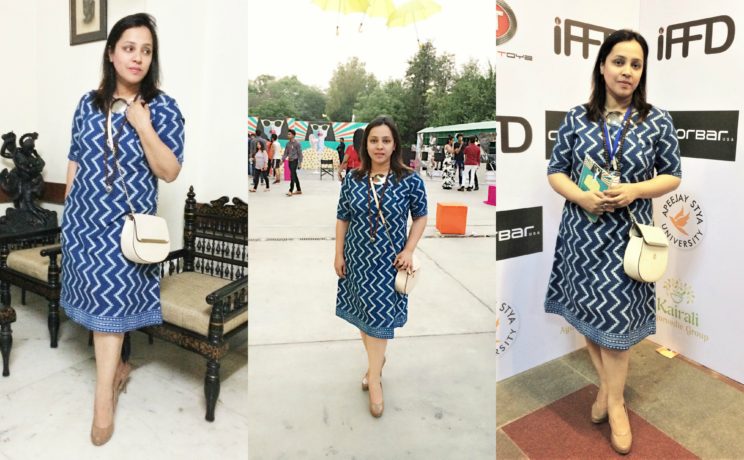 In keeping with the mood & spirit of IRW, I made sure I wore something with a raw Indian appeal. This Fabindia knee-length dress fitted the bill perfectly. It's a typical Indian indigo chevron dabu print textile that has such an organic feel about it. The metallic chunky stud necklace and a Rudraksh necklace were great additions in complimenting the look. However I added the western punch with my nude Debenham pump heels and a cute Forever 21 handbag. This is what may be termed as a total eclectic look which is basically Indian but with some mixed styling flavor.
To get full details on India Runway Week, Season 8, click here!