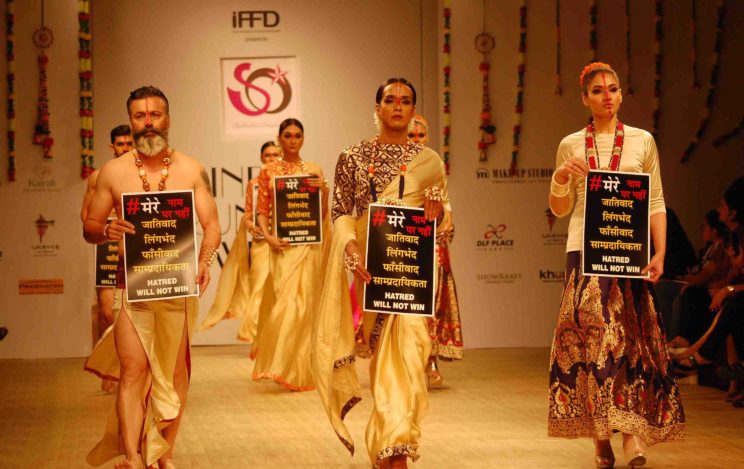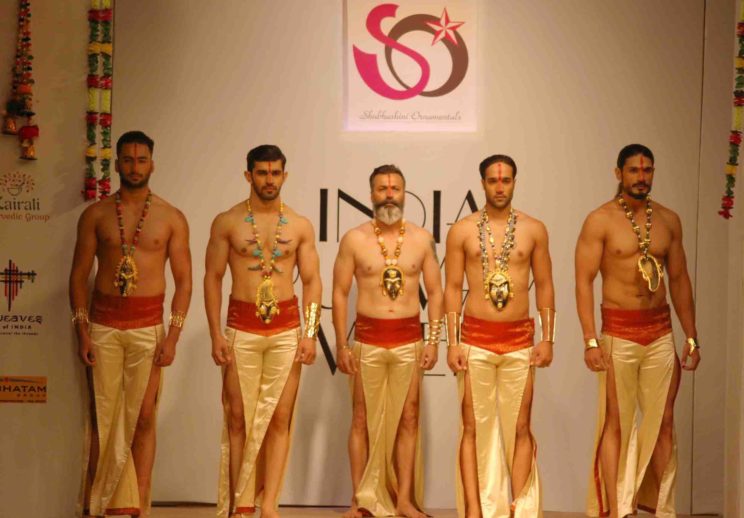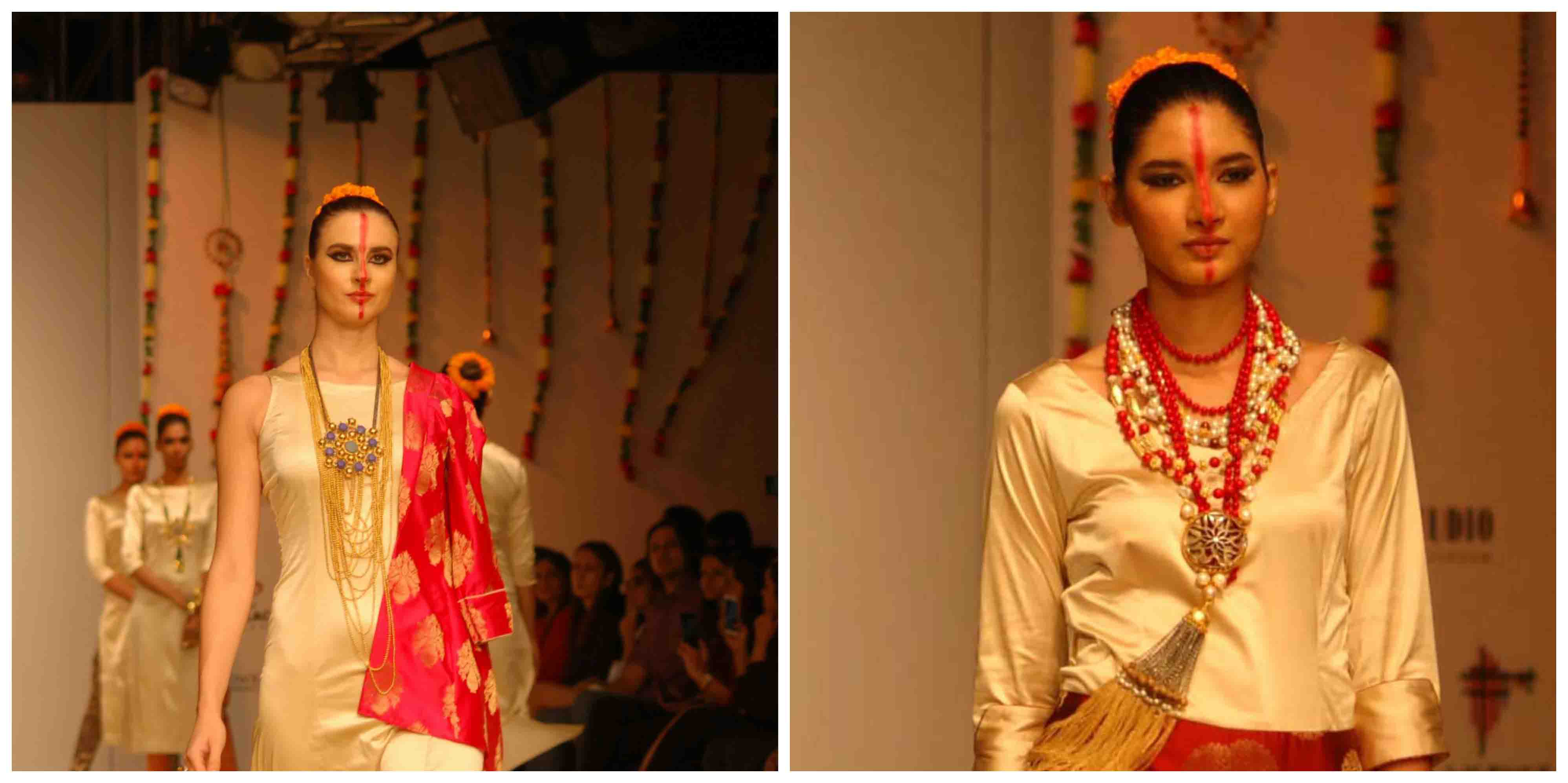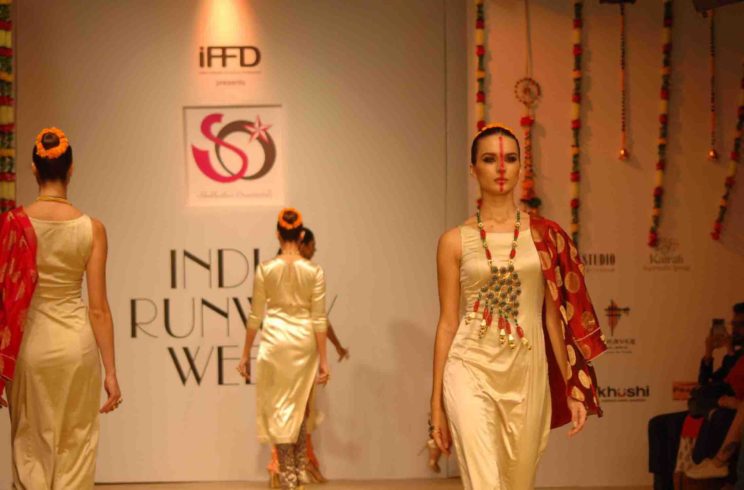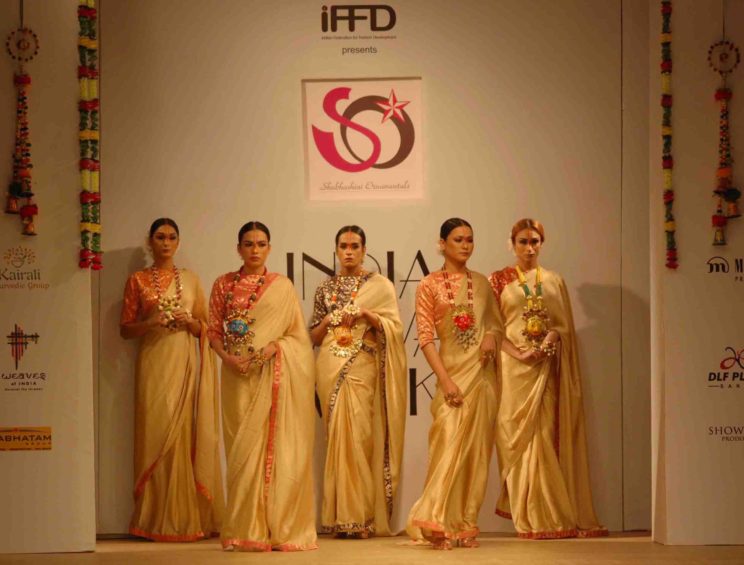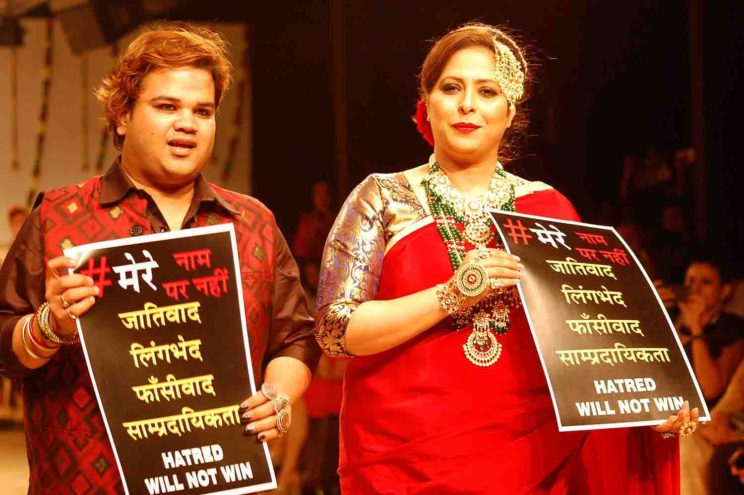 India Runway Week Season 9 was full of exciting moments, stunning creations, magnificent facades and trendsetting street styles. This time of the year is jam-packed with fashion weeks happening all over the country to announce trends for Spring Summer 2018. IRW was no different! This year it was held at DLF Place Saket Mall and was definitely larger in scale and spectacular in design approach.
With a multitude of talented designers showcasing their designs at IRW, it was impossible to be present at every show. I particularly chose to witness the magnificent show Shubhashini Ornamentals RangYatra – A million color story — by ace jewelery designer, Akassh K. Aggarwal. The show began with an eye catchy ramp walk by the show stopper Geeta Kapoor, who is a famed ace Bollywood choreographer of 'Dance India Dance' fame. Popularly known as Geeta Maa, she walked the ramp on a classical song by the legendary Kathak exponent Pt. Birju Maharaj. She also raised her voice against the growing incidents of violence in the country. This was one of the main highlights of Akassh's show.
On the occasion, Akassh explained the finer aspects of his collection in his signature jewelery expert style. He said, "This season brings us to unfold a new vibrant set of hand-touched jewels that resonate with grandeur of India's vivid art, culture, music, literature and even architecture. Our collection waves from an inspiration of the symbolic old tribal Indian touch from the heritage art of Dokra, Koftgari, Bidri, Meenakari, a slight vivaciousness of Peroi with fine Jadau techniques mixing in filgiri motives alongside a fire of stamped light-weight metal sheet work with the boldness of embossed 3D in metallic gold and silver to the stunning enchanting shine of Emeralds, Rubies, Sapphire and of course the delicate Pearls."
"Our assortment of multiple accessories gives the edge to the collection making it versatile and perfect to be adorned both traditionally and in contemporary context" added Akassh, who has degrees in Gems & Jewelery making from the renowned institutes such as the Indian Institute of Gems and Jewelery, Gemological Institute of America and Foreign trade Development Centre. He is one of the top jewelery experts of the country who has risen to unprecedented heights within a short span of seven years including a label on his name.
Akassh's Shubhashini Ornamentals RangYatra was more than just a fashion show. It was a reminder of fashion's power to reach out to a vast audience, wow the world with beauty in design and hold a lingering place in the collective imagination. I was extremely honored to have been a part of this monumental show that had a lasting impression on the audience.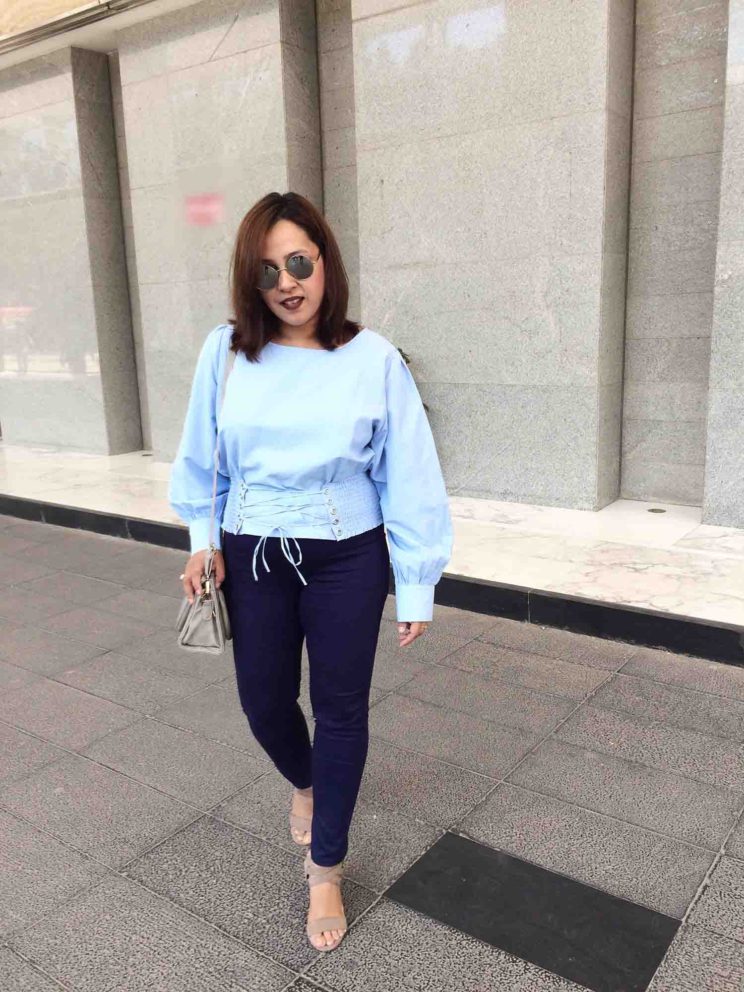 And now something about my outfit for the day! The sky blue top from Ajio was a perfect top to match the trendiness and sassiness of IRW! AJIO is gradually becoming my new online shopping destination for a lot of reasons. Each of their styles is absolutely spot-on with the current fashion trends and are quite effortless and easy to style. For example, this corset style front lace-up top with a slight balloon type sleeves is a statement top so I could keep the rest of my outfit simple & clean. The corset tie-ups also make me look slimmer around the waist giving a vintage vibe to the outfit. It is a minimal solid top that truly reflects my style and is also an ideal choice for the current fall weather.
I balanced the vintage-ness of the top with my skinny slim-fit navy Global Republic pants and F21 nude khaki sandals to come up with a contemporary style statement. I added the extra chic to my look with a suede gray cute, li'l shoulder bag (from Chinabrands.com) which brought the entire combination of sky blue, navy, khaki nude and silver-gray (sunnies from Rayban) together most splendidly. I just love the entire combination of such chic colors and mixed styles and they being so much in harmony with each other. What do you guys think?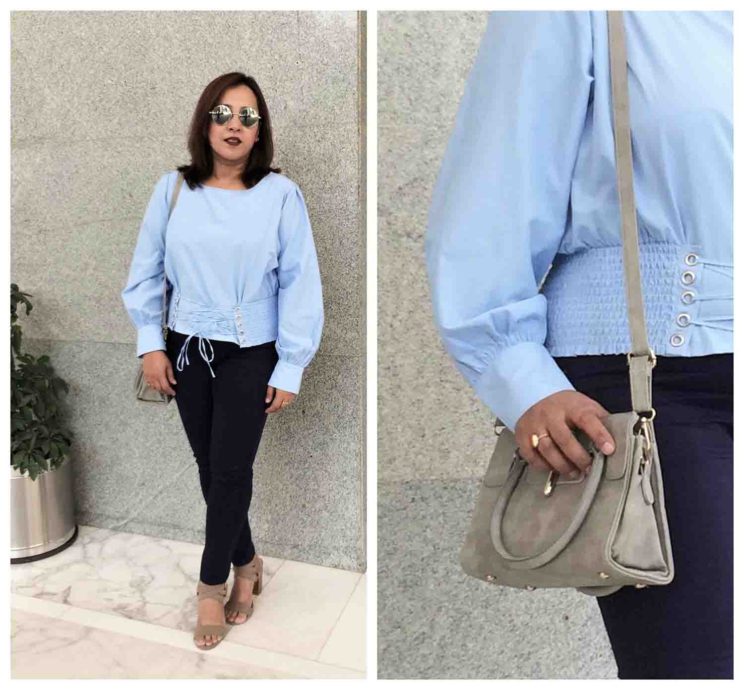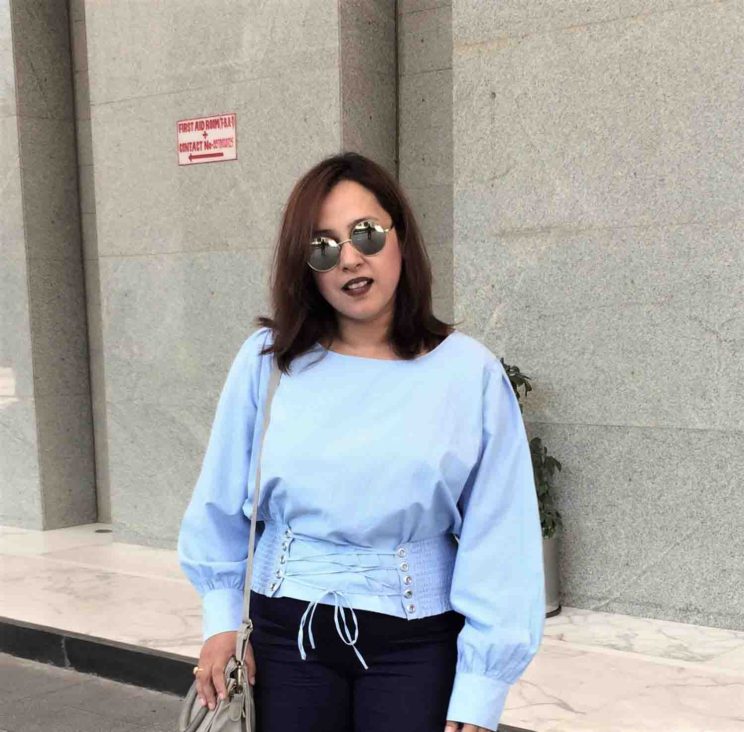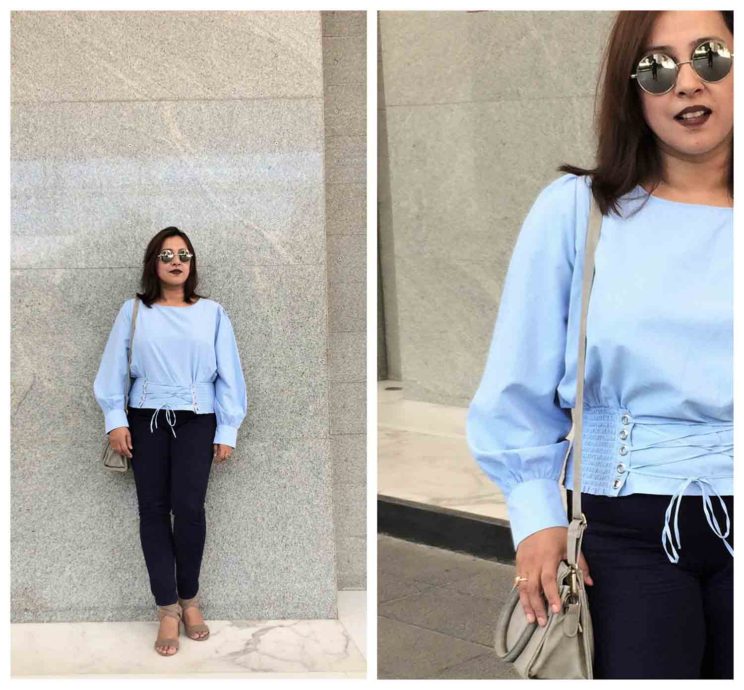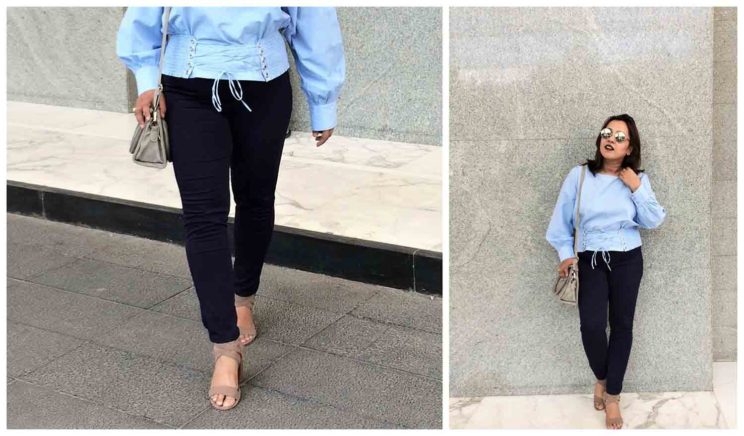 Outfit Details
Top: Ajio
Pants: Global Republic (Rajouri Garden Market) (Similar here)
Sandals: Forever 21 (Similar here & here)
Purse: Chinabrands.com (Similar here & here)