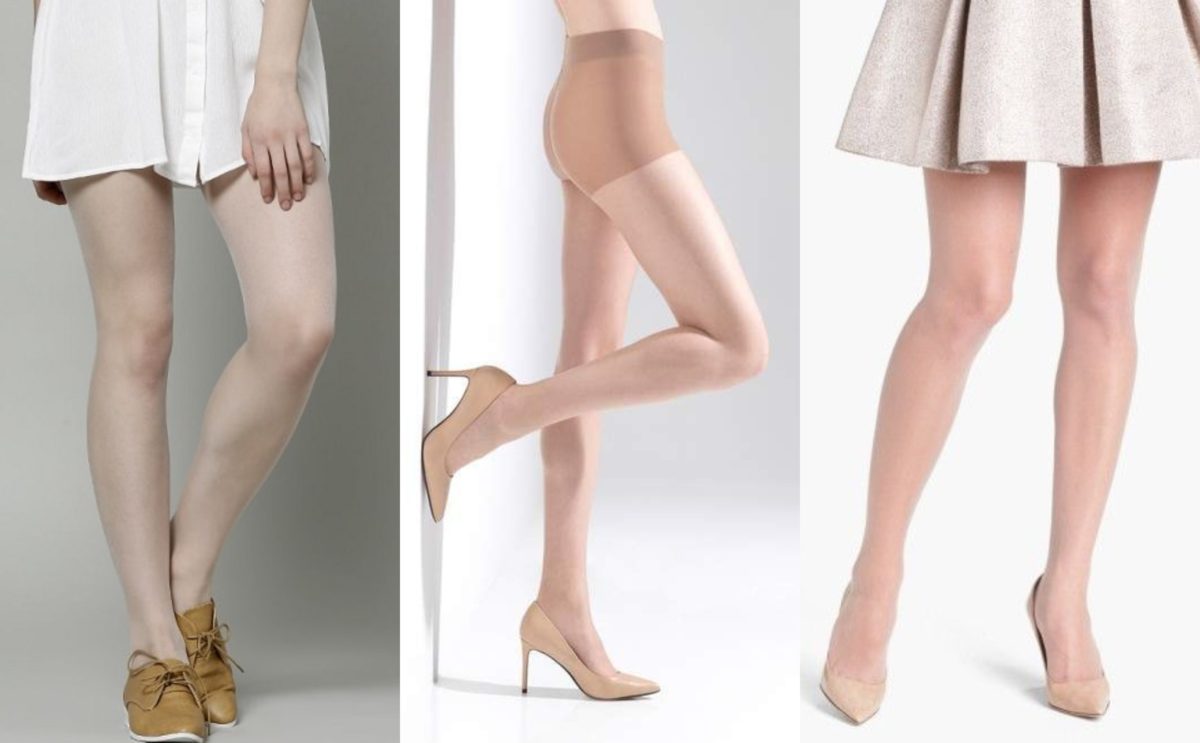 These may be more popular in the west but have already crept stealthily into the Indian fashion scenario too. PANTYHOSE are what I am talking about in today's post. More than a luxury, more than a fashion statement, more than a casual accessory, pantyhose has become an absolute necessity if you are wearing skirts, dresses or anything short that reveals your bare legs. Well, you may ask WHY! I mean if one has beautiful, tall legs, why not just let them be or just flaunt them as they are…Certainly, you can do so but wearing pantyhose is like giving a make-up to your legs! And who does not like MAKE-UP these days?
Hosiery, as understood in layman terms, is a class of tight-fitting garments worn on the legs and/or feet and for the most part, has a knit construction. These could be socks, anklets, pantyhose, fishnets, nylons, leggings, tights and stockings all of which make your legs look more beautiful, elegant & dressed-up. Available in different colors, textures, opacities, styles and even shape wear control levels, hosiery in general or pantyhose, in particular, is a great way to transform an outfit as well as give your legs a subtle, polished look. But pantyhose, now an established wardrobe essential, has manifold advantages besides adding more polish & finesse to your look. During winter/fall, they are your best friend keeping you warm & cozy and protecting your legs from going cold & looking pale. Additionally, the clinical benefits of wearing pantyhose cannot be ignored. Special pantyhose called compression stockings can help alleviate the aching, throbbing, and irritation that accompanies varicose and spider veins, a common ailment found in women above the age of thirty. This type of hose can also help prevent swelling around the ankles, feet, and legs which is a common condition among women who are overweight, have blood circulation issues, are pregnant, or take certain medications regularly. And most importantly, for curvy women, slightly thicker hoses can camouflage cellulite or any sort of imperfection easily.
For the majority of women in corporate jobs, pantyhose are like a wardrobe staple. So if you are sitting on a desk working or at a work get-together or even on stage at a large corporate function, this piece of accessory is almost like a professional protocol. Many airlines have a dress code policy insisting that their female flight attendants wear them. Even a majority of female executives in the hospitality industry are required to wear hoses as part of their daily uniform. So whether a formal function, a glamorous event or just a fancy party, a hose is as integral an accessory as your jewelry or footwear. As far as the types & variety goes, there is no dearth! You can find and shop now a huge variety of hoses online that would instantly add that edge to your style. You can go in for light, sheer, nude ones or for skin, glossy, nude ones or hipstick, fitted, sheer tights or even skin curvy pantyhose for slightly curvy legs. A good pair of sheer, flesh-toned pantyhose is a versatile pair that is perfect for your daily routine and even acts as a slipper layer so that skirts and dresses don't bunch or ride up as you walk. Almost a great life hack 🙂
So if you are looking for that smooth, silky, perfect, leg-line, the answer is right in front of you! From the Duchess of Cambridge, Kate Middleton to Paris Hilton and Kim Kardashian to Kate Moss, almost all celebrities across the world, wear or have worn pantyhose as a part of their casual/ couture outfit. Comfort, style, elegance – all spell in that small, luxurious, beautiful piece of garment. Undoubtedly a pantyhose makes your legs look better & more streamlined while elevating your outfit to a whole new level!