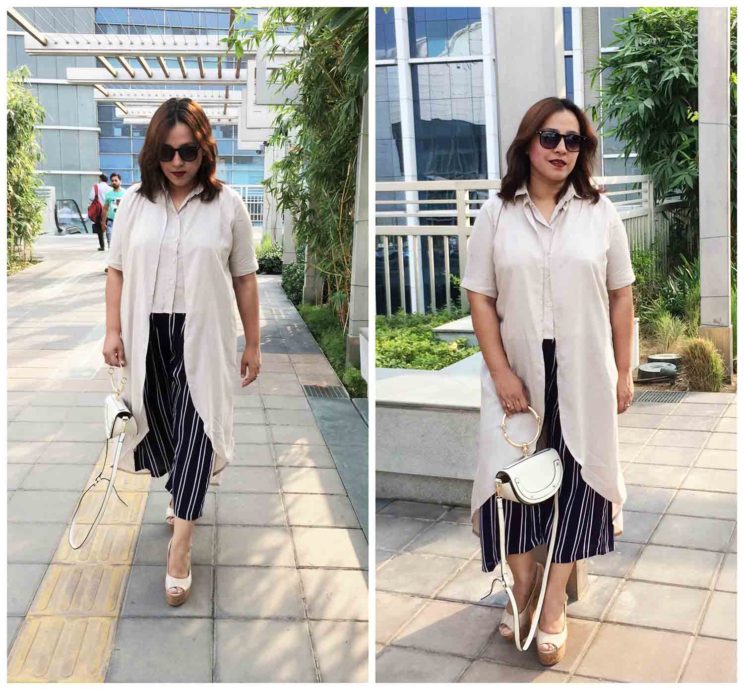 Trends come and go all the time. Some become classic over a period while others go volatile and there are still others that make fleeting appearances now and then! Same goes with street style trends that form runway inspirations at times and at other times vanish as quickly as they came. Talking of street style trends, I have come up today with some quick & easy trends to add chic to your street style outfit and make it drool-worthy. These simple style techniques would ensure that you carry your street outfit not just on the streets but even at places where you need to look a bit formal. Basically, today I am aiming at making your street outfit more versatile and adaptable for several number of occasions. Three simple hacks and you go from street style to chic within minutes!
Footwear
Ditch your flats/ slip-ons for heels/ pumps (the classic black ones)/ stilettos and you instantly look taller and definitely more modish. Replace your moccasins with wedge heels or your slip-ons with stilettos for that instant chic. This would definitely make your look more elegant, effort-worthy and super stylish. You could experiment with different styles of pumps/ stilettos such as those with sequins and studs for that extra sparkle (example here) or the ones with cute frills/ patterns that are so much in trend. The important key is adding those extra inches to your footwear (something in nude is always a great choice) .
Bag
This is a super quick way to add a touch of dash and chic to any street style outfit.Think structured bags (examples here, here & here) , designer bags, studded bags, metallic bags or anything that has that extra special touch. Anything that is slouchy, casual, boho or has a DIY feel is a big NO. Basically anything which is not too big, structured or has a geometric silhouette fits the bill perfectly. I also like the classic, thin body bags with structured, stiff handles which give the 70's vibe but are very chic at the same time.
Sunglasses
With sunglasses you can let your imagination let loose and choose to go either the classic way or the modern way. I like to keep it more classic as you can see from most of my outfits. But you can easily rock your street style outfit with the right kind of sunnies because it is a great way of tying the outfit together. You can choose from the trendy cateye (with whole lot of versions & colors, example here), geometric shaped (these are really trending these days with all kinds of shape combinations, example here) or the always-in-trend aviators (example here), the classic round shaped ones or even the retro shaped ones for a more vintage feel.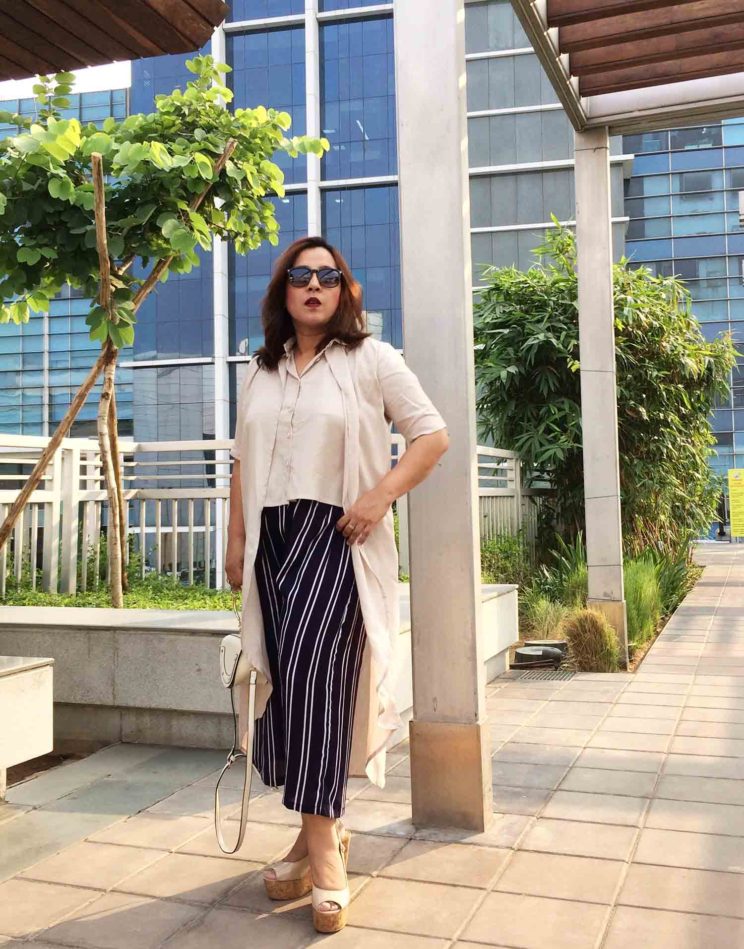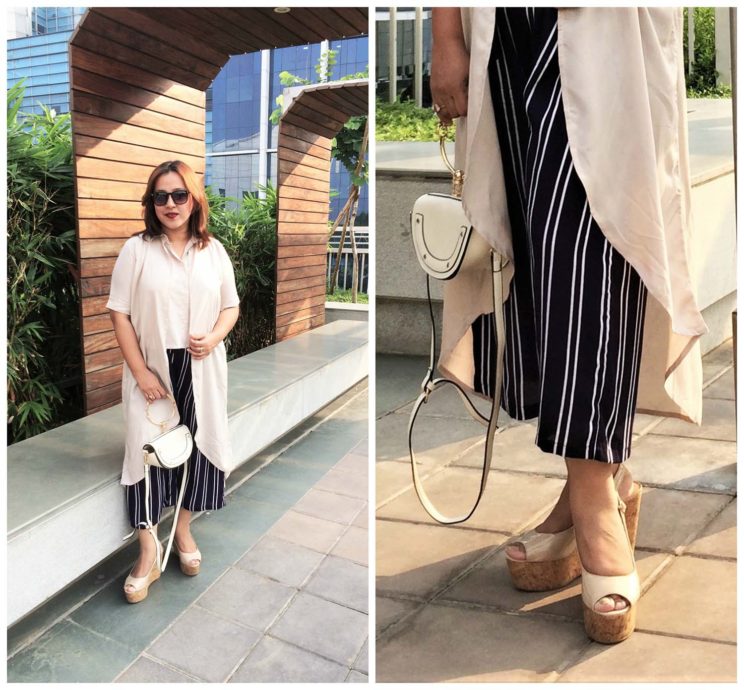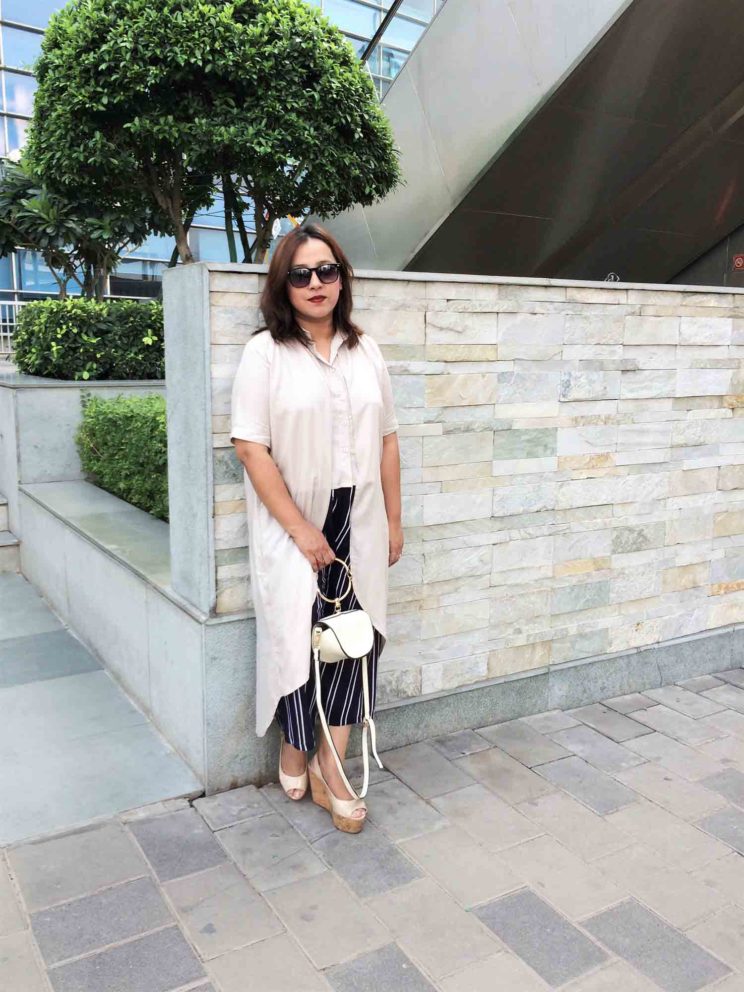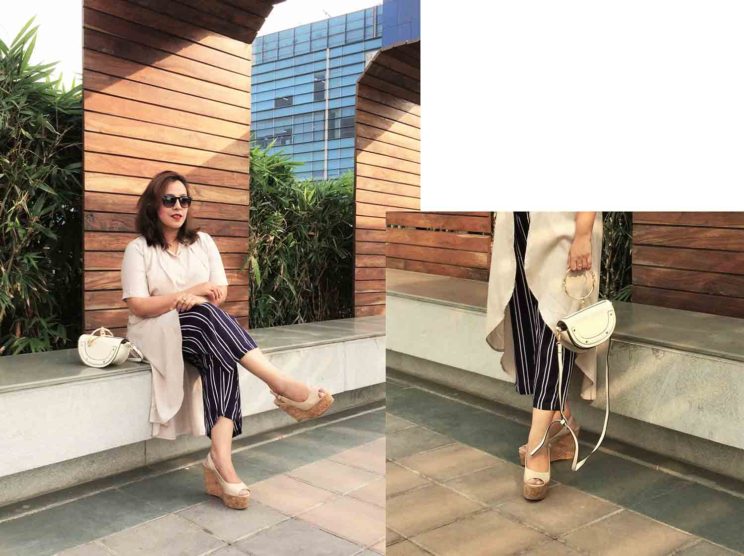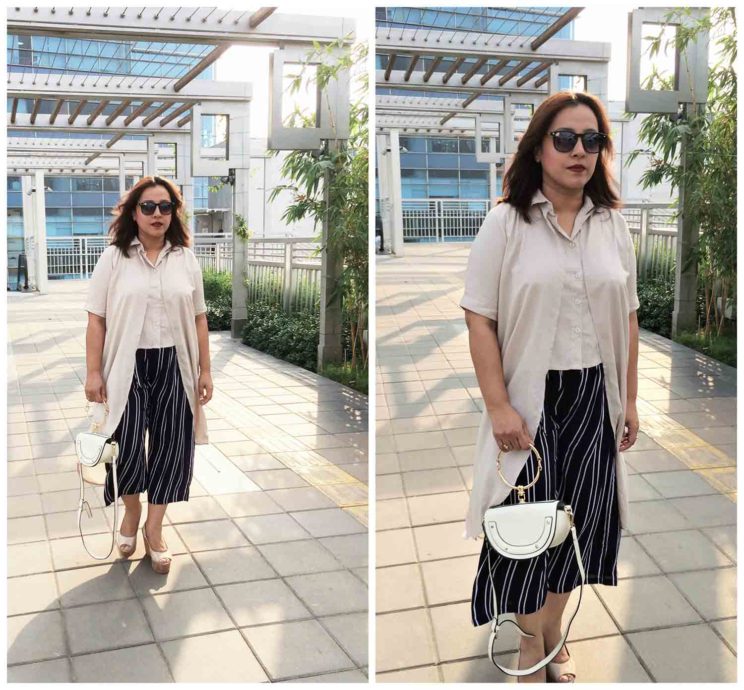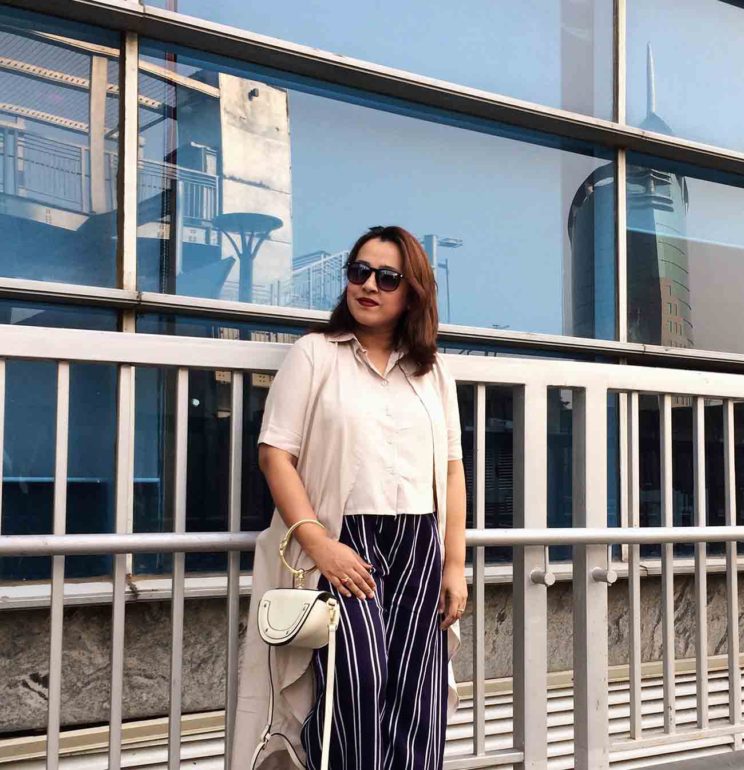 Stripe Culotte: M Block (GK-1 Market) (Similar here) | Cape High-Low Shirt: M Block (GK-1 Market) | Nude Wedge Sandals: Aldo (Same here) | Bag: Chloe (Same here)| Sunglasses: Gucci (Similar here)
As you can see I adopted the above 3 simple hacks and transformed my look to a more formal & chic one. The key to elevating a street style outfit is adding the right kind of accessories while maintaining the balance between individual elements.A little dash of deep lip-color or making a bun out of your open hair are other quick & easy additional hacks to make you street chic.