T-shirts may not sound like serious business initially. But if you were to dwell further, it would be safe to say that at least 80% of our times, we prefer our basic, classic T because its easy, comfy, casual and absolutely a go-to trend at any/ all times of the day. So does this get any serious now. Sure it does! One of the most basic pieces of clothing, T-shirt is one garment that is most versatile and can be styled in infinite number of ways depending upon your mood and occasion. Well today's post is all about styling your T-shirt for 4 different looks, each one so distinct from the other yet powerful and making an exceptional style statement.
As you can see that the Ts in question have a distinguishable design pattern and motif style. Well these are no ordinary Ts; these are a first-of-their kind making their foray into the Indian fashion market all the way from Australia. Designed by the soulful, surreal, outsider artist Damienlasaration , and produced and sold exclusively by redbubble.com, these T-shirts have carved a niche for themselves in the cosplay, animation & comic book looks and go particularly well with latex & leather, be it leggings or skirts. The designer, Damien is a Demerging Outsider Artist from NSW, AUSTRALIA who has expertise in portrait painting and draws inspiration from portraits and wax statues at Madame Tussaud's. As Damien says–" I feel that the soul comes from the eyes. If a portrait isn't following you around the room then it wasn't painted properly at all. As artists we go beyond the mortal and as alchemists we make who we paint, live forever!" Damien's aesthetics are as poignant and as sublime as his words. It would not be wrong to say that Damien's philosophy & dedication for art touches on the realms of transformative art with a promise of beauty, love & passion as seen from any individual's eyes. His embracement of art can be seen not just on these super cool T-shirts but also on canvas, drawings, washes & inks, photography and videos.
You can click here to buy his stunning range of T-shirts!
Coming to the 4 super hair trendy looks created by me with these fabulous T-shirts! As a modern, minimal blogger, I have styled the looks highlighting the T-shirts while keeping the rest of the outfit minimal and understated.
WORK STYLE
Slim Pants: Fig at Reliance Trends | Black Suede Pointed Pumps: Zara (Similar here & here) | Charcoal Jacket: Bangkok ( Similar here & here) | Bag: Lavie (Similar here, here & here)
T-shirt for work may sound absurd in the beginning but with the right kind of accessories and outer wear, you can easily pull the office look with great panache. In this look I have tried to take my designer T-shirt to a next level making it office friendly. I grabbed my FIG Hounds-tooth Ankle-Length Slim Trousers to serve as the bottom since it was perfect in terms of color, style & silhouette required for a work wear look. My color coördinated charcoal grey jacket was my secret weapons today to add a touch of crispness and formality needed for any office style. I finished my look with the pointed black Zara pumps and black structured bag which I think are perfect accessories. Though this look is all about being firm & slick, Damien's T-shirt adds the right balance of sassiness with function!
TRAVEL LOOK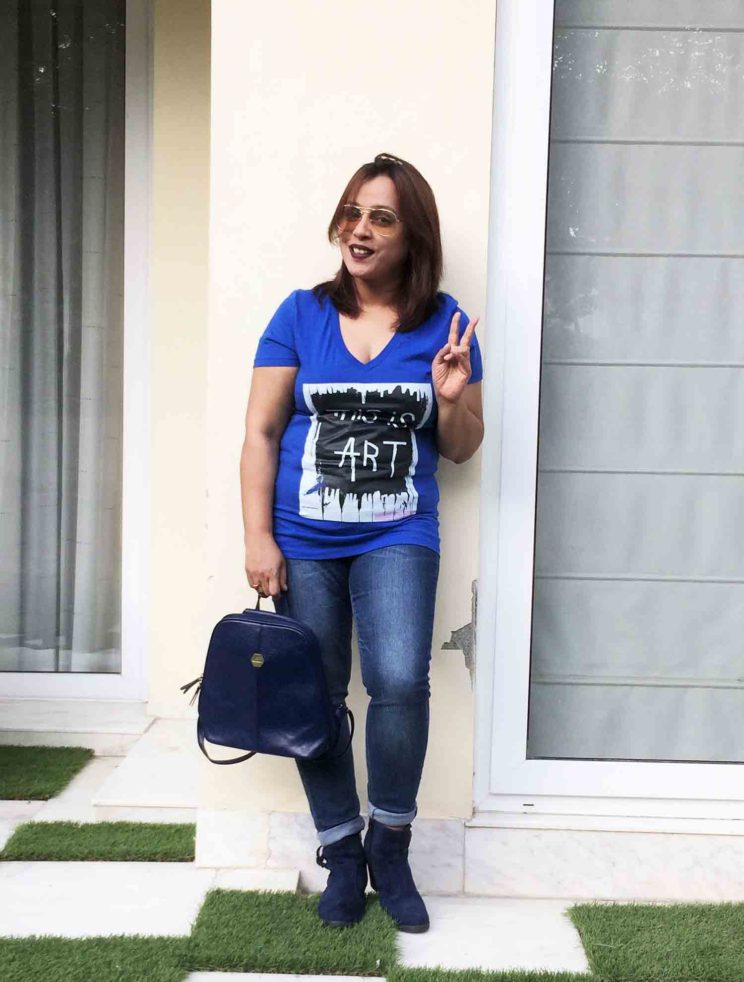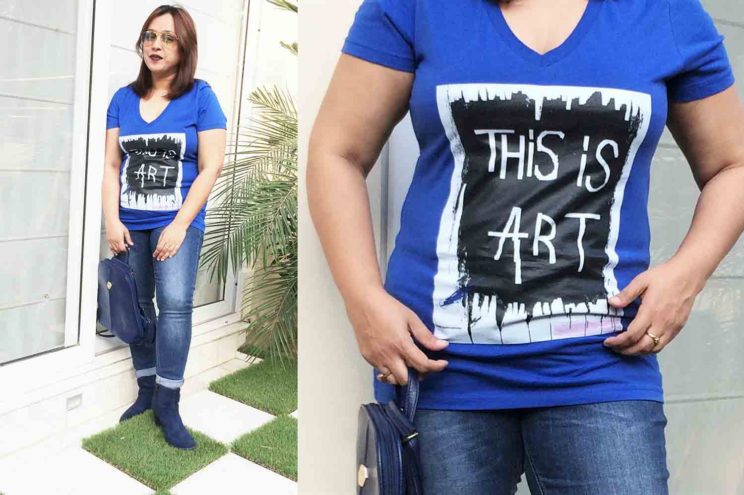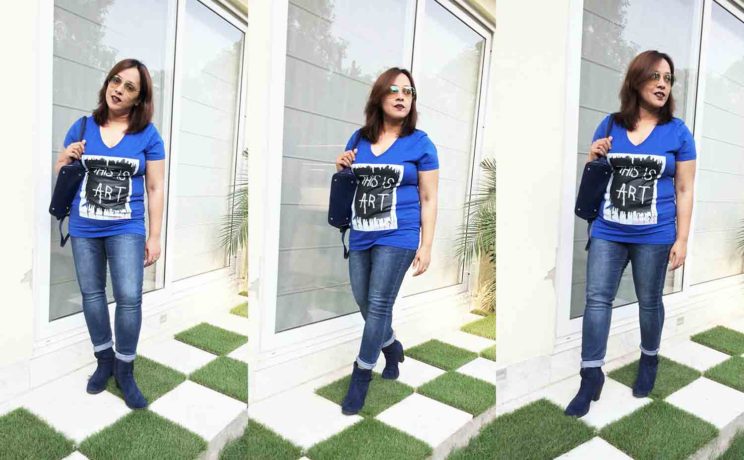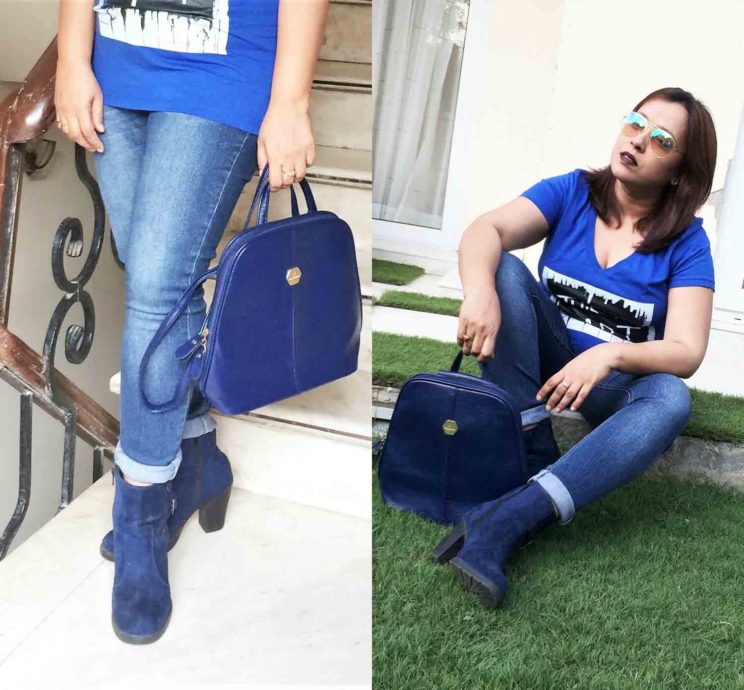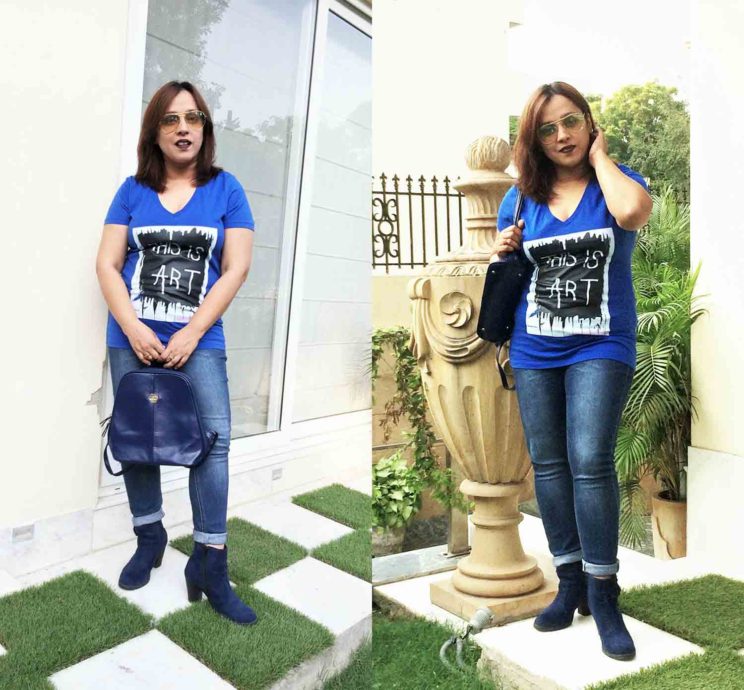 Denim Jeans: Vero Moda | Navy Suede Ankle Boots: Bruno Manetti (Similar here & here) | Blue Leather Backpack: Chinabrands.com ( Similar here & here)
Well if you are looking at some adventure/ travel, this blue artsy T-shirt is a cool and trendy choice! As you all know I am a big fan of monochrome looks. So this travel look for today is inspired by my love for monochrome with my blue Redbubble T-shirt setting the inspiration. I have worked around shades of blue-royal, navy, Prussian and denim and curated a look that is super cool and comfortable.You can replace the navy ankle boots with sneakers for that extra comfort and also add a baker style hat (which is so much in trend these days) for that fall, travel vibe.
CASUAL VIBES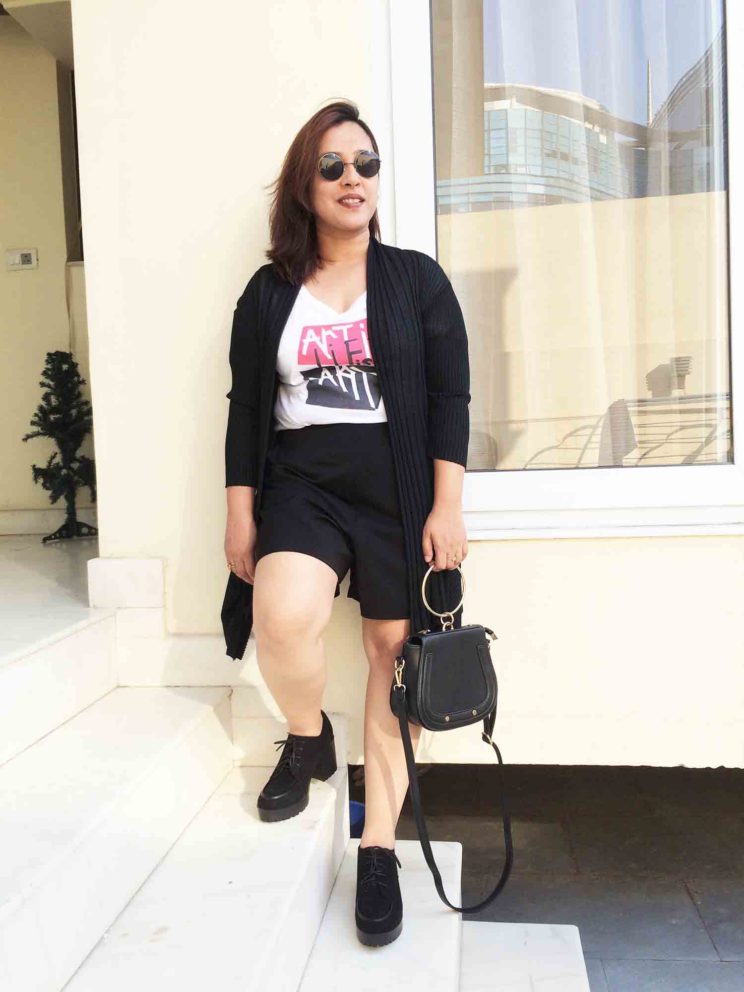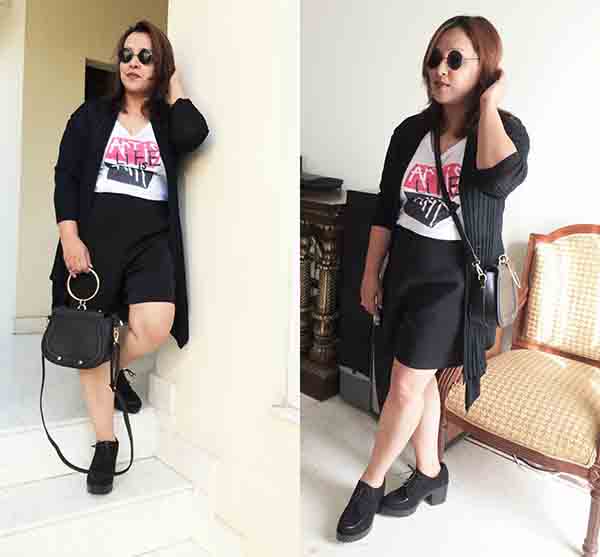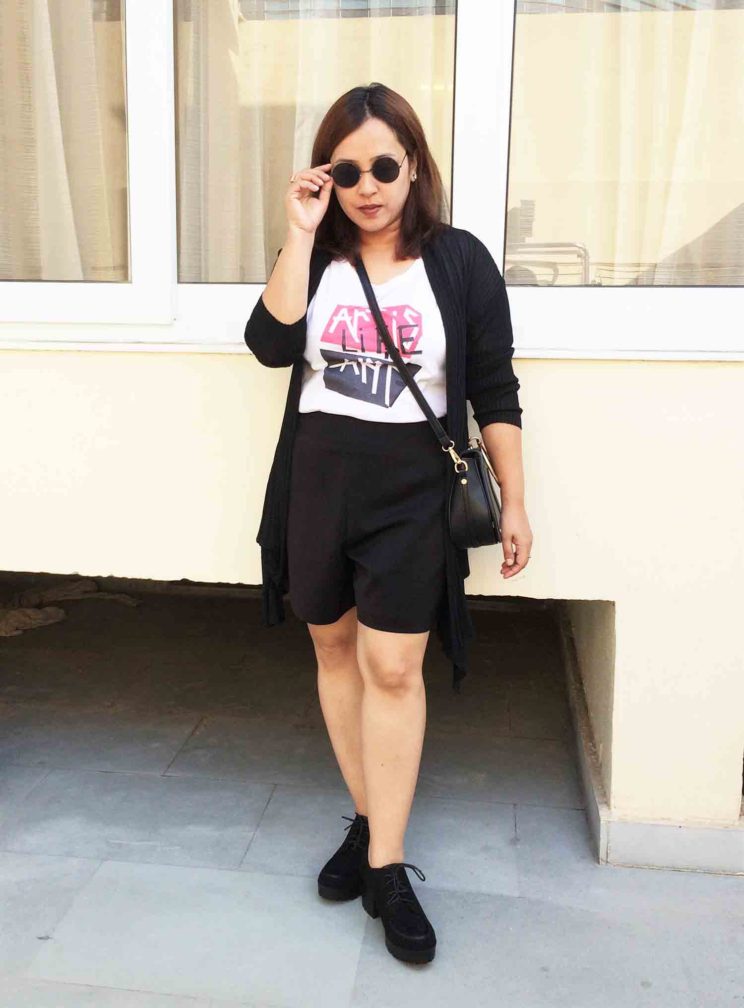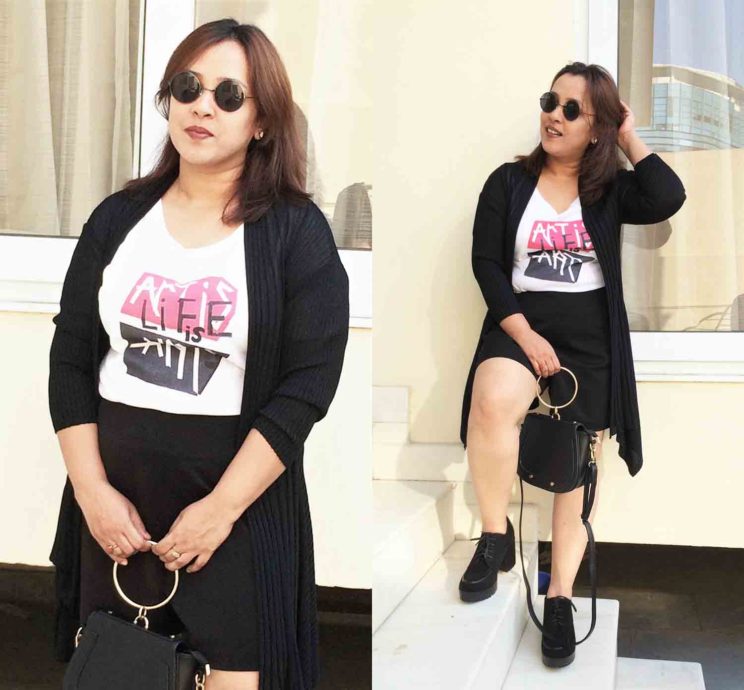 Shorts: F&F, TESCO, Kosamui (Similar here & here) | Shrug: Zara (Similar here & here) | Bag: Chloe (Same here) | Platform Chunky Lace-up Shoes: Kins (Rajouri Garden) (Similar here, here
This was one look that I thoroughly enjoyed styling the most. Talk casual and the first thing that comes to mind is denim jeans/ shorts/ skirt. But I really did not want to follow the conventional style casual. So I brought in my own spin on the casual and got a little creative by bringing in my classic black shorts (worn here) and my fall layering outerwear Zara black shrug to go with my trendy T-shirt. Furthermore, I added another casual element in the form of my footwear, the black lace-up platform heel chunky shoes which accentuated the look to another level. These shoes not only added a dose of edginess but also made me look a few inches taller.
SPORTY FEEL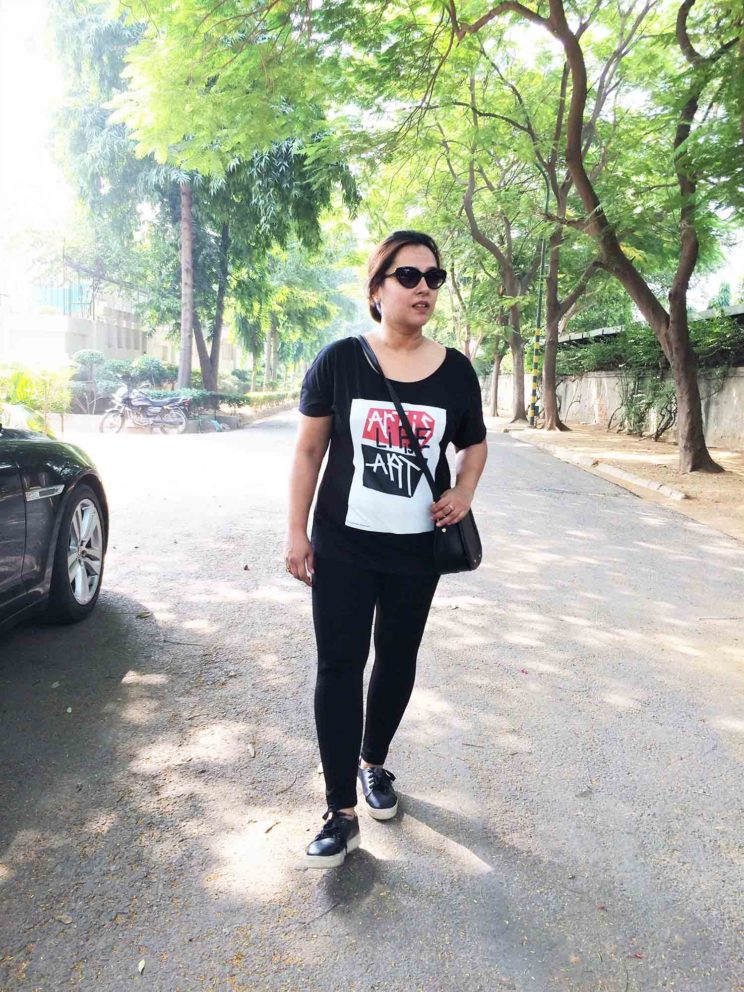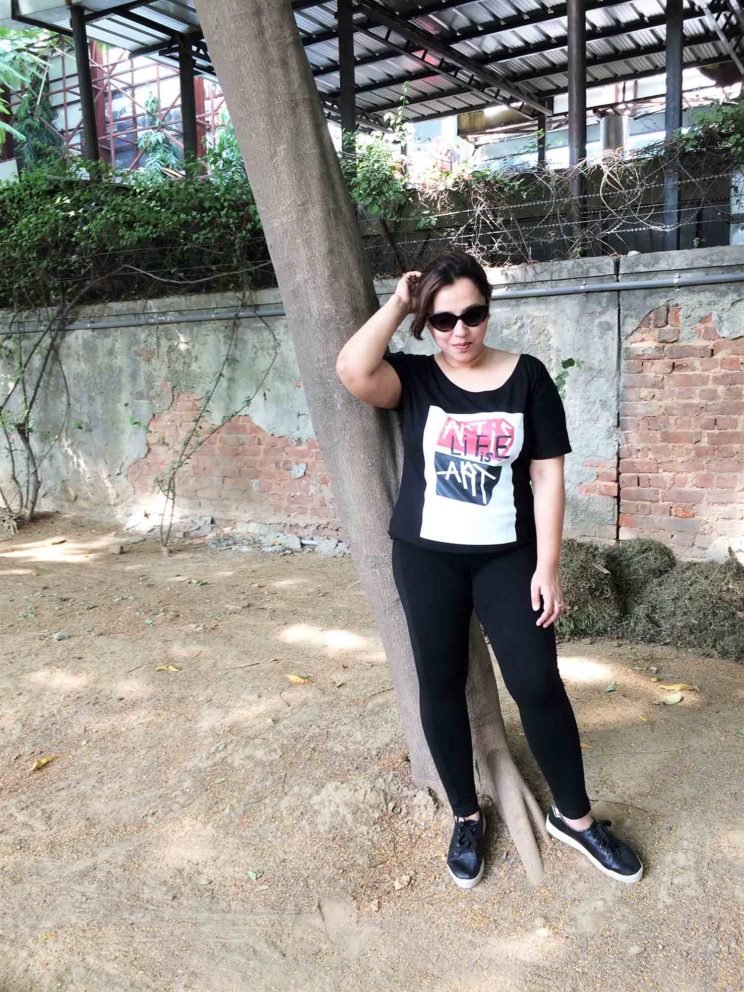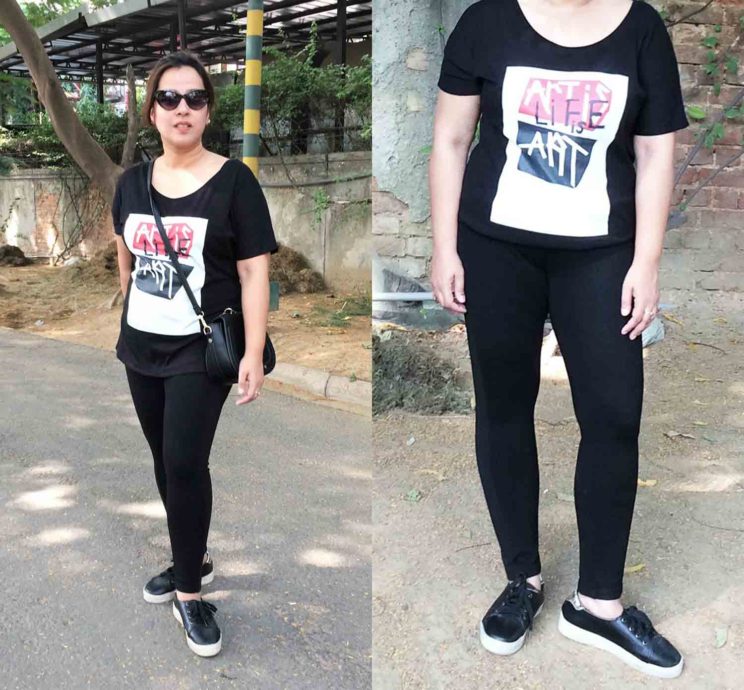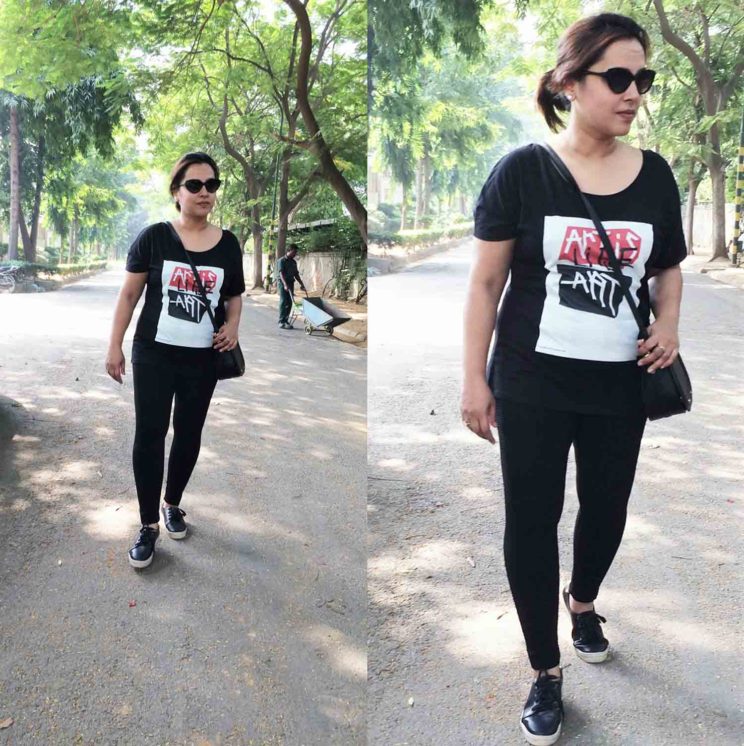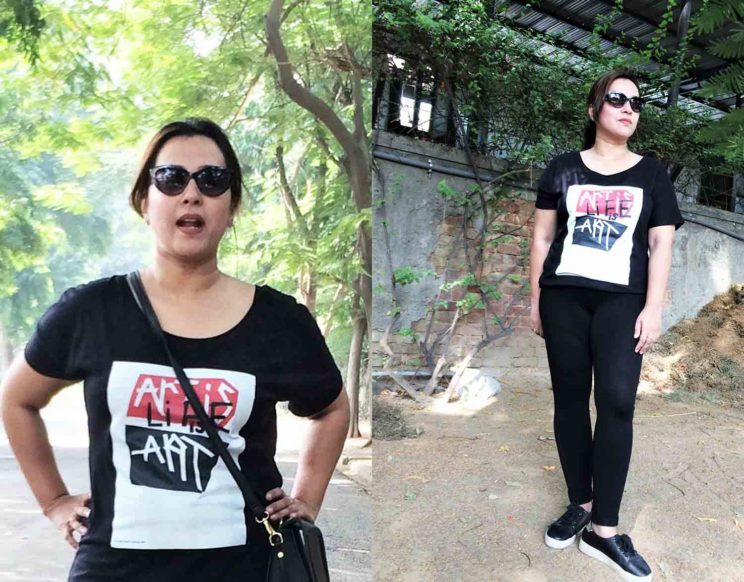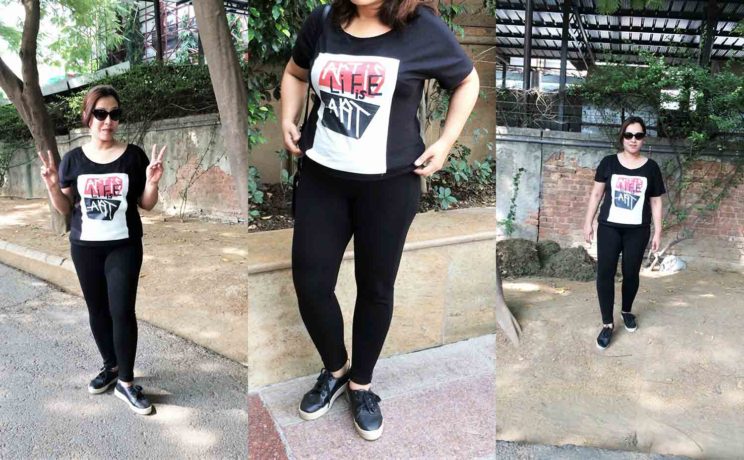 Leggings: Zara (Similar here, here) | Platform Lace Sneakers: Zara (Similar here, here) | Chloe (Same here)
Athleisure is getting a new definition in this super-casual, sporty, comfortable go-to look! All I did was grab a pair of Jabong black leggings and paired it with my "ART is life is ART" T-shirt and I had a winning combination that was fashionably trendy, most functional and super comfortable. My Zara platform black sneakers are complementing the athleisure vibe and adding fun and playfulness to the entire look. A cross-body small, cute bag was all I needed to finish this sporty, athletic look. So if you like to stick to basics and keep to bare minimum accessories, this look will work perfectly for you!
If you are looking at transforming your looks with this simple and most staple piece of clothing, aka the T-shirt, do try out the above basic styling techniques and I promise you would be amazed at the results. And if you truly wish to get versatile with your Ts, look no further. Just click here and shop for your first order of designer T-shirts designed by the iconic, celebrated artist Damien himself !Because these Ts are all about fun, comfort, trend and most importantly passion.