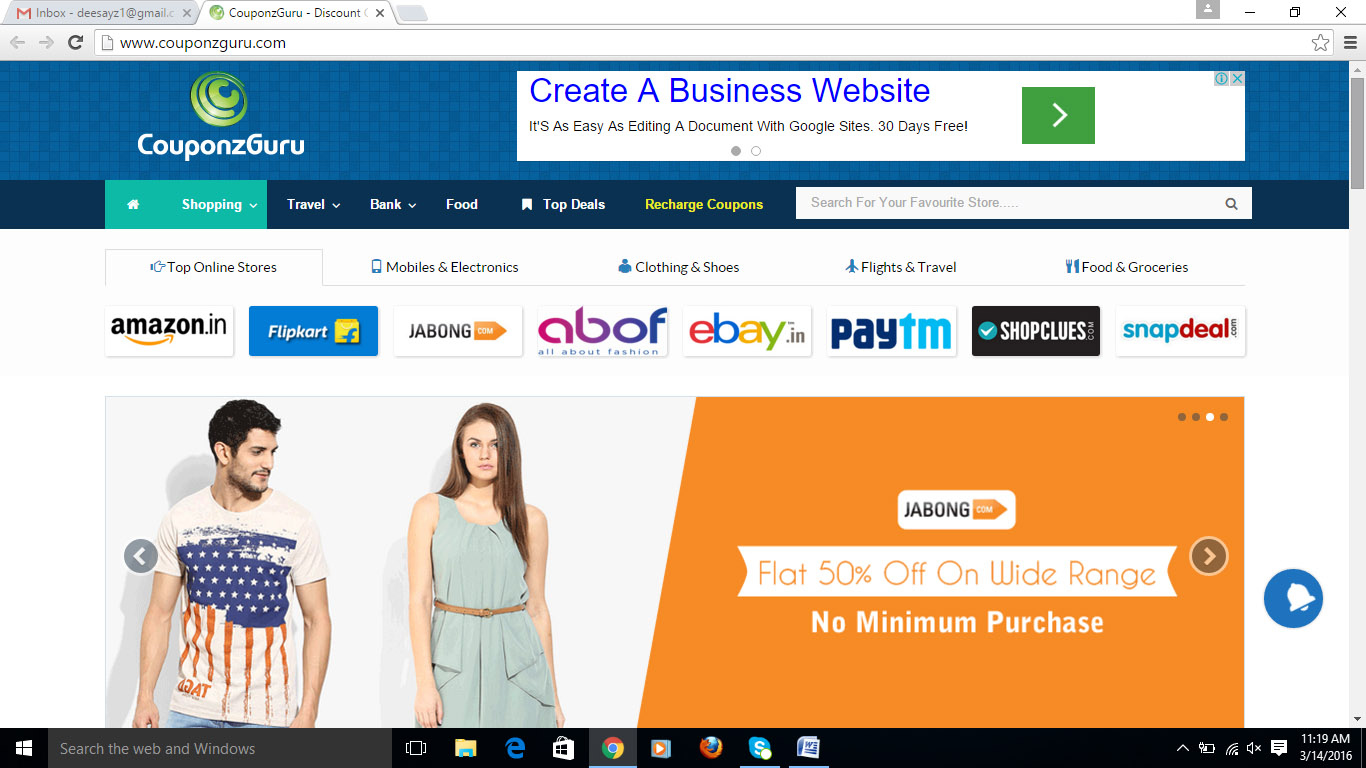 Online shopping is not a fad anymore; it's a rage, it's a necessity and its here to stay. Sitting in the comfort of you're A/C while sipping on your favorite cocoa shake, simply press a few buttons and you are all sorted. You have all your preferred markets and shopping destinations right in front of you on your monitor. Could you ask for anything more? Simply browse, select and add to cart and go back to enjoying your favorite television show! And what is most encouraging about online shopping is the deluge of deals & hot discounts/ schemes/ coupons that come along with any product. One such company that has made this trend all the more hotter for all online shoppers is Couponzguru. I recently had the privilege of using their online discount coupon for buying some stylish summer strappy footwear from abof.com . And Voila! I happily filled my cart with four pairs at the cost of one. My summer is made. Thanks to Couponzguru.
My tryst with Couponzguru led me to dwell upon certain basic questions about online shopping and the general trend that the Indian demographics portray! What are the most popular products selling online? Why some products are more popular than the others? Why some online sellers are performing way better than their counterparts? And frankly what is it that Indian women like to shop online other than fashion? Well some of the answers are given below! These clearly reflect a certain expectation and a behavioral pattern that every woman has as an online shopper.
Apparels/ Footwear: Well, this point is quite obvious but I want to emphasize on it again. Most women cannot do without new clothes every once in a while. It makes them feel good and helps them to keep up with the fashion trends. Women often view buying clothes as a stress-reducing exercise too. So, apparel leads the chart in the list of things Indian women like to shop on the internet.
Appliances: Modern Indian women like the things that help in reducing their manual effort at home. Hence, they are now shopping for home and kitchen appliances a lot more than before. Products like washing machines, microwave ovens, electronic blenders and food processors that reduce human effort by consuming electricity have gained a lot of popularity among Indian women. They have learnt how to use them fairly quickly too.
Jewelry: Indian women have always been a fan of jewelry. Unlike the general notion, they shop for it online too. Mature women mostly like to invest in expensive gold and diamond jewelry so that they can get some instant money in contingencies by selling it. On the other hand, young women like to buy relatively cheap fashion/ costume jewellery from the online websites so that they can look great in college or while on a date!
Mobiles: Smartphones have become a weakness of Indian women too. Women constantly like to buy a new smartphone every few years so that they can chat, click great selfies, have uninterrupted calls and in some cases do office work via smartphones too. They usually like the smartphones that offer more features in least costs as value for money is what Indian women want in gadgets.
Home Decor Items: Almost every Indian woman likes to decorate the space she lives in and likes to revamp her home after every few months. Hence, they buy a lot of home decor products While some women do like to buy funky home decor items, most of them only love to buy the home decor items that are space-savvy and durable.
Baby Products: For every woman the needs of her kid come before her own needs. Indian women are no different. Therefore, they have been spending a lot of money on baby products Most of the women like to shop for baby products from brands so that their baby's comfort is not compromised. They also look for combo deals to buy the stuff their baby needs the most (like diapers and lotions) in bulk.
For all such deals and great discount coupons, you don't need to look around because there is a single stop shop http://www.couponzguru.com/ that caters to all such requirements. I visited them and urge you to do the same because if you don't you will be missing deals of a lifetime.
(This is a sponsored post)