Ruffles, flounces and frills – all these unusual and exciting details on our skirts, dresses, and shirts date back to the distant past. Therefore, it's not surprising that they are still trendy nowadays and form a crucial part of the Gothic culture.
Gothic fashion is all about black and mystery—from dark lipstick to dyed black hair to dark clothing. To underline that mysterious look, Gothic girls utilize a variety of accessories, such as a pentacle, Gothic style cross, chokers, bats, dragons, but also capes and hats. Inspired by the Vampire, they usually wear a cloak to point out the dark side of their personality. They pay a lot of attention to lace and frills therefore capes form a crucial part of their style. Gothic cloak with ruffles is not only fashionable and mysterious, but it also gives people a unique visual experience and warm effect. The perfect example of an ideal cloak is undoubtedly Steampunk Dark Mystical Fete Black Lace Gothic Women's Long Cloak. This large and attractive item will contribute to your enigma, and will be the perfect addition to any girl's wardrobe who wants to be distinguished and show that she belongs to Gothic style. All your secrets will remain under this cloak, especially if you put the hood on. Then you will become a real queen of the darkness, and people will only see the mystical side of you that is hidden below this fantastic clothing addition.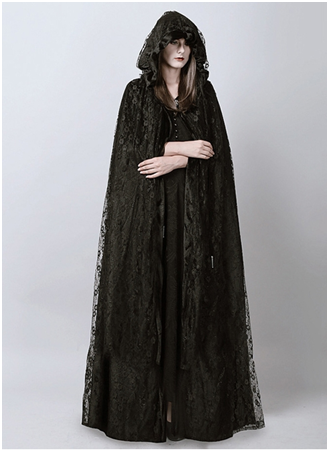 If we are talking about an accessory, which will be both beautiful visually and keep you warm on cold winter days, then you should choose the following one – Wool Collar Black Gorgeous Gothic Long Women's Cloak. The addition of fur and folds make this piece of clothing even more attractive and desirable. Every woman who tries it on will feel like a goddess, and will undoubtedly be a great illustration of the underworld. Less magnificent, but undoubtedly tempting, will be Steampunk Gothic Stand Collar Black Lace Women's Shawl. It's irregular cut, lace, and frills are the perfect choice for any girl aspiring towards a more relaxed and casual style. Frills, also known as something decorative and desirable, look quite charming on this cloak and will be ideal for days and night outs with your friends.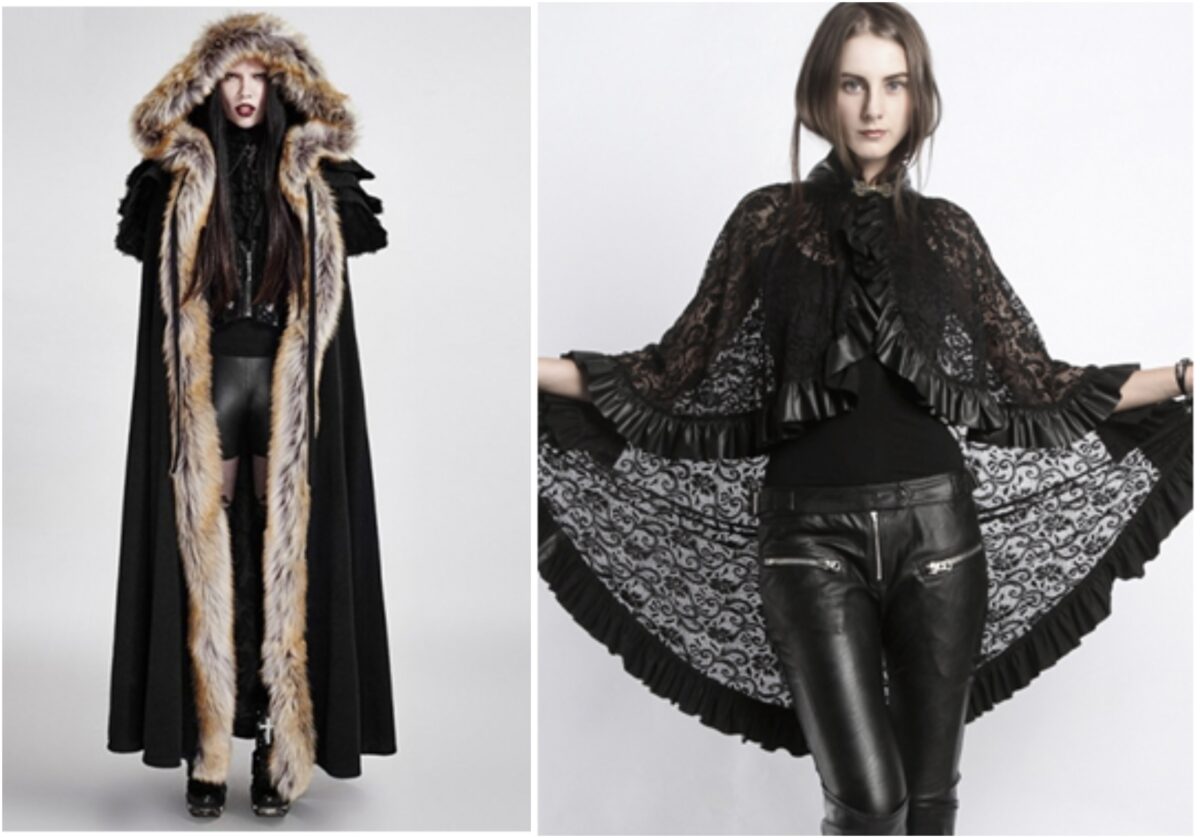 Frills are a perfect addition to cloaks and other parts of Gothic clothing, such as skirts and dresses. Gothic girls usually add a white color to soften the dark aspect of this style. White, combined with lace, will emphasize your softer side, but with the addition of black details, you will make it clear to everyone what style it is really about. To achieve that, you can add a bolero, lace gloves and socks, and typical Gothic shoes, all black. This low-cut dress will highlight your neckline, but a black bolero will keep your secret, making you charming and modest at the same time. This white lace dress can be the perfect selection for a daily walk with your friends.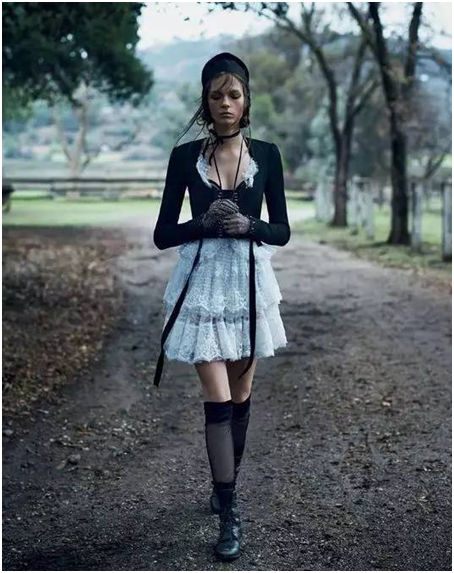 The choice of unusual Gothic skirts is enormous, so let's take a look at some other exciting combinations. If you are searching for something spectacular, something for a perfect, crazy, and unforgettable night out, Gothic Party Dress Black Mesh Yarn Slim Half-length Fishtail Feather Hem Skirt is the right one for you. The upper part of the skirt is very narrow and underlines your curves, while the lower part is made of mesh, which hides and slightly emphasizes your legs both at the same time. This is called a great combination of functionality with style. Exceptionally long, combined with a see-through shirt, this clothing will speed up the heartbeat of every man, and you will remain the most mysterious woman in the world.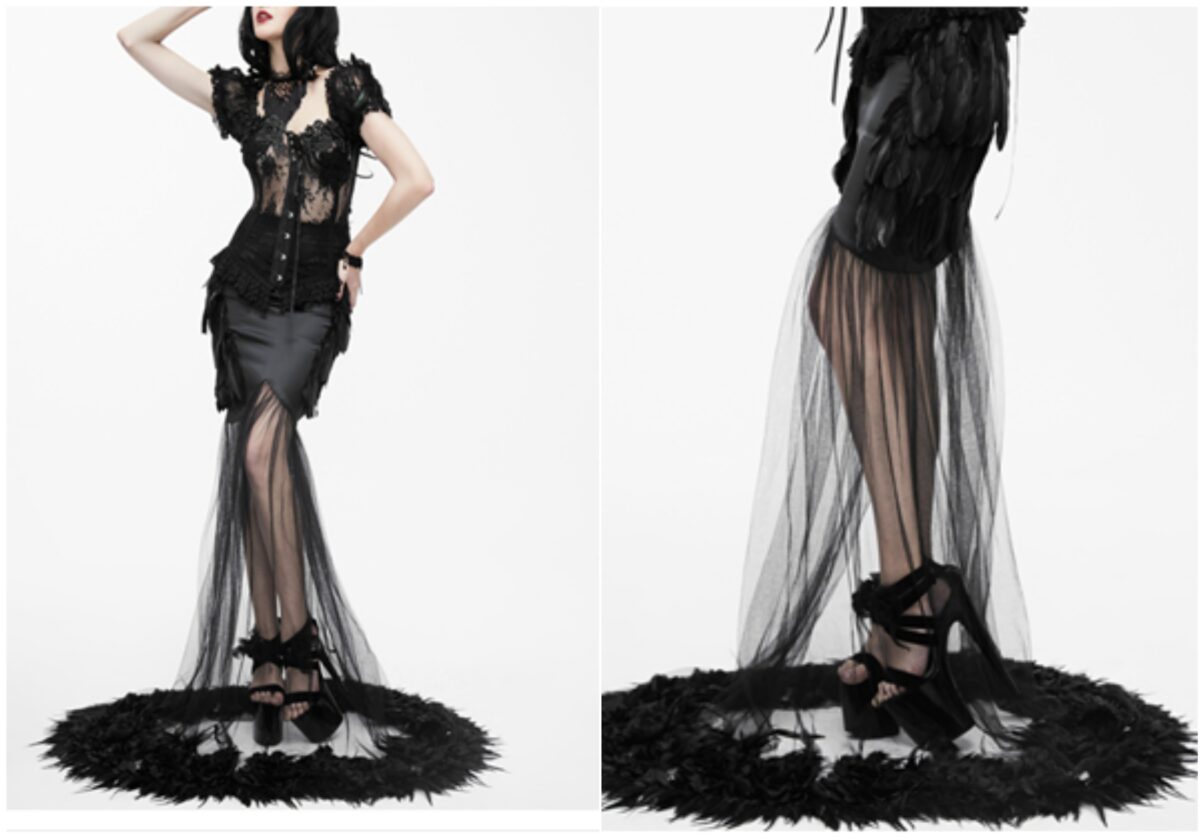 The second unusual, but the attractive choice is undoubtedly Steampunk Brown Vintage Lace-up Waistband High Waist A-line Big Hem Long Skirt. This lace-up skirt will put the accent on your beautiful legs, and a high waist will underline your perfect figure. This outfit will be a full hit, especially combined with a beige frilled shirt, and dark brown lipstick. Frills are a sufficient addition in themselves, as they contribute to Gothic style's fullness and completeness. So, if you are not a fan of jewelry, this will be the perfect combination!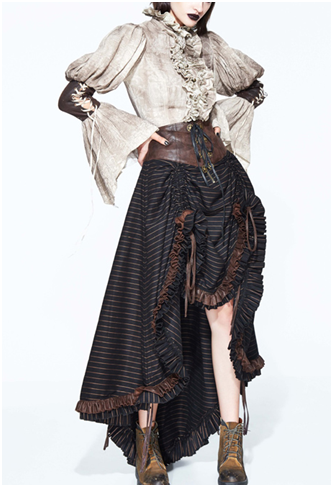 The frills are not just a simple decoration on any outfit but they also make an integral model more relaxed. On the other hand, they can entirely break the heaviness of black. The real proof of that is Romantic Gothic Sexy Black Flower Fishtail Skirt. The frills make this skirt utterly charming and mysterious. Combined with a see-through shirt, this clothing will highlight your sensuality and the romantic side. A Fishtail skirt is the perfect choice for every Gothic girl who sticks to dark appearances. You will undoubtedly look handsome & edgy in it.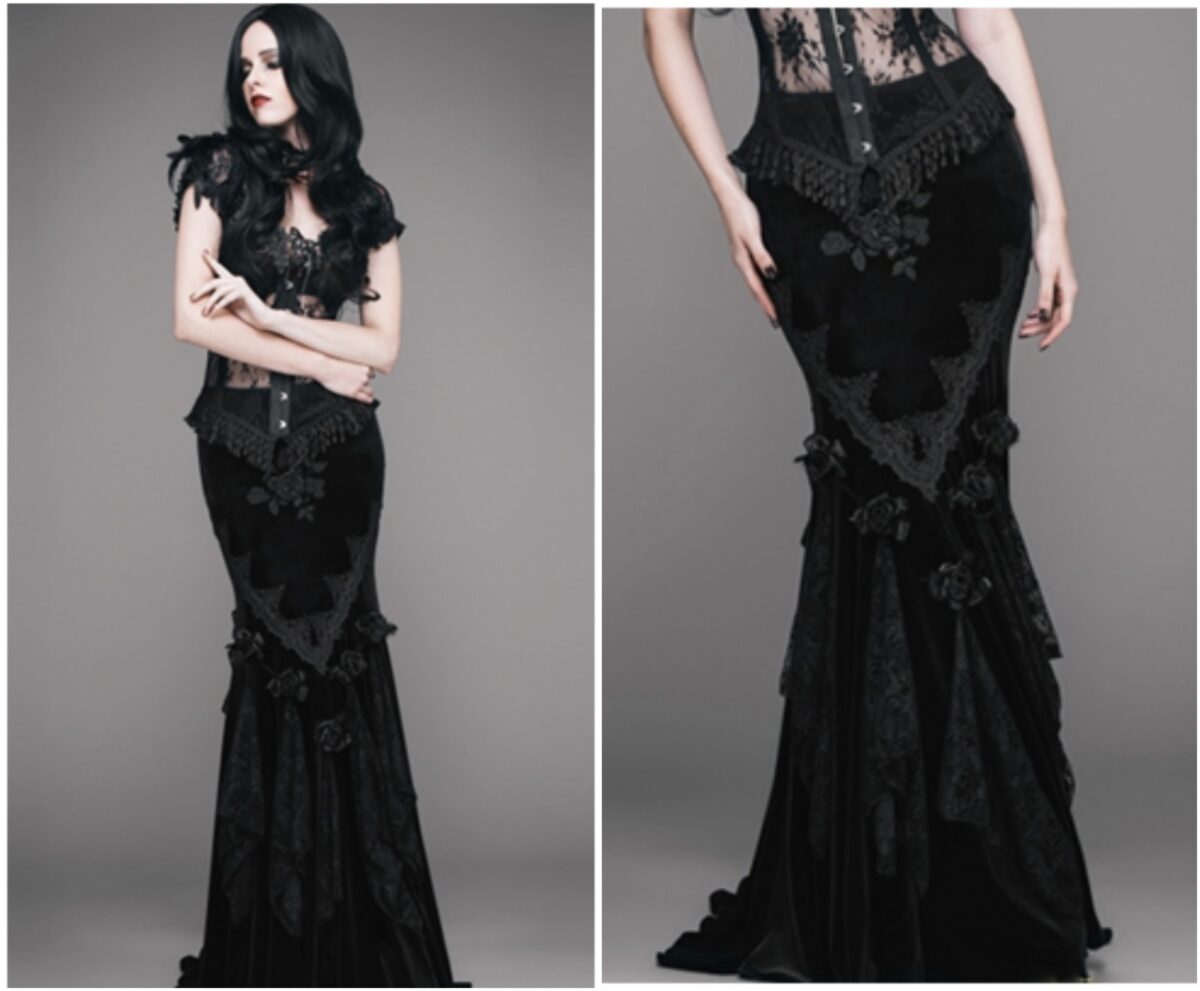 The other fishtail skirt that will not miss anyone's attention is Gothic Slim Black Ruffle Big Fishtail Floor Length Skirt. The frills on the front emphasize your legs, while on the back, they follow the line of your body, underlining the best on you. Combined with the lace shirt, this costume will be your number one choice when you look at your wardrobe. Not only will you look romantic, but also mysterious that no man will be able to resist.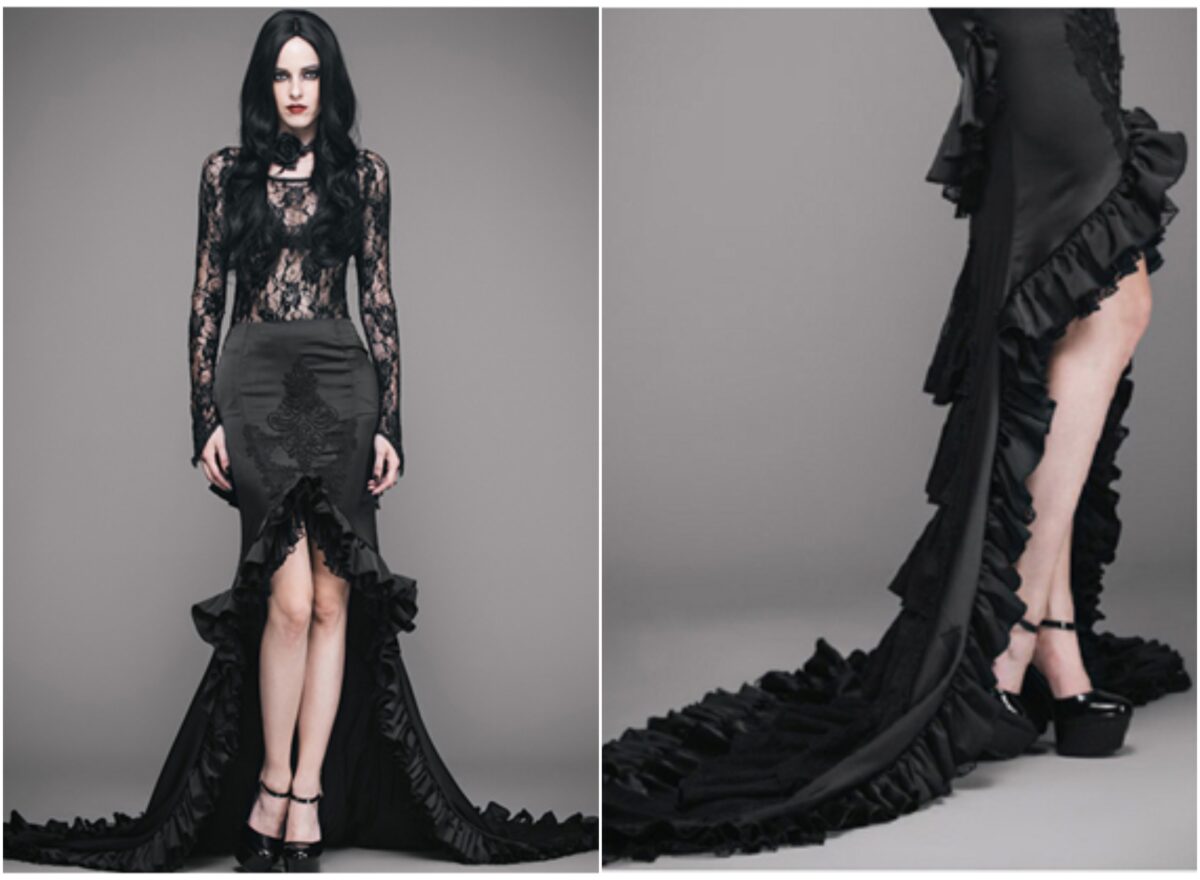 If we peek into the past, we will notice that frills and ruffles were not only the court ladies' choice, but also of numerous soldiers, and courtiers. Once, they were an essential element of costume decoration, but nowadays they have became an indispensable part of prevalent fashion trends, such as Gothic one. Decorative, charming, desirable, mysterious—FRILLS define Gothic style. On one hand, they emphasize the darkness of this style and on the other, they entirely break the heaviness & hardness of color black.
Today we see extensive use of frills as a symbol of fullness, mystery, and romance. Being Gothic is one thing, but being different and unique is what sets you apart. By adding a beautiful gothic inspired cloak, shirt, skirt or frills to your wardrobe, you will be a part of one of the biggest and most trending fashion styles of today—Gothic Style!