What is the Fab 40's group
The Fab 40's is a group of five stylish fashion bloggers from around the globe. Each month we choose a different theme and invite a guest blogger also in their forties to join us. This group's goal is to take on style trends and show how we each interpret and incorporate them into our own lives. With six widely varied views, you are certain to find something that speaks to you each month and encourages you to have fun with fashion after 40.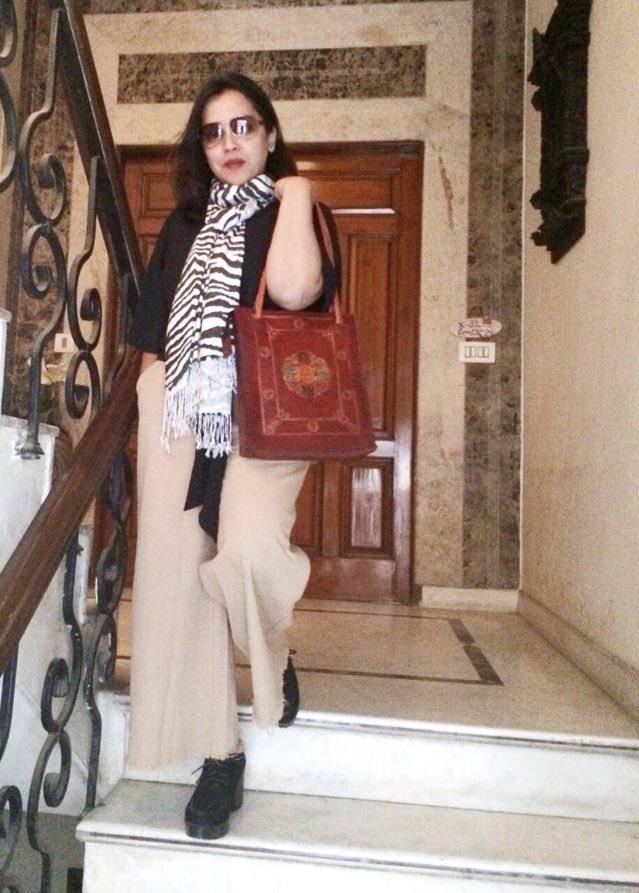 An individualistic style, a style that does not conform to a norm or a theme, a style that is comfortable, casual but with a bit of an edge & attitude, a style with elements of punkish, sporty & hip hop clothing or simply a style that has become a genre in itself in the past few years and has taken the runway by storm….Well ! This is what we call as the Street Style or simply saying a style that has emerged from the streets and not the runways. And this was exactly our theme for March Fab 40's style-book. We the Fab 40 group have tried to decode street style in our own, individualistic ways with elements of fun & flamboyance.
A little bit about Street Style! For the last few years, street style's rise has been one of the big story-lines in fashion. Street fashion, unlike other fashions, does not cover just one style of dressing, but it encompasses a whole range of styles. It is now being recognized by the major designers of clothing and is influencing the world of high fashion. You can see this trend in the tight fitting jeans that were a trade mark of the 'Punk' street style and are now a very common element in High Fashion. So too are the 'Hippy' loose flowing dresses in films which are finding their way into high fashion as more demure and focusing on the innocence. One of the off springs of Street Fashion is Hip Hop fashion which has now grown into a multi billion dollar industry. If you delve deeper, you will notice that street-wear is influenced a lot by the younger generation and the trends worn by them. Every culture with its changing spectrum influences the youth to make certain choices which in turn affects the street fashion to a great extent. Broadly day-to-day clothing is getting more casual and drawing inspiration from sports, driving the popularity of items such as sneakers and sweatshirts. Millennial and Gen Z represent a large and growing share of street inspired fashion consumers.
For me, street style is a style version that is typically me and conveys my sense of fashion & personality! True to my neutral, minimalist style, I picked my camel flare pants for the bottom wear. It is absolutely comfortable and has a street vibe to it with frayed hems and a rough denim texture. Sticking to my neutral palette, I balanced the roughness of the pants with a knot-style loose black top with flared sleeves which is quite soft & feminine. I opted for black chunky block heels for my footwear which totally scream "street". My fun elements were my zebra pattern neck scarf & an embossed traditional Indian leather handbag that I had bought a few years ago from Rajasthan, an Indian state rich in textiles & handicrafts. So here I was with my interpretation of a street inspired look. It is an eclectic look that may be picking up elements that are mismatched or incoherent but I would say that this is an outfit I totally see myself in while walking down the street or going to a mall…..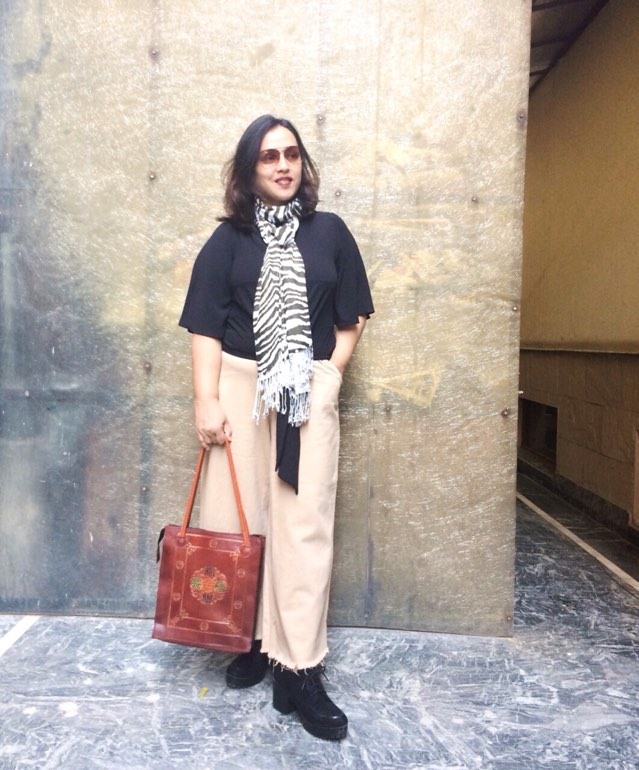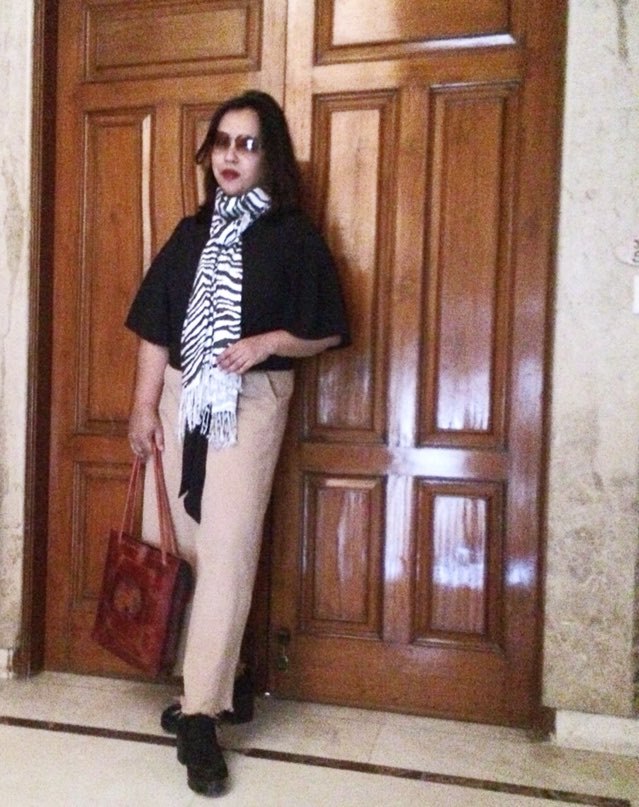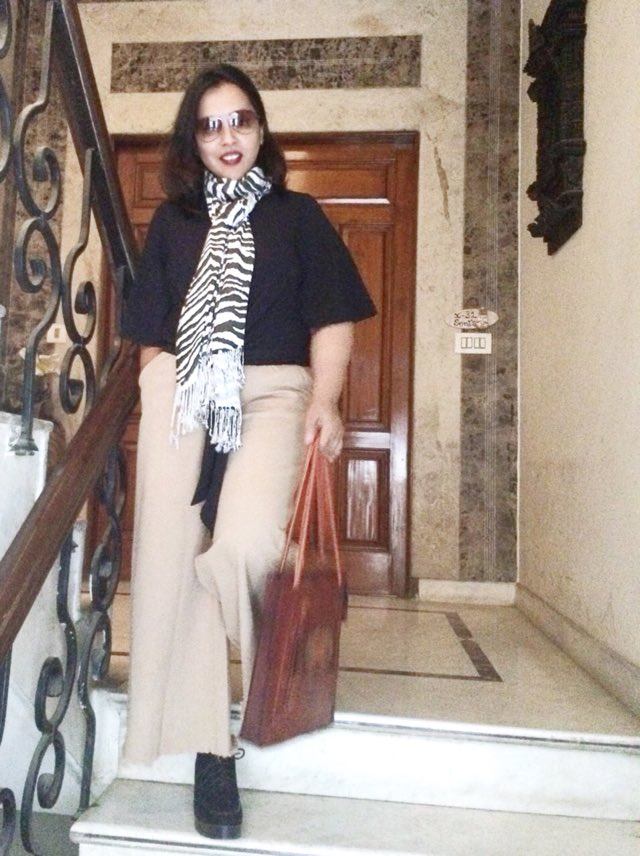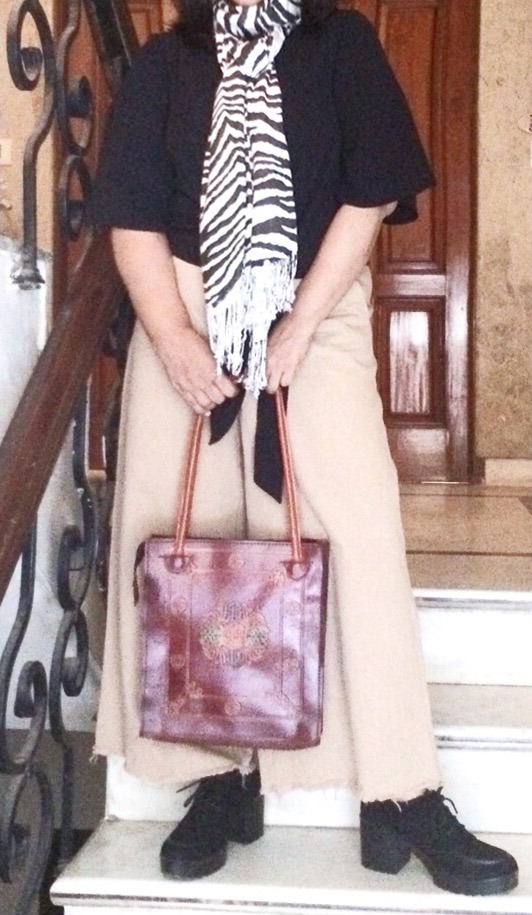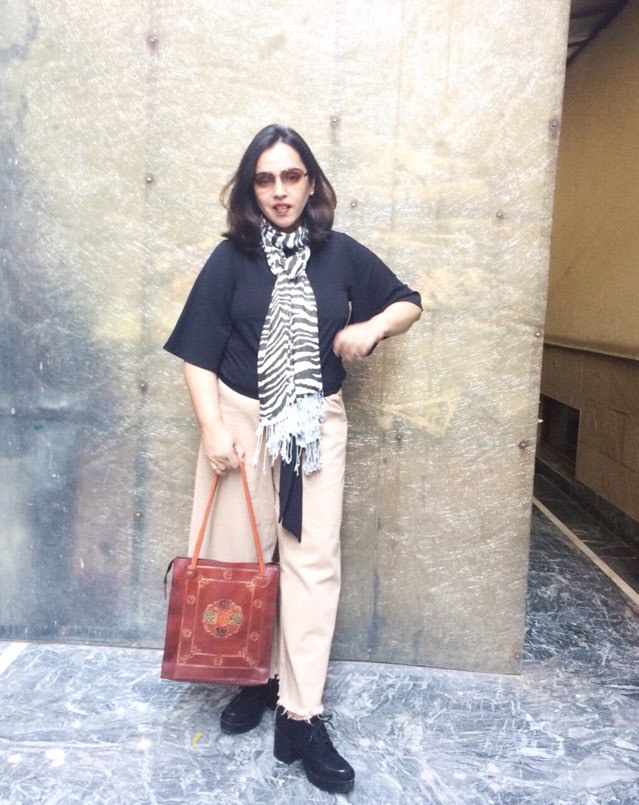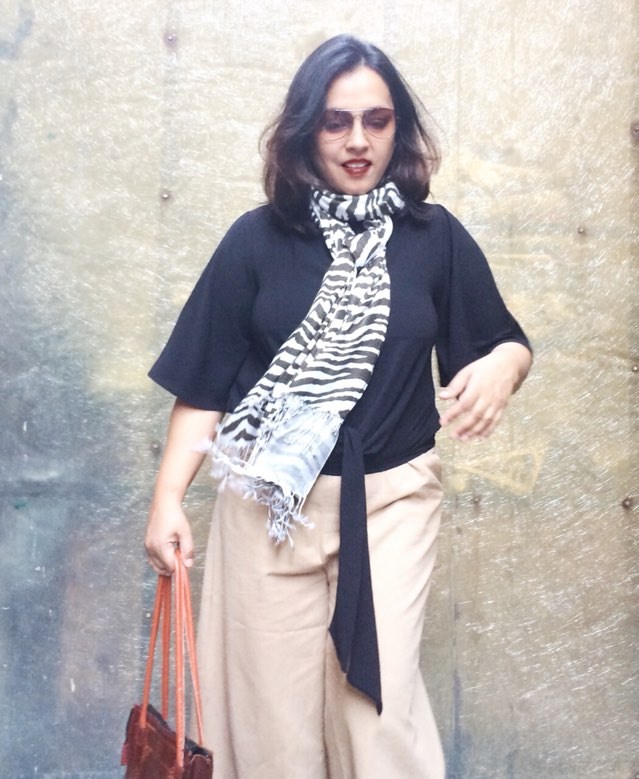 Top: Tyche USA | Everything else: Local Stores in Delhi | Bag: Jaipur, Rajasthan
---
Let us see how my gorgeous Fab 40 friends are decoding –"STREET STYLE"
Suzy | Suzy Turner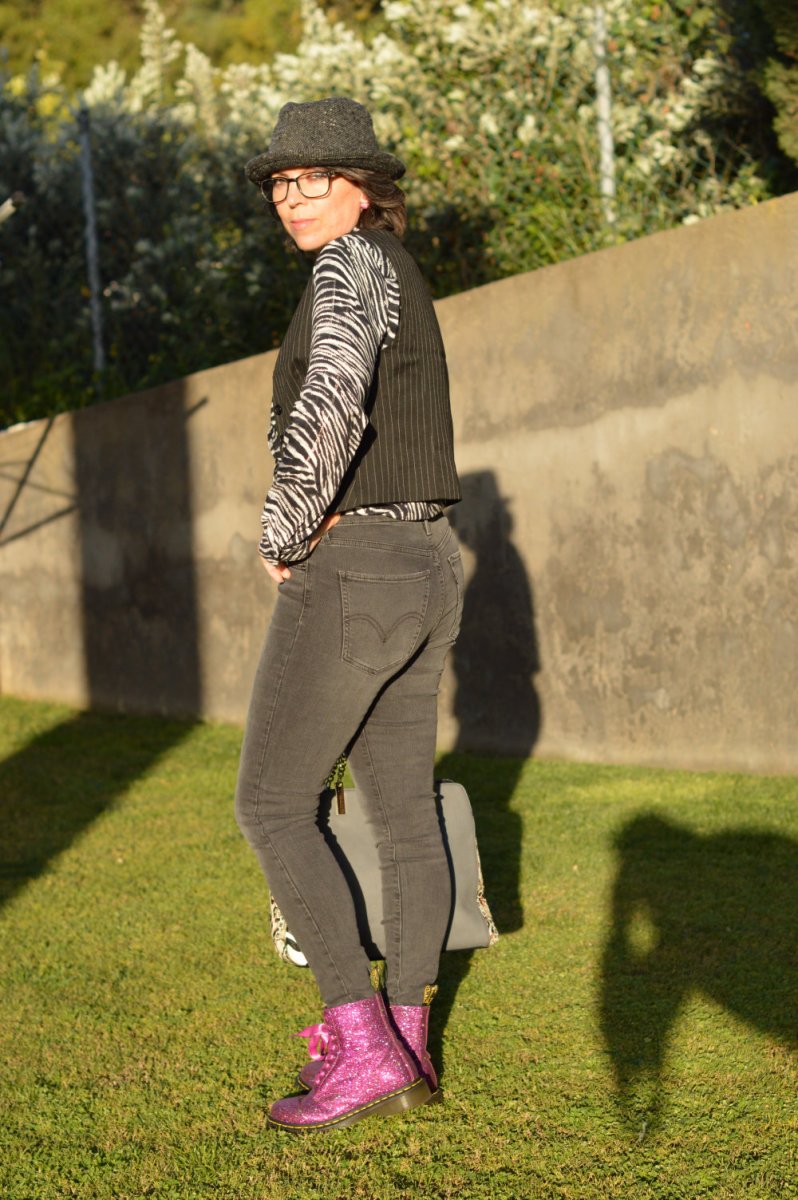 Zebra print blouse-Promod / Waistcoat-Stradivarius / Jeans-Levi's / Sparkly boots-Doc Martens / Handbag & necklace-Gifts from mother-in-law / Hat-hubby's (bought from a fabulous hat shop in Charleston a few years go!)
Suzy has brought us an eclectic mix of androgynous style with a great mix of masculine & feminine elements to her look. I think that her style always has that edgy vibe with a touch of class & femininity. Look at those glittering pink boots; so typically street inspired & matching perfectly with her black hat & pinstripe vest. Her zebra top is an example of the fact that Suzy always likes to keep up with the trends. Very crisp look girl!
---
Shelbee | Shelbee On The Edge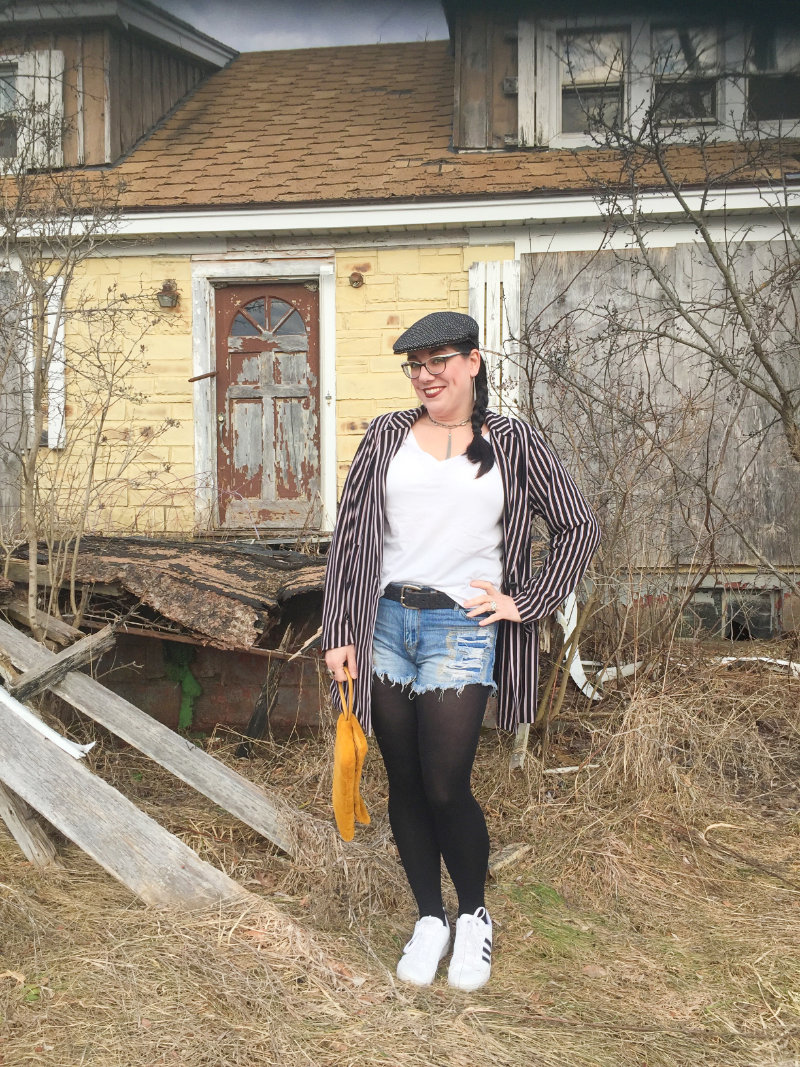 Clutch, Tee Shirt, and Shorts-Target | Blazer-Torrid | Tights-c/o Sheertex | Shoes-Adidas | Belt-BedStu | Necklace-Talbots (but I added the tassel) | Earrings-Old | Rings-Michal Golan | Hat-Borrowed from my husband
How cute is that shorts & tights combination! Shelbee loves her tights and has them in every color possible on the earth. And those cute little details of her baker boy cap, the choker necklace, her Adidas sneakers and the striped blazer make her so ready for the streets. Not to miss her leather belt and color blocking clutch! It is a look that is so personalized to Shelbee and speaks in entirety of her diverse style.
---
Sheela | Sheela Writes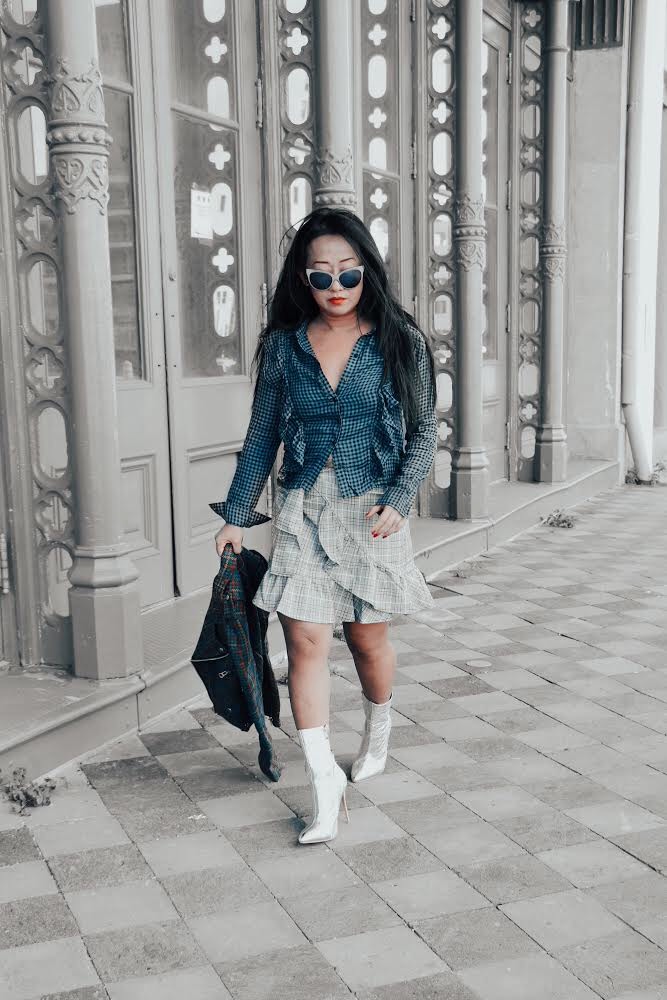 Boots-CiCihot.com | Everything else-Thrifted
Sheela seems like such a natural with this look! Look at that confidence with which she is mixing her plaids, with varying dimensions, and carrying them beautifully with her leather jacket and heeled ankle booties. Her cat-eyed sunglasses are giving her the edge and which I feel are the showstopper element of this street style look. Also love her blue ruffled top!
---
Daenel | Living Outside The Stacks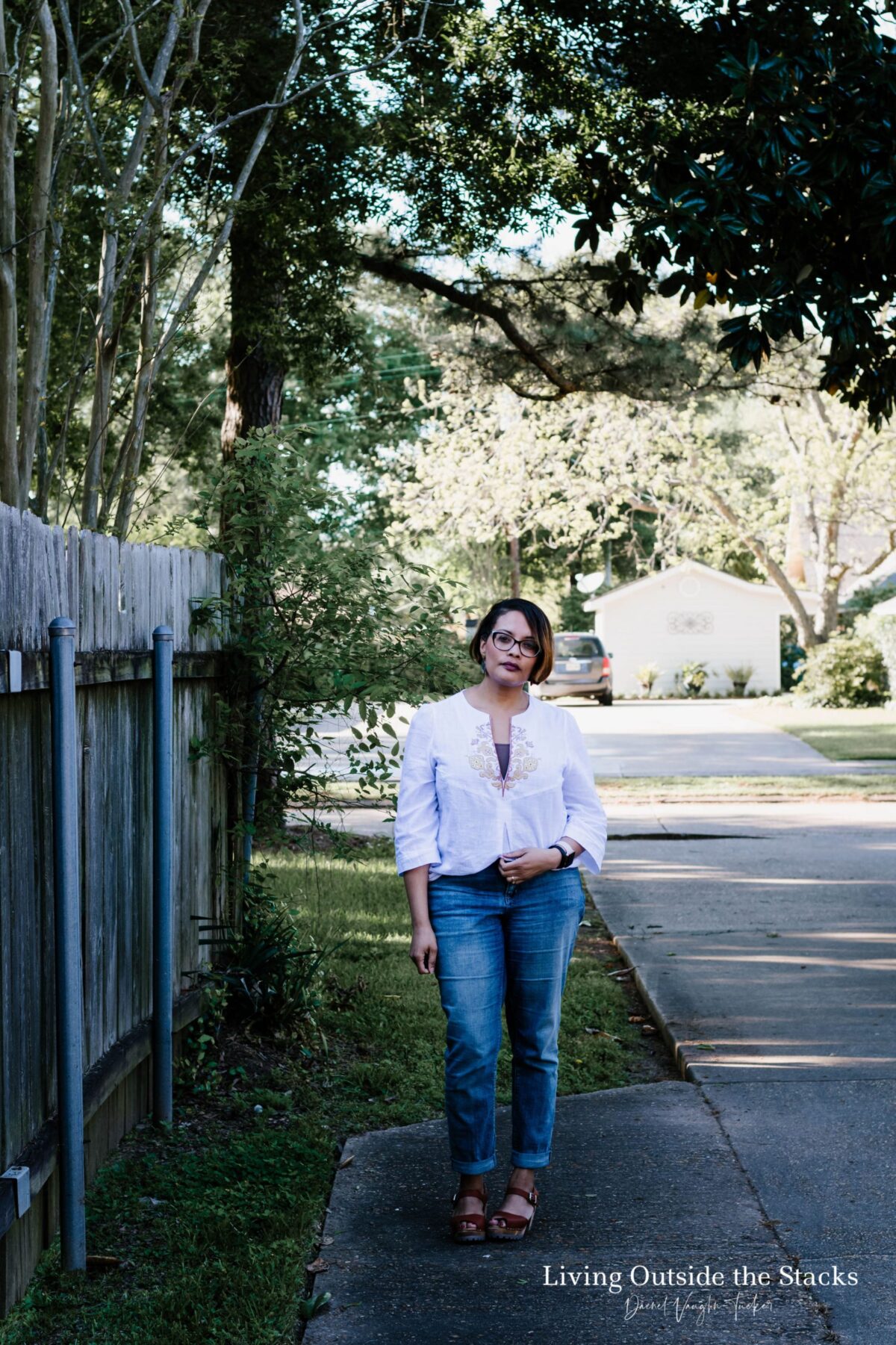 Daenel is keeping it simple & laid-back in her (true-to-her-style) bohemian style top, a comfortable pair of boyfriend jeans and a pair of versatile tan clogs. It is the perfect street wear for an instant go-to chore/ meeting with friends. Who says simplicity is out of fashion! It is indeed the best sort of elegance as proved by Daenel.
---
So whether it is the markets or malls, music concerts or fashion weeks, art festivals or literature fests, you are sure to find inspiration everywhere. Needless to say that the best fashion trends are always spotted on the street. So people, always be on the look out because you never know you may have just rubbed shoulders with the next biggest trend in fashion.
FOR CONSTANT UPDATES, CONNECT TO:  FACEBOOK | TWITTER | INSTAGRAM