What is the Fab 40's group
The Fab 40's is a group of five stylish fashion bloggers from around the globe. Each month we choose a different theme and invite a guest blogger also in their forties to join us. This group's goal is to take on style trends and show how we each interpret and incorporate them into our own lives. With six widely varied views, you are certain to find something that speaks to you each month and encourages you to have fun with fashion after 40.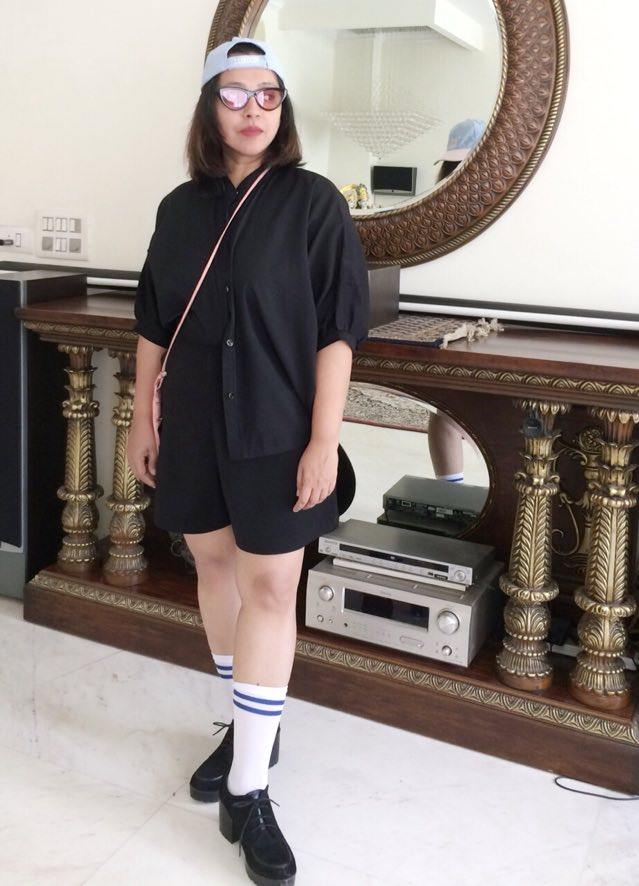 OK, did you just say- What in the world is that? This is exactly what my reaction was the moment I read the theme for April's Fab 40's style. And the next moment I was googling the term. Between those split seconds, it was a complete plethora of emotions…was it really some fashion style, was it the name of certain type pf garment or an emotion associated with fashion or does it have to do with something bohemian or was it simply some fancy hi-tech fashion term that was totally unheard of. OK, it did not take long before it was all there on Google! Well, its simply a style of street fashion that originated on the streets of Japan. Harajuku is basically a district in Shibuya, Tokyo, Japan where this style of fashion thrives & culminates.
Though Harajuku was really just a shopping area, it became a Sunday hangout for the fashionable teens of Japan in the 80's when street performers and wildly dressed kids started showing up to show-off their own musical and artistic creations. Through this artistic outburst have come many subcultures such as: Visual Kei, Lolita, Decora, Ganguro, etc. And now a popular hang-out for teens who are into Street Fashion or Gothic Lolita style clothing, Harajuku has gained importance as a place where– new fashion styles are invented, cosplay has been redefined & is a great source of most unique inspiration for teenagers & cult clothing. Coming to the unique features of this style, Harajuku is quintessentially a fashion dictated by the whimsical, the wild & the outrageous! Characterized by garish, eclectic & ultra-flamboyant elements, Harajuku style focuses on inventive concepts & sartorial eccentricity. Mismatched clothing, bold & bright colors, leather, piercings, chains, zippers, boots, crazy hair-dos, androgynous clothing, eye contacts, mix of vintage & retro, excessive layering, etc. are some of the prime elements of Harajuku.
With this theme for interpretation, I was initially quite baffled. Because I could be anything, literally, I mean anything, except Harajuku. I mean bright neons, mismatched layers, leather, piercings was just not me. It was only after looking at one of the episodes of the popular Netflix fashion series, "Making the Cut" that was referenced by Sheela, I was back in the groove. No points for guessing what the theme for that episode was! But I noticed that I could deviate from the regular Harajuku elements and still interpret the style in my own characteristic minimal way. With my black pair of shorts & a black shirt, I built up the look while introducing touches of Harajuku like the striped tube socks, baseball cap, chunky boots and a slim cross-body pink bag. My pair of pink colored glasses with the thick black rim were a perfect addition to the youngish, sporty, gothicy inspired Harajuku look. Also I made sure that my attitude was in perfect sync with my look. Did it scream-"I don't give a damn"? 🙂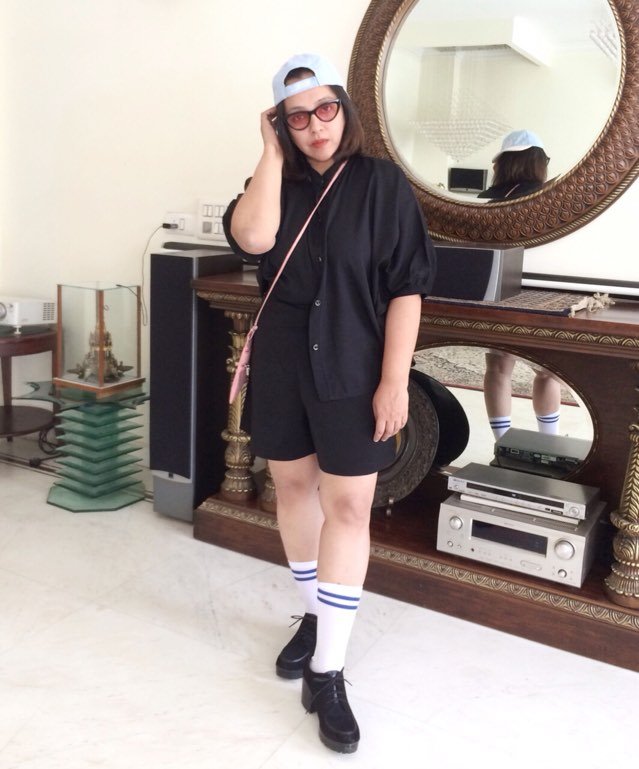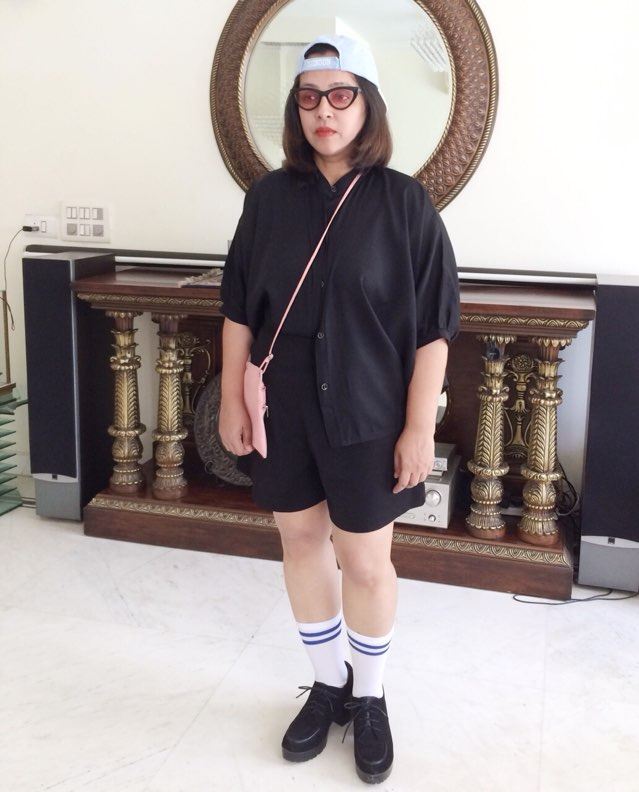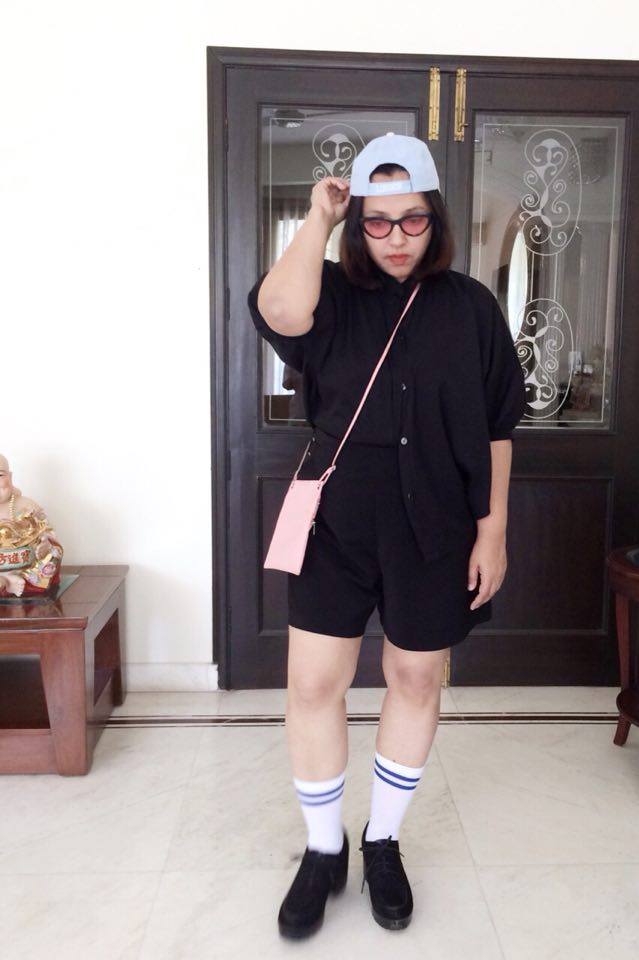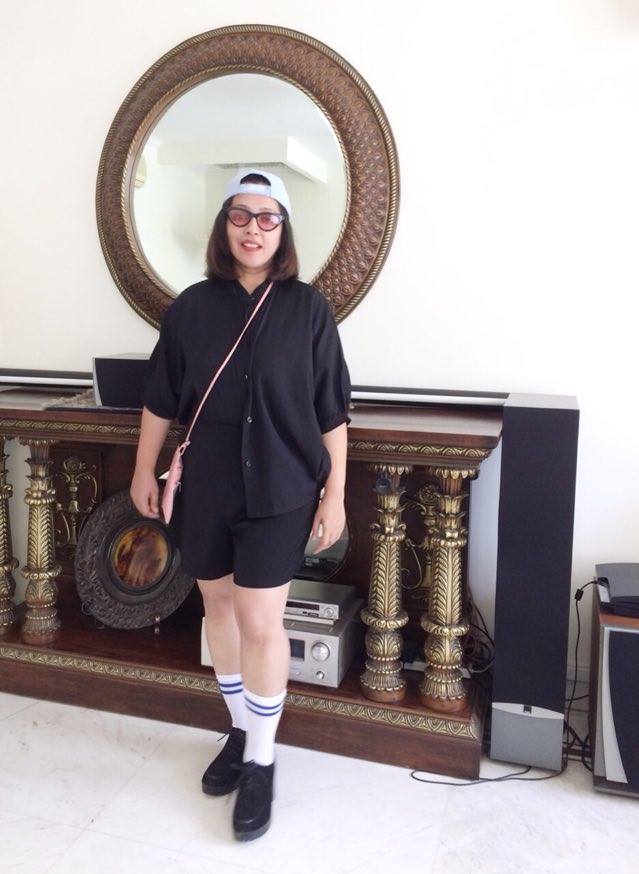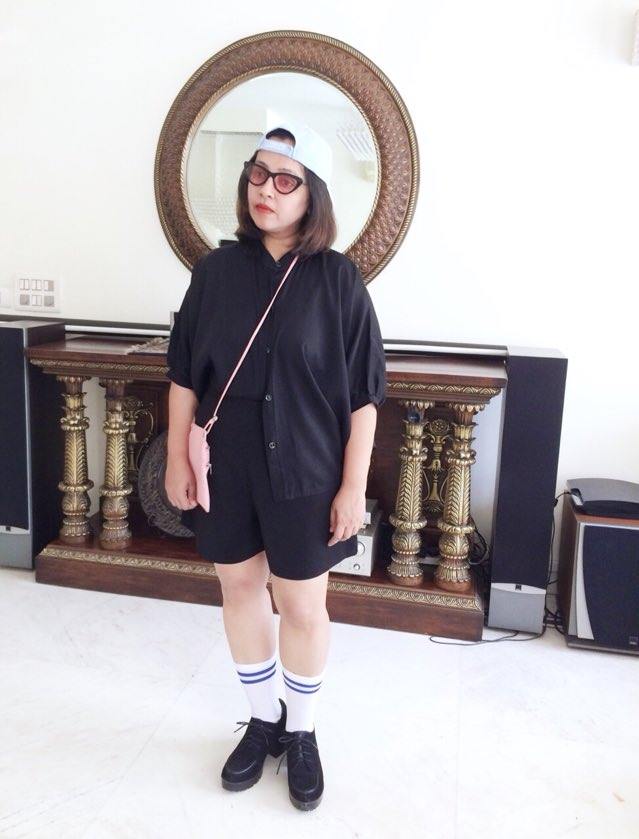 Shirt-Mango | Shorts-Kosamui, Bangkok | Shoes-Delhi Market | Socks-Local Shop, Gurgaon | Bag: Miniso | Cap-Local Shop, Gurgaon 
What started of as slight intimidation, surely eased off gradually. And I definitely had loads of fun doing this month's theme. Whether I was able to pull it off, is for you to decide but looking at it retrospectively, I would certainly be game for round two of this theme any time soon. Are my Fab 40 friends listening? Time to look at their take on the theme……
---
Sheela | Sheela Writes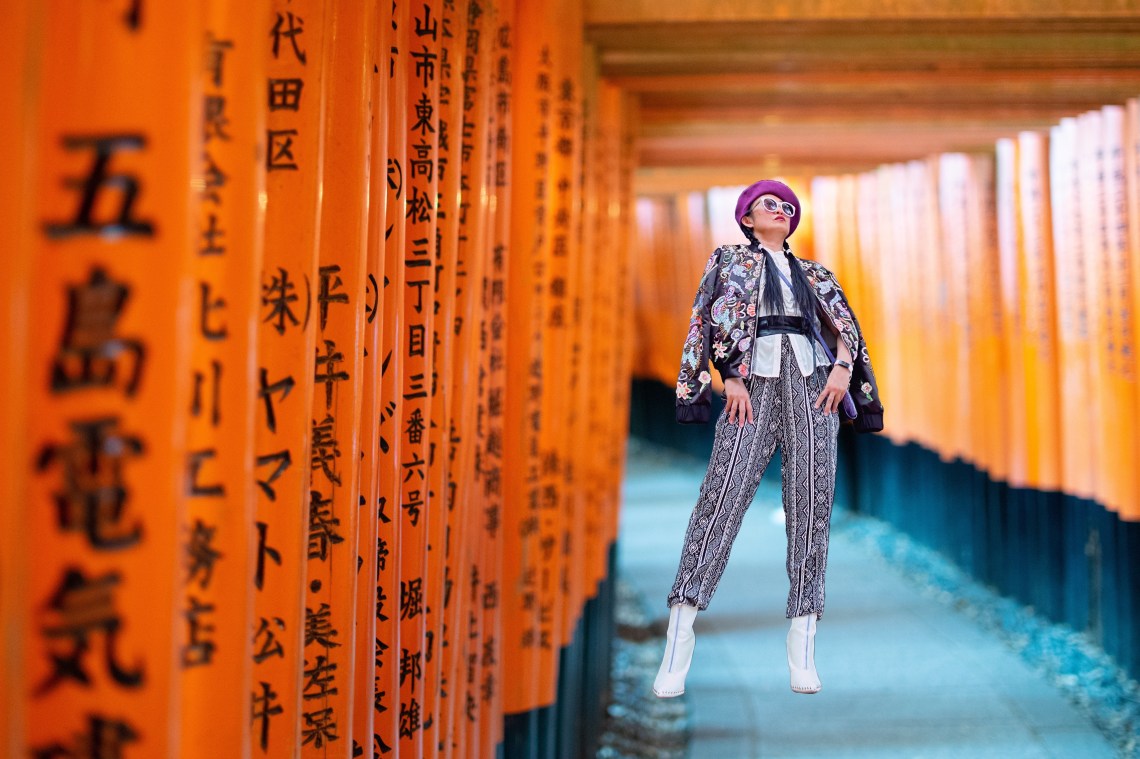 Jumpsuit-old | Ruffled White Top-Thrifted | Bedazzled Bomber Jacket-Nasty Gal | Boots & Beret-Forever21 | Obi Belt-Max Mara | Eel Skin Crossbody-Vintage, Thrifted | Sunglasses-borrowed from Eve
Sheela has captured the spirit of Harajuku most brilliantly with her clashing patterns of folk & floral. I just love how she has done her hair with two cute braids and a purple beret. The orange Japanese poles with carvings on them is such an interesting way to conceptualize the theme. Thank you Sheela for this fun theme!
---
Suzy | Suzy Turner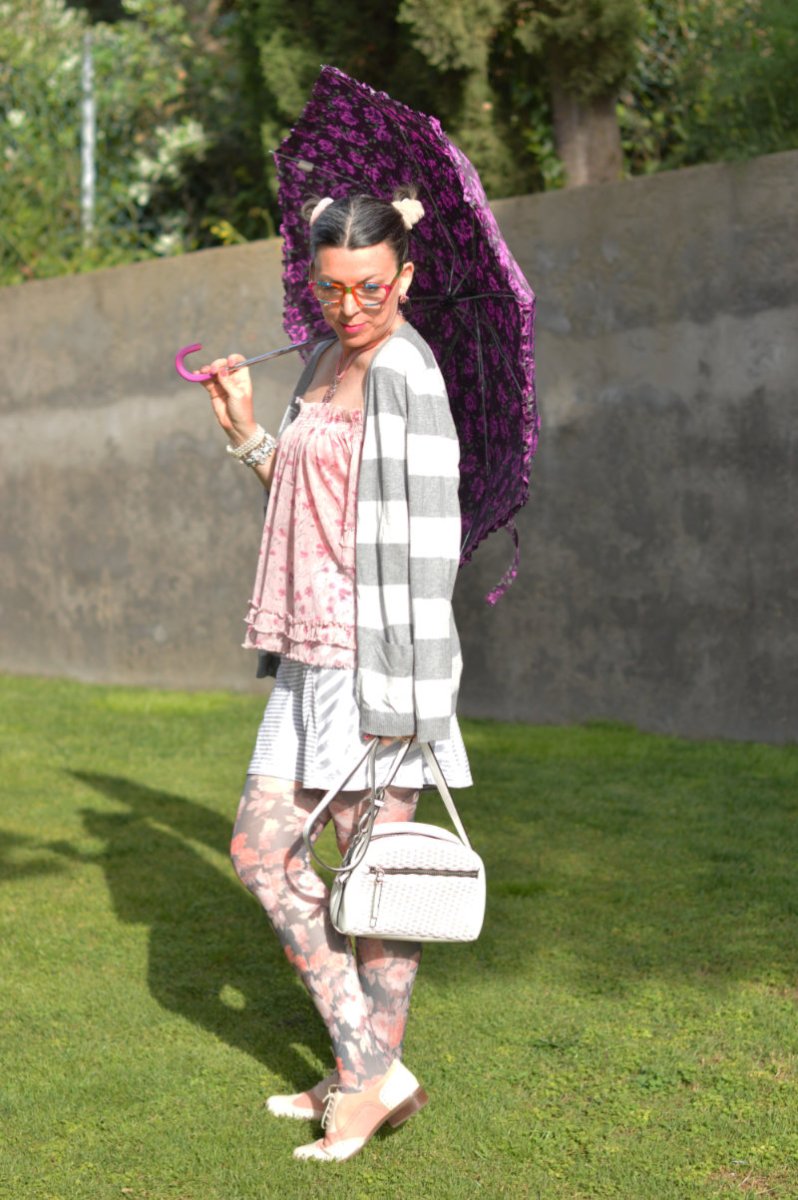 Blouse-Bershka | Skort-Nike | Tights-H&M | Shoes-Clarks | Cardigan-Tommy Hillfiger | Jewellery-all gifts from mother-in-law | Handbag-Mango | Umbrella-Primark
Suzy, it seems like, has just returned straight from the streets of Harajuku. I mean just look at those cute, little pigtails, the beautiful burgundy umbrella and those perfectly patterned glasses. Not to miss the clever mixing of florals with stripes. And that make-up is spot-on. You have absolutely slayed the look girl!
---
Shelbee | Shelbee On The Edge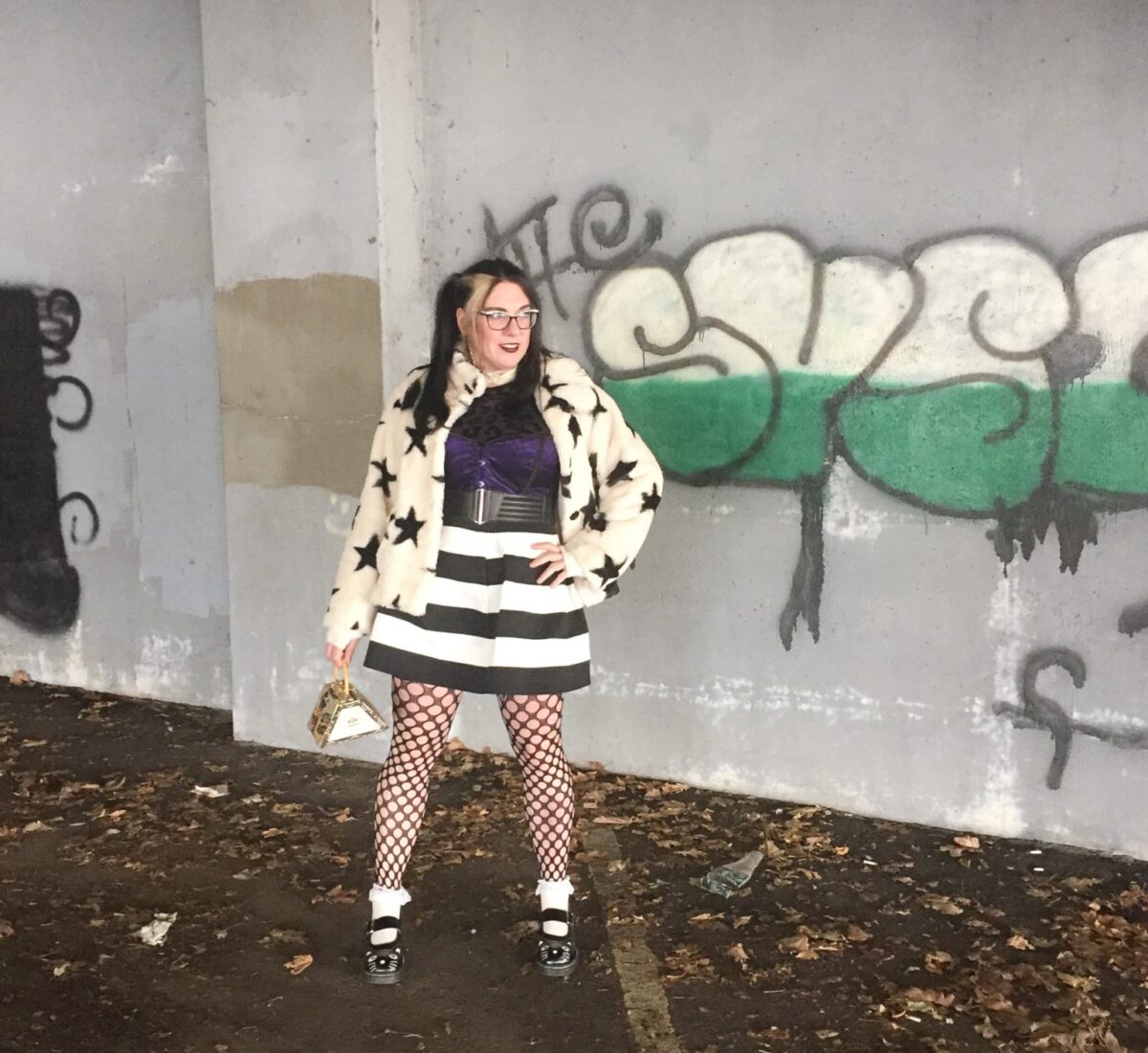 Coat-Kohl's | Corset-Adore Me | Top-Torrid | Belt-Cato | Skirt and Bag-Thrifted | Tights-Target | Socks-Amazon | Shoes, Jewelry, and Arm Warmers-super old
Shelbee went all in for a cute, school girl look with her theme interpretation. Those black kitty cat clogs with frilly socks and fishnet are absolute head turners. And the perfect pairing of stars & stripes from the same color family is so so brilliant. Love your posture too, Shelbee, so Harajuku!
---
Daenel | Living Outside The Stacks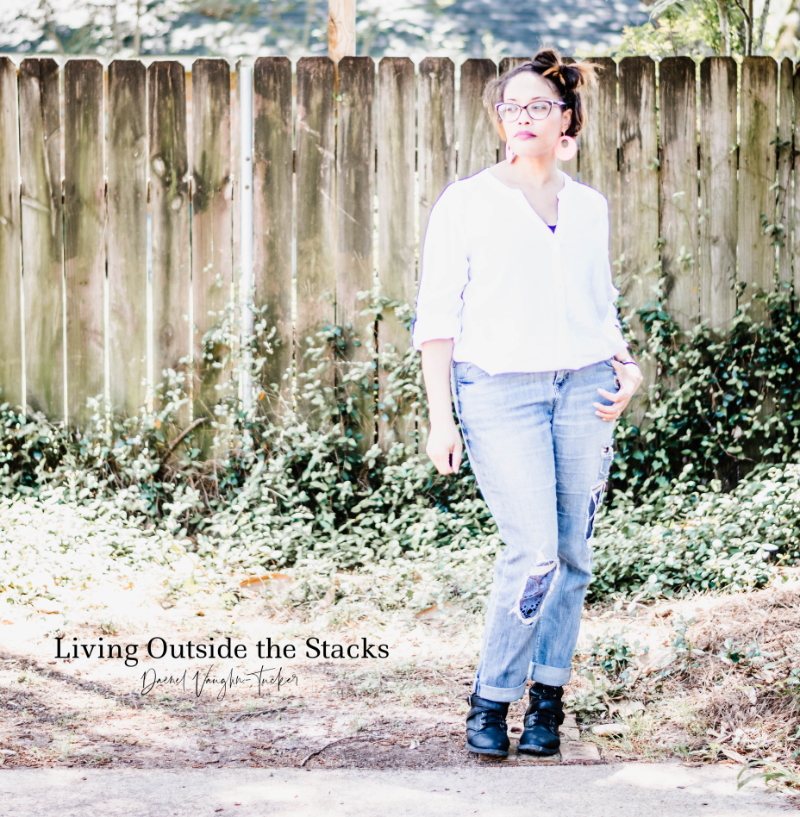 Daenel's spiky, shabby chic hairdo screams Harajuku quite loudly. Her bold make-up, pink danglers, patchwork jeans and ankle boots are giving us subtle Harajuku vibes. Sticking to her minimal, neutral, classic style, Daenel has given her own dreamy twist to the theme.
---
Ada | Elegance And Mommy Hood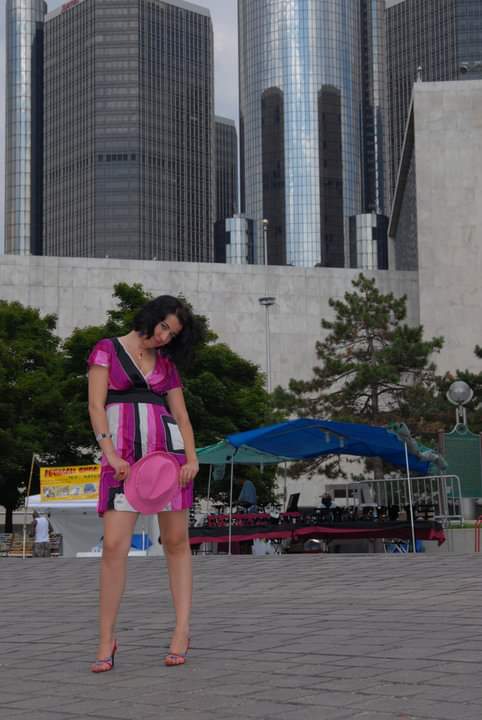 Silk Wrap Dress-Express | Fedora Hat-Vintage from London UK | Wedge Sandals-Nine West
Ada, our stunning guest blogger for the month, has given us a bold, sexier version of Harajuku style with her vibrant, color-blocked, striped dress that draws inspiration from the traditional Japanese kimono, a matching fedora and the gorgeous multicolored heels. She has gone all cute & romantic with the theme! Kudos Ada.
---
Well if you are a fan of mixing fashion styles & trends, Harajuku is just for you. Though it may not be very popular with some people finding it weird or childish, you can always have your fun with your own individualistic twists & punches. For me it was a learning process while having fun all along. After all fashion is all about evolving choices & personal growth!
FOR CONSTANT UPDATES, CONNECT TO: FACEBOOK | TWITTER | INSTAGRAM