What is the Fab 40's group
The Fab 40's is a group of six stylish fashion bloggers from around the globe. Each month we choose a different theme and invite a guest blogger also in their forties to join us. This group's goal is to take on style trends and show how we each interpret and incorporate them into our own lives. With six widely varied views, you are certain to find something that speaks to you each month and encourages you to have fun with fashion after 40.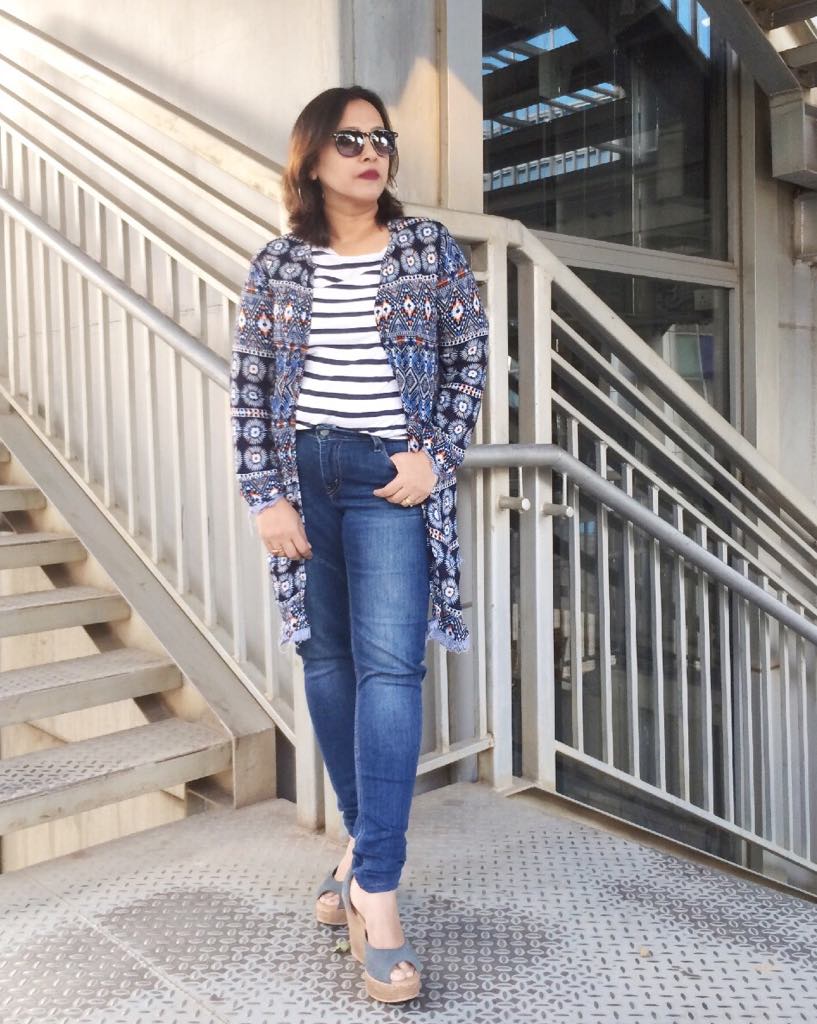 OMG, this month's theme was intimidating not just in words but even in execution. When my dear friend, Jennie announced the theme for the month, I was like—my worst nightmare is about to come true! Frankly speaking, I do not own much pattern in my closet because I don't wear prints except for stripes and that too very occasionally. And stripes is almost like a neutral now, isn't it? As boring as I may sound when I say that I don't wear patterns or styles with clashing prints but then that's me. I have always been drawn to solid colors, tonal looks & neutrals and stuck with my belief of—Less is More. But this was an opportunity for me to rethink styles, accessories, colors, patterns & ways to combine them in a way that said to me—More is definitely more!
So Jennie's theme set me thinking about all the quirky street styles, mismatched wardrobe looks on the ramp, daring fashion icons who constantly love to experiment with latest patterns and the gorgeous models displaying divergent styles on the billboards of M&S, H&M or Gap. And I took it up as a challenge. Though this one was way out of my comfort zone, I must say I had a lot of fun in the process. Thanks to you Jennie 🙂
Now I really needed a point of inspiration around which to build the pattern mixing look. What better than a basic denim and striped T ? I knew this was a combination around which I could play a bit without going OTT. Well, I did just that by adding this beautiful folk patterned bohemian blue shirt dress that I wore like a long jacket/ shrug over the tee (I have worn this one in the past like a dress and shrug). Seriously I was not sure if I had pulled it off but with my blue suede wedge heels, the entire look seemed to come together. And definitely blue in its various shades anchored the whole look! Needless to say, I had accomplished a feat 🙂 while having lot of fun at the same time. Must say, I could have never dreamt of wearing these pieces together. Having said that, I am really looking forward to wearing more of pattern and more importantly combining them together. Even small doses of accessories such as hair bands, belts, shoes & caps should be quite interesting to work with. Who knows this may be a major step in my personal style evolution!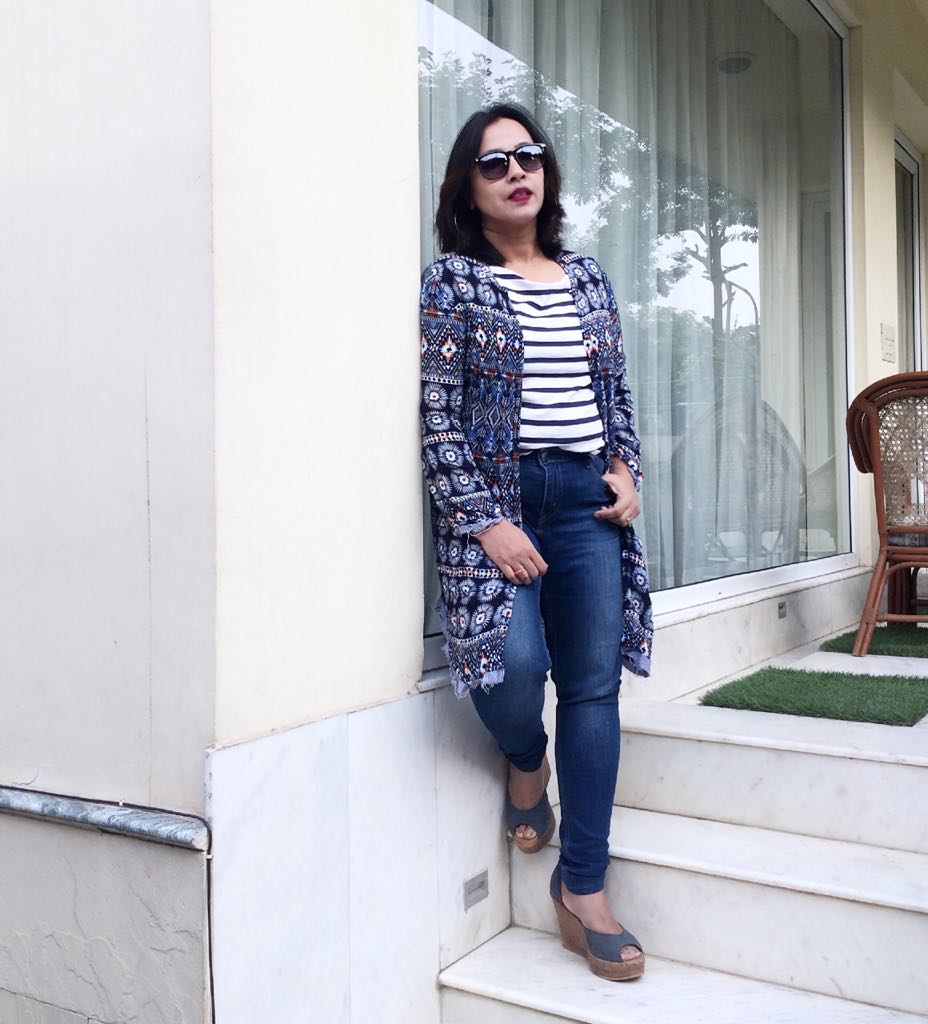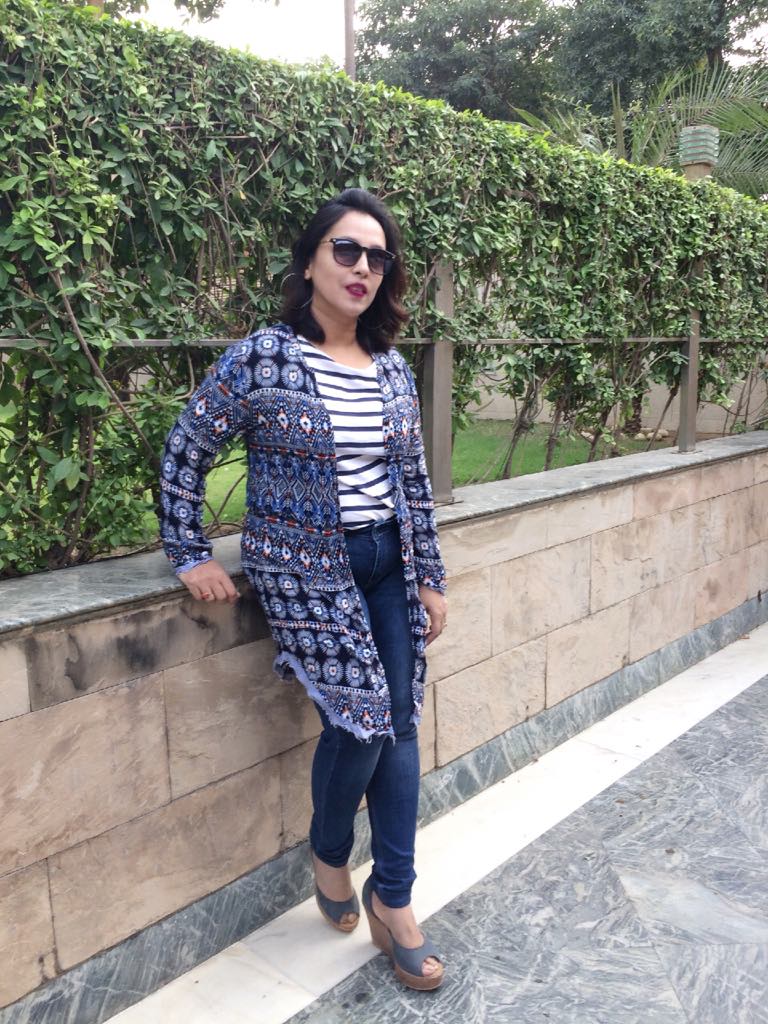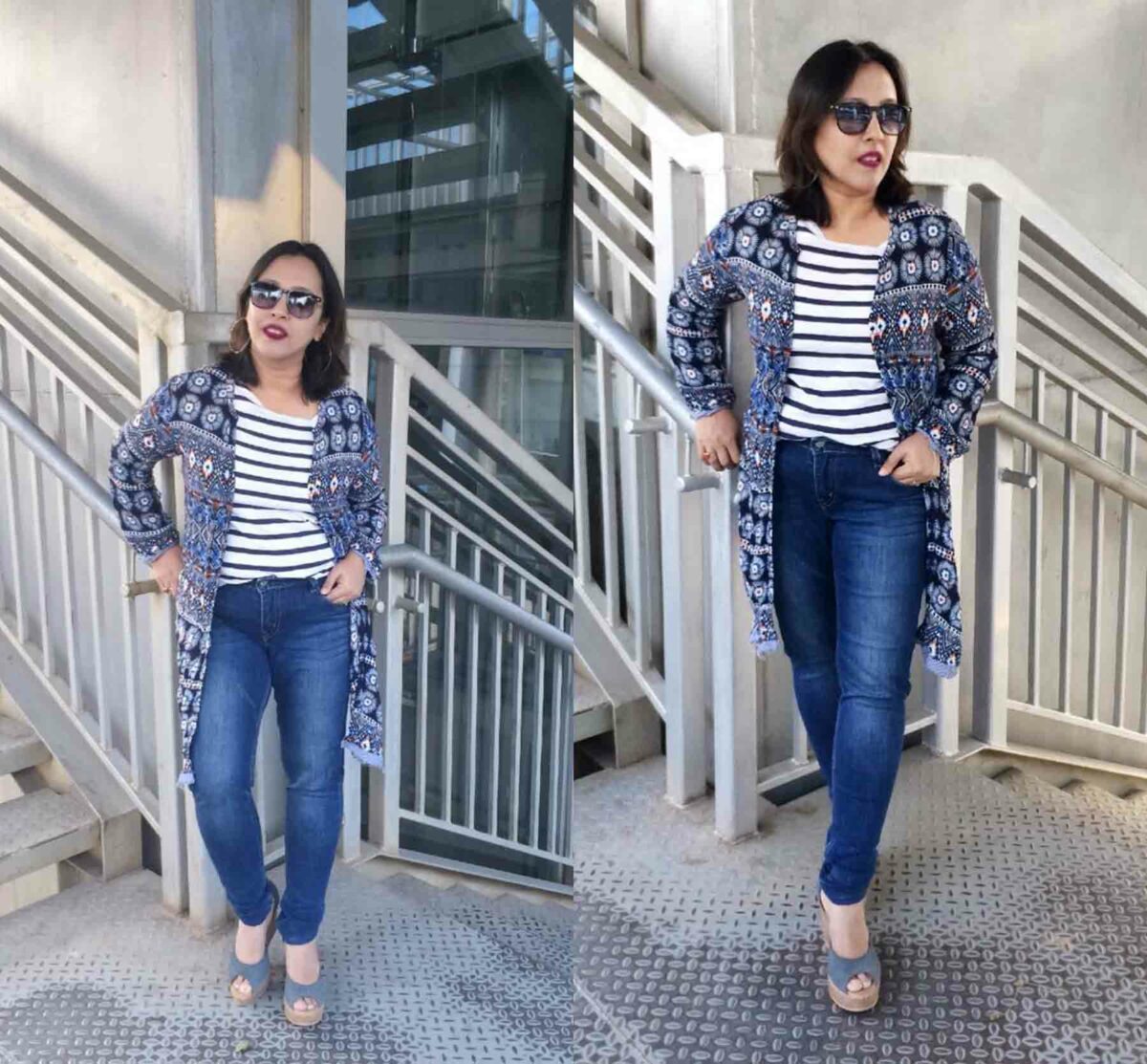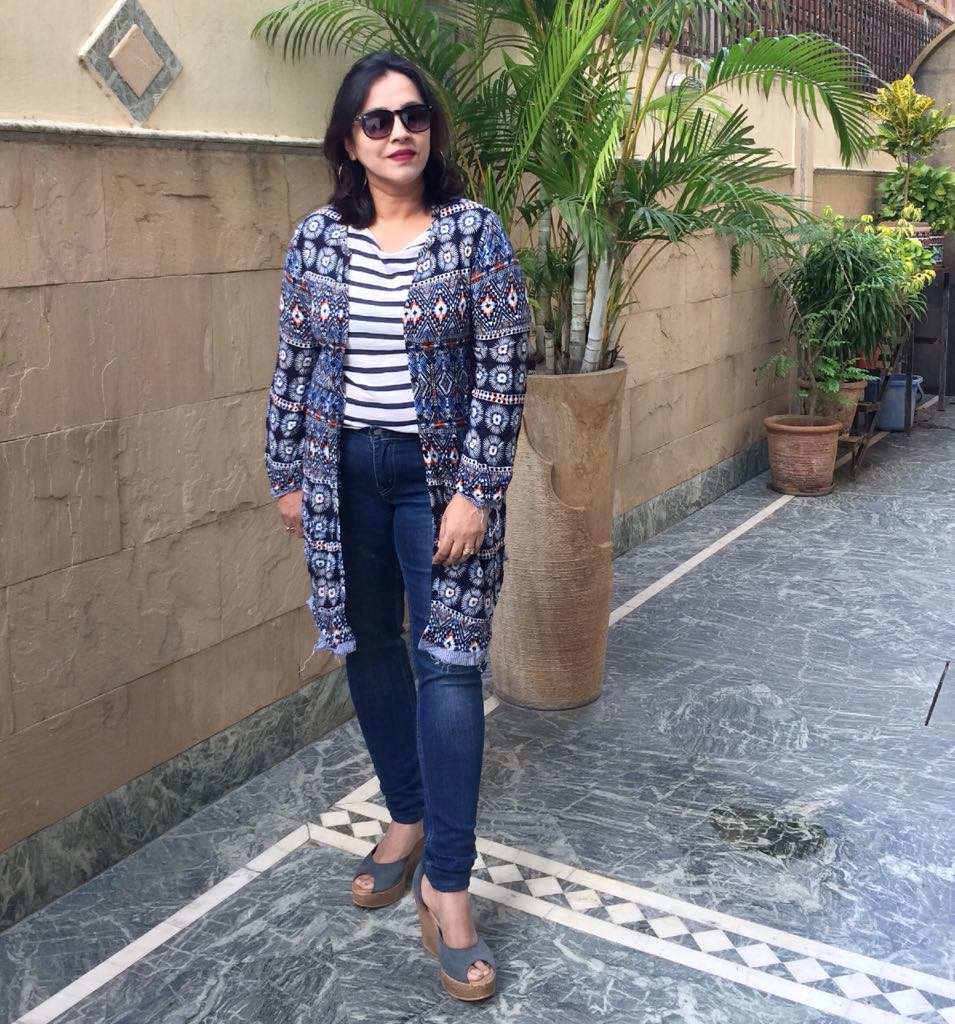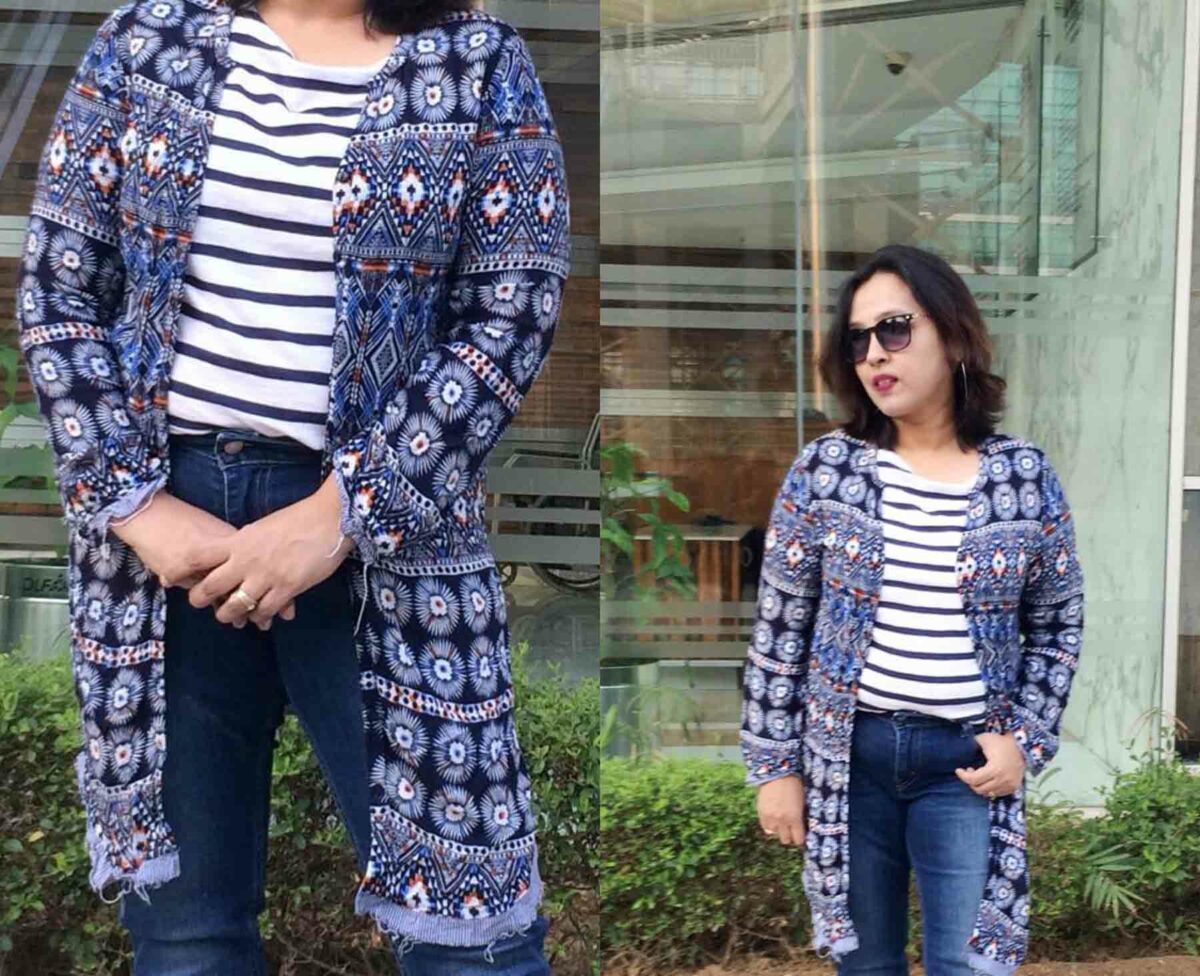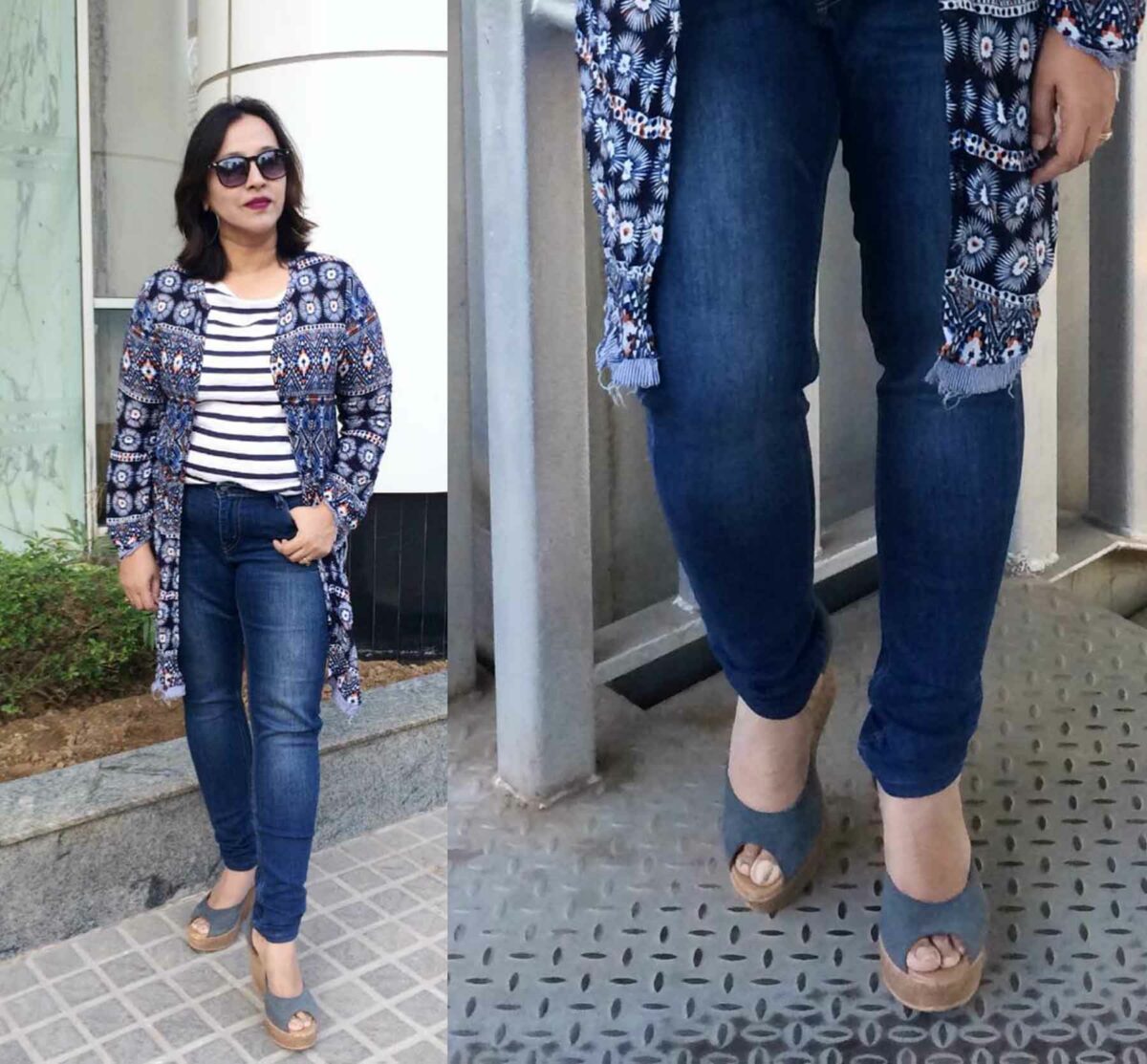 Multi-pattern Shrug: Vero Moda | Stripe T: Old Navy | Denim: Levis | Wedge Sandals: Hype
---
It's time to see how my fellow Fab 40 bloggers have nailed the art of mixing patterns in their individual characteristic styles. I am sure you will be able to find something that will inspire you to experiment with your wardrobe right away!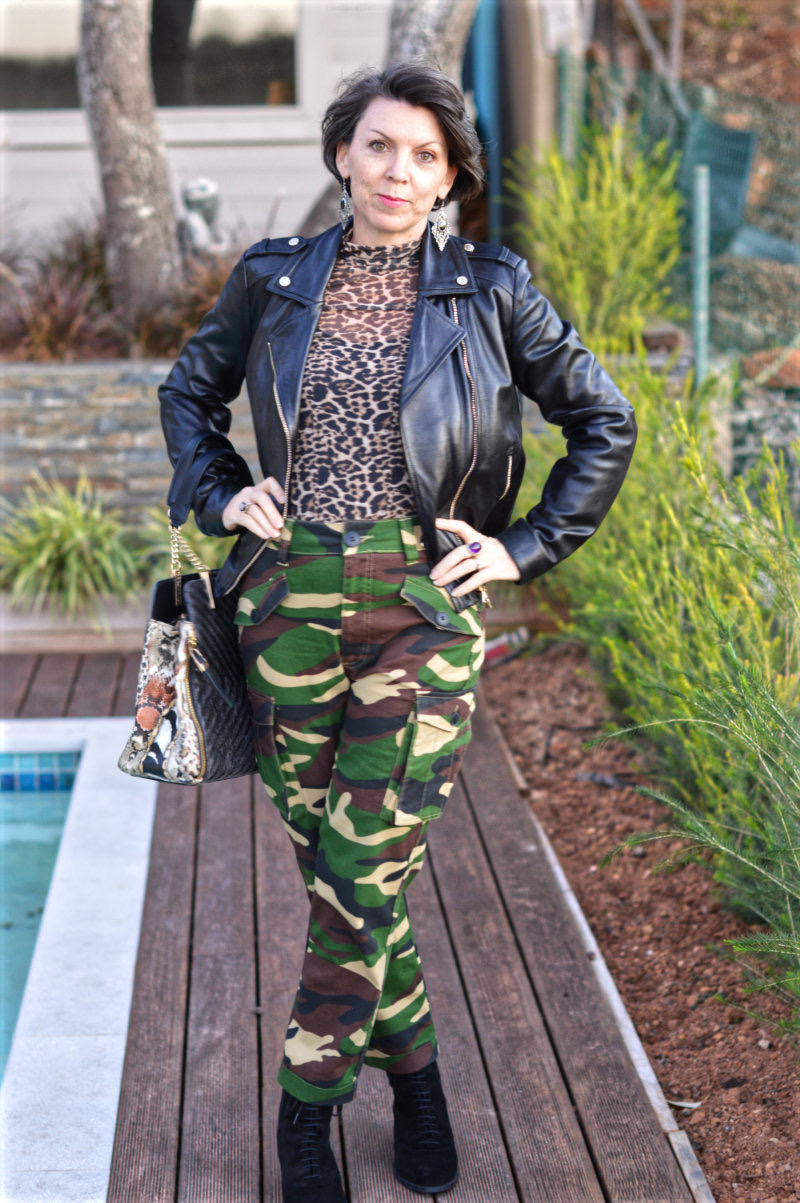 Camo trousers – Bershka| Animal print top – Bershka| Leather jacket – Massimo Dutti | Handbag – Gift from mother-in-law| Boots – Calla Shoes| Earrings – crazy old!
Totally bold & fearless is how I would describe Suzy's (Suzy Turner) style for this month! Those biker vibes with a cool demeanor in a rocking leopard and camo combination is not easy to pull off. But Suzy does it effortlessly and with great panache. Do not miss the pretty danglers that add a definite touch of femininity to an otherwise rough & edgy look. Rocked it girl….
---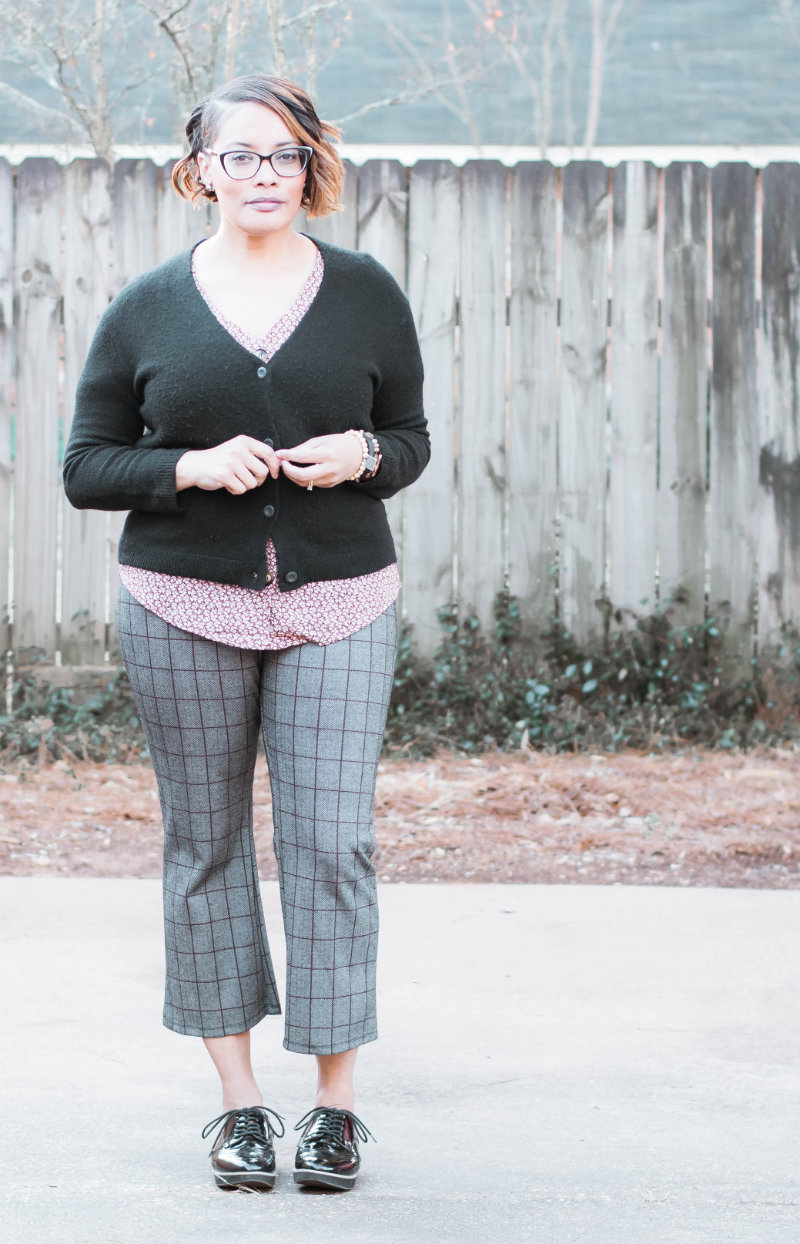 Daenel of Living outside the Stacks has mixed patterns so cleverly. Totally in awe of this subtle pattern mixing style. The windowpane cropped trousers with a mini floral top and patent leather oxfords is a combination I can totally see myself in. The black cardigan pulls it all together so cleverly. Love this chic, minimal take on the theme.
---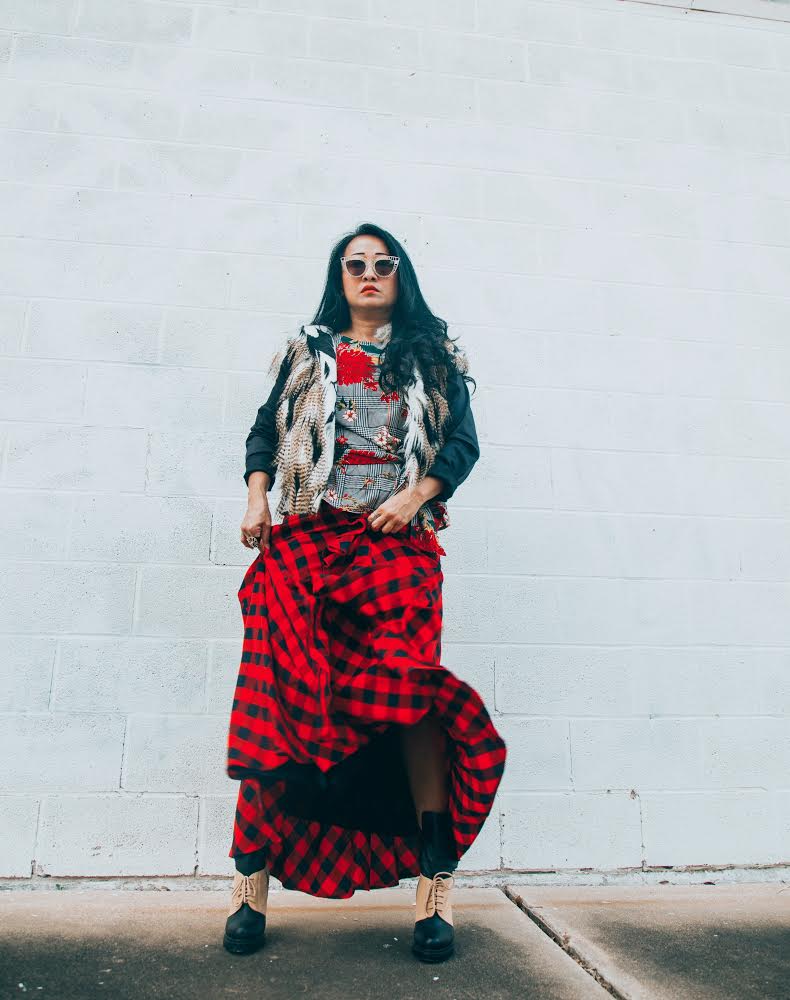 Top & Skirt – Sunnies| Booties & Jewelry – everything thrifted| Jacket – c/o Jagged Hanger
That bold, plaid, red skirt is love at first sight! It only takes a fashion diva like Sheela of Sheela Goh to come up with such a fun & interesting clashing of patterns. It is such a fresh take on combining patterns & textures with plaid, floral, pinstripes and fur all in perfect sync with each other. The result–An ultra stylish, fashion savvy, winter look !
---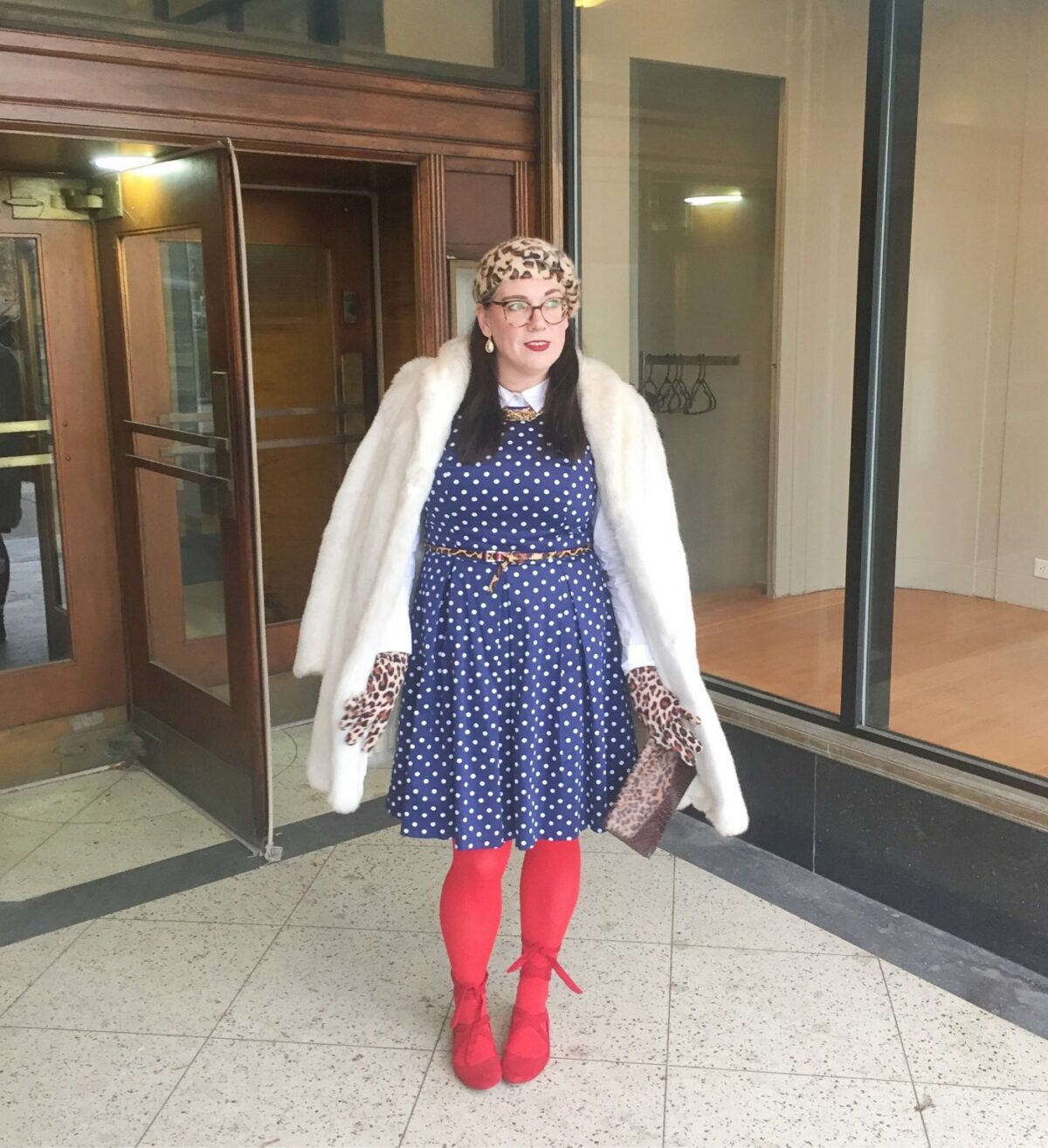 Dress, Coat, and Clutch-Thrifted |Shirt-Old Navy| Hat-Charlotte Russe| Shoes-Payless | Tights-Sock Dreams| Gloves-Walmart| Belt-TJ Maxx| Necklace and Earrings-Old
Shelbee of Shelbee on the Edge has a style that has some parts rooted in the vintage. Those red tights are so 1960s & 70s and a bold conversation piece. The way she has combined them with varying shades of blue, white and brown in her patterns and embraced the theme completely…. And that white fur coat on her shoulders is so classic & so chic!
---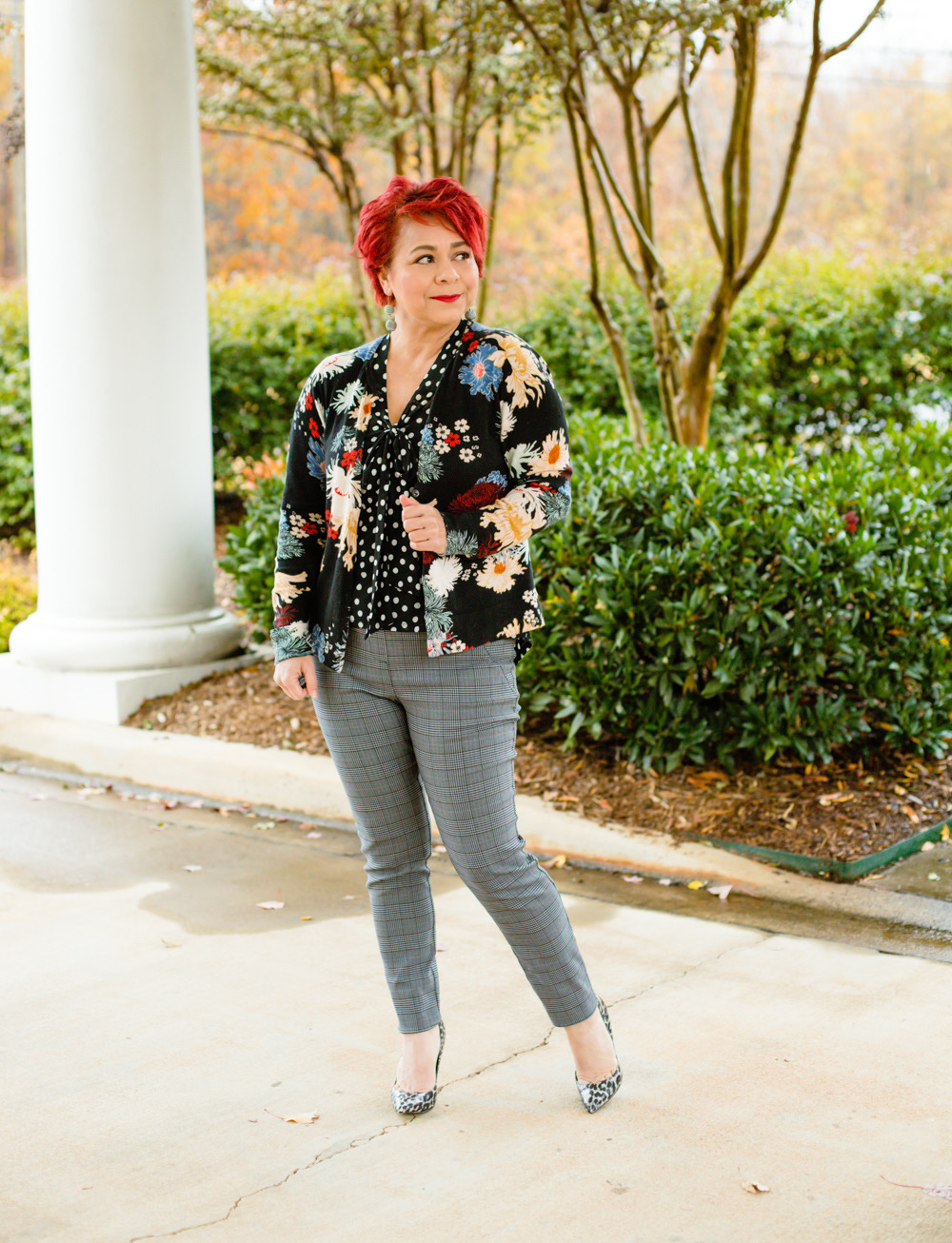 Cardigan – Ann Taylor| Top – Ember| Pants – Soho Apparel Ltd.| Shoes – JoeyO| Earrings – Shein
Jennie (A pocketful of Polka Dots) my fellow blogger, who chose this month's theme, is slaying pattern mixing to the T and must say, absolutely effortlessly. Five patterns in a single look with each one speaking to you separately yet so well coordinated and in sync with the overall look. I bow to you Jennie! You are the undisputed queen of pattern mixing. And those leopard pumps are so so gorgeous!
---
And now we have our special guest blogger of the month, Fonda of Savvy Southern Chic with her take on the theme! I have collaborated with Fonda in the past and it sure was a roller coaster….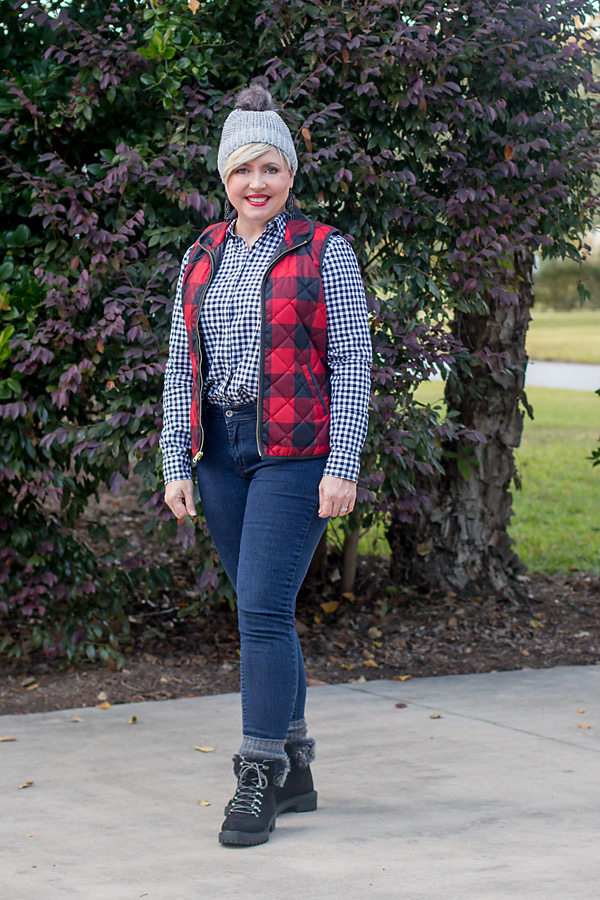 Shirt- Amazon| Vest- old/ Old Navy| jeans- old/ Levis jeggings| socks-Gold Toe| boots- old/ Target| beanie- old/ Target| earrings- really old
Fonda has elevated a basic denim and shirt look to something super cool & stylish! Gingham with plaid in contrasting shades accentuated with the bold lip color is giving such festive, Christmassy vibes. That beanie and those fur boots are perfect accessories to complement the trendy, winter look!
---
So I hope this post has given you some ideas & insights into pattern mixing! And with all the inspiration, you will be brave & confident enough to try out some interesting pattern combinations which you never thought of trying hitherto. So I would say—go all out, get creative, be confident & have fun.
FOR CONSTANT UPDATES, CONNECT TO:  FACEBOOK | TWITTER | INSTAGRAM