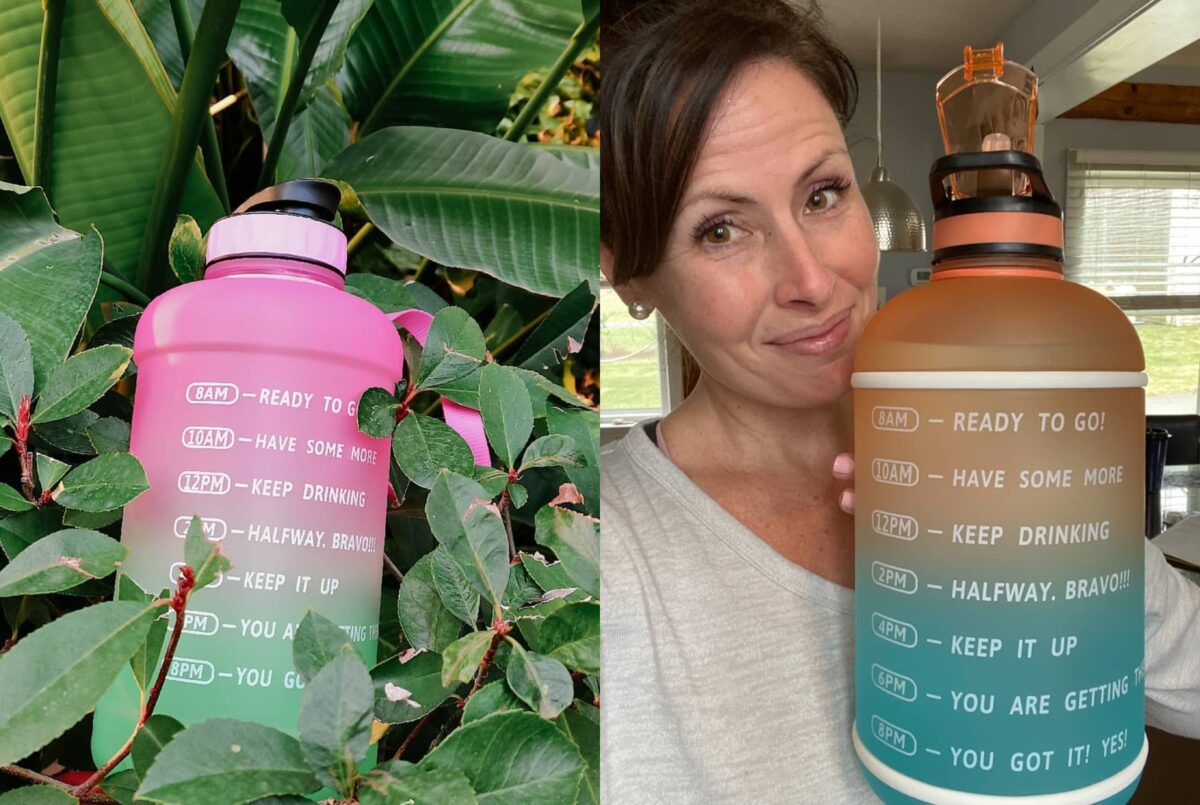 Who can deny the benefits of drinking water and staying hydrated on daily basis! With the Corona virus still lurking over us and showing no signs of abating any time soon, it is important that we have a good regulated intake of water in order to keep healthy, fit & energetic so that we are able to tackle the virus head-on. Also it is an established fact that drinking water provides manifold advantages to our body and immune system other than aiding digestion, preventing constipation, stabilizing our heart-beat & blood pressure, maximizing physical performance & optimizing our brain functions. With today's life being constantly on the move, we rarely have time to check or regulate our daily water intake. In order to facilitate this purpose and to ease out this aspect of our fitness, KEEPTO has come out with a product that is super functional, super scientific and extremely important for not just the fitness enthusiasts but also every individual who desires good health devoid of disease and ailment.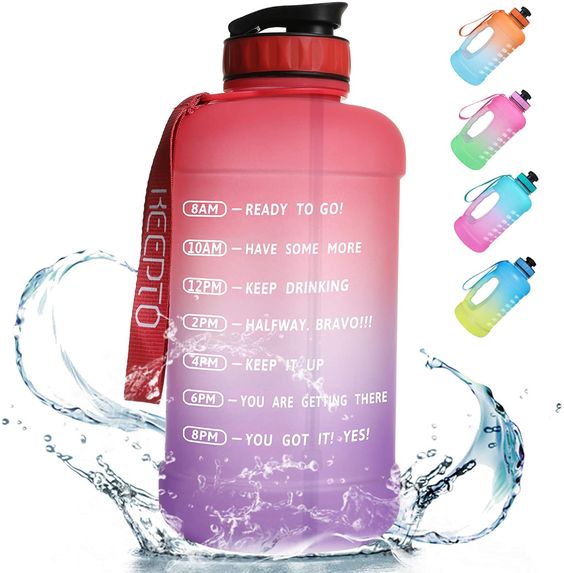 It is an eco-friendly, half-gallon, water bottle that will completely change your lifestyle for the better. We have normally seen that nowadays we tend to eat anything & everything that we come across without having any control over the type of food we are consuming. This results in our body being inundated with toxins and all kinds of chemicals & harmful substances. But if we were to have enough water we can easily detoxify our body and get rid of these harmful toxins & chemicals. This is exactly where this Keepto bottle comes in handy. It has motivational quotes and hourly time markers that serve as great reminders for staying hydrated and drinking enough water throughout the day. So detoxifying your body was never easier than today. Also achieving your fitness goals, such as loosing weight, toning your boding, being able to run a complete marathon, being able to hike, etc. is a lot easier with this bottle. The large capacity of half gallon/ 64 oz lets you enjoy one full water bottle without having to refill it frequently ensuring easy completion of your day's goals. This 64 oz water bottle with time marker is 100% BPA & TOXIN FREE, odor free, leak proof & completely reusable.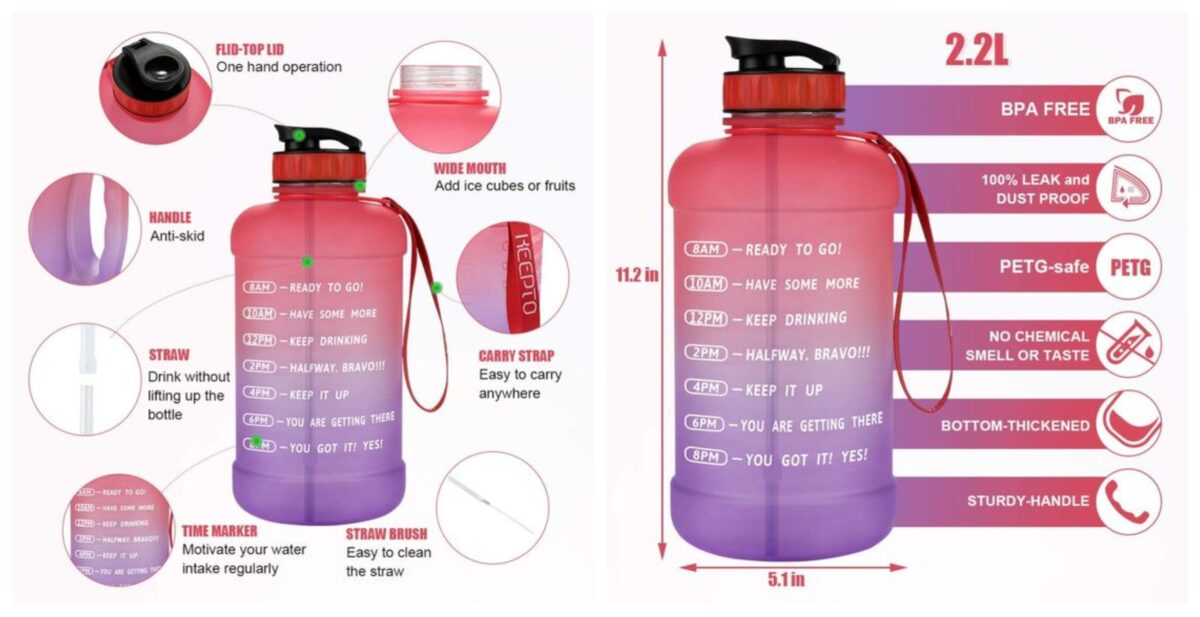 The multi-functional, sturdy water bottle has some amazing features which permit hassle-free, easy, usage. It comes with flip-top lid making it dust & leak proof. The silicone straw allows you to enjoy spill-proof sipping. It is also attached with a tough carry-strap & straw brush and has a mouth that is wide enough to fit ice cubes on days of scorching heat. It is also very easy to clean & maintain using baking soda and vinegar. The inspirational quotes on the bottle will give you the feeling of being with your fitness coach who constantly drives & inspires you.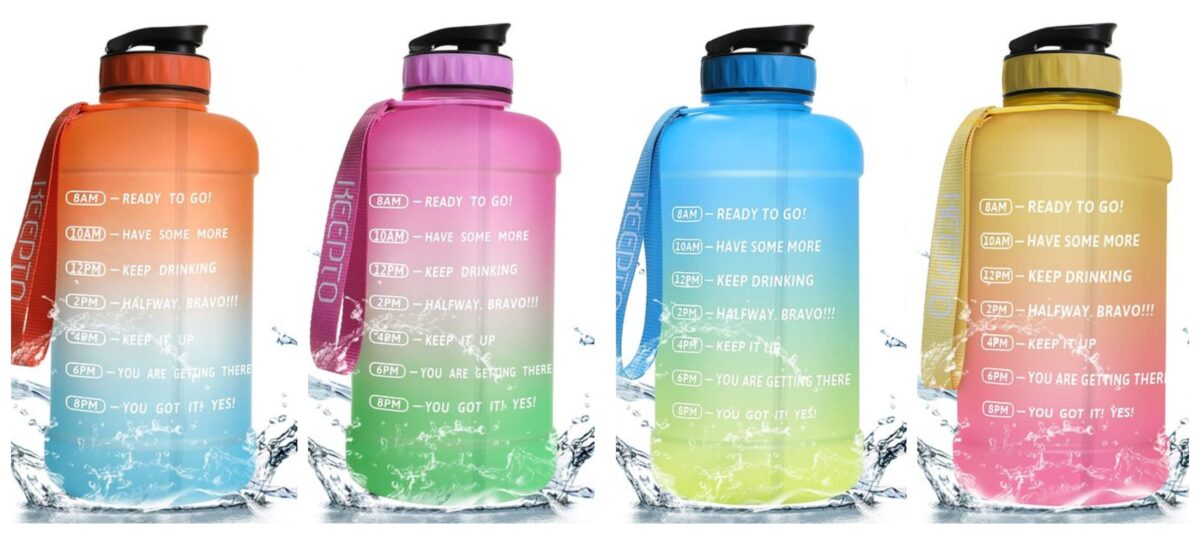 MULTIPLE COLOR COMBOS AVAILABLE
So whether it is your daily workout at home, jogging, running, gyming, aerobics, tumbling, cycling or any indoor or outdoor sports or even just a plain simple detox, Keepto water bottle is an absolute must at every stage. It's strong & sturdy portable carry handle, makes it easy to carry it anywhere including your picnics, travel, hiking or camping activities. Undoubtedly Keepto water bottle is one of the best health assets that you could invest into and that too most affordably. It is an investment into a happy, healthy, active, life!
FOR CONSTANT UPDATES, CONNECT TO: FACEBOOK | TWITTER | INSTAGRAM