What is the Fab 40's group
The Fab 40's is a group of six stylish fashion bloggers from around the globe. Each month we choose a different theme and invite a guest blogger also in their forties to join us. This group's goal is to take on style trends and show how we each interpret and incorporate them into our own lives. With six widely varied views, you are certain to find something that speaks to you each month and encourages you to have fun with fashion after 40.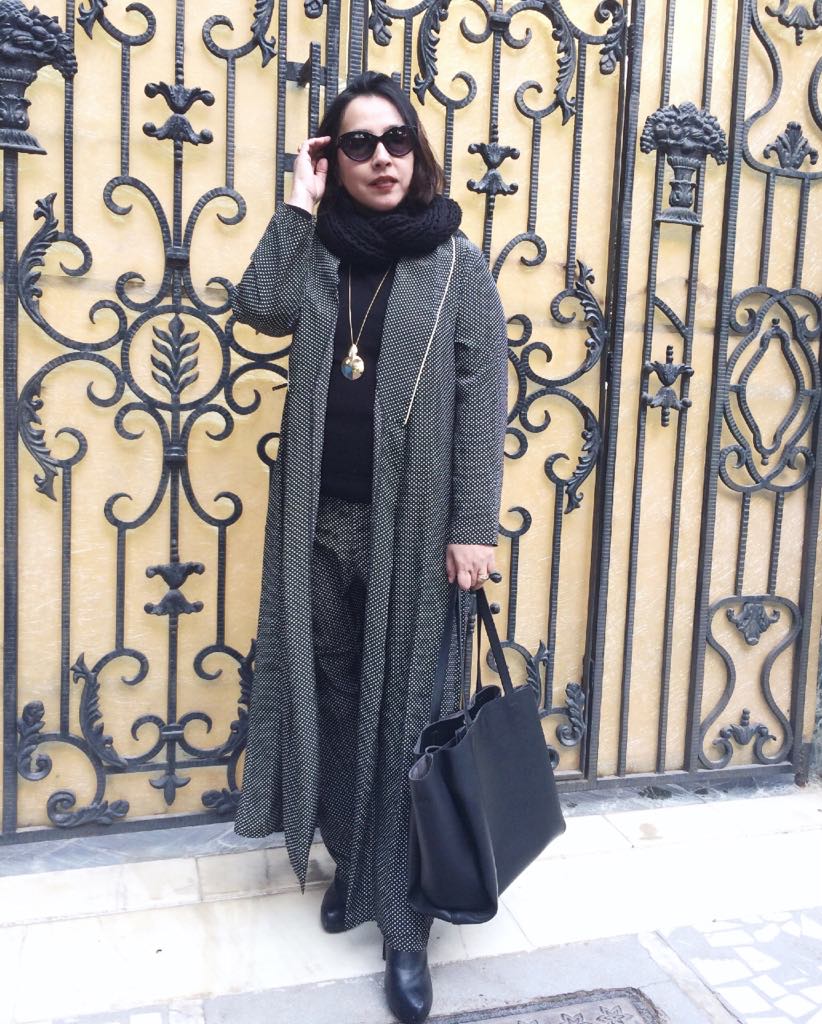 I am writing this post with mixed emotions. This post is a special one for many reasons. Firstly this is the last one of 2019, so it kind of wraps up the entire year which has been one of self evaluation, emotional contentment & spiritual advancement! This year has brought calm & a sense of fulfillment and I am truly thankful to God for making me a more evolved being.
Secondly, this is the last one with Jennie! I will really miss Jennie of A Pocketful of Polka Dots who will be joining us this month for the last time for the Fab 40's blogger group collaboration. I am so happy to have been introduced by her to this gorgeous group of bloggers who have always put their best fashion foot forward with each month's theme. But now with Jennie leaving us, there will certainly be a void, a big one! Here's wishing Jennie, the best of everything.
Thirdly, as we countdown to the beginning of 2020, I look forward to countless hope, greater positivity, new beginnings, better clarity, more stability & a never ending possibility of doing the best and receiving the best…..I am so much ready for 2020! New strength, new vigor, new dreams,……
And on this positive note, let's look at today's theme—POLKA DOT! Sure, it was given to us by our own sweet Jennie, one of the most versatile & stylish of bloggers I know. Jennie simply loves this classic pattern as is evident from the name of her blog. And slowly & steadily, the pattern is growing upon me as well. I was equal parts shocked and pleased with myself for creating a day look out of a polka dotted pajama set with a matching robe that had been lying in my wardrobe tucked in some corner since months. It would have perhaps continued to occupy space in my closet without any real use had it not been for Jennie's theme. Thank you my dear friend 🙂
This is actually a 3 piece set with a matching top which I replaced with a black turtle neck. It's incredibly cold here in India at the moment with temperatures touching almost 2 degrees. So this shoot tested my grit, patience and physical strength in its entirety 🙂 Another reason for this post being so special! I love the fact that this pajama suit has the polka dot pattern in a subtle format rather than the bold in-the-eye dots. I balanced the sweet, little dots with classic black accessories like my ankle boots,wool neck scarf & black tote. It is a look that is wearable & stylish at the same time. I am certain to include more of this version of polka dots in my closet in the near future!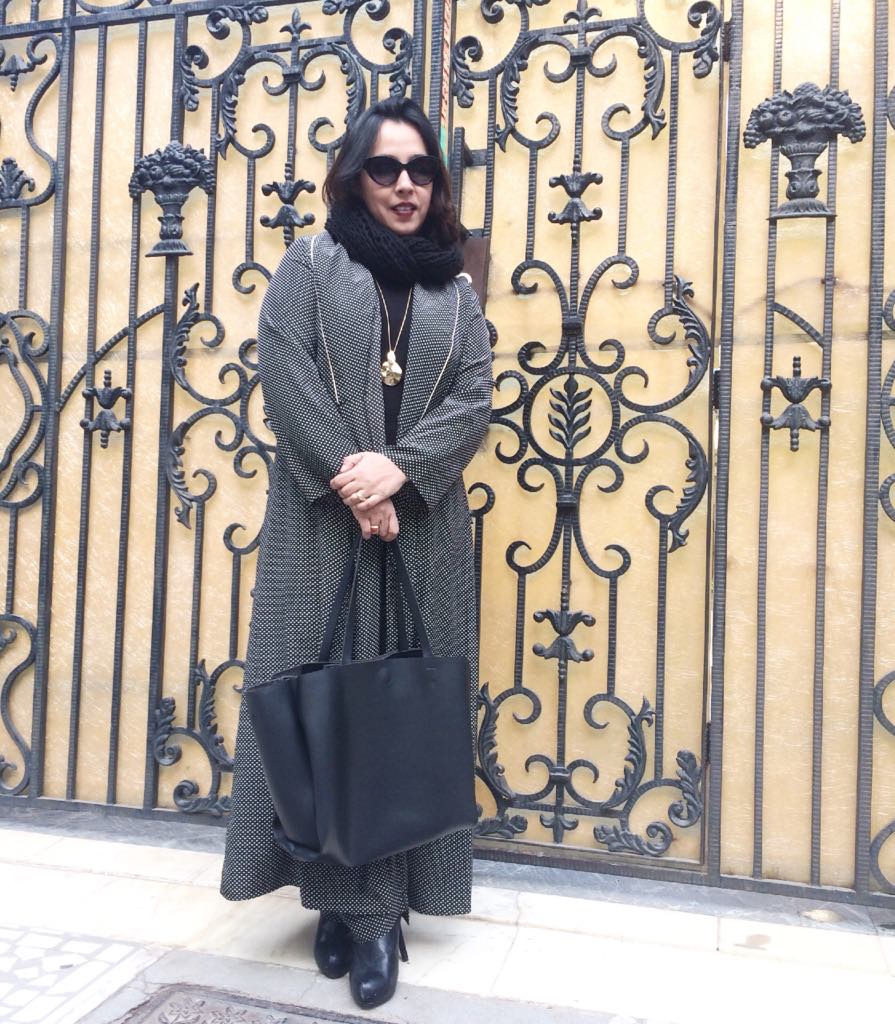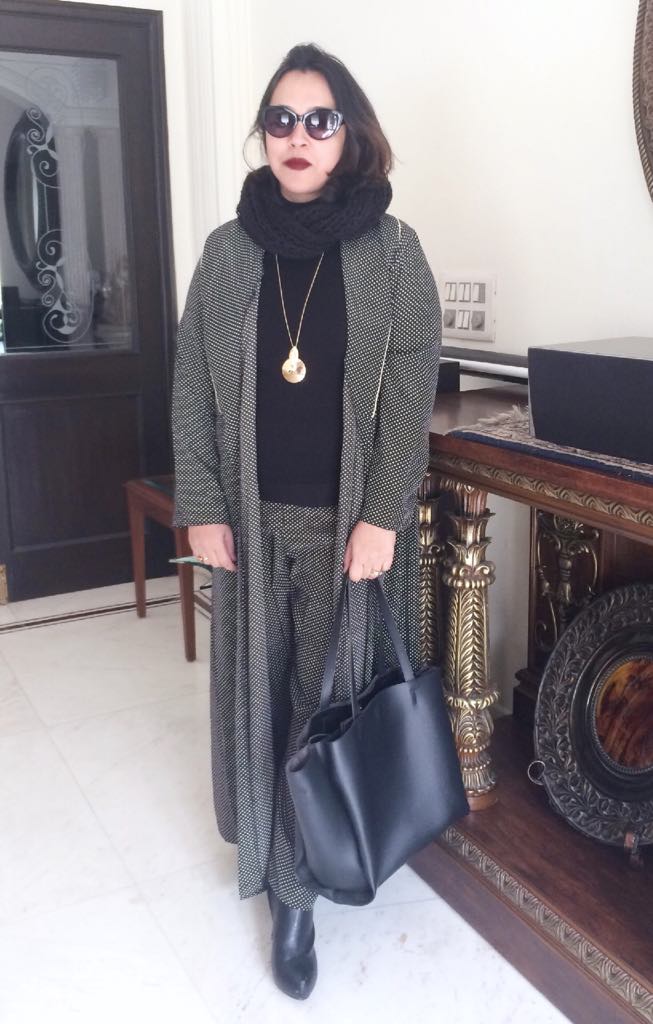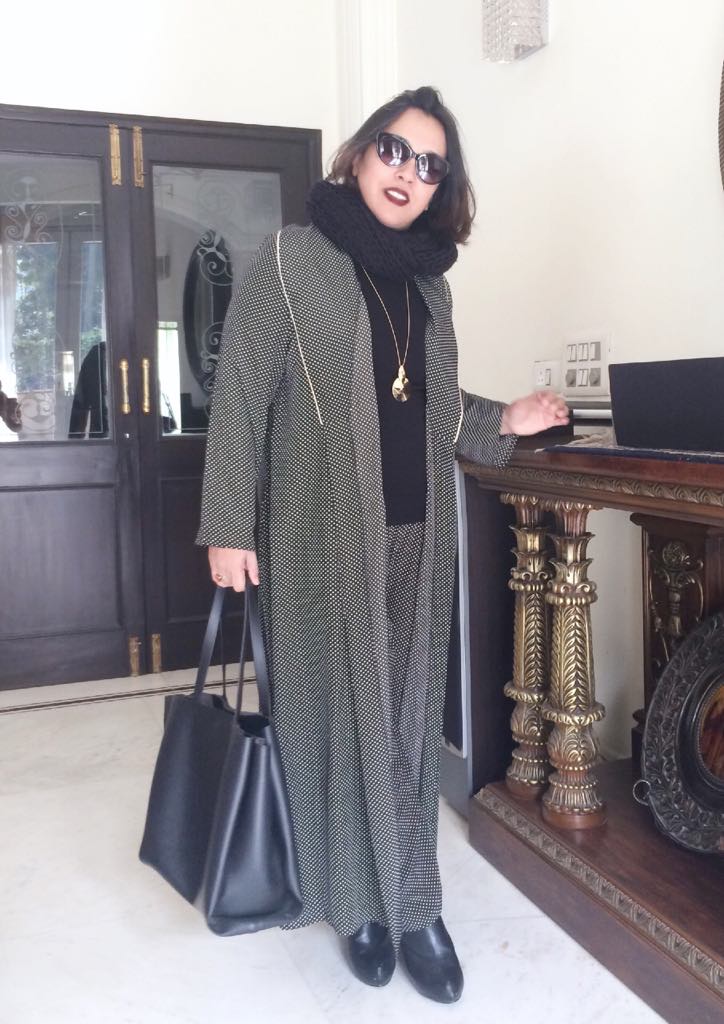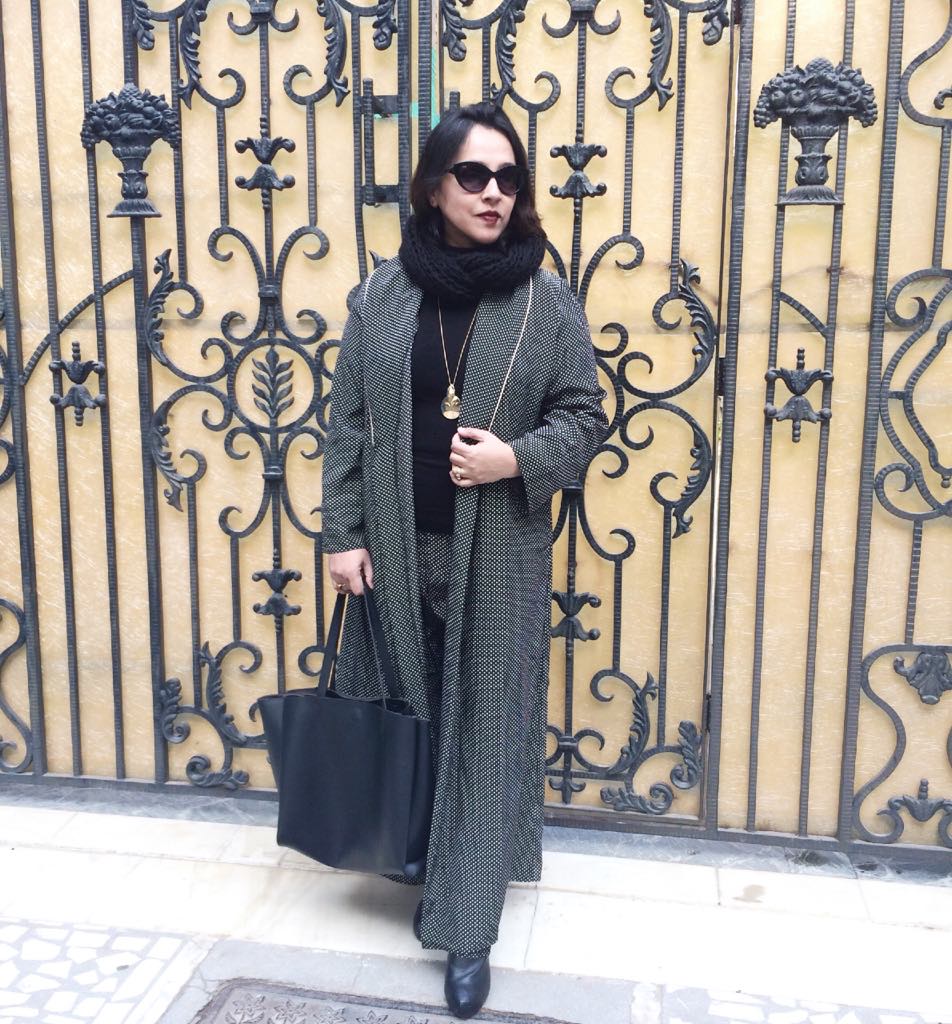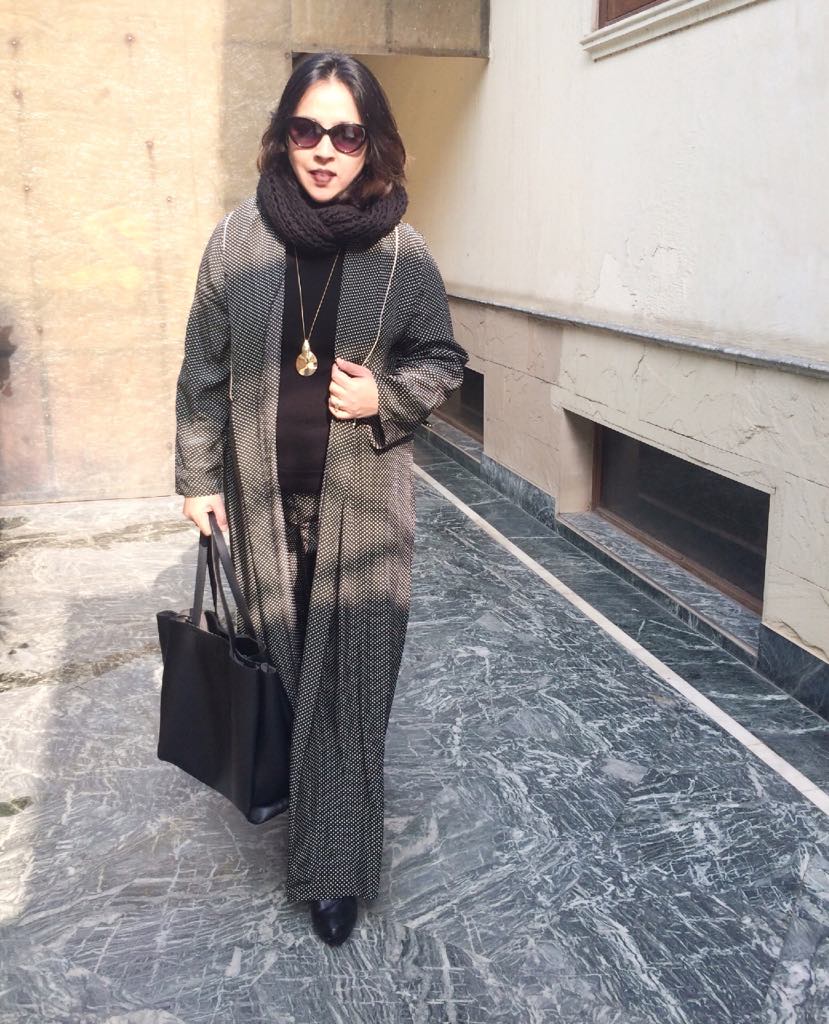 Pajama & Robe: M&S | Black Turtleneck: Zara| Scarf: Local Store in Thimpu, Bhutan| Neck-piece: Accessorize| Bag: Local Market, Delhi| Ankle Boots: Aldo
______________________________________________________________________________
And now let us look at how my Fab 40 bloggers have styled this classic pattern. Make sure you visit their individual blogs to read about their inspiration and other fashion trends.
Tuxedo Jacket – NY&Co. | Top – Loft | Pants – Old Navy | Tights – c/o Berkshire | Shoes -Alfani | Earrings – Gift | Necklace – Charming Charlie
Let me begin with the queen of Polka Dots, Jennie of A pocketful of Polka Dots. She has totally slayed the theme with all things dotted right from top to toe. And I guarantee that nobody could have done it better than Jennie. She has worked out the right balance and composition of the classic dots to create a super stylish, elegantly classic and a very modern go-to winter look. I am just loving her tuxedo jacket; it is understated yet makes a statement! The bright, vibrant background is creating an aura of festivity around her edgy, killer look! Will miss you Jennie.
---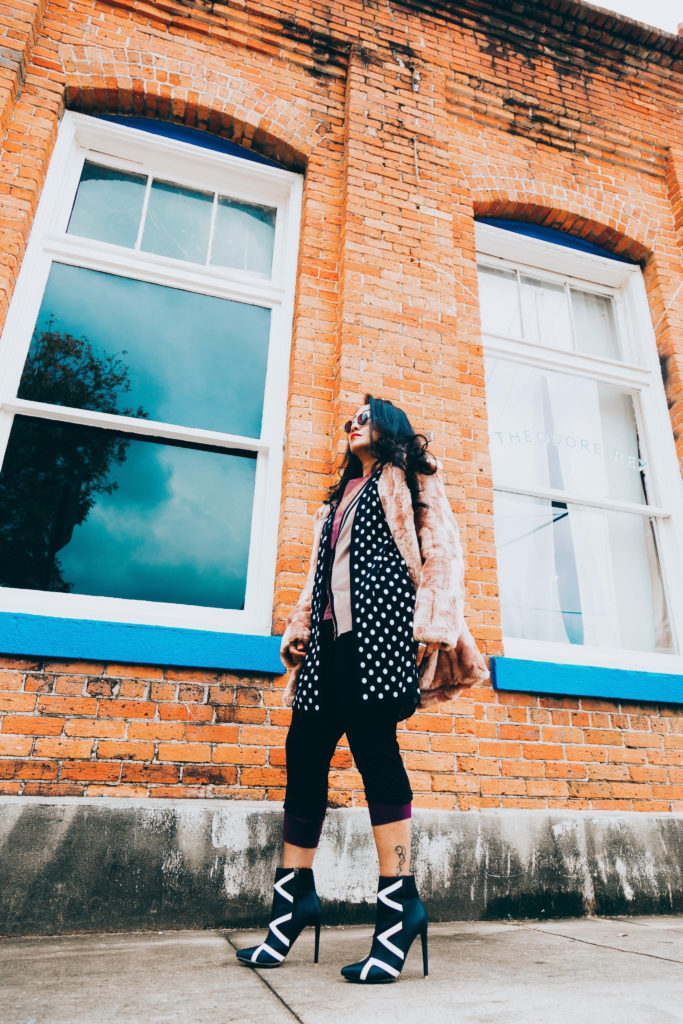 Lilac Inner Polka Dot Blouse-Agaci | Mauve Varsity Cardigan-Armani Red | Reversible B&W Polka Dot Cardigan-TJ Maxx | Blush Coat-Forever 21 | Harem Capri Pants-Herban Devi on Etsy | Booties-GX by Gwen Stefani 
Sheela of Sheela Goh stands super confident & ultra stylish in her patterned & heeled ankle booties that will haunt me for months. Seriously, I just cannot take my eyes away from those boots…..pure gorgeousness! And how immaculately she has balanced each & every element of her outfit. I mean there is so much going on; the shades of blush pink, the bold monochrome polka dots, touches of purple in her capri pants and then the stunning ankle heels..but all come beautifully together in her bold, fearless, trendy look.
---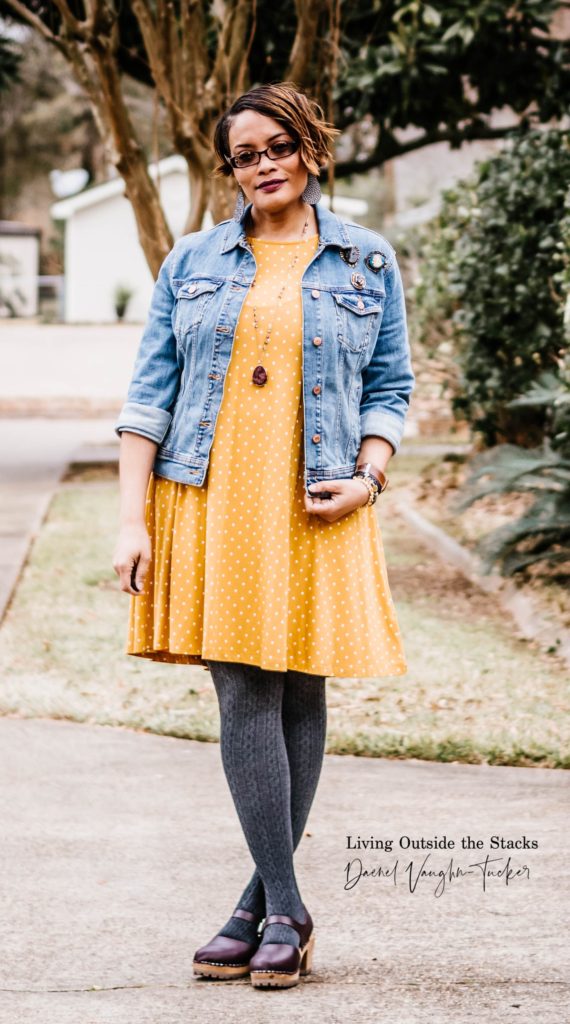 Earrings – Nickel and Suede | Denim Jacket and Dress – Old Navy | Pendant Necklace – Walmart | Sweater Tights – Target | Clogs – MIA
Let your inner child out, screams Daenel of Living Outside the Stacks with this month's theme. That cute mustard polka dotted dress with denim jacket, grey tights & deep burgundy clogs is a nod to the charming, bubbly, free-spirited look that is so fresh & so much fun! Its cool, its playful, its exciting. And no Daenel, you are not the only one. I would wear that combination any time of the day…..
---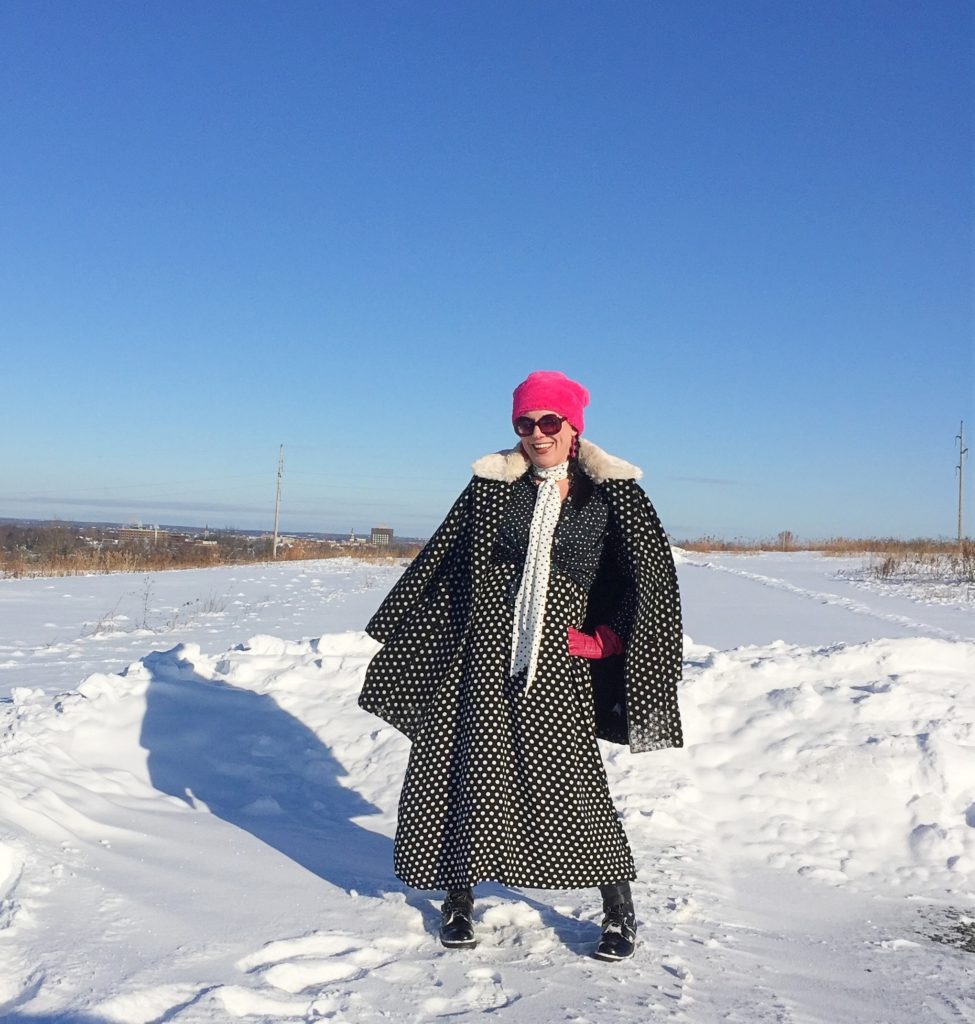 Coat, Scarf, Hat, and Earrings – Target (All Old) | Dress -New Chic (Old)| Top – Old Navy (Old)| Gloves – Anne Klein (Old)| Combat Boots – Gift from Husband
Shelbee of Shelbee on the Edge has created an effervescent polka dot look with the pattern flowing in almost all her pieces with subtle pops of fuchsia to break the monotony. It is absolutely commendable that Shelbee has shot this vivacious, festive look in great fervor inspite of the freezing cold. I just love the way Shelbee always breaks away from the mold to come up with something fresh and exciting!
---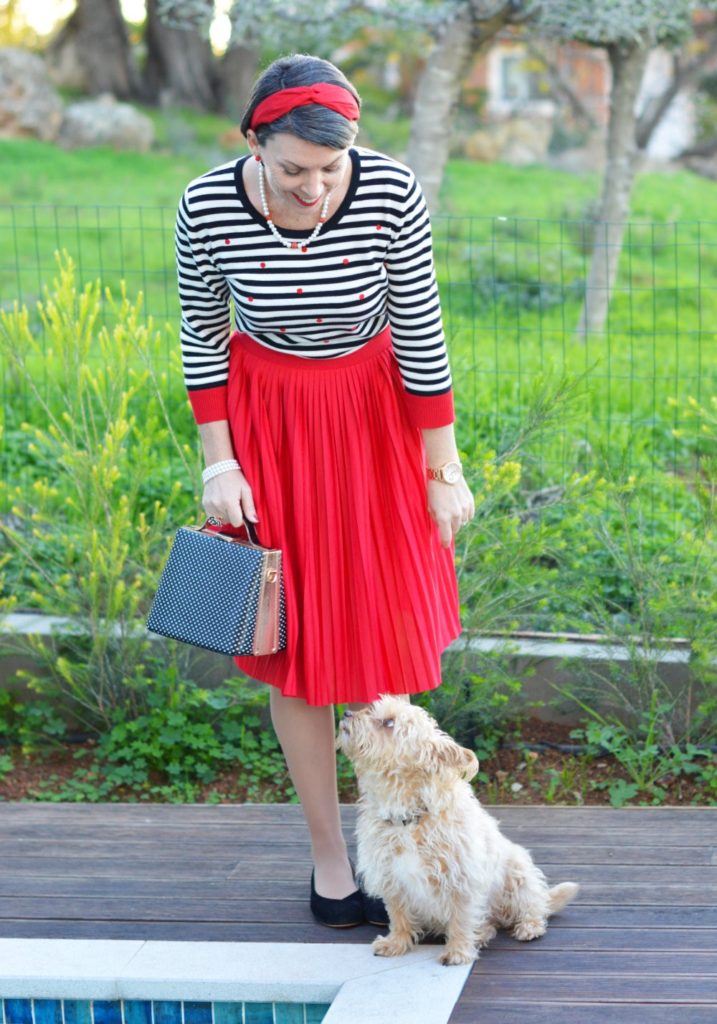 Skirt: H&M | Sweater: Roman| Black pumps: Calla Shoes|
Polka dot hand bag, necklace & ring: Gifts from mother-in-law
Sweet, vintage & charming is how I would describe Suzy's (of Suzy Turner) look for this month. She has created such a demure & dainty look with the classic combination of stripes & polka dots. It is such a clever & fun way of combining the patterns that each element stands out and speaks for itself yet all harmonize together so well. The red pleated skirt with the matching hair band are my absolute favorite. And that polka dot bag is pure elegance.
---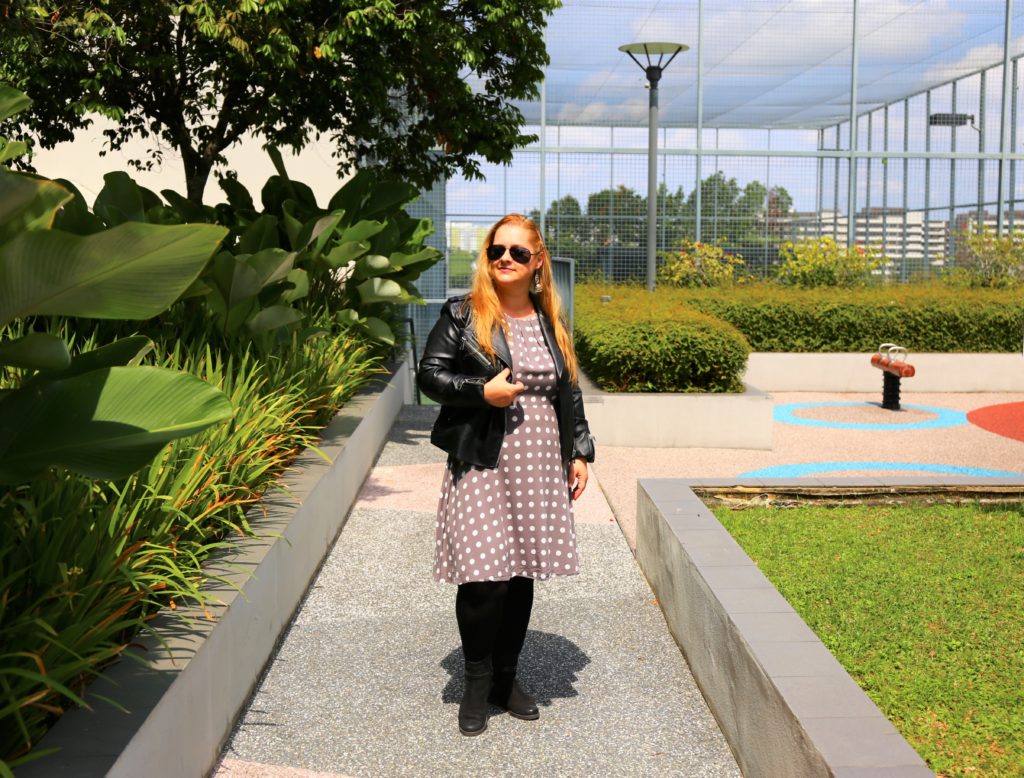 Dress – Dorothy Perkins| Faux leather jacket – Next| Black suede shoes – Debenhams (old)| Earrings – a gift from my friend
Anna of The GlamAdventure is our guest blogger for this month. Super excited to have her join us! Anna has packed a punch of edginess and cool quotient to her polka dot look with her leather jacket and suede ankle boots. I could see Anna going grocery shopping in this look or even riding a jeep while sipping on beer. I love the taupe shade on her dress; it's my dream color. And those danglers are a great feminine touch to an otherwise edgy look.
So this practically wraps up the style inspiration for this month and this year! The Fab 40's group will continue to inspire you with their trendy takes and fashionable anecdotes for seasons to come. Here's a big high five to 2020!
FOR CONSTANT UPDATES, CONNECT TO:  FACEBOOK | TWITTER | INSTAGRAM