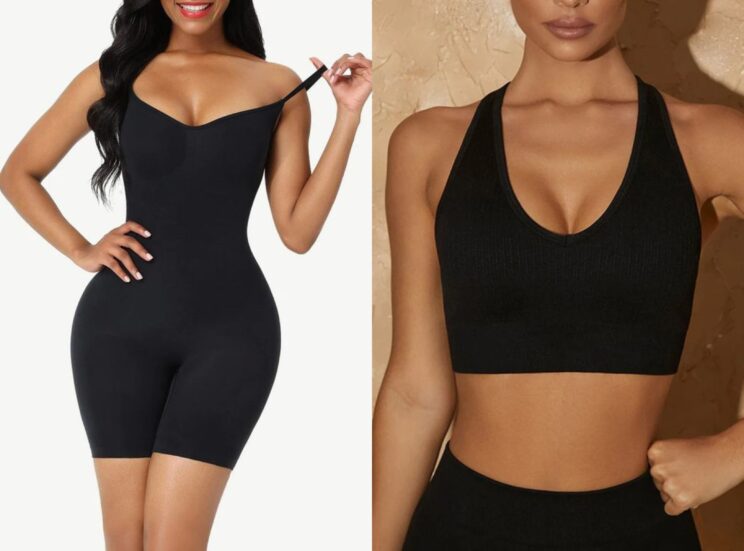 A lot has already been said, spoken, written & forecasted about the so called active wear and athleisure wear trend that gained its popularity worldwide during Covid and has since carved a niche market for itself in the fashion industry. Broadly speaking its a trend that focuses not only on style but comfort too combining the best of functionality with form. With busy lifestyles and a persistent crunch of time, people today have gravitated towards this trend that combines leisure with a comfortable and casual feel of athletics/ sports. Women do not feel the need to dress up for a party after a work out session at the gym. Men do not need to change into something formal after having played a game of tennis in order to catch up for drinks with their friends.So in all such cases it is the active wear or the athleisure wear that becomes your best friend and takes off the pressure of getting ready for socializing or for even a casual trip to the mall/ restaurant. Going by the statistics, Athleisure market is anticipated to grow at a rate of 10.33% between 2021 and 2028 while touching USD 842.03 Billion by 2028. Now if that is not huge, I dont know what is 🙂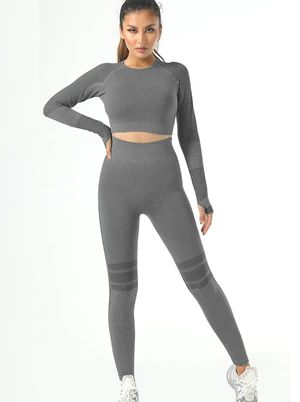 Wholesale Women's Athleisure Fashion Yoga Set with Thumb Buckles
Athleisure and activewear is typically defined as sports performance clothing and footwear that people can wear in both athletic and non-athletic settings with greater emphasis on non-athletic settings or everyday use by innovation and enhanced design of the conventional sports wear. By making it more visually appealing and ultra comfortable as per daily lifestyle, athleisure wear brands have seeped gradually into our wardrobes and made a special place for themselves. Where earlier leggings, T-shirts, shorts or pullovers were merely outfits we changed into after work, these are now looked upon as pieces in which one can spend the entire day whether inside home or in the outside world without compromising on style or comfort. It is also an accepted trend at social events and parties now where just a few years ago you would be looked upon as an outcast if seen at a gathering in your joggers or yoga pants. So today you can don it while lounging, going shopping to a mall, coffee with friends, on the streets, at the movies or a even a casual dinner outing. Broadly speaking, athleisure wear includes yoga pants, jogger pants, shorts, sweatpants, sport suit women, gym stringers, gym tanks, sports bras, gym tees, sports leggings, hoodies, sneakers, shoes and so on.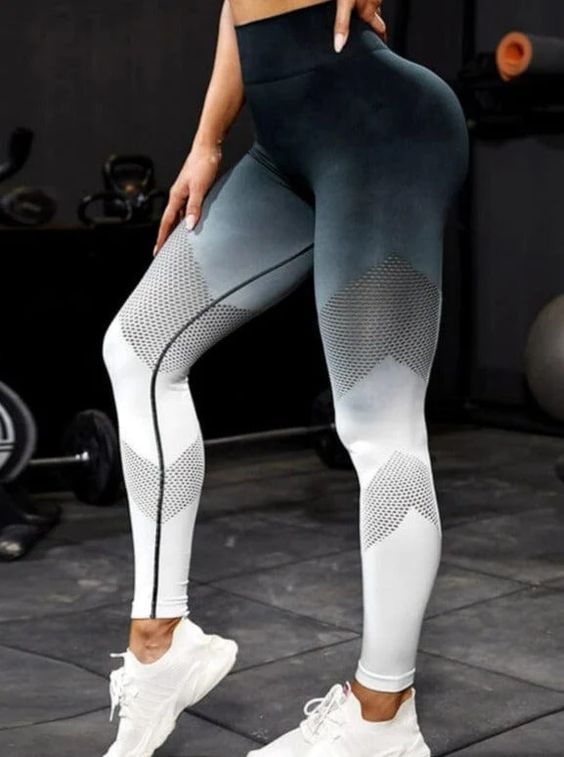 Wholesale Stitched Openwork Gradient Seamless Sports Leggings
Casual is the new chic and atheisure wear the new sophistication. Combining the best of the trends in sports wear, casual wear, urban wear and street fashion, atheisure has almost become a cult nowadays. For instance, New York streets boast of street style with women in athletic wear such as yoga pants and the trendy criss-cross tanks. Also Dubai is becoming one of the hottest athleisure locations. And off course European markets brag of not just being end users but also exporters of atheisure wear and active wear in a big way. With many established companies and brands taking a plunge in this hugely potential trend, there is one brand that is making a massive difference online with their immensely popular range of athleisure wear and active wear and transforming people's lives for the better. Waistdear is an online brand that needs no introduction. Having scored a definite niche for themselves in the active wear fashion industry, Waistdear's performance as market leaders speaks volumes of their vast experience, professional acumen and world class services. Having an intuitive insight and a perceptive vision of the growing needs of this industry, Waistdear's diligent teams works tirelessly to provide some of the most functional, uptodate and comfortable pieces that you can choose from as per your need. So whether its the wholesale sports bra or the super comfy sports leggings, the fashion yoga set or the seamless body shaper, the trendy waist trainer or the sensual swim suit, there is something for everyone and for all occasions.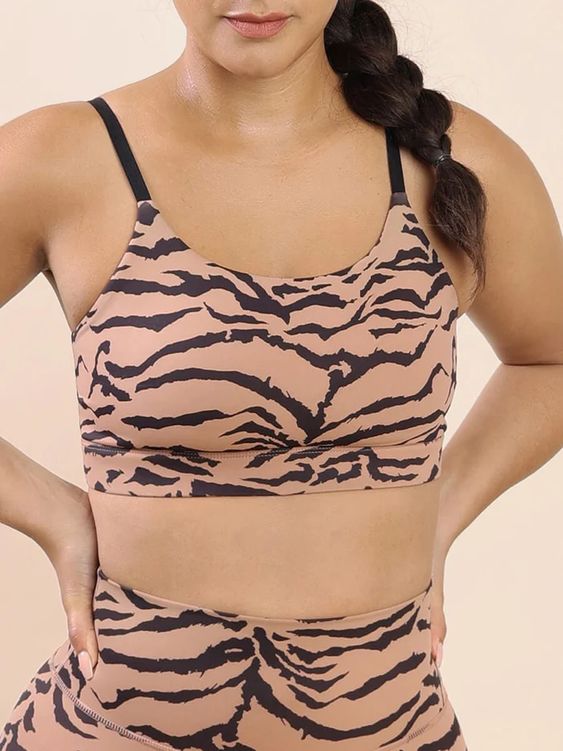 Wholesale Women's Sports Tiger Print Bra
With fitness and wellness industry on the rise and people becoming more conscious about their health, their daily lifestyle & eating habits, exercising & gym routines, positive mindset, regular meditation and occasional body detox–fitness and fashion brands are constantly evolving newer and more modern clothing to cover you entirely. Naturally consumer demand has shifted to reflect this reality and multi-seasonal and multi-functional clothes are now increasingly being sought-after. Therefore Waistdear's range of versatile clothing offers pieces that are easy to wear for multiple occasions and also easy to restyle if required. For people, who are heavily into yoga and meditation, Waistdear offers yoga pants, yoga leggings & yoga suits that are designed with ultimate flexibility & comfort for complex bending and balancing while doing yoga asanas. For women targeting weight loss and inch loss, their waist trainers are most suitable since they accelerate the burning of excess fat thereby controlling your waste and abdomen resulting in hourglass figure. For women post pregnancy or other surgeries, Waist dear has post surgery shapers with high waist design that provide full coverage and support and also aid in reducing swelling & bruising. And lastly for all women sports enthusiasts, they have discounted sportswear range perfect for tennis, cycling, golf, hiking or jogging made in fabric that is breathable, performance oriented and sweat resistant.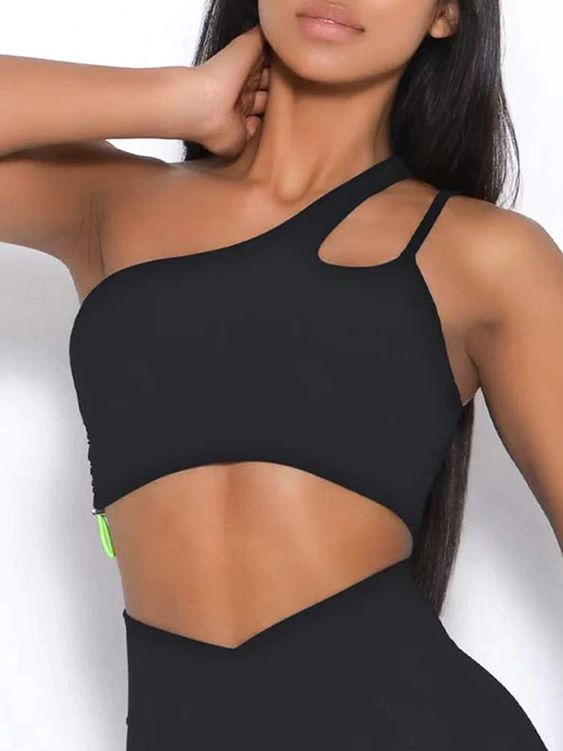 Wholesale Women's One Shoulder Strap Sport Bra
So if you are looking to elevate your fitness and fashion quotient having been inspired by celebrities, sports personalities, social influencers, millenials & Gen Z or simply out of a reality check just log on to Waistdear website and browse through their trending athleisure wear and active wear that promises durability, comfort and most importantly style. They cater not only to your active wear needs but also to the inherent, innate need to look beautiful and confident at all times be it while running, working out at the gym or on a coffee date with a friend. And since athleisure is not fad or a short term trend, it is only wise to stock up/ update your wardrobe with pieces that push you towards healthier lifestyle and general well-being while being trendy at the same time.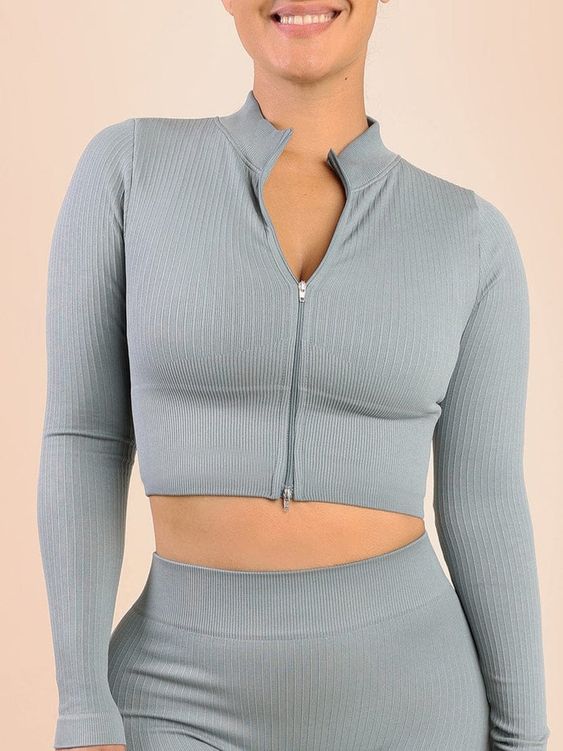 Wholesale Women's Sports Wear Elastic Ribbed Tops
*In collaboration with Waistdear