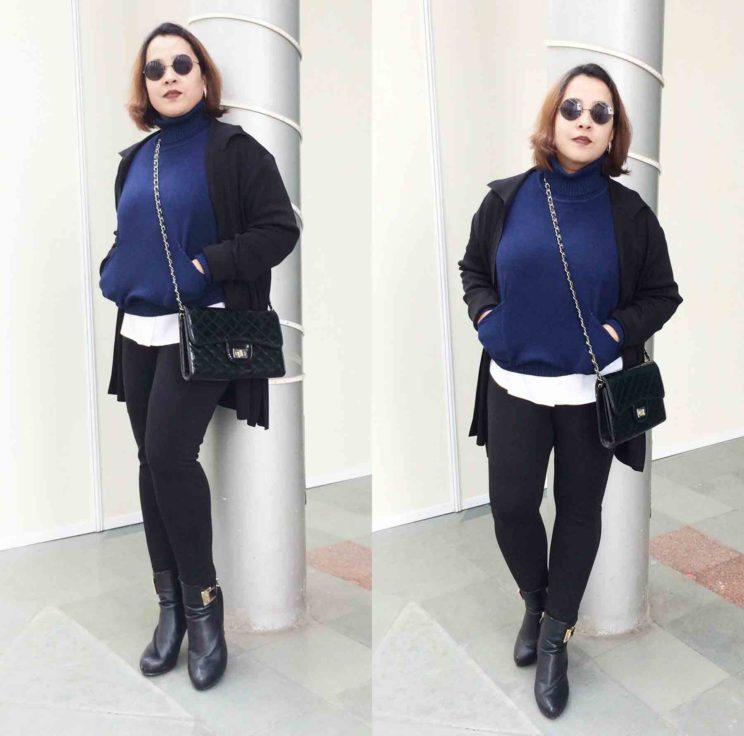 Layering isn't just about putting pieces of clothing one over the other, it's a complete art in itself. And if you have nailed it, you will look to your trendiest best else you will end up looking dowdy and probably huger than you actually are. Lot of times, women are scared to layer their clothes due to fear of looking big or mismatched because they are not sure of their layering choices. Well this is one such styling technique that can truly make a bulky body appear slimmer and a slimmer one more stylish. And the good news is that layering is not confined to fall and winter seasons only. You can pick your pieces and get creative to layer even in core summer or spring months. It's all about the right balance! I bring to you 5 best tips to layer like a pro:
1. Make sure that all your layering pieces look good together as a complete ensemble and also as standalone items.This is of utmost importance since its only natural for you to remove one or two layers when you are moving between hot & cold temperatures.
2. It is advisable to layer from thin to thick for a more comfortable wear.That way, it is much easier to remove layers if the weather gets warmer. Also it gives a great sense of depth to the entire look.
3. Try to keep the under-layers more fitted so that your shape appears slim. Wearing loose fitted under layers may make you look bulky. Body hugging tees/ tank-tops/ collar shirts serve best as the first layering piece. For a better waistline, you can add a belt either on top of all layers for a buckled-up, smart look or even in between for example under crop sweaters/ crop sweatshirts.
4.You must wear complimenting colors when layering. This plays a crucial rule and could make or break your layering style.Try to keep the colors tonal.Different hues and tones of each color look good. So if you're going for a blue scheme then mix and match light blues and navys to give depth to the outfit.This gives an understated chic most effortlessly.
5.Incorporate texture and patterns since mixed materials and patterns make the layering more fun.But be careful that the patterns are not clashing or too busy. It's best to wear layers alternating between solids, patterns and color-blocks in varied fabrics for a smoother, streamlined look.
Keep the above tips in mind and you are bound to come up with a flawless, slick, layered look. You only need to be sorted with the colors, styles, silhouettes and fabric textures and you are already on your way to becoming a layering professional. Just remember that length and proportion is the key.But more than anything else, it is important to have fun. You could play around with mismatched styles & pieces, get bold & experimental or even mix summer & winter pieces…after all fashion is an expression of the self, laced with creativity and ardor!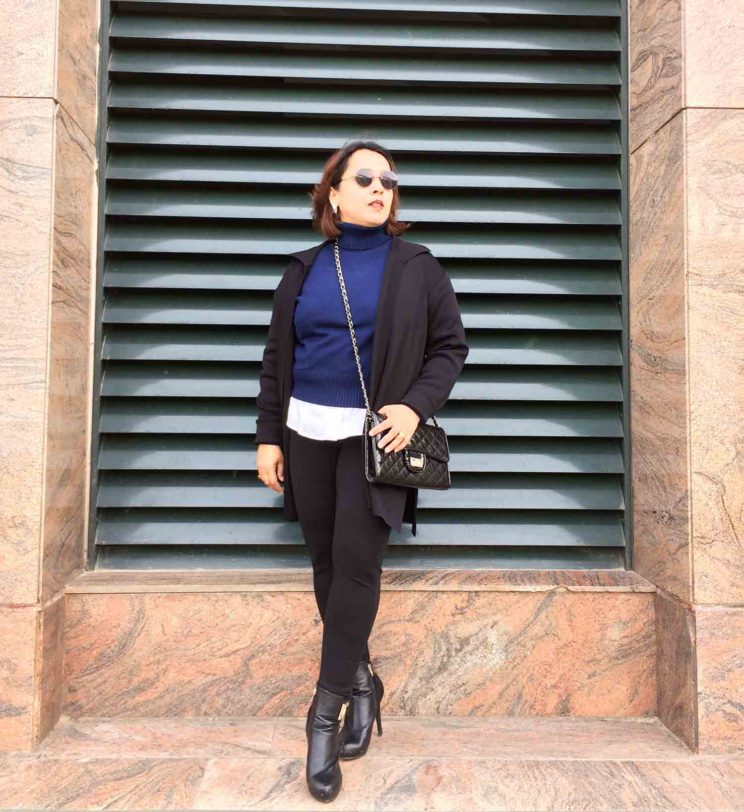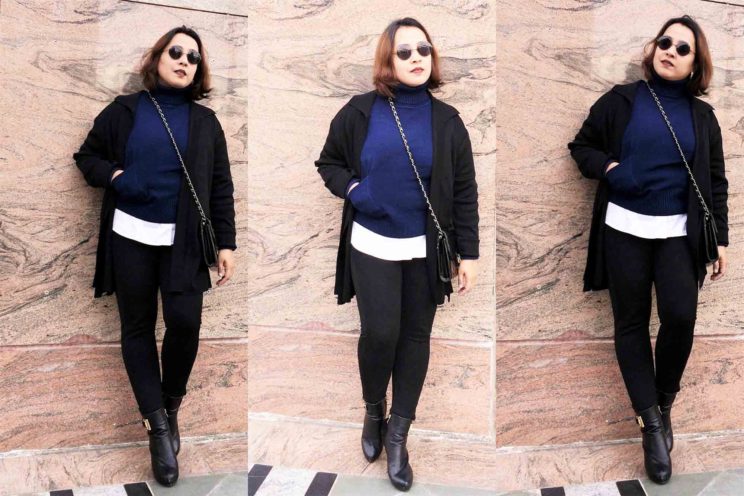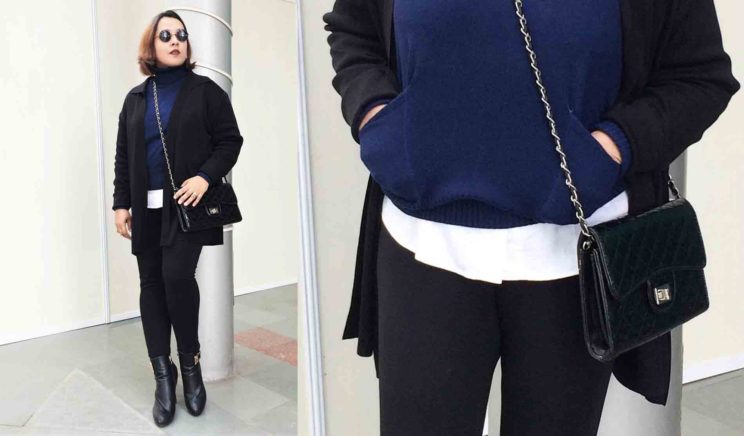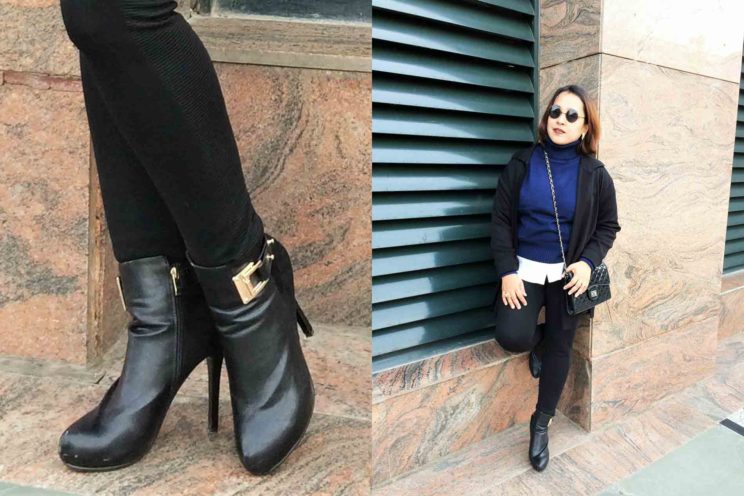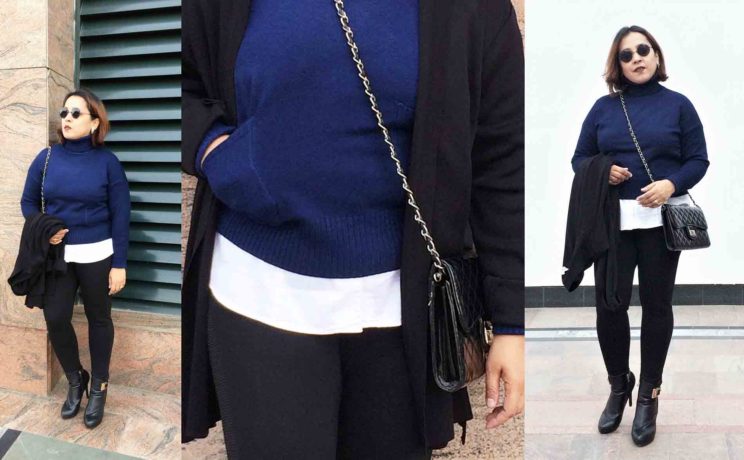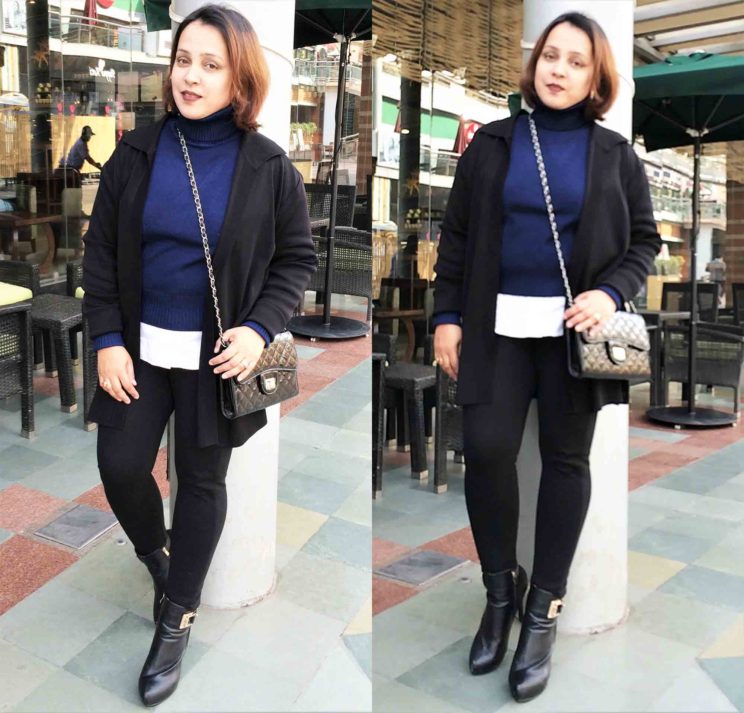 Black Pants: Zara | White Button down shirt: ITC Wills Lifestyle (Similar here, here) | Turtleneck: Zaful | Black Long Jacket: Misook | Ankle Boots with heels: Aldo (Similar here & here) | Black Quilted chain strap Bag: Unknown Source (Similar here, here)