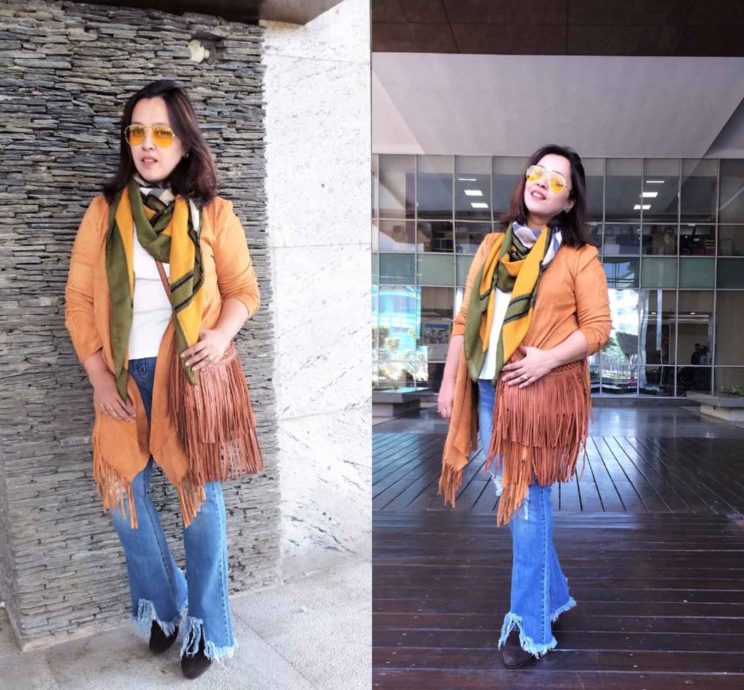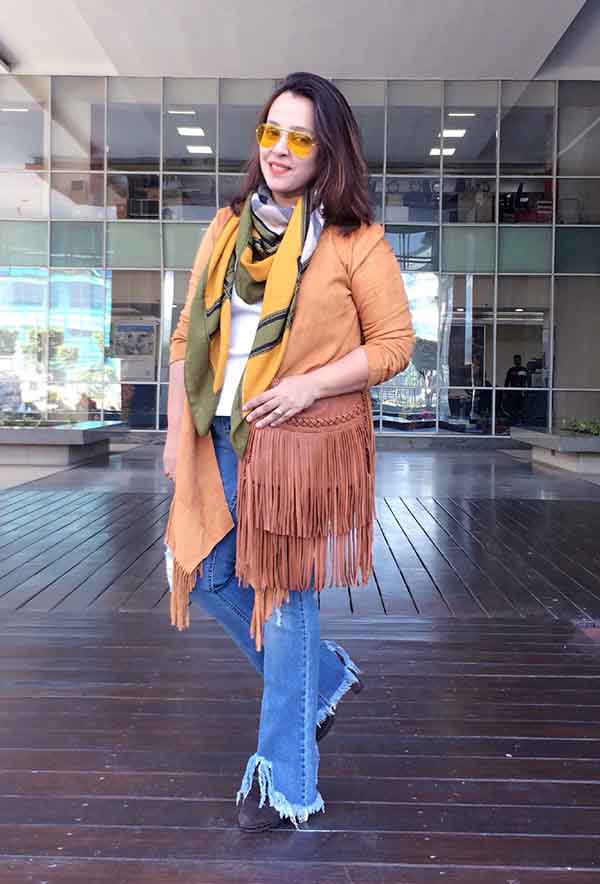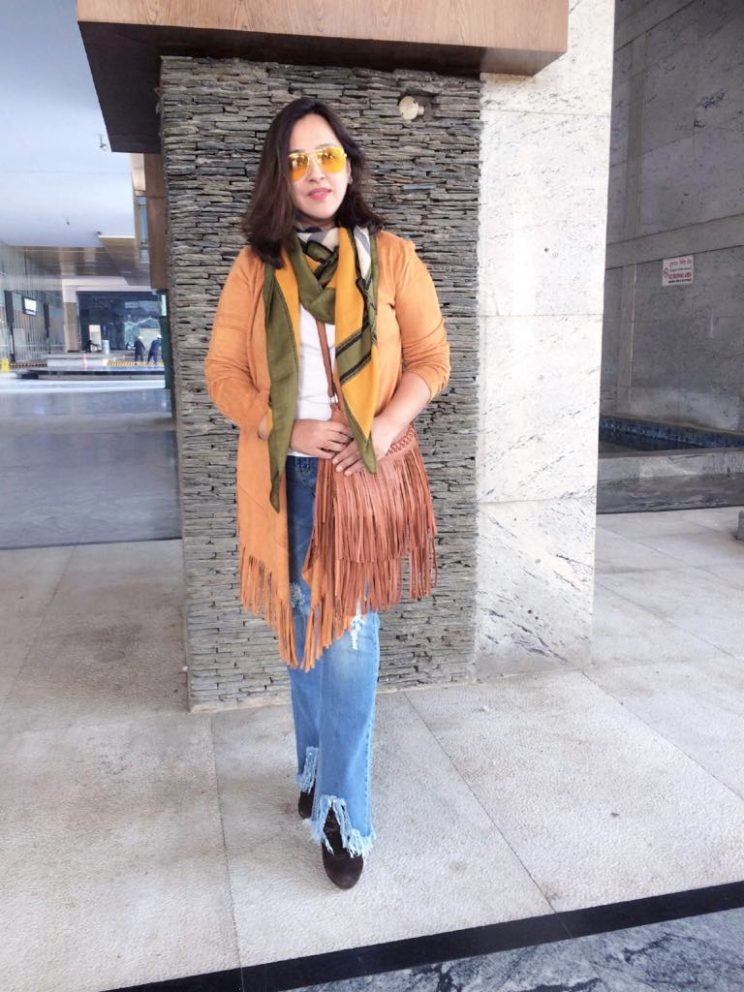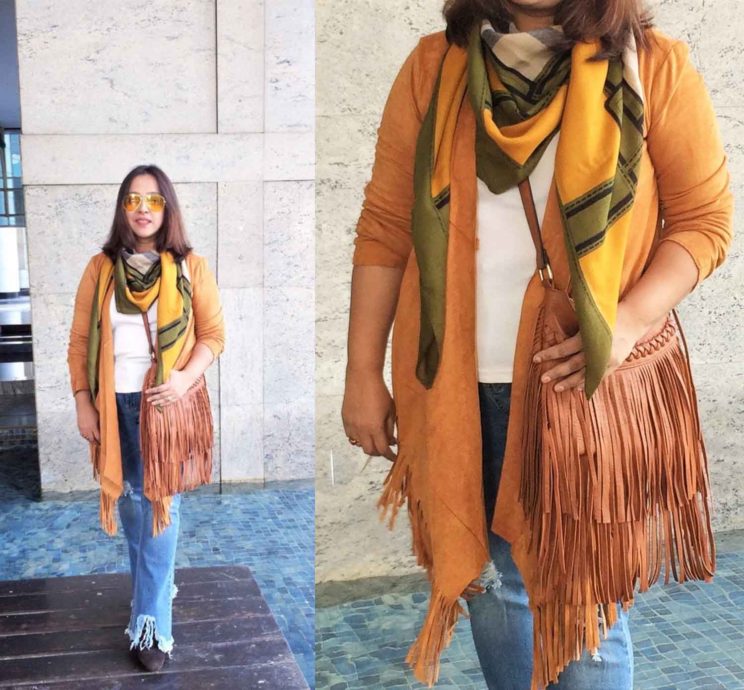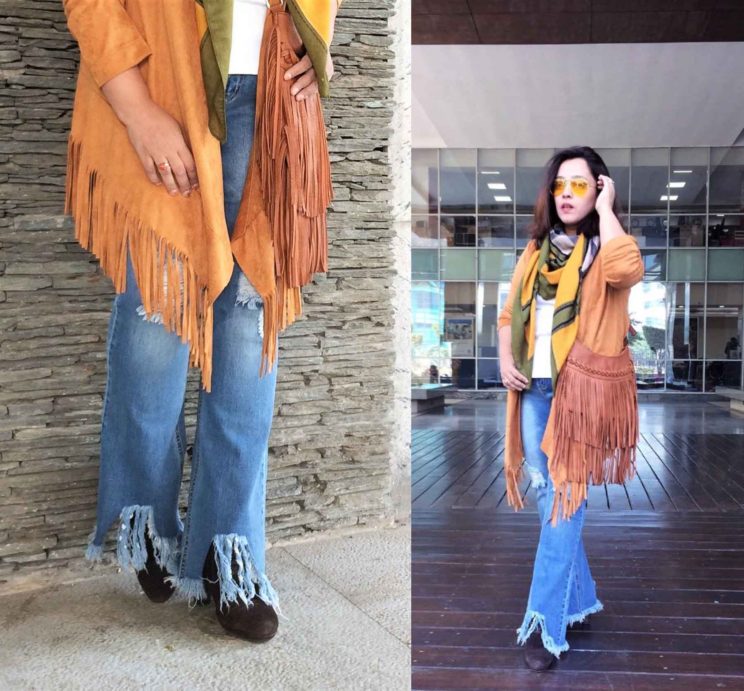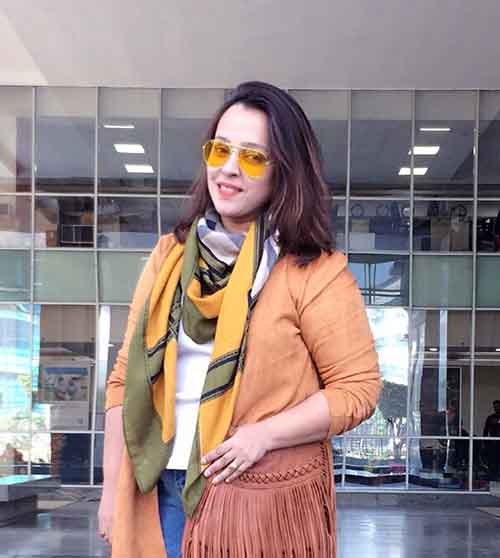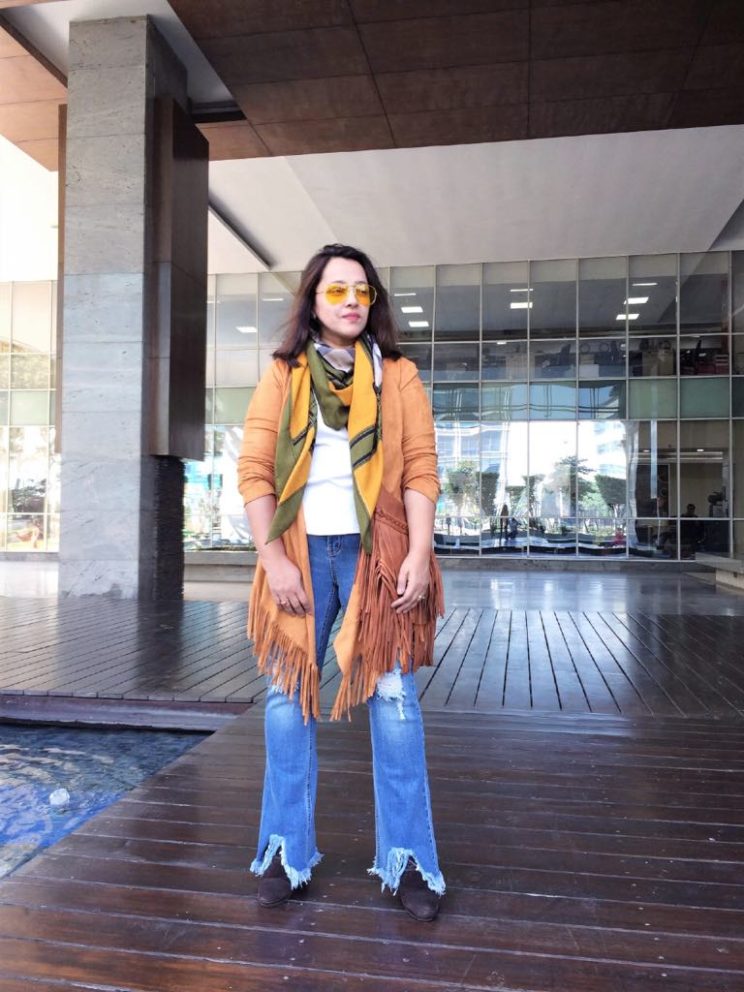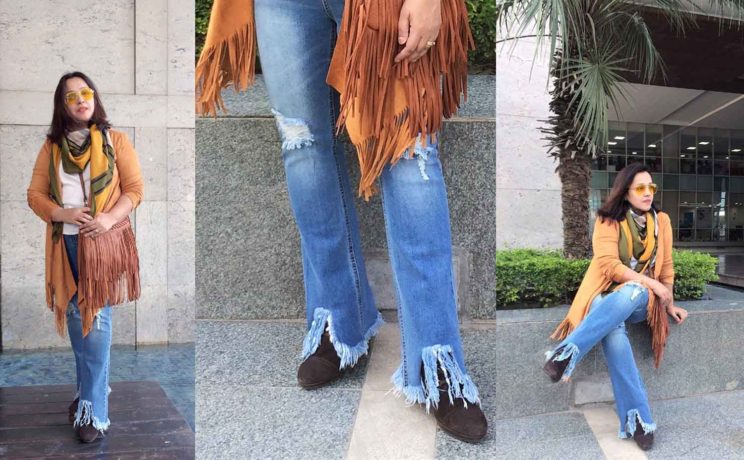 Faux Suede Tan Fringe Shrug: Serenity | Fringe Boot Cut Denim: Forever 21 | White T: Vero Moda | Scarf: StalkBuyLove.com | Tan Fringe Bag: Amazon.in | Chocolate Ankle Suede Boots: Mango | Colored Sunglasses: Lenskart
I feel honored to be the guest co-host for November for the Fab 40's group which is a group of six stylish & trendy fashion bloggers across the globe that work tirelessly towards interpreting the fashion trends with their own little twist. I was super excited when Jennie of A pocketful of Polka Dots invited me to be a part of this month's theme on "Western Wear". I have always loved bohemian inspired clothing pieces and worked towards giving my own little punch without looking too made-up or costume like. So this was another opportunity for me to pull together a look that works around western trends and is yet modern, minimal & most wearable.
The first thing that crossed my mind when I thought of western wear was "Fringes" which is a fun, playful take on Western sensibilities. So with fringes as my key inspiration for today's look, I styled an outfit in shades of tan, amber & gold which is spot-on with the current fall colors. The three key elements that formed the basis of my look were my faux suede tan fringe shrug, fringe flare boot-cut denim and a deep tan fringe bag that are pieces that scream "western" from every corner. These are bold, striking pieces that definitely make a statement. In order to balance the loudness of the excessive fringe, I grabbed my silk scarf in matching shades of tan, gold & olive which formed the great anchor for the whole look. I infused the western vibe further with my deep chocolate Mango boots that lent the much needed natural, earthy feel to the outfit. All in all it's a fun, urban, western outfit for a cool outing with friends!
I think putting together an outfit with a Western flair allows one to experiment a lot with prints, colors & textures. And this is exactly what I have done today! Usually my style is a little understated but this time I really went out of my regular style zone and had a lot of fun playing around with silhouettes, colors & trends while mixing the basics with the modern and translating the entire look into something more embellished yet versatile & very autumnal.
And now let us see how my fellow Fab 40 bloggers rocked the Western trend this month!
FAB 40 NAIL THE WESTERN TREND
Jean Jacket – NY&Co.| Dress – a'reve| Dress Extender – Vivid Collection of NY| Boots – Smokey Mountain Boots| Necklace – Kay & Star| Earrings – NY&Co.
It is lovely to see how Jennie of A pocketful of Polka Dots is slaying the trend in that dreamy ivory frill dress with denim jacket and those classic cowboy boots. Also love the fact how Jennie has cleverly layered her dress over a dress extender for that extra texture and a superior western vibe. And her playful, undone, messy hair are enhancing the look to the T. She is totally channeling that petite, feminine, cowboy girl who is all sophisticated yet sassy at the same time! Not to forget the artisan quality neck-piece which is one to die for….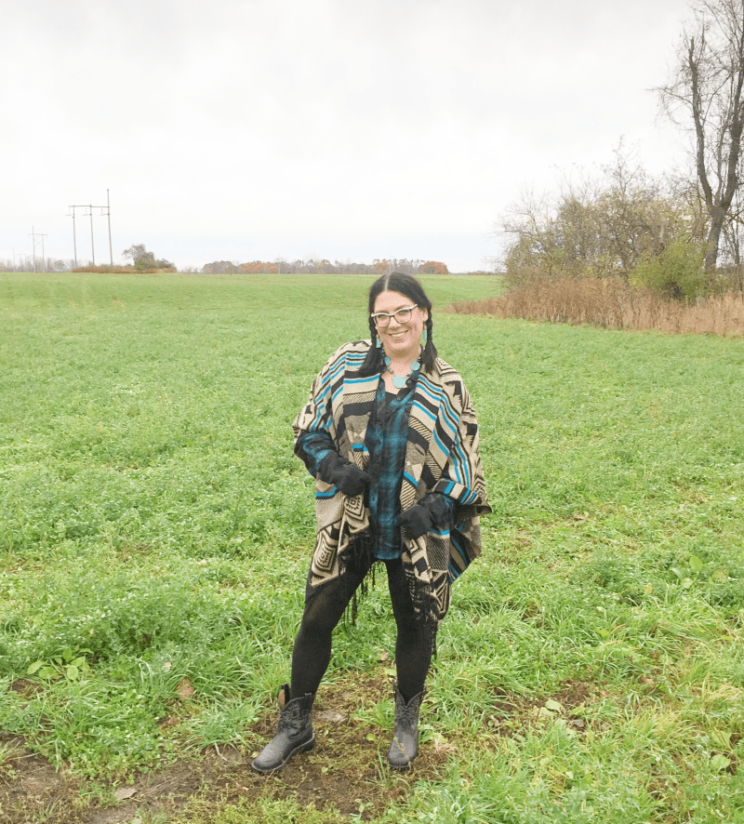 Wrap: Zaful| Plaid Shirt: Torrid| Shorts: Old Navy| Vest: Target| Boots: Ariat Fat Baby| Necklace: Old (Kohl's, maybe?)| Earrings: I made them! Well, I bought the tassels at Michael's and attached earring hooks to them.
Shelbee of Shelbee on the Edge is a vision of cowboy girl. With that gleaming face & a kick-ass attitude, Shelbee has totally rocked the trend with her Aztec printed wrap, antique inspired costume jewelry and those country cowboy boots. Talk of a typically strong, gritty & confident South Western girl on the ranches riding on wild horses & shooting with rifles! I also love how Shelbee has brought out the playfulness in her look with those cute pigtails.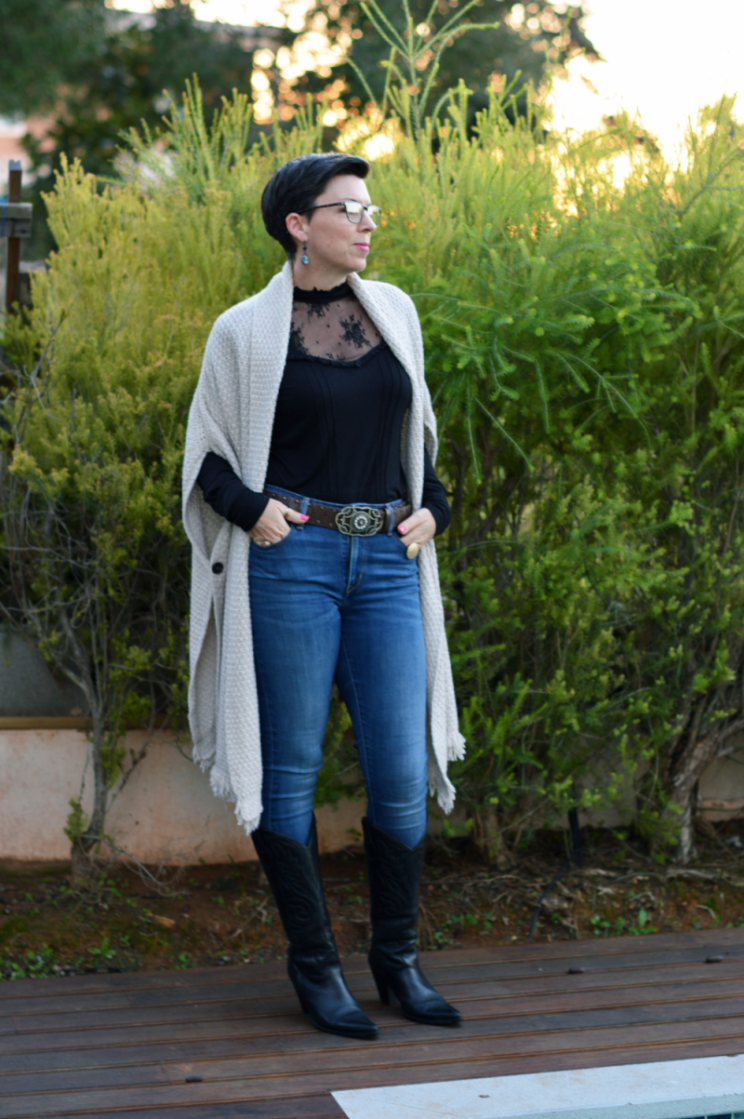 Cowboy Boots: Zara| Skinny Jeans: Levi's| Belt: Bay| Blouse: F+F Clothing Tesco| Poncho: Massimo Dutti
If there is one look that is edgy, sassy & quite modern against the backdrop of Western wear, it has to be of Suzy of SuzyTurner ! That long breezy poncho along with that buckled chocolate belt are making me go weak in the knees. The black flirty lace top is beautifully balancing the strong & powerful vibe of the belt & the cowboy boots. I think it's a very chic, elegant & understated take on the western trend. Add to that the poise & confidence of her posture!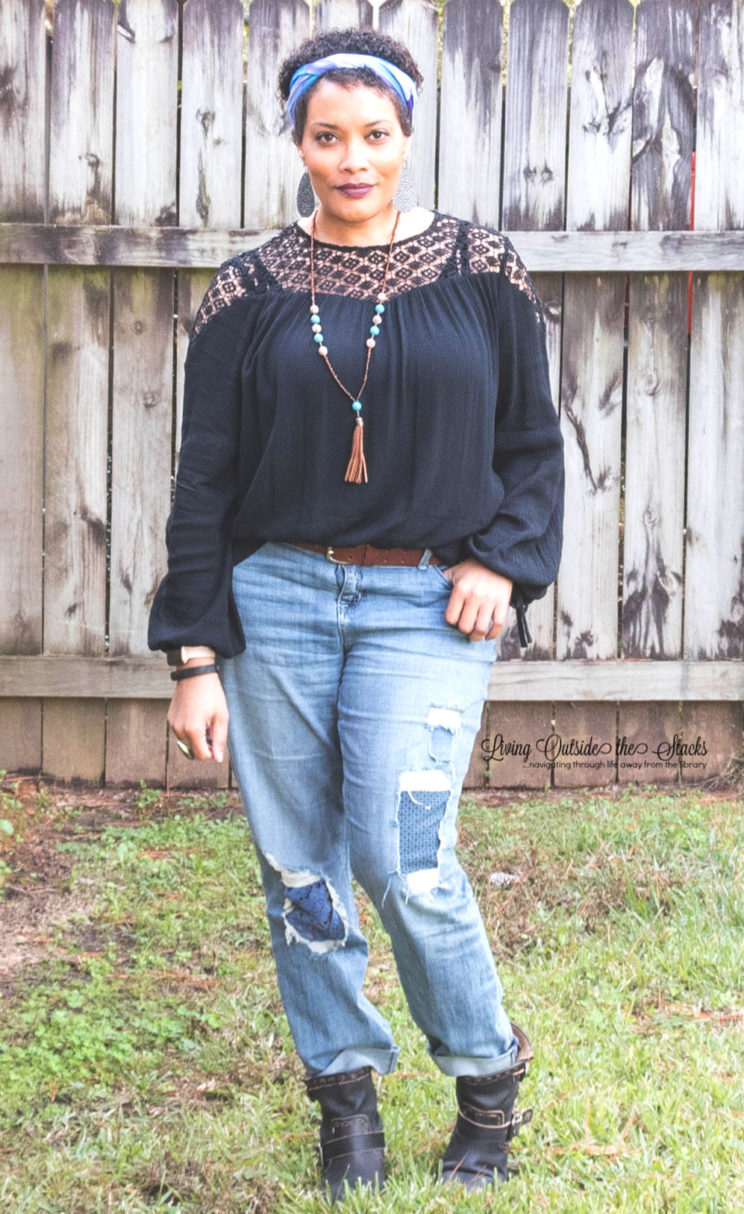 Dress – Lace Top – Old| Earrings – Nickel and Suede| Jeans – Laurie Felt Weekender| Underpatch Jeans, QVC| Boots – Musse and Cloud, Evine Live
Cool & composed but with an edge, is how I define Daenel's take on today's theme! Daenel of Living Outside the Stacks has nailed the trend with that distressed, ripped, patchwork denim that is nothing short of Western. That beautiful, see-through lace & crochet top and the fringe necklace stand for all things bohemian & cowgirl! But the real cherry on the cake is that bandana that gives her the characteristic strong yet soft western vibe.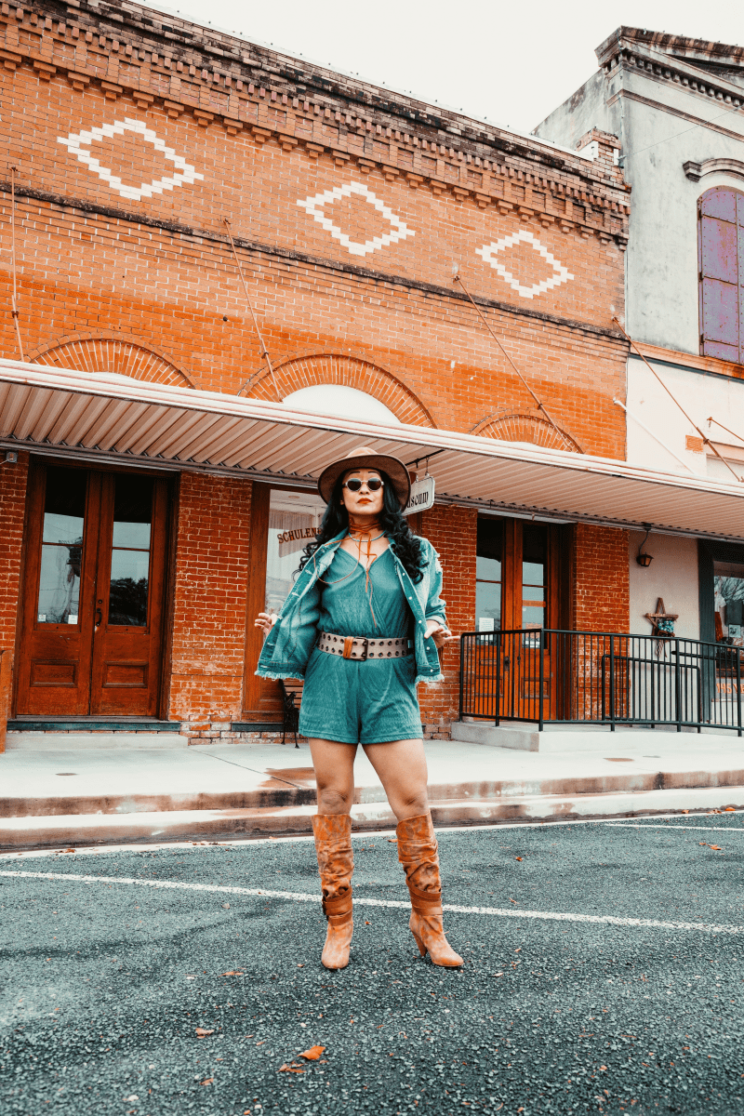 Dress – Fringe Jacket, Camo Boots & Suede Choker – Poshmark| Playsuit – Goodwill| Turquoise Necklace – c/o Ettika| Utility Belt – Salvation Army| Bracelets – Isabel Marant| Leather Hat – Australia
Talk of an iconic bad-ass cowgirl with a heart full of passion! Yes that is Sheela of Sheela Writes channeling her inner cowgirl with an attitude of grit & determination. Chambray & tan is a classic combination around which Sheela has styled her look. Those camo boots, grommet belt, cowboy hat & suede choker scream freedom, adventure & risk like nothing else. A perfect embodiment of western style, Sheela truly portrays the spirit of an opinionated, fierce and a glamorous cowgirl!
What better time to unleash that inner cowgirl in you, than fall! Hope you liked the wide range of Western inspired styles brought by the Fab 40's group. And hopefully something did strike a chord that will inspire you to make this trend your own in a way that totally befits your personality. A big thank you to all my fellow blogger friends for making me a part of this cool, edgy trend!