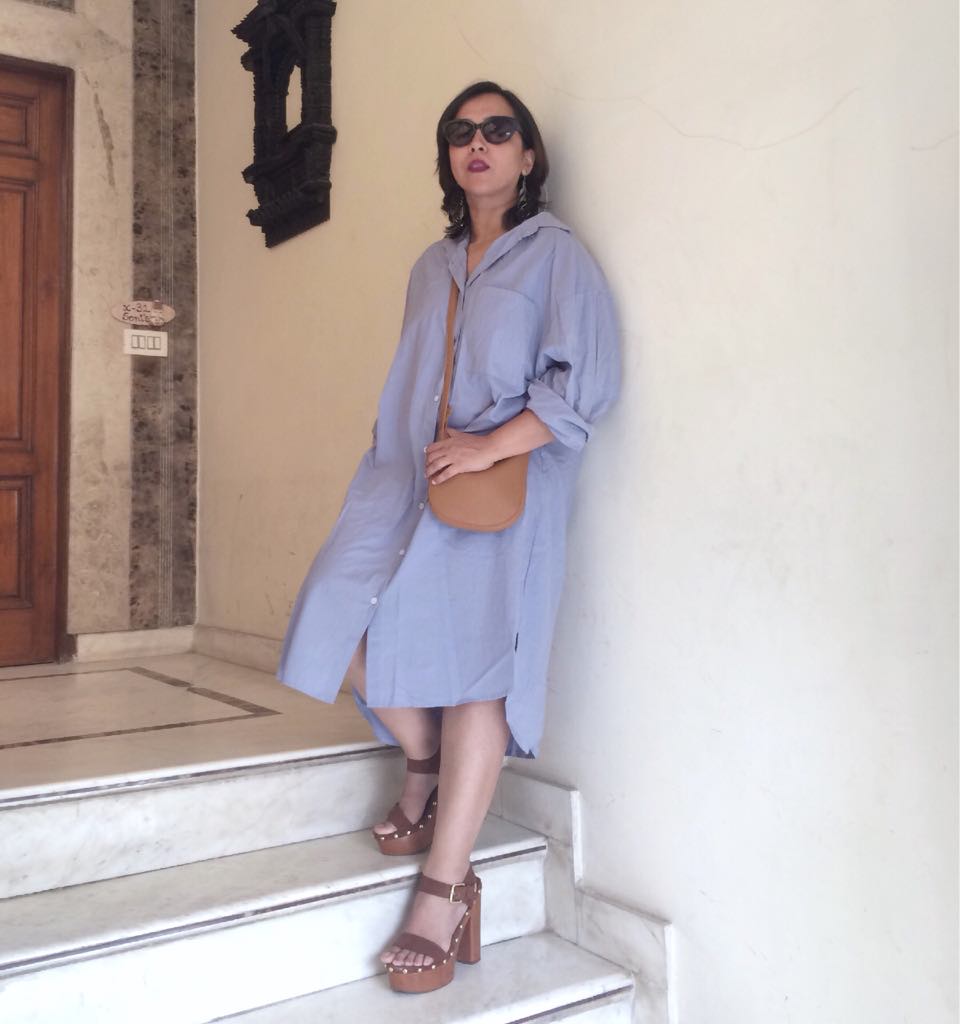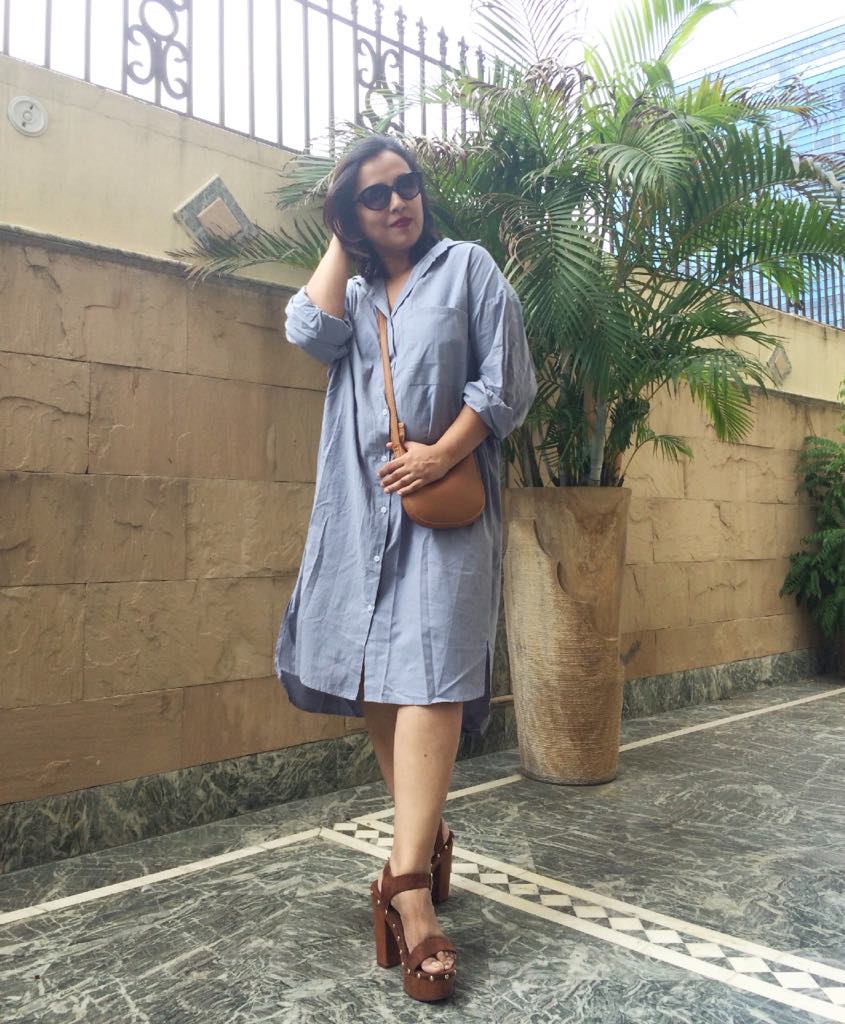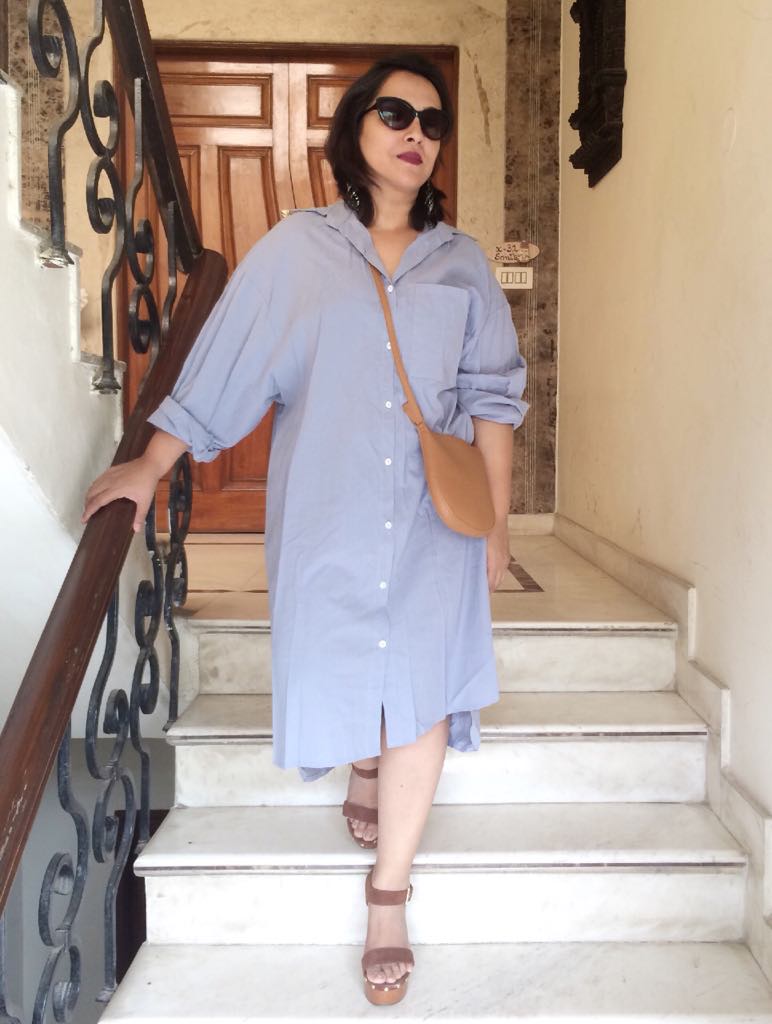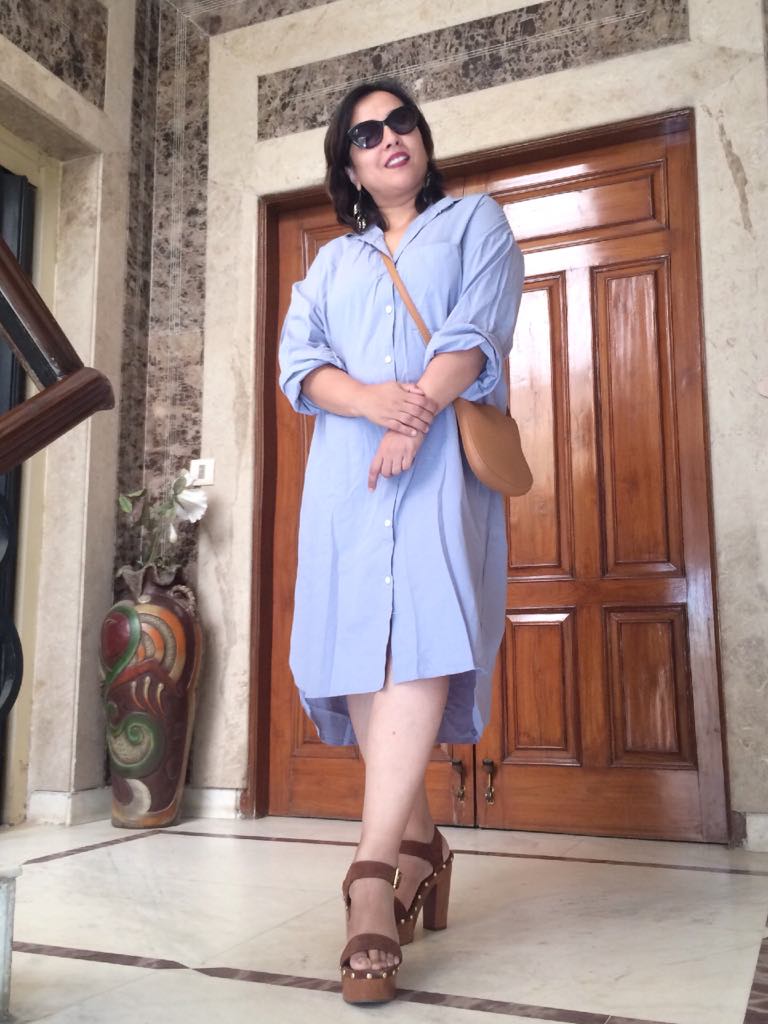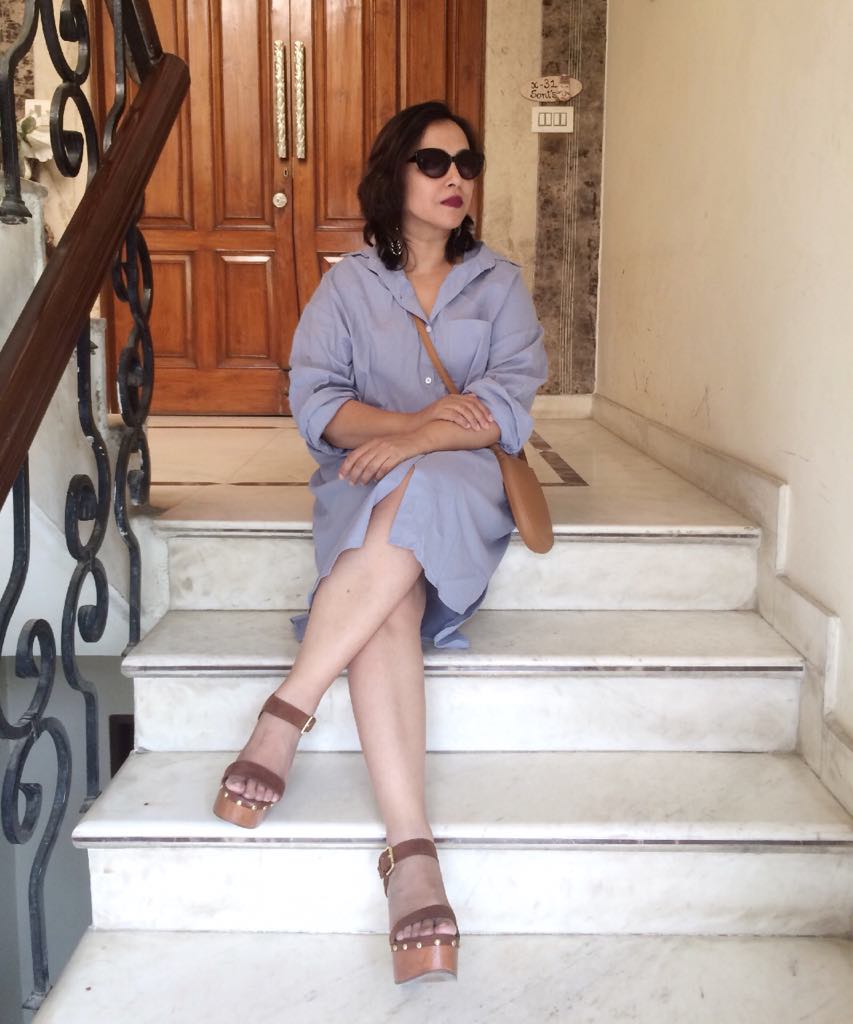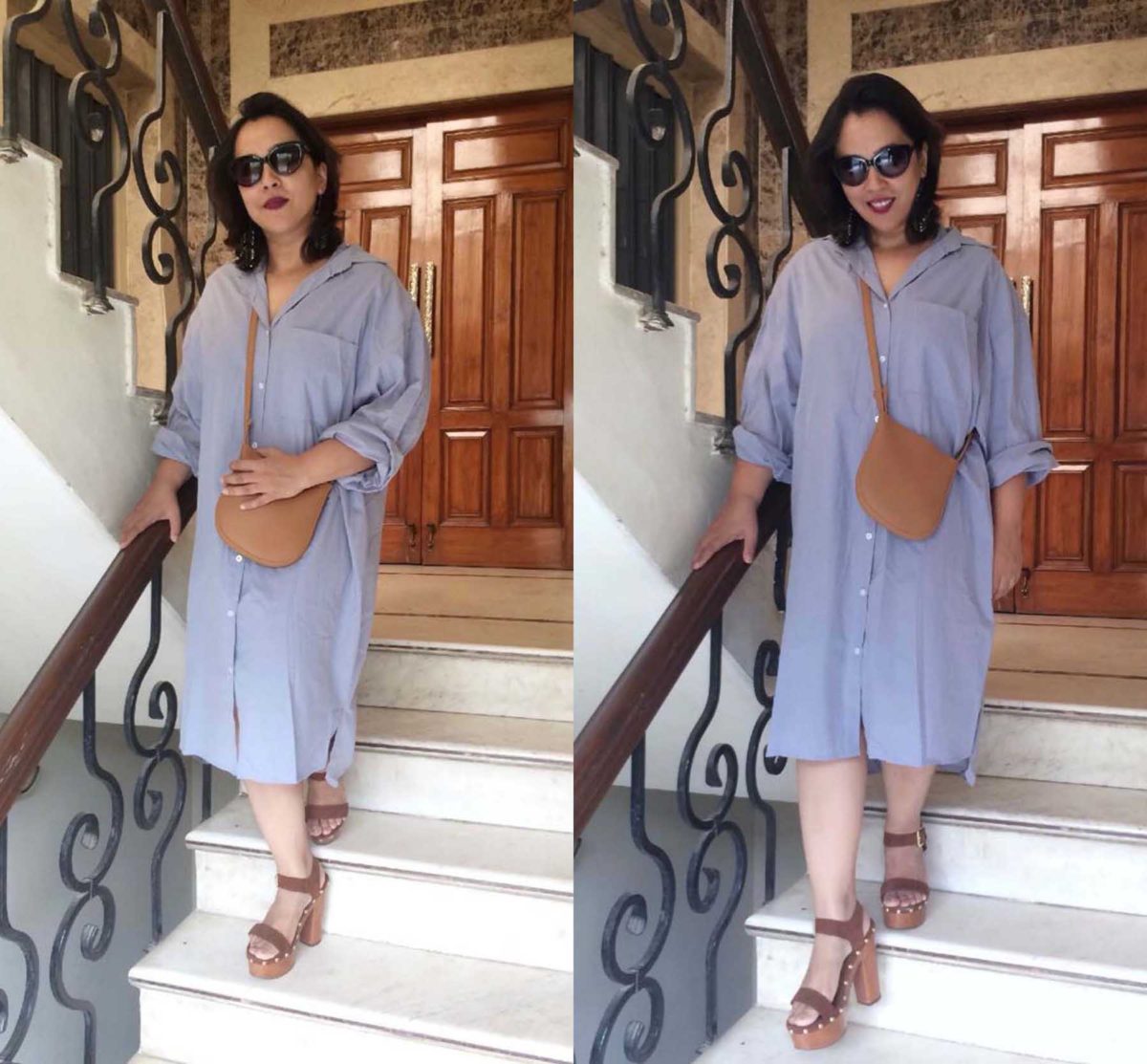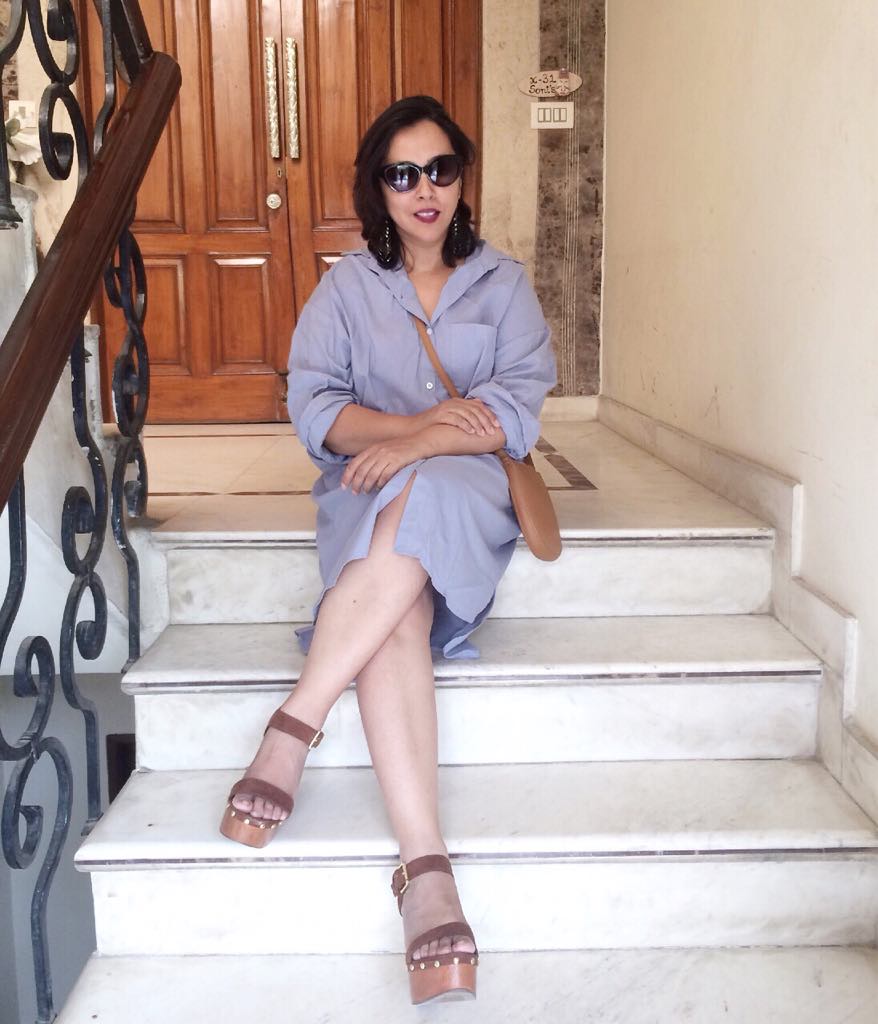 Shirt Dress: Bugis Street, Singapore | Sandals: Forever 21 | Bag: Rubi, Ion Orchard Mall, Singapore | Earrings: Thrift Store
A shirt dress style is one that I am very partial to when it comes to selecting dresses. It's chic, it's stylish, it's functional! So when I was asked by my fellow bloggers at Fab 40 to choose the theme for the month, it did not take me long to pin down the theme to—"Sprucing up a shirt dress". Well it is that piece of garment that is so so versatile that one can play around with it in multiple number of ways. It is a piece that gives you a choice of lengths, sleeve lengths, and hemlines, so you can create a multitude of outfits from one straightforward dress. But for me a shirt dress comes in handy just as it is because it makes me look made-up most effortlessly without going into the rigmarole of choosing two piece outfits. It is one of the best ways of simplifying your wardrobe specially if you like to dress up minimally yet effectively. And if you have a closet with a few right shirt dresses, trust me you are half way done with building up your basic wardrobe essentials. Creating some pretty outfits with those dresses does not really seem like a task at all….
It was during my shopping spree at Bugis Street, Singapore, that I chanced upon this beautiful chambray long oversize shirt dress.Well this one was a shirt dress in the truest sense of the word. It seemed so relaxed, casual, super stylish yet most functional—all in one! I loved it. I knew I was going to do a lot with this one. But for starters, I have styled this long & versatile shirt dress in its simplest of forms with my suede tan block heel sandals and a small cute matching bag. Well it is a look that is minimal, free-spirited & so much ME. It is almost like a go-to with a very laid-back, comfortable summer vibe! Though I wanted to try cinching at the waist too, I thought of saving that for future. I can only say that I am brimming with ideas for styling this beauty in a whole lot of innovative ways. So do stay tuned to watch out for the styling ideas for this one 🙂
A few looks where I have sported a shirt dress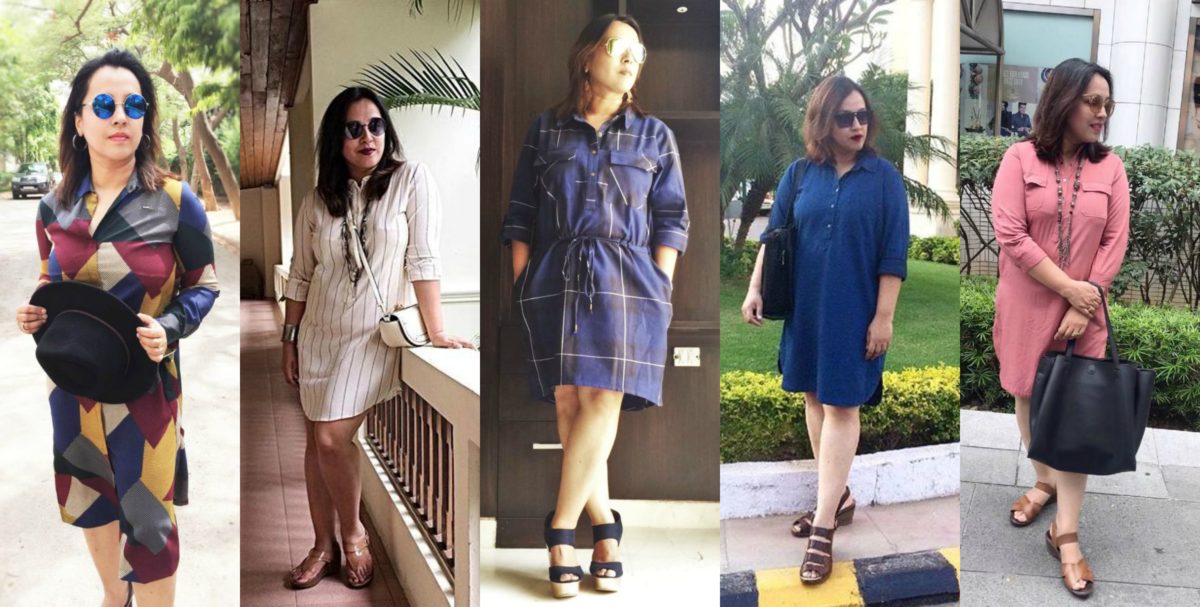 I am truly thankful to the entire Fab 40s group who did find themselves in a slightly tight spot with the theme initially! But I must compliment each one of them for making it their own and slaying it entirely. So here are my pretty friends from the Fab 40's group with their individual take on this versatile trend……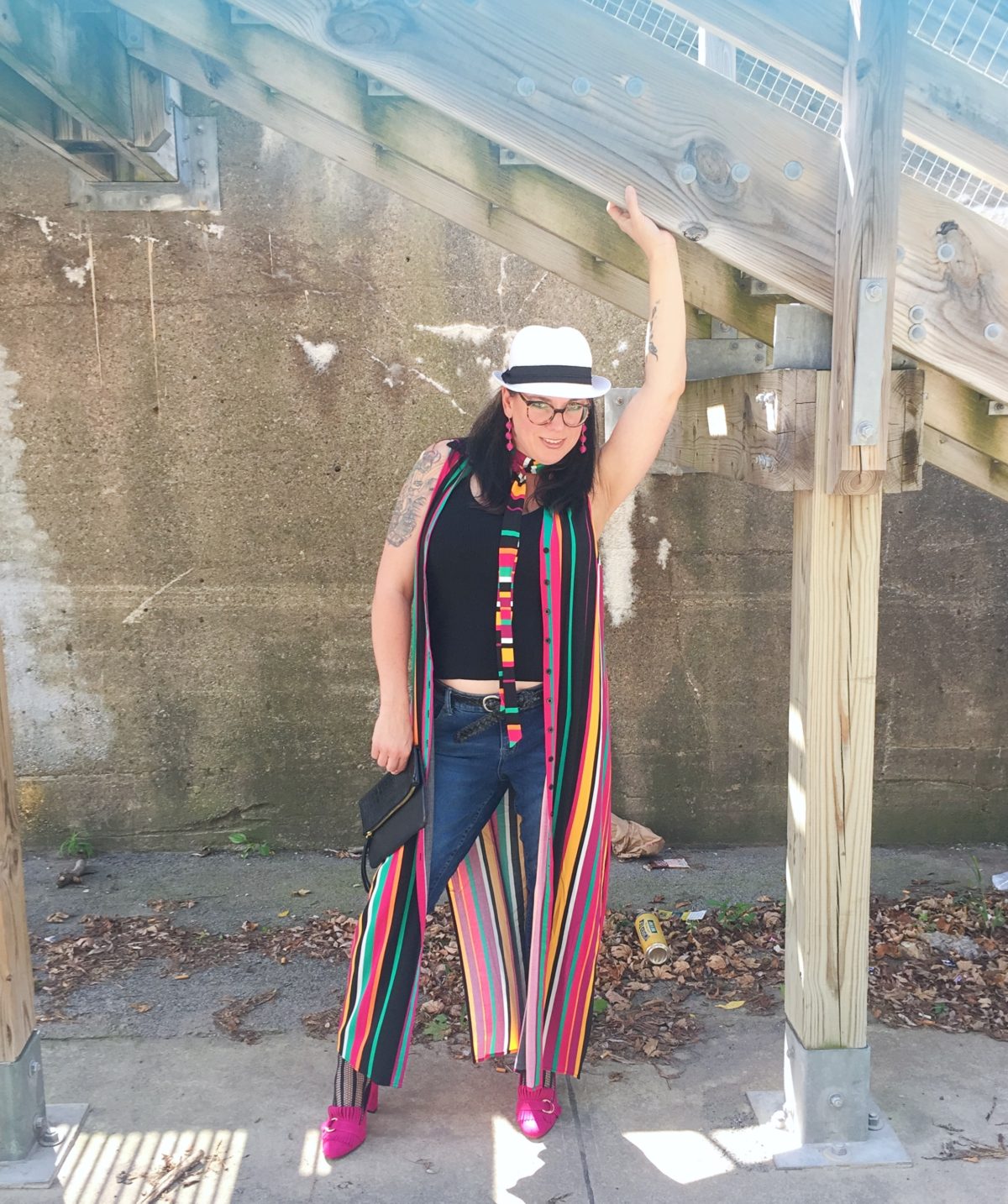 Shirt Dress and Jeans-Torrid | Tank Top-Thrifted (Ralph Lauren) | Socks and Earrings-Target | Shoes-Shoe Dazzle | Hat-Kohl's | Clutch-Old Navy | Belt-Super Old
Bold, brazen & totally herself, Shelbee of Shelbee on the Edge is all about color & spark this time! Those colorful stripes, the matching rainbow tie and those barbie pink pumps are all about fun & playfulness. A totally flamboyant, edgy look!
---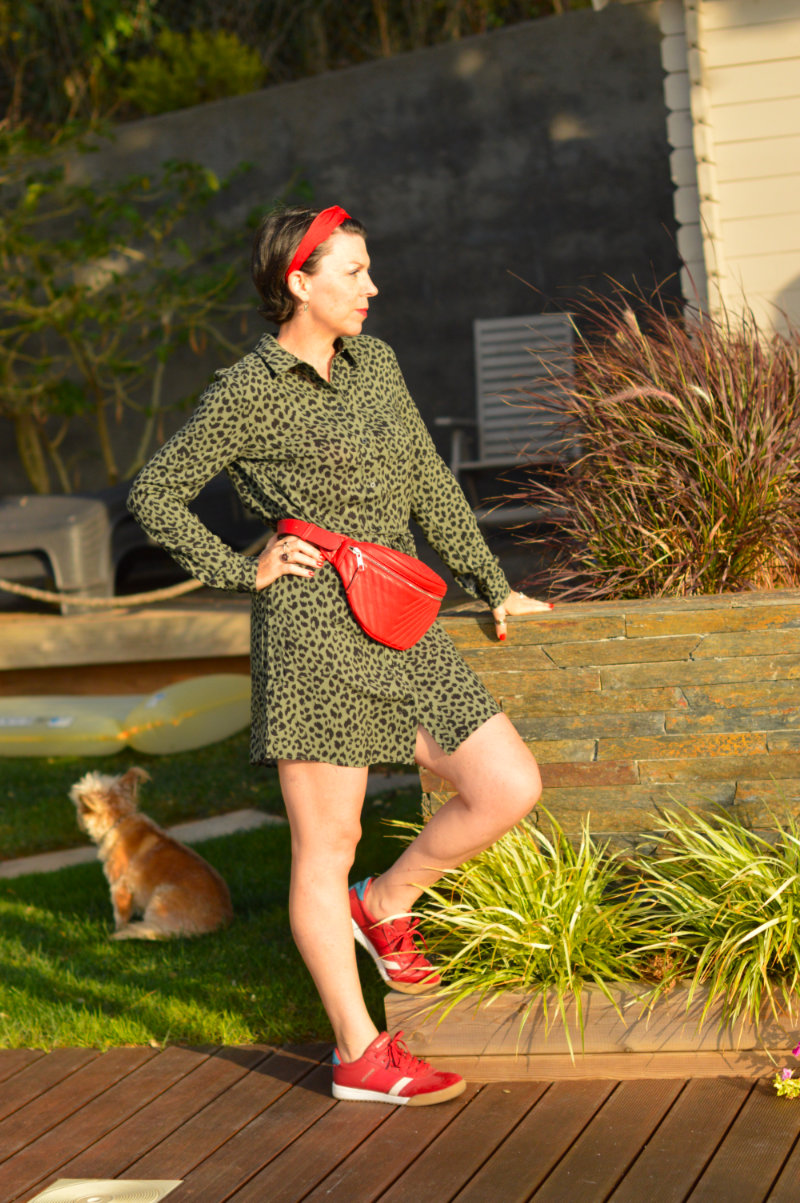 Sneakers: Skechers | Dress: H&M | Bumbag: Stradivarius
Suzy's (of Suzy Turner) animal print dress has totally got me! Sporty chic meets street-style sass. Love the brilliant combination of fire red accessories against the subtle khaki green animal print.Totally inspirational and a look I can see myself wearing in future.
---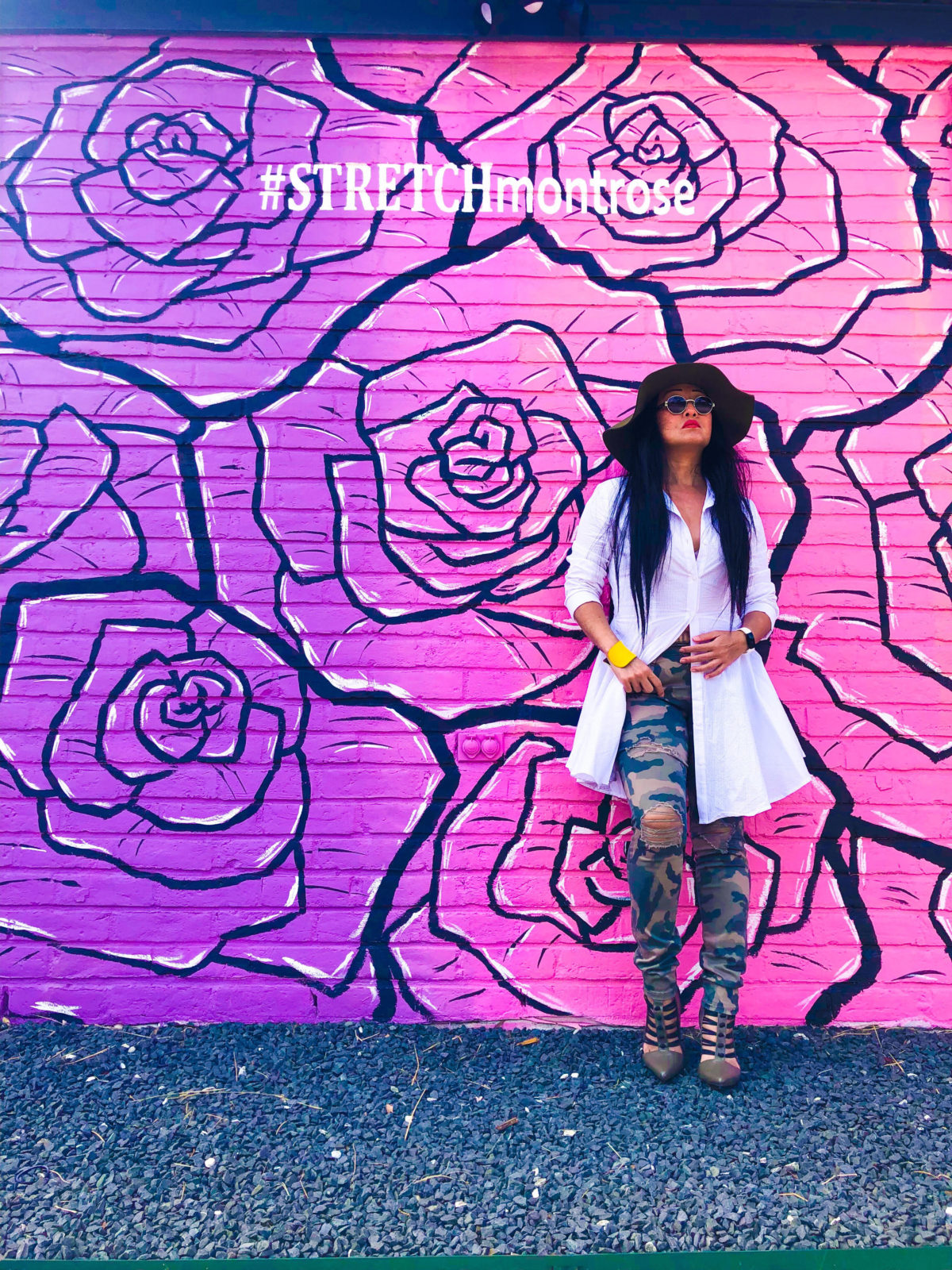 Shirt – Thrifted | Jeans – NY & Co | Heels – GX by Gwen Stefani | Hat – a gift from Eve | Cuff – c/o Unearthed
Rugged Camo jeans, killer heels, a titillating peplum shirt and a chic olive hat—It's a total slay time for Sheela from Sheela Goh! She is definitely taking the sexy, bad-ass to another level. A powerful, intense look with a touch of femininity.
---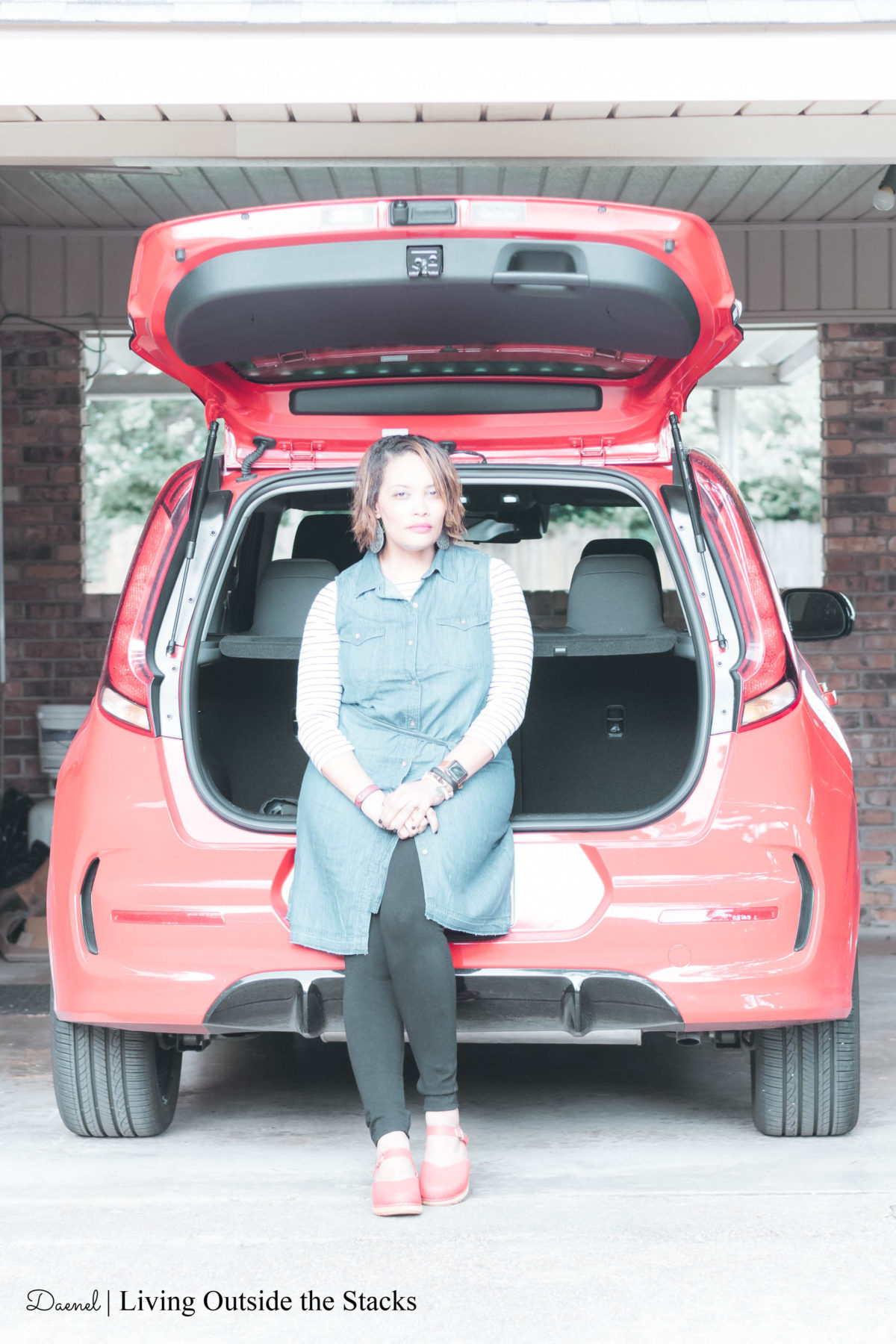 Simple, minimal with a touch of edge! Those red clogs are anything but basic. And I simply dig those metallic danglers! Daenel of Living Outside the Stacks has upped her layering game with basic minimal essentials and built up a look around her denim shirt dress that is functional & very go-to.
---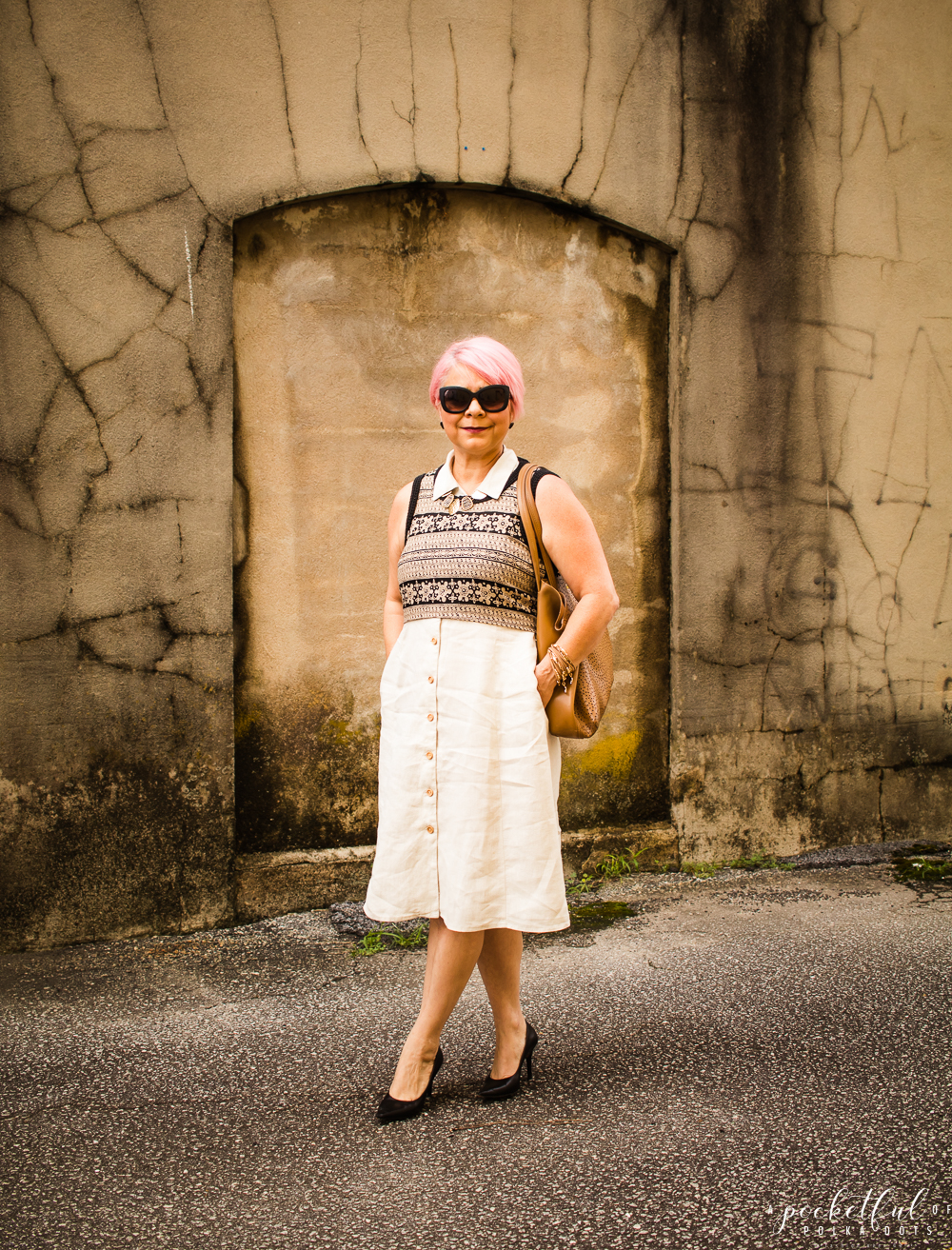 Shirt Dress: Mango | Top – Loft | Shoes – c/o VANELi | Necklace – NY&Co. | Bracelet – Charming Charlie | Tote – Vince Camuto | Sunglasses – Tahari
Now this is what I call a very clever & innovative way of donning a shirt dress! Jennie of A Pocketful of Polka Dots is making such a pretty picture of sophistication & daintiness with this gorgeous tank worn over a minimal style shirt dress. Totally impressed & inspired Jennie!
So which is your favorite style? Do shirt dresses strike a chord with you?