What is the Fab 40's group
The Fab 40's is a group of six stylish fashion bloggers from around the globe. Each month we choose a different theme and invite a guest blogger also in their forties to join us. This group's goal is to take on style trends and show how we each interpret and incorporate them into our own lives. With six widely varied views, you are certain to find something that speaks to you each month and encourages you to have fun with fashion after 40.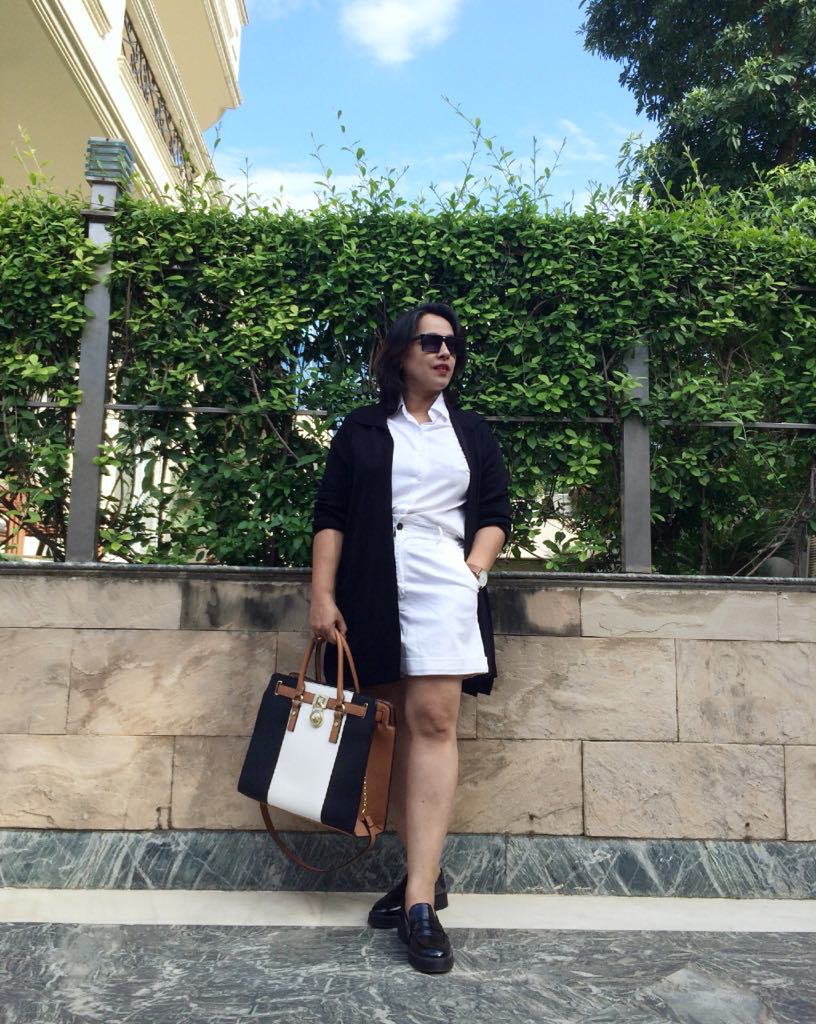 We were challenged this month by Sheela to come up with a look featuring shorts for work. Well this one was certainly a challenge considering the wide deviation from the regular office/ work wear. But in a way it was quite exciting to think out-of-the-box and put together a look around a casual piece of garment such as shorts. Even though shorts at work may be quite popular in the west in certain work environments such as fashion, advertising, media, press, etc., they are still considered a tad bit taboo here in India. Well for me the key here was transitioning my pair of shorts into something tailored and office worthy.
Having recently done a post with a pair of black shorts & its styling ideas, I was sure I had to grab a different pair. My white pair of denim paper bag shorts from H&M provided the perfect blank canvas around which to build up the look. I knew I had to get all classic where it came to choosing the colors. What better than a black & white combination! I opted for a crisp white button up shirt with a long black Misook jacket (which I have owned for the last twenty years, but which still looks as fresh & slick as it did when I first bought it from New York) for a monochrome style look. My top favorite accessories, a pair of black loafers from Forever 21 and a structured three tone Michael Kors bag completed my clean, professional, office look. One can also opt for slightly longer versions of shorts or even something more tailored or pleated. You may even go in for special detailing, like stripes, clean lines, high-waist silhouette. Admittedly, it is the neutral or basic colors that work best in such situations. Anything colored or bold will definitely be most inappropriate for long office hours. Though my pair of shorts is denim, anything with suede, jacquard or corduroy is bound to lend elegance and professionalism to your overall office attire.
So I hope I have been able to inspire you with a somewhat unconventional styling for work. But frankly speaking I thoroughly enjoyed every moment. Classic case of having fun with fashion…..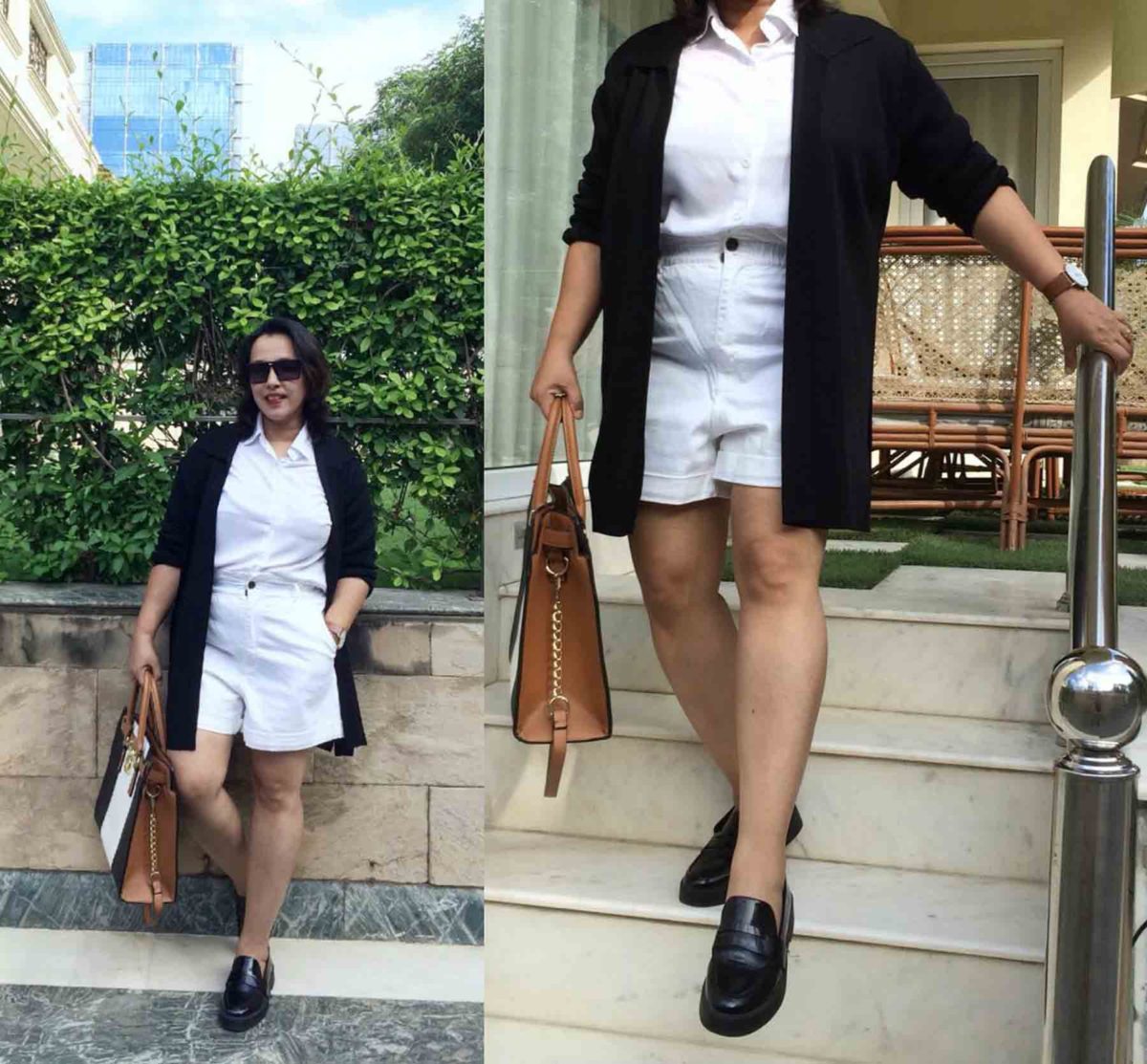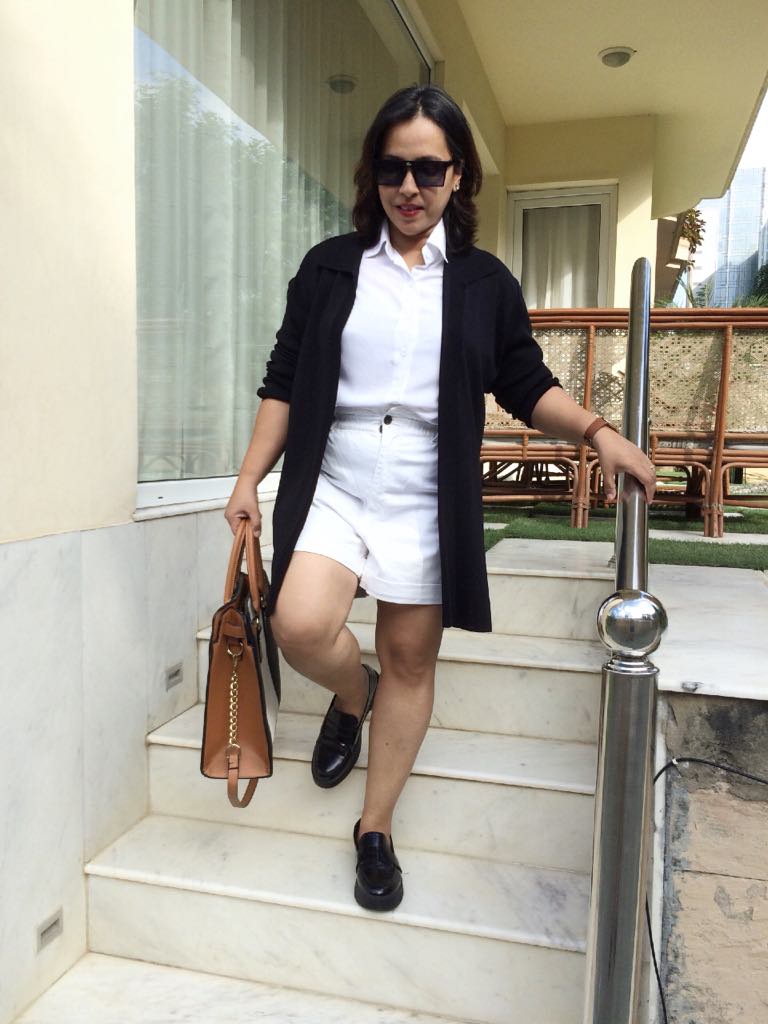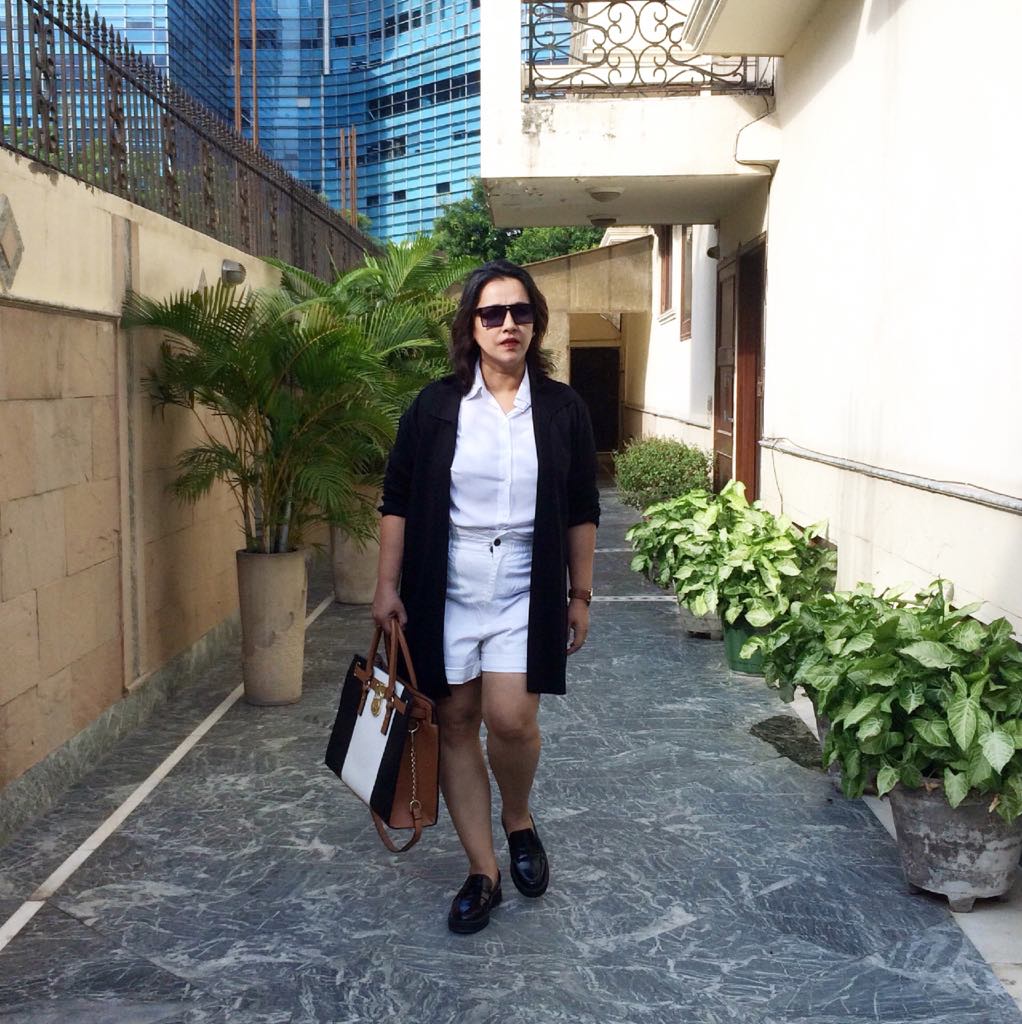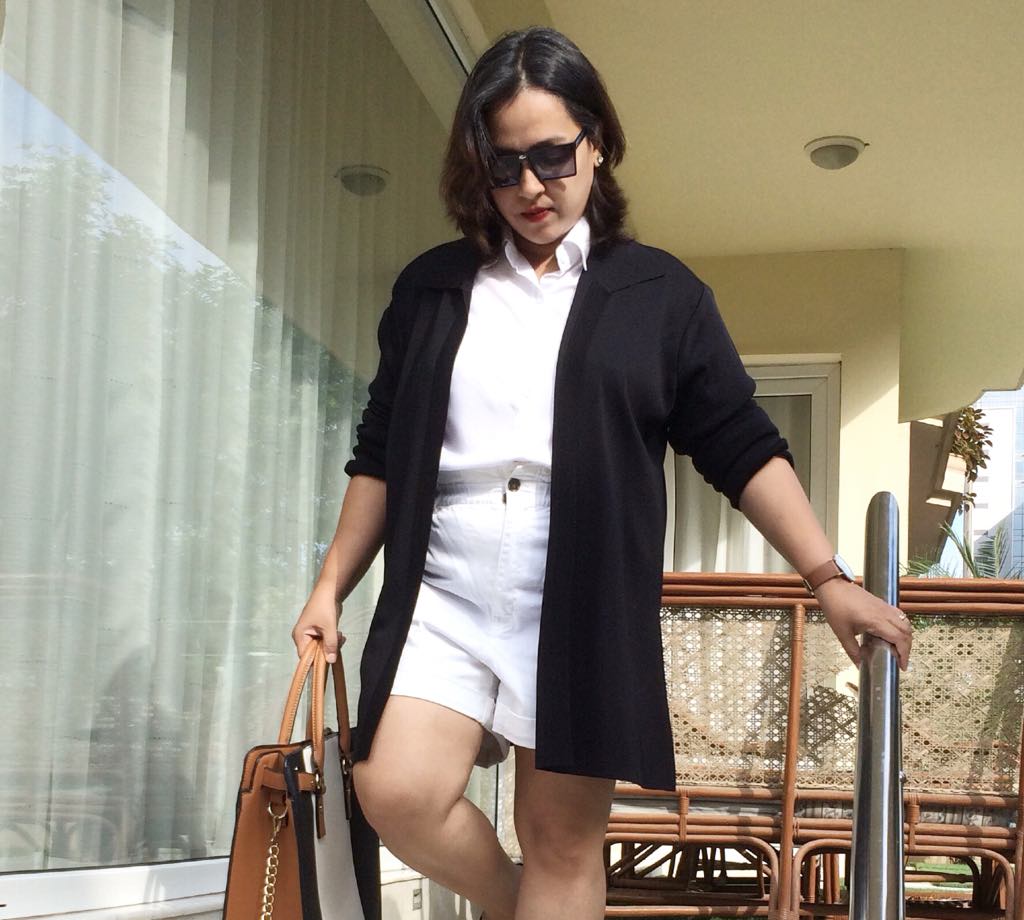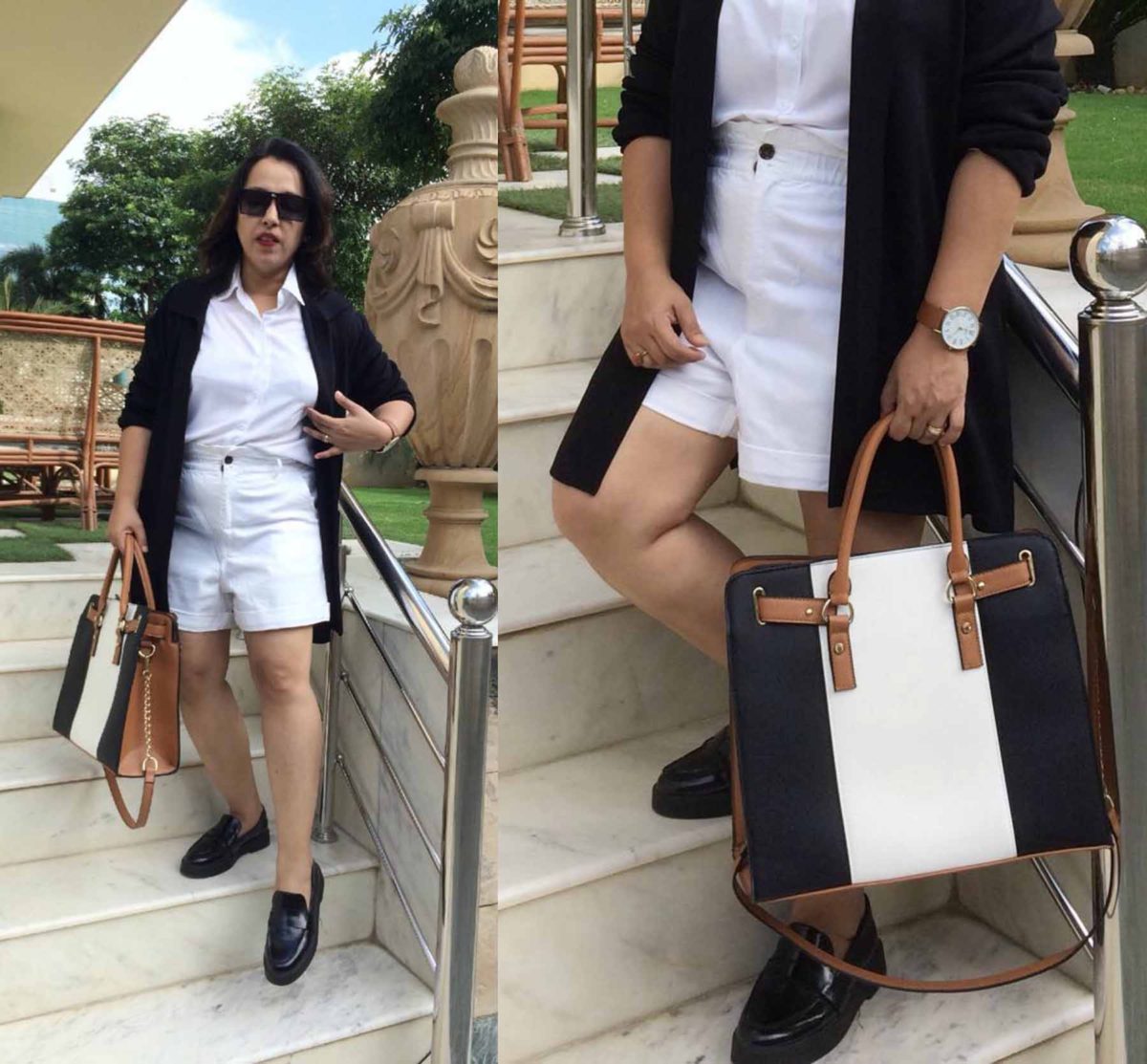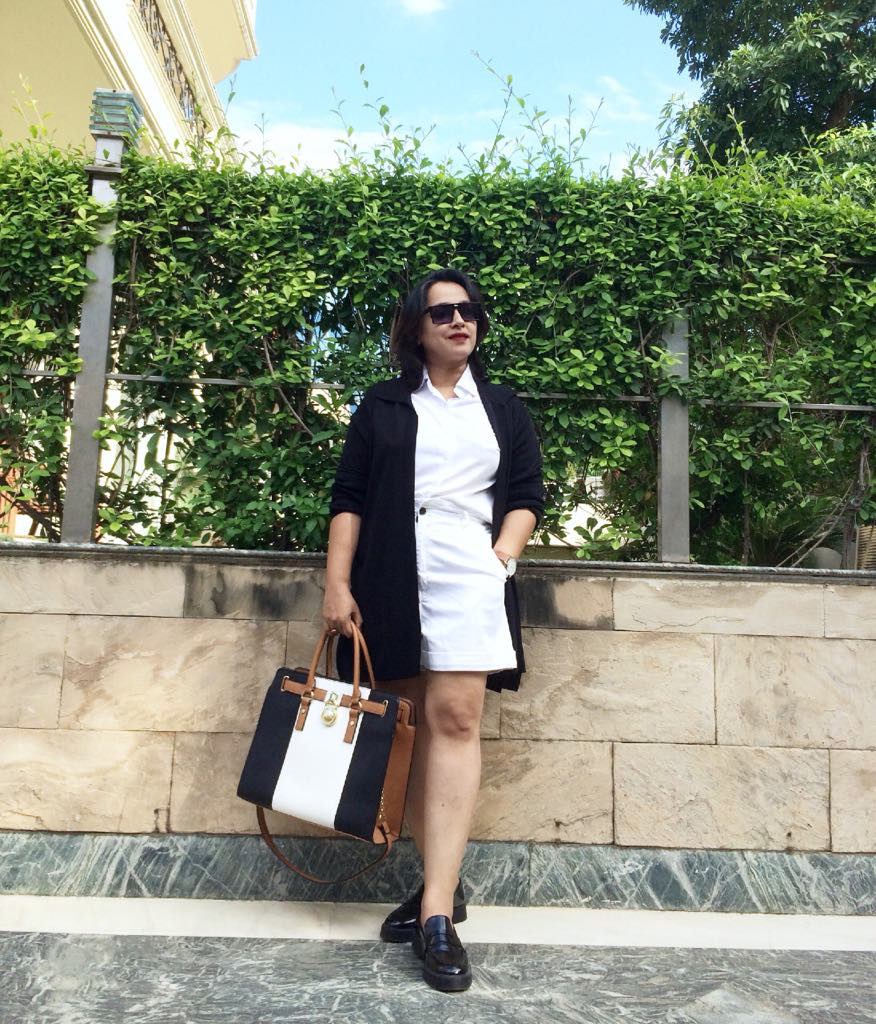 Denim Shorts: H&M|Shirt: Bugis Street, Singapore|Long Jacket: Misook|  Faux Leather Penny Loafers: Forever 21 | Bag: Michael Kors
---
Now it's time to see the various interpretations of the theme –"Shorts for Work" by my dear fellow fab 40 bloggers!
Unfortunately Jennie from A Pocketful of Polka Dots will not be able to join us for this month's theme due to an accident she has had with her camera recently. But be sure to visit her blog because Jennie has some great colorful, bold styling ideas & tips for fall.
---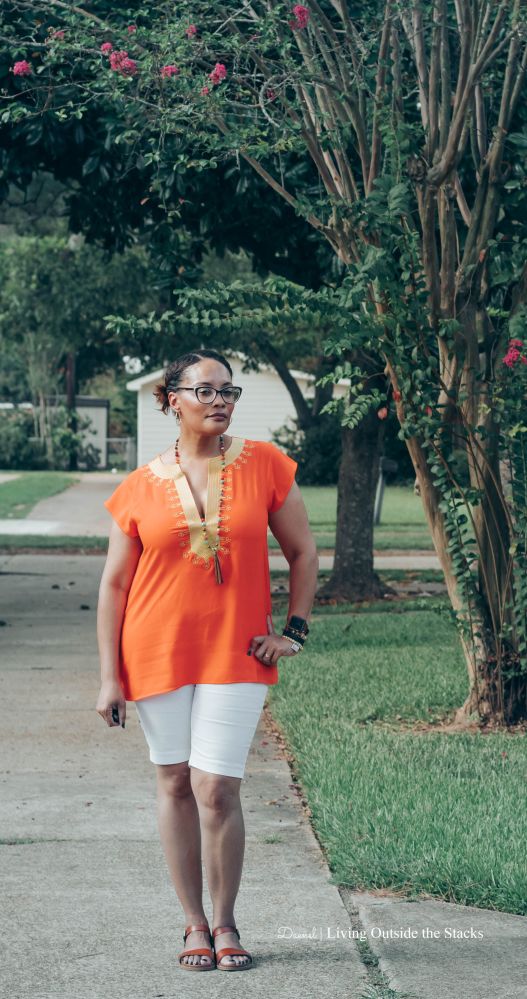 This is a classic boho style inspired work look that Daenel of Living Outsides The Stacks is sporting. And I absolutely adore that bright orange vibrant top with gold detailing. A true head-turner! The white bermudas and tan strappy sandals are understated & elegant. A perfectly well balanced look!
---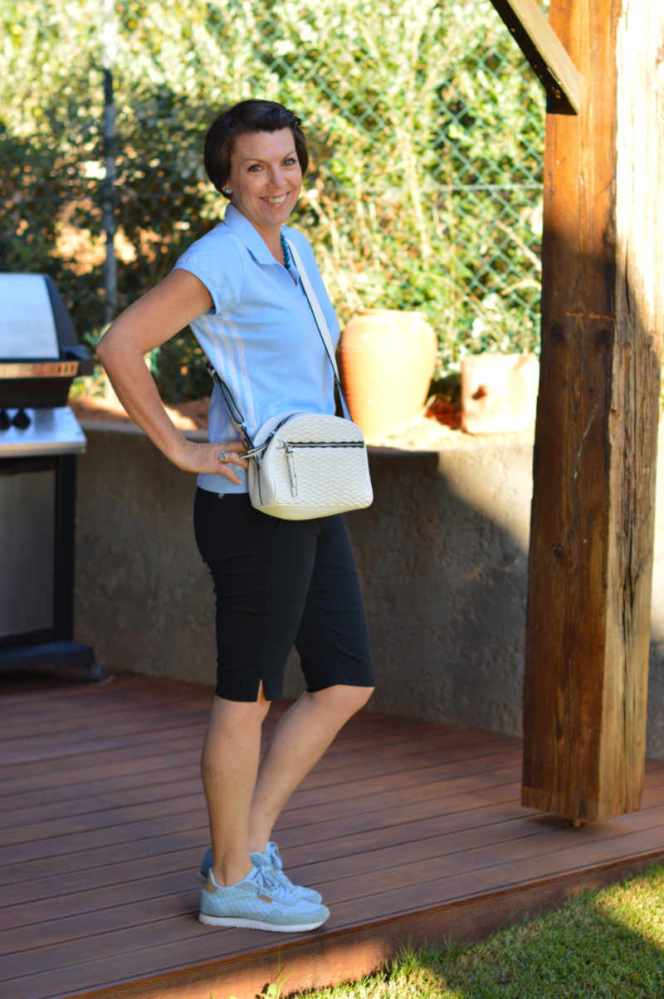 Shorts: Green Lamb|Polo: Adidas| Sneakers: Woden| Handbag: Parfois|
Watch: Citizen
Suzy of Suzy Turner shows us how to wear shorts like second skin. Being a pro at wearing shorts for daily work, her comfort & confidence are quite evident in her cool, casual, fun look. How I love that matching combination of her sport shoes and polo T in soft powder blue!
---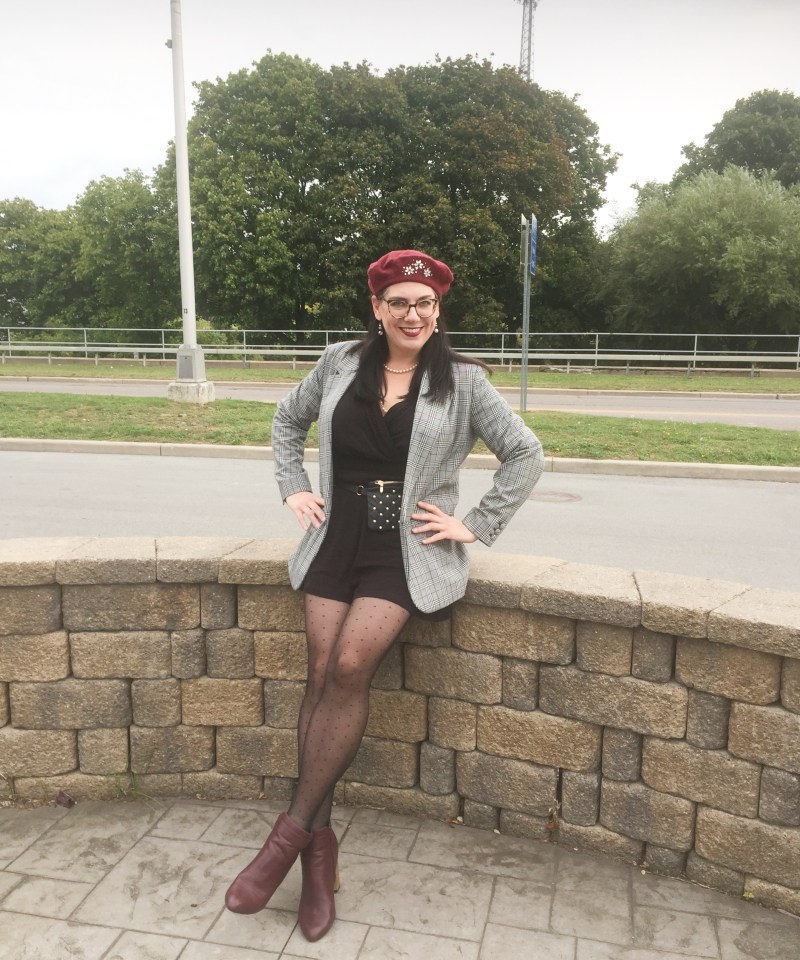 Romper and Beret – Kohl's | Blazer and Tights – Target | Belt Bag – Torrid | Boots – Charlotte Russe | Jewelry – All Old
Super Chic from head to toe! This is Shelbee of Shelbee on the Edge giving us major fashion goals in her brilliantly styled romper with plaid blazer with matching booties and a fun beret. It's a look that is fun, elegant, sexy & work appropriate all at the same time. Way to go girl….
---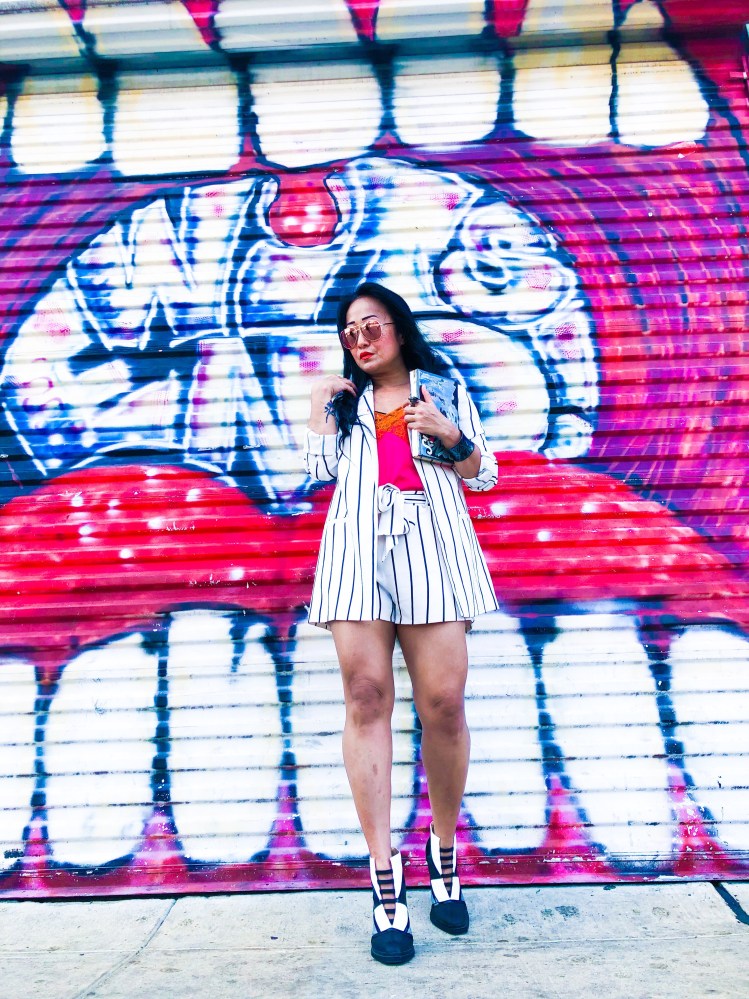 Details: Suit – Forever21| Camisole – NY&Co| Heels – GX by Gwen Stefani| Great Expectations Clutch – Kate Spade, thrifted| Crow Skull Ring & Ombre Sunnies – thrifted|Leather Cuff – c/o Unearthed on Etsy
Sheela of Sheela Goh could actually be a trendsetter is formalizing shorts for work! Her outfit not only screams office but also power, fun, sexiness & modernity. The pinstripes coupled with a pop of pink and those killer heels make Sheela a perfect model of modern day work aesthetics.
So was that inspiration enough for you to start getting experimental with your pair of shorts? Do let me know in the comments below.