What is the Fab 40's group
The Fab 40's is a group of six stylish fashion bloggers from around the globe. Each month we choose a different theme and invite a guest blogger also in their forties to join us. This group's goal is to take on style trends and show how we each interpret and incorporate them into our own lives. With six widely varied views, you are certain to find something that speaks to you each month and encourages you to have fun with fashion after 40.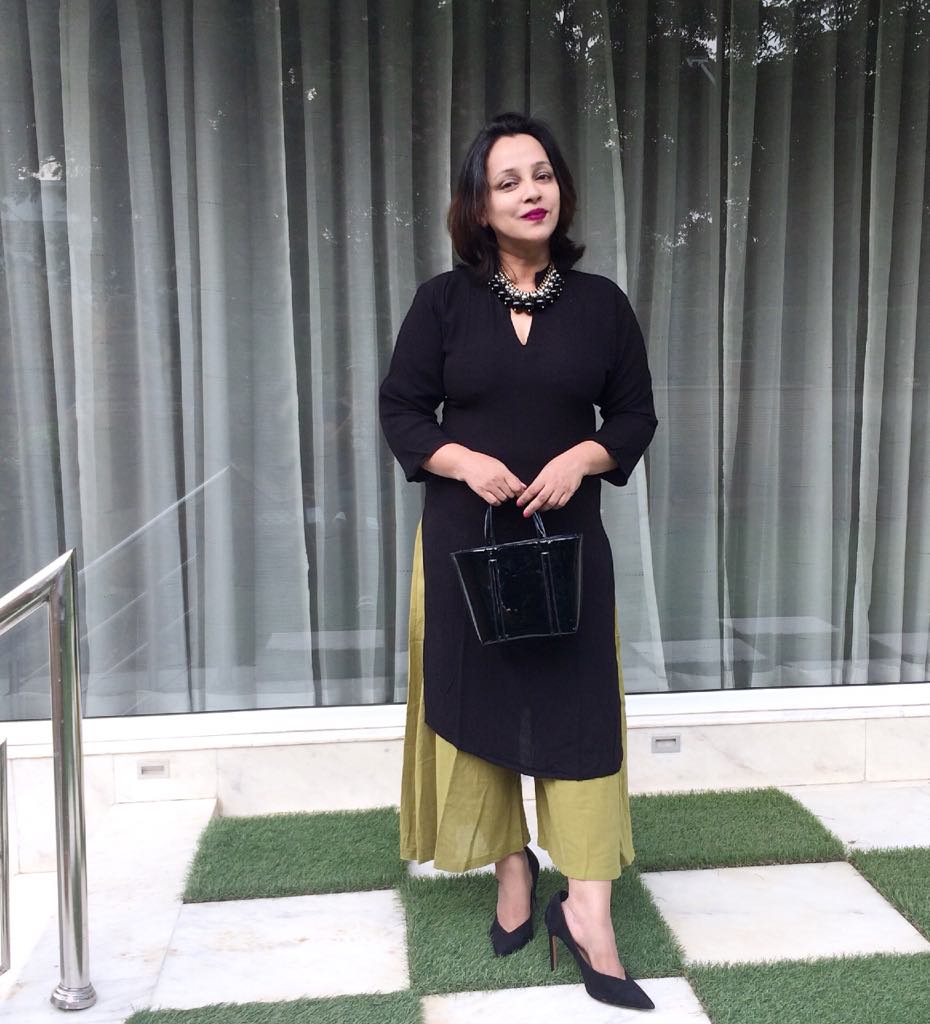 Much has already been said about how accessories can make or break an outfit! Well as cliched as it may sound, it is true to the T. And this month, my dear friend Suzy from the Fab 40s group gave us an opportunity to style an outfit inspired from a necklace. Having recently completed my Netflix series on legal dramas, Suits & The Good Wife, I cannot refrain from commenting on the beautiful, statement necklaces worn by the lead female attorneys, Jessica Pearson & Diane Lockhart. Diane's necklaces were as feisty as her courtroom intellect. It was actually a visual fashion feast to see her gorgeous collection of different styles of necklaces…Some of them were such fresh, new, bold styles….How I wish I could own some of those stunning pieces!
Coming back to today's theme, I knew the exact piece from which I had to draw inspiration for styling my outfit.This was a black chunky beaded black & gold necklace that I bought long ago during one of my visits to Hrishikesh, a religious Hindu abode. I recall that it was a cheap buy but I knew that it was going to be one for keeps. It came as a set with two matching beaded earrings. But I always knew that I would break the necklace & earrings set and never wear them together. I have never ever worn complete sets however traditional or vintage the outfit may be. I just feel that it makes the look too much in the eye and takes away all the attention from the outfit. Like for today's theme, I kept it simple & minimal (true to my style) with a long black Zara tunic, olive green wide leg palazzo pants & matching black Zara pumps. I kept my ears bare so that the necklace could do all the talking. A small, cute, black, patent leather Forever 21 bag added blingy chic to the overall look. Since I shot my look around Diwali, it was a perfect look for one of my festive parties too!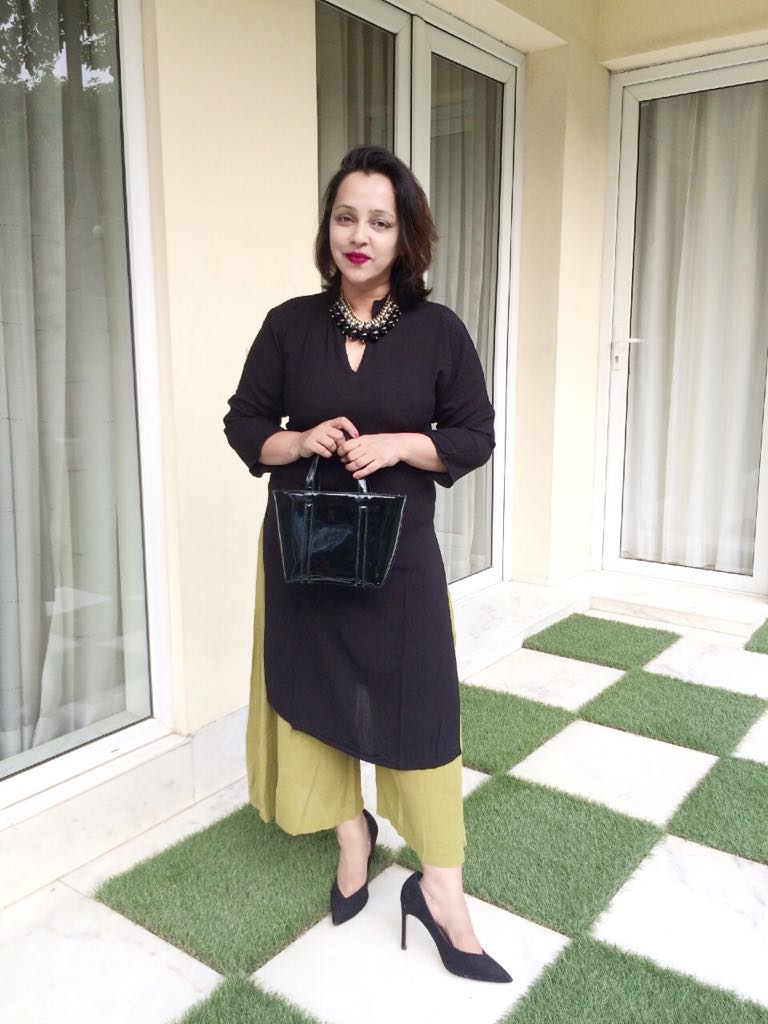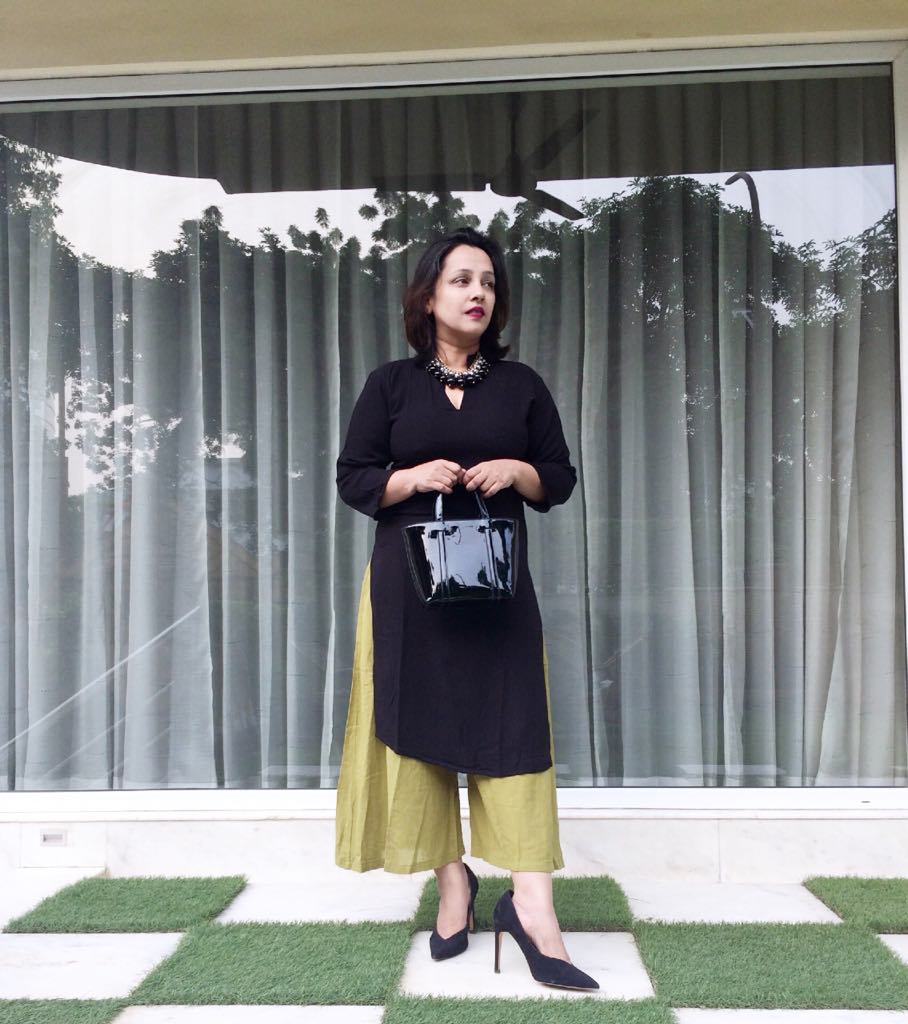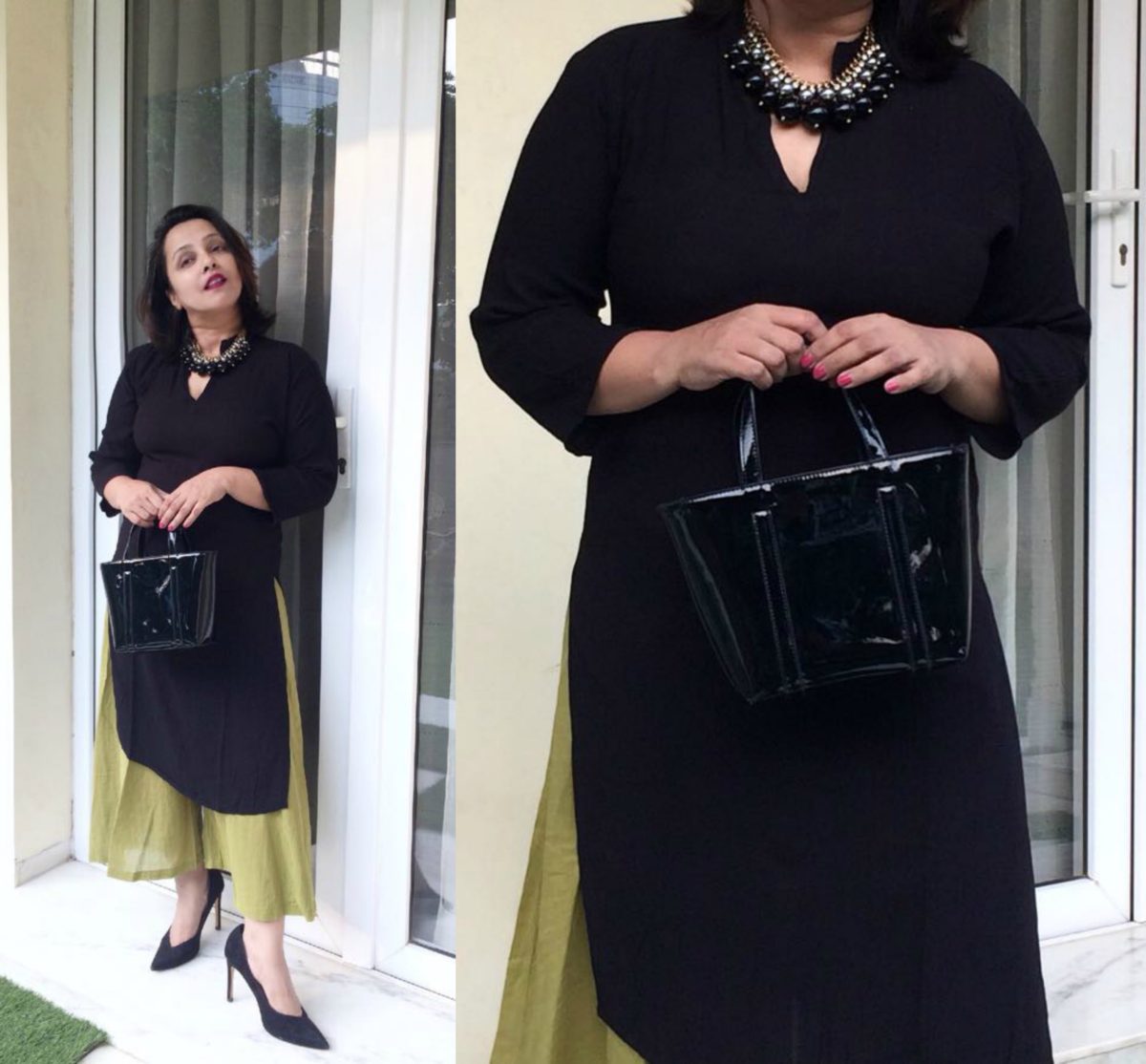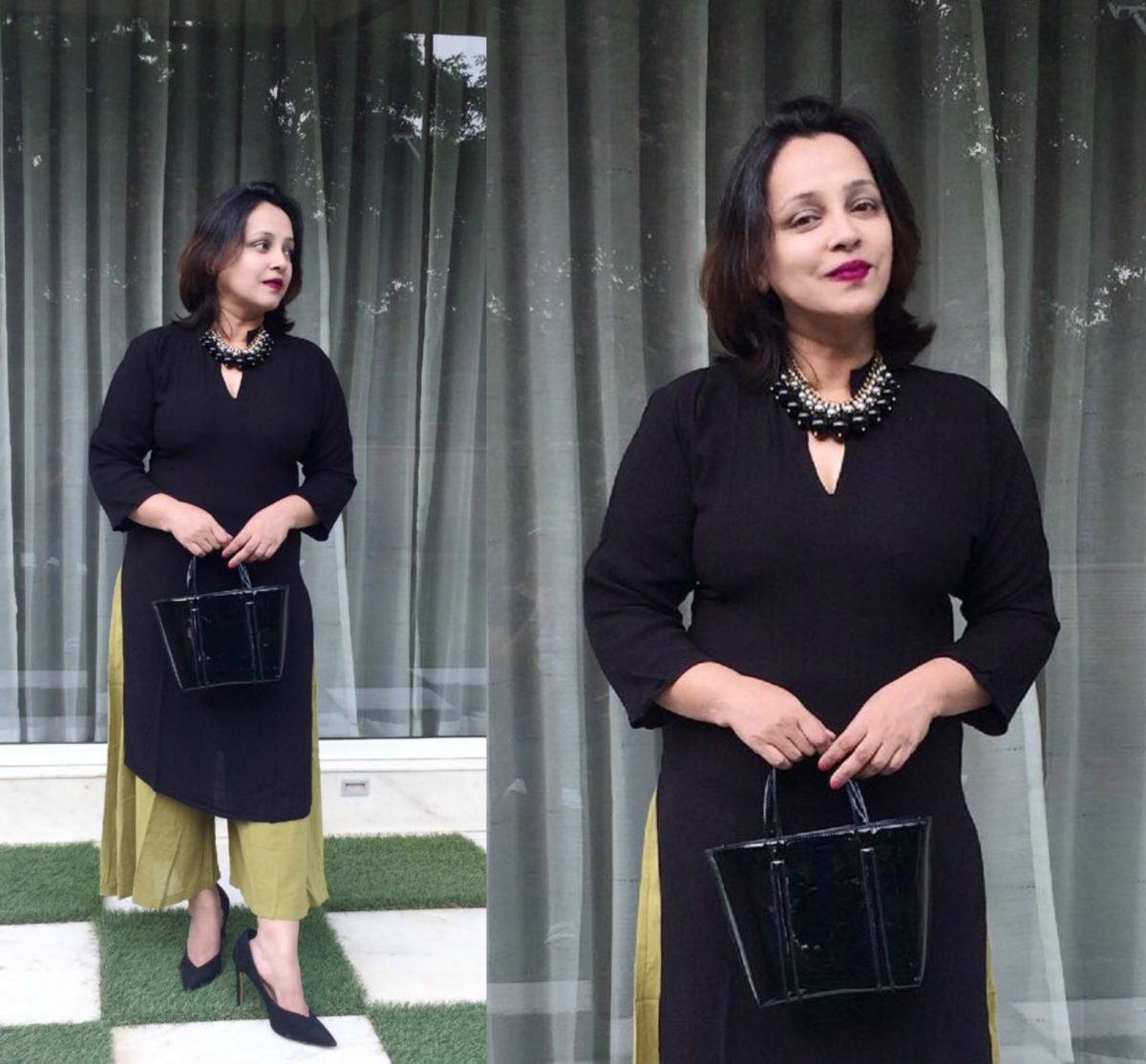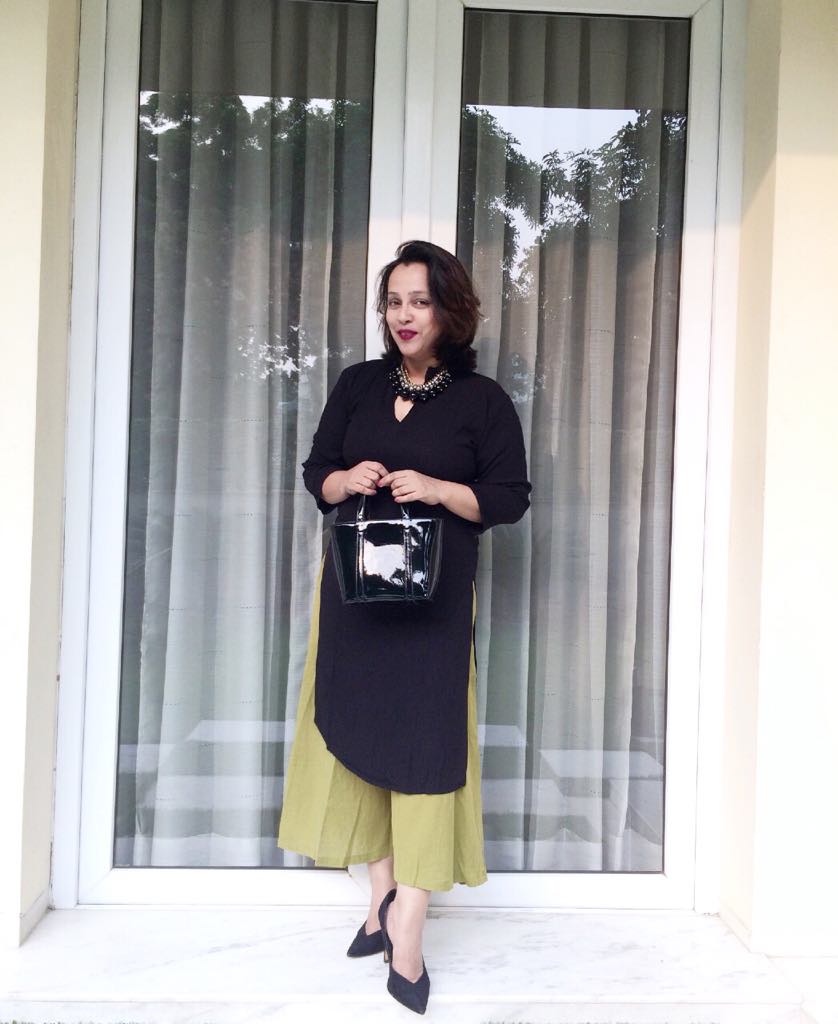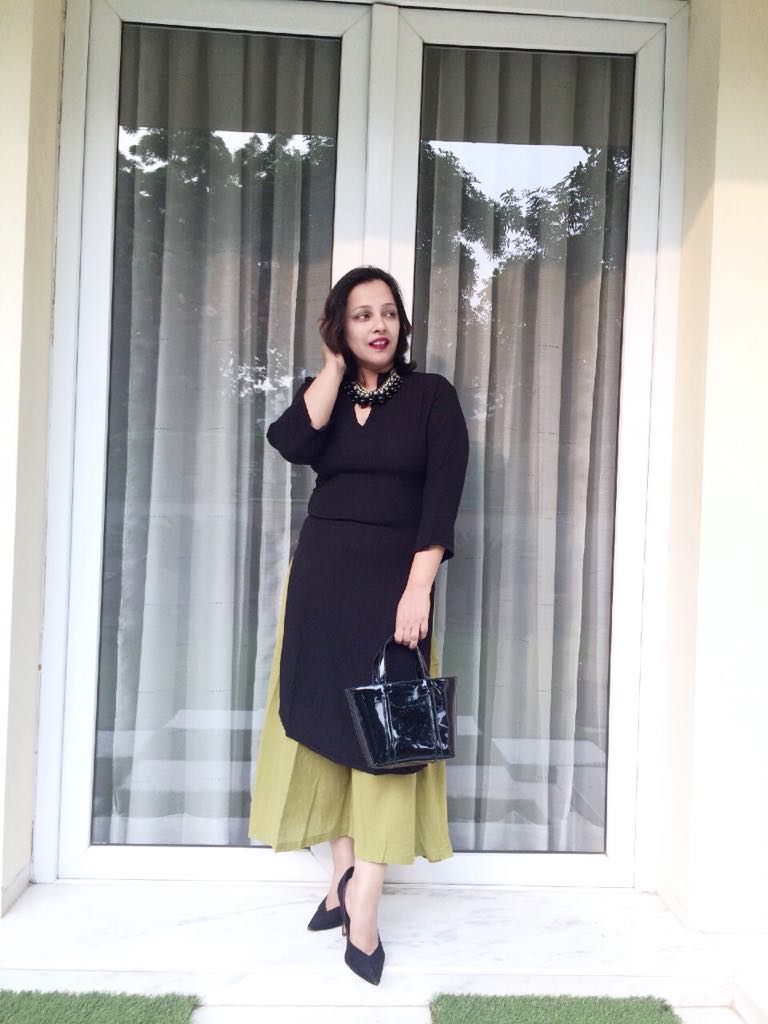 Black Tunic: Zara| Olive Green Palazzo Pants: Flea Market| Pumps: Zara|
Bag: Forever21| Necklace: Local Shop
---
Let me now walk you through the stylish looks of my fellow Fab 40 bloggers. Do visit their individual blogs to catch the detailed pictures & stories behind their inspiration!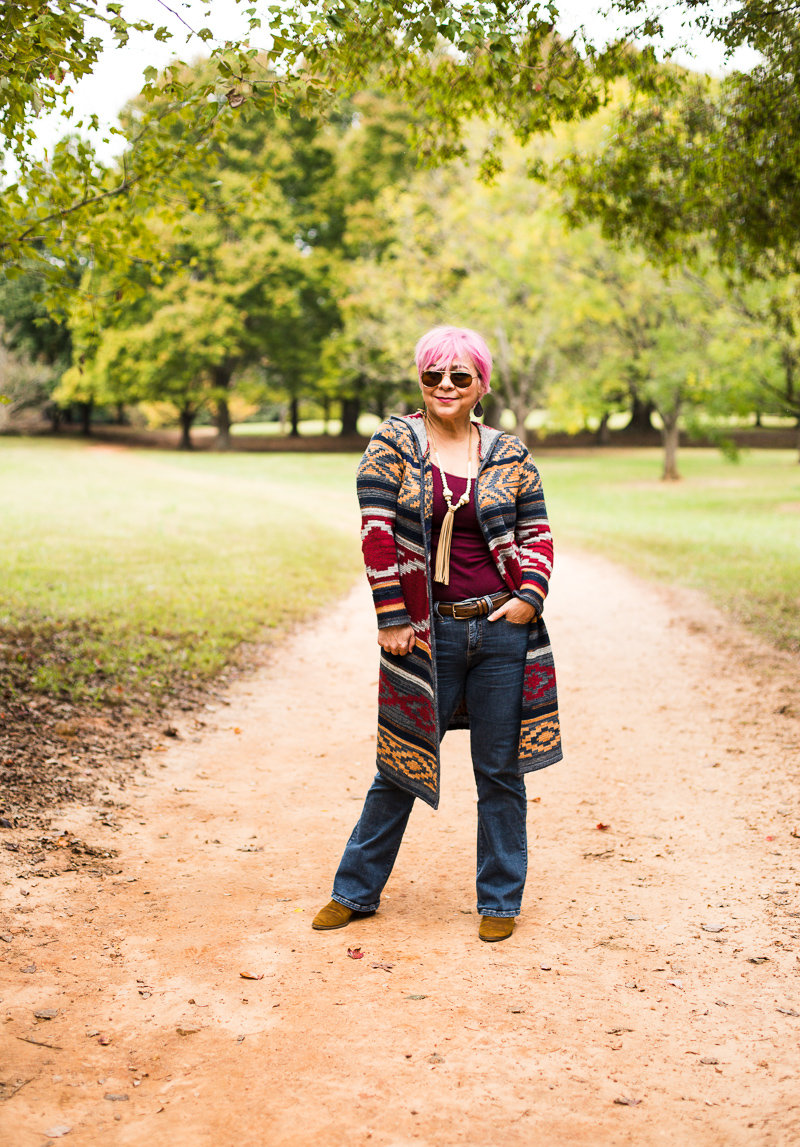 Cardigan-Questions | Tank-Loft | Jeans-Lee | Necklace-Kay & Star | Earrings-Hammered Love Letters | Boots-Lucky Brand 
Such beautiful fall colors! That is Jennie from A pocketful of Polka Dots giving major fall boho chic vibes in that stunning hooded multi-patterned cardigan and her boho inspired tasseled neck-piece. And those cozy tan boots are so versatile. A perfect fall footwear! Such a warm, colorful, cozy vibe….
---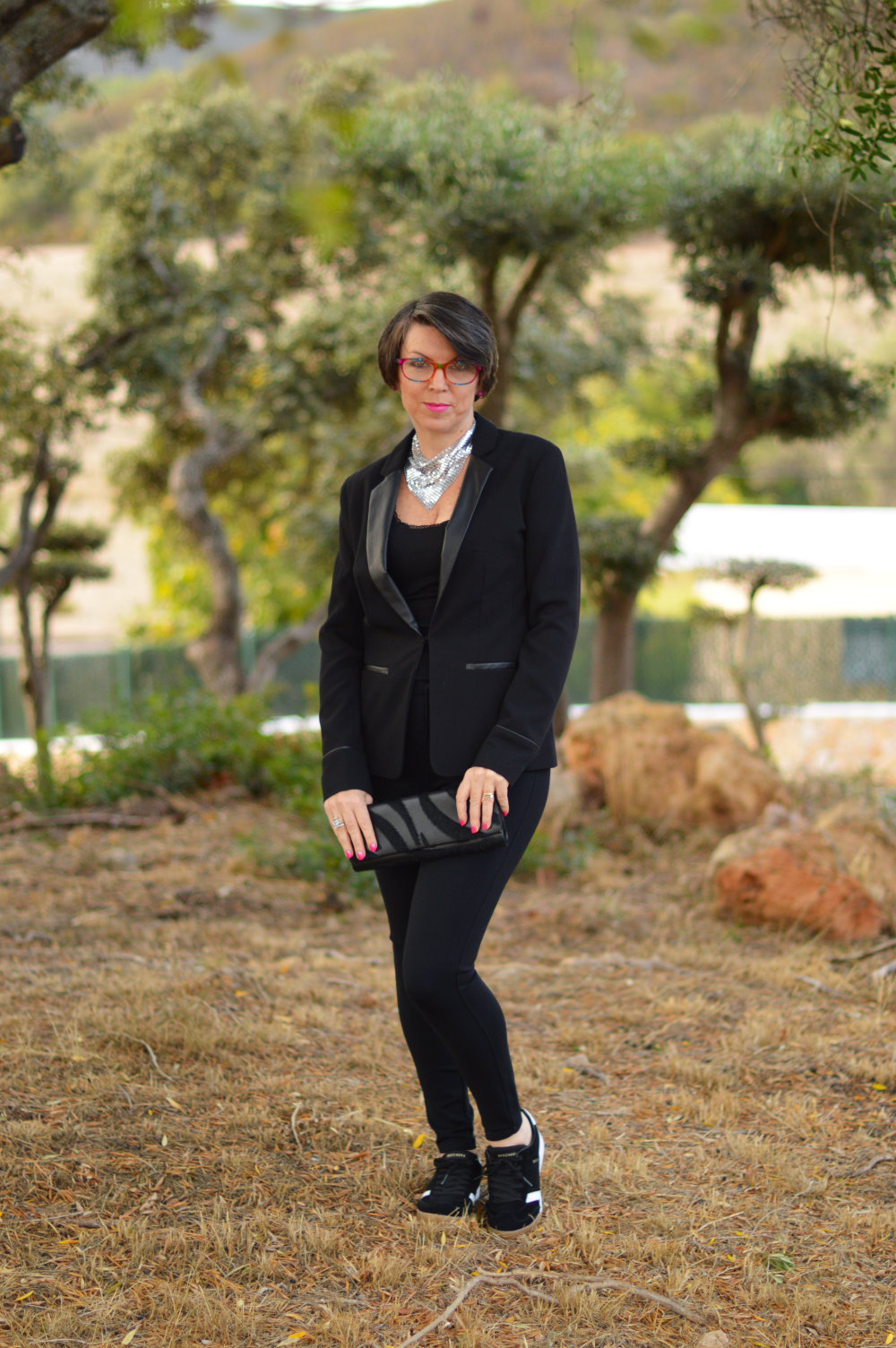 Jacket: George at Asda| Black trousers: Zara| Vest: H&M| Trainers: Skechers| Clutch: inherited| Necklace: So old I can't even remember!
Suzy of Suzy Turner is a perfect picture of glam athleisure wear! That scarf style mesh silver necklace is a complete head turner. Worn with a tux-style jacket and cute trainers, Suzy shows us how to mix glam with casual in the most perfect way. It is a style challenge with a total Suzy twist!
---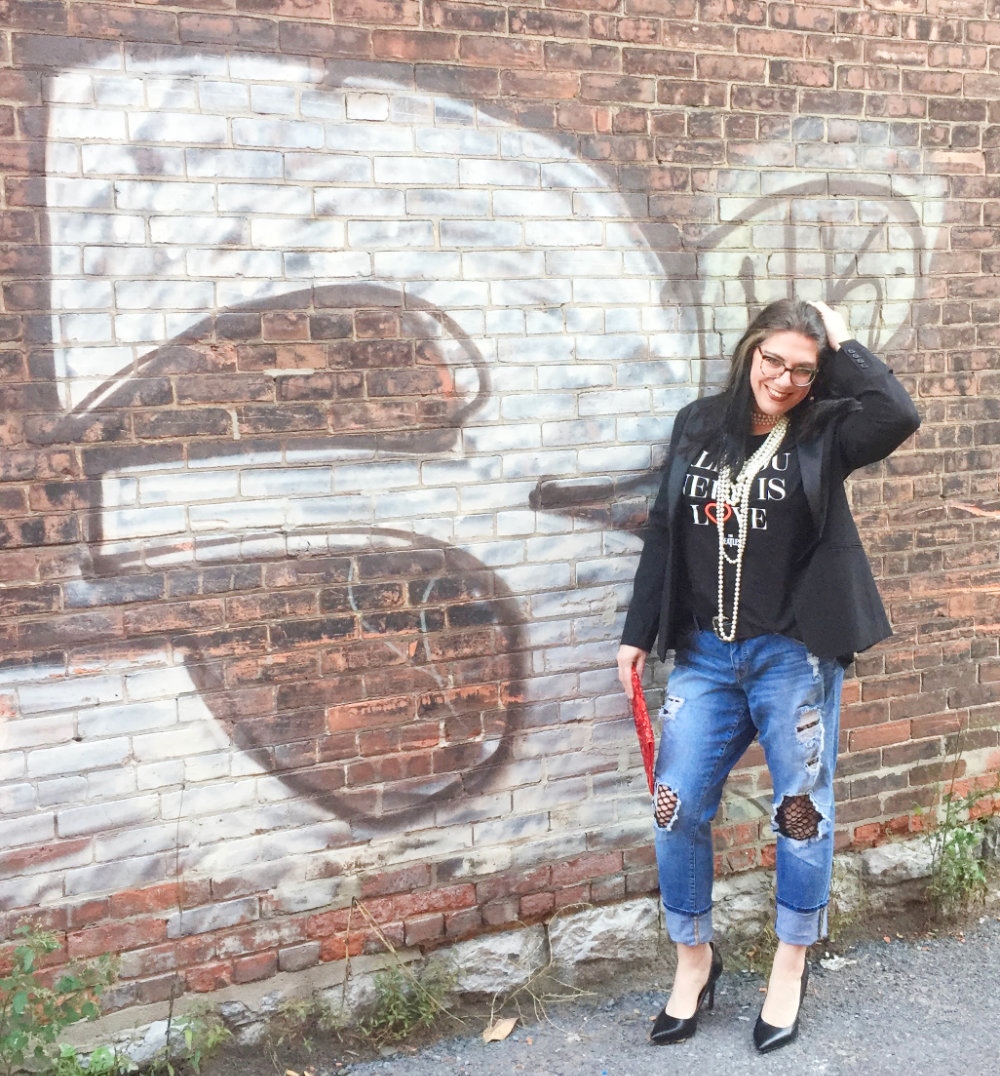 5 Necklaces-2 are from Charming Charlie, 1 was Thrifted, 2 were handed down from Mom| Graphic Tee and Jeans-Torrid | Blazer-NY&Co (Thrifted)| Shoes-Payless| Belt-BedStu | Clutch-Target
Graphic Tee with pearl necklaces! OMG, I could never ever think of this combination and here we have Shelbee of Shelbee on the Edge slaying the look with so much ease & comfort. She is adding edge to the delicate pearls with perfect panache in those distressed jeans, red sequin clutch & fishnet. Totally inspirational….
---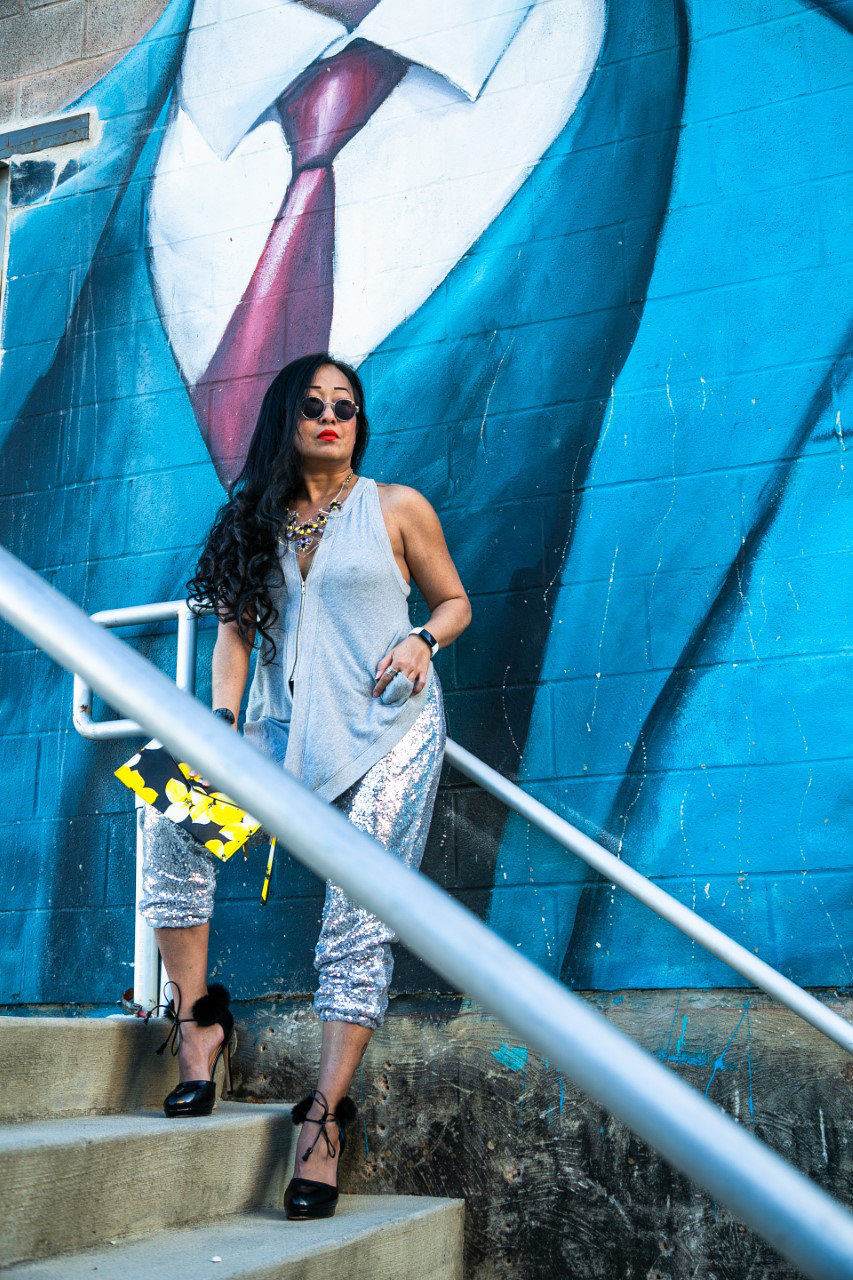 All Items: Thrifted
Want to see the definition of casual glam from top to bottom? That will be Sheela from Sheela Goh. Those sequinned harem pants will be something I will be digging for quite sometime. She makes such a pretty picture with one of the most stunning statement neck-pieces and most drool-worthy shoes!
---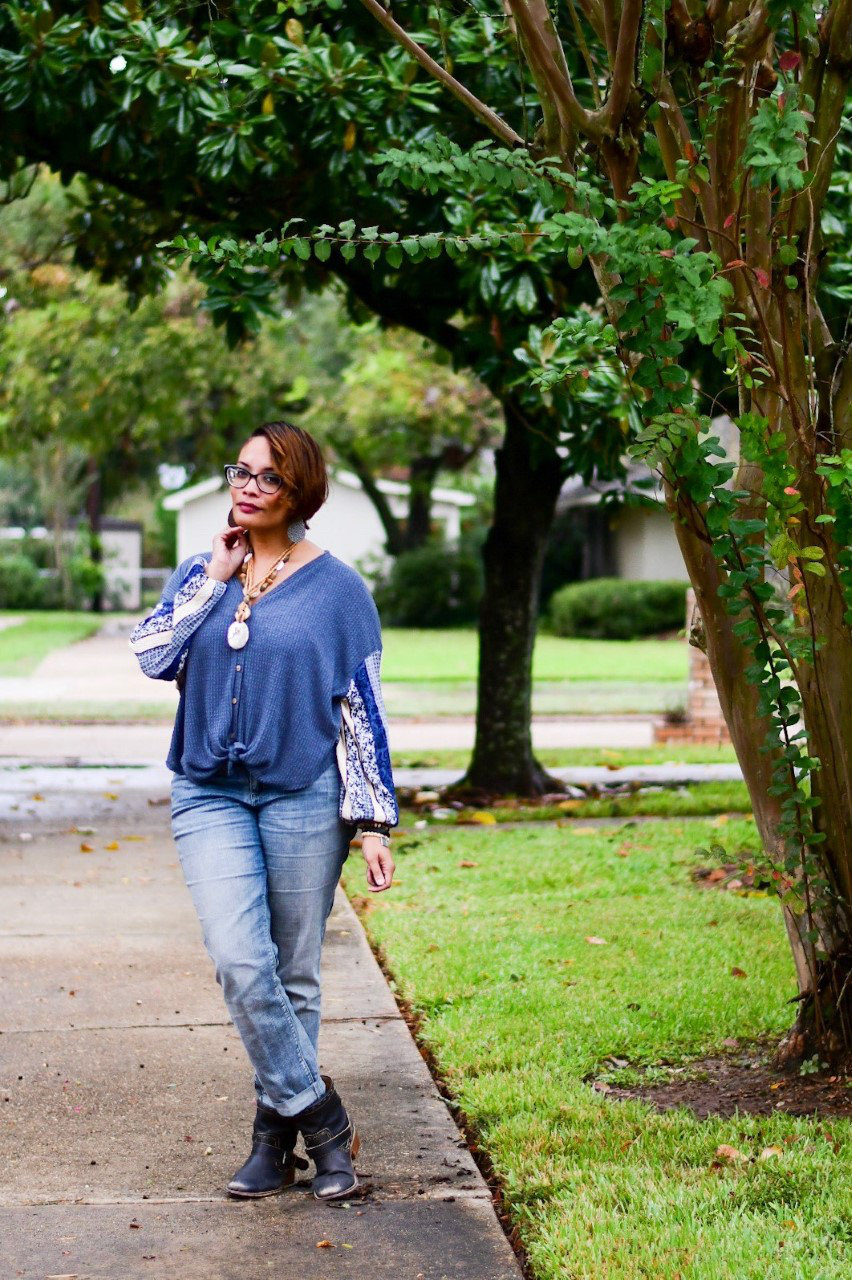 Daenel of Living Outside the Stacks is true to her style in her boho inspired wood & beaded necklace, knotted boho top, boyfriend jeans & killer boots! She has such a cool, casual, relaxed vibe that is so much her. And blue and earthy brown is a combination that is understated, chic and undeniably cool.
Is this not such an exciting way to build your outfit? Well inspiration can be drawn from anywhere; a piece of jewelry, a piece of clothing, a piece of accessory, fashion trends, celebrity looks, a color on the wall, a piece of handicraft or even a pattern on your tapestry…the important thing is to have fun while constructing your look. Don't you agree?
FOR CONSTANT
UPDATES, CONNECT TO:  FACEBOOK | TWITTER | INSTAGRAM