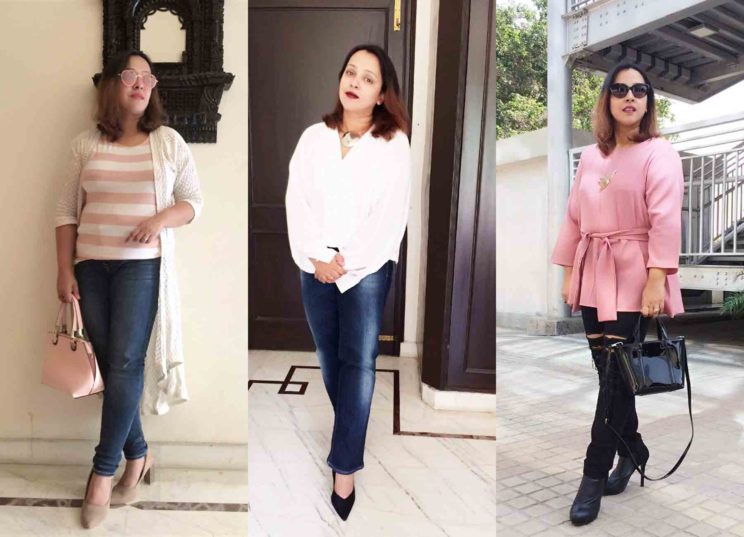 I am super excited today to collaborate with Jennie of A Pocketful Of Polka Dots for her Friday Linkup. It gives me immense pleasure to be co-hosting her Friday link up which provides a great opportunity to fellow bloggers worldwide to showcase their style & talent to a wider audience across the globe! Thank you so much Jennie for this huge honor & opportunity. More about the link up after today's post……
There are days when you don't have the time or the disposition to choose that perfect outfit of the day! Every once in a while, I do run into those days where I just don't have my usual excitement or time to pick out a great outfit combination in the morning, especially if it involves being a bit formal (yes, you can rephrase the term with "uncomfortable") all day. It is these days when I am reminded of the famous idiom– "Beauty is pain" and cannot help but think that whoever coined it must have been a genius. But being fashion blogger and a stylist, it is my prime duty to think of ways & means to make the process of dressing up easier, fast, fun & effortless—all at the same time!
So I have come up today with a few tricks that I actually discovered more by regular practice than by observation.The process was simple, methodical and clear-cut—all I needed to do was switch up my basic jeans & top (or t-shirt) & loafers casual look (which is almost my uniform throughout the year) a notch higher to make it look more formal and put together. I have come up today with a few outfit ideas where it's simply a casual jeans & top look transformed to something more polished and classy with least effort and in minimal amount of time. Some of the top 5 tricks that I adopted can be summarized as follows:
Grabbed a Statement Bag—This is something that is most obvious at first look! Even with the most casual of outfits, be it a blue denim & white T combo, a crushed linen dress, a casual breezy jumpsuit or even a denim skirt, a statement bag is a great trick to add a touch of polish to even the most basic of outfits. And if your bag has a pop of bold color, it becomes a great statement piece for your entire look. Add to it a designer label or a top brand, and you are sure to look crisp on the outside even while feeling all slouchy within. You can actually stick to a simple outfit with really minimal colors and your bag will do all the talking.
Added an Outer Layer—I simply grab my shrugs & dusters any time I wish to look in a commanding position. So you do not really need to push yourself into formal jackets or business suits or overcoats all the time. Like today I simply added my crochet beige shrug over my denim & casual striped T and you would agree that I look the part of formal dressing. These days you have all sorts of layering options for summer/spring too (check this post). And with that extra layer on you, you definitely tend to stand taller. Not to forget that this layer adds that extra dimension too to your casual look! Simply stock up on your few versatile outer layering pieces and you are good-to-go!
Opted for Short/ Medium Heels—I really mean small or medium size heels because that is where the entire comfort for the day rests.Today there are a lot of options that are super comfortable and just enough to change the vibe of your outfit. Try small sized block heel pumps or even some shorter, sandal options with thick block heels so that they're easy to walk in. Mules with short heels are perfect for a modern casual to formal look. And since the color options are huge, having a few basic shades such as black, beige, skin, tan, navy and white covers you for almost all occasions.
Jazzed it up with Statement Jewelry—A regular white shirt over a distressed denim, a pair of short heels and a huge metallic neck-piece! I got ready within minutes without thinking twice if I was good enough for my formal business meeting that was to happen three hours later. Did I feel the burden of the neck-piece? Absolutely not! The point I am trying to make here is that you can afford to wear the most casual of outfits and spruce it up with a statement necklace or a pair of earrings and you have just elevated your look from being casual to formal. The trick is to have a basic, bare collection of some statement jewelry pieces that are versatile enough to go with most of your outfits.
Worked on my Lip Color—This one is probably the easiest trick of them all. Anytime I see someone wearing a lipstick and I know that she spent time getting ready. Especially a bright color like red, crimson, deep burgundy or a fall orange are great eye-catchers and instantly make you look refined, polished & very dressy while the rest of your outfit can be super casual. So even if you are not preppy enough to work much upon your make-up or eyes, just doing the lips in a striking color, does the trick. However if you are still not up-to it, adding a bit of gloss on your lips will certainly make you look formal & stylish within seconds.
You could use all the tricks together or even any single one at any point of time and you may be sure to transform your casual, sluggish look to a smart, dressy & formal one! So for all your lazy day OOTDs, this is certainly some good news……
LOOK 1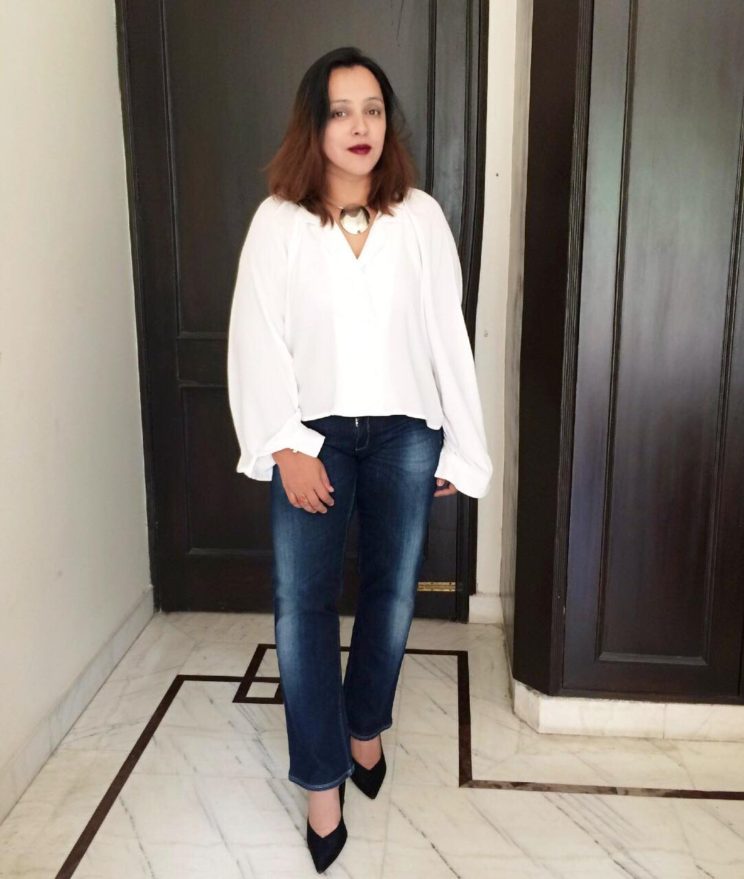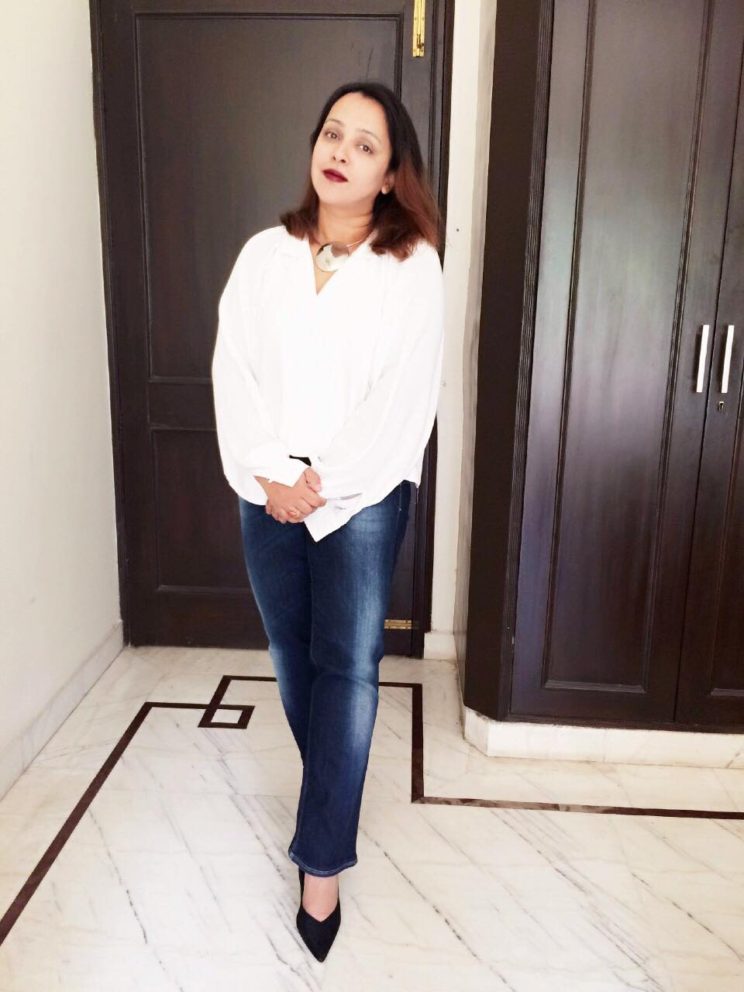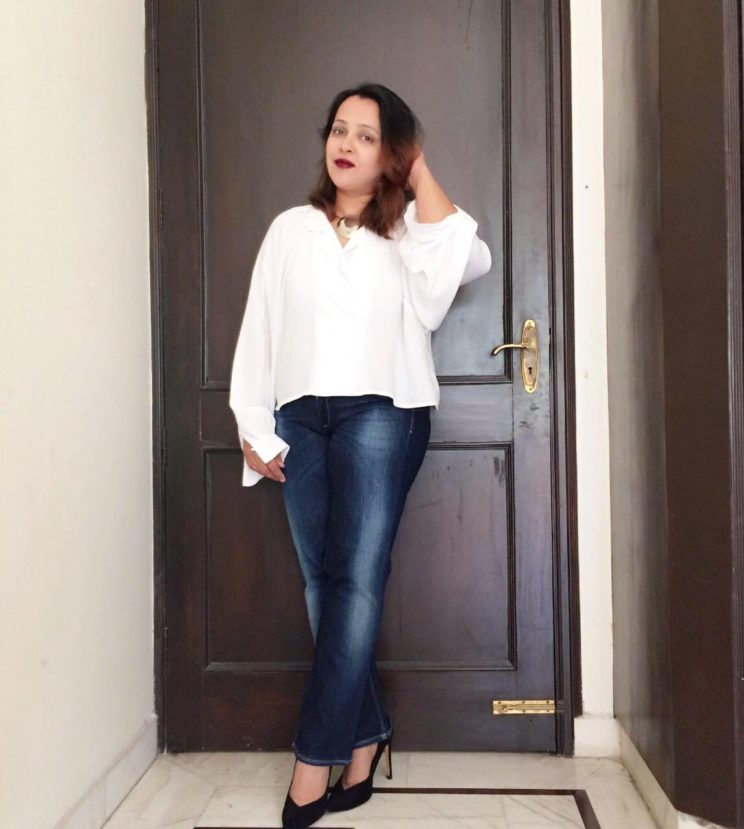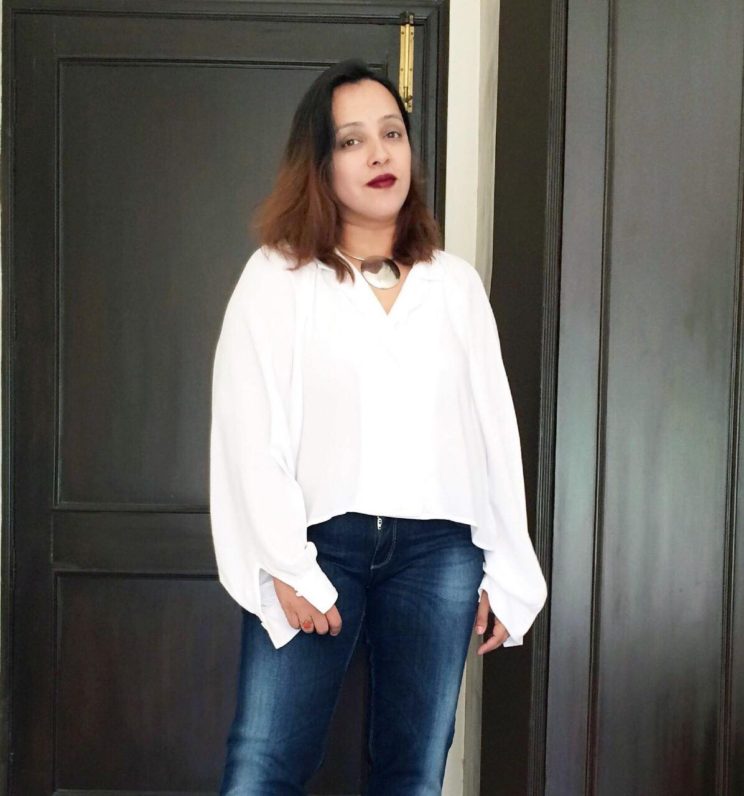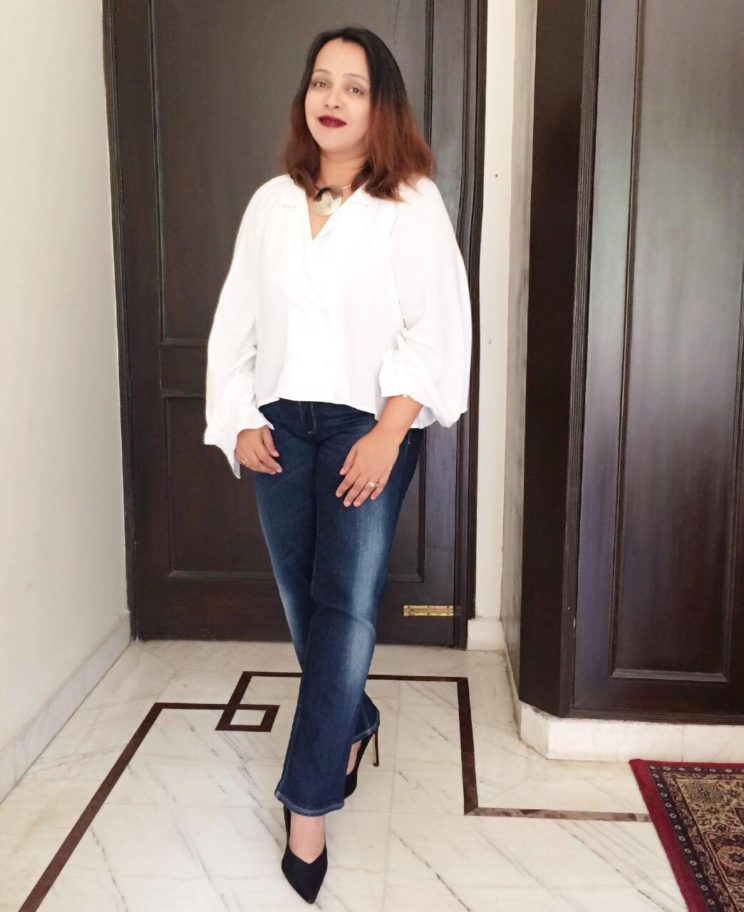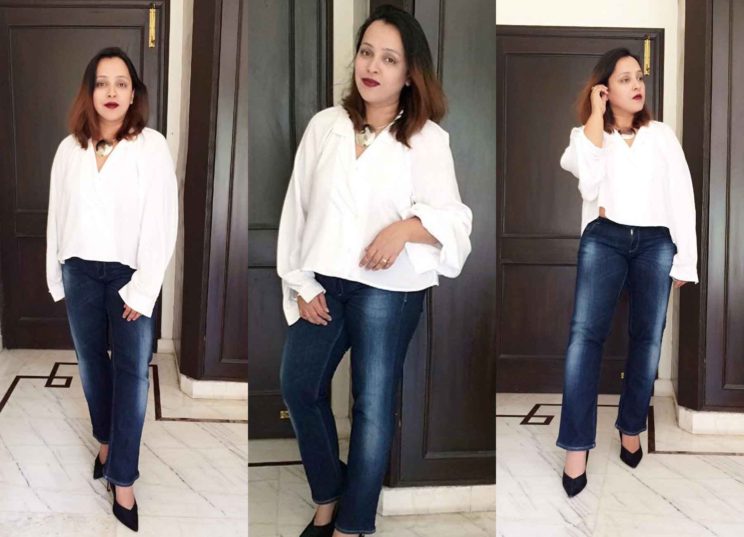 Shirt: Forever 21 | Flared Blue Denims: Benetton ( Similar here) | Pumps: Zara (Similar here & here) | Necklace: Unknown
LOOK 2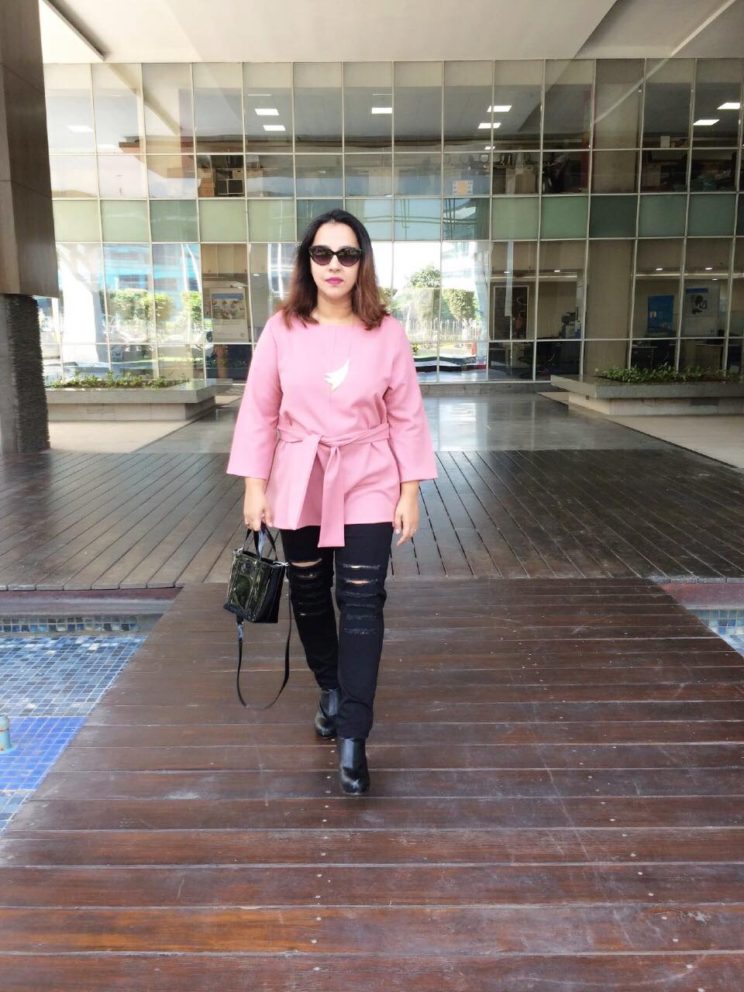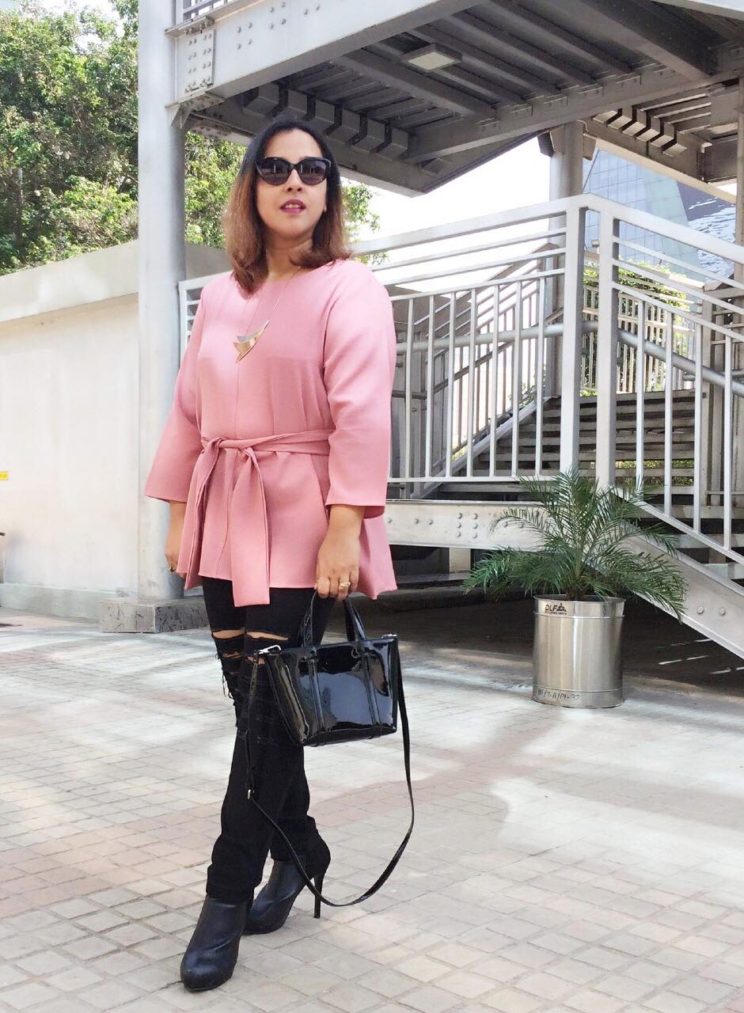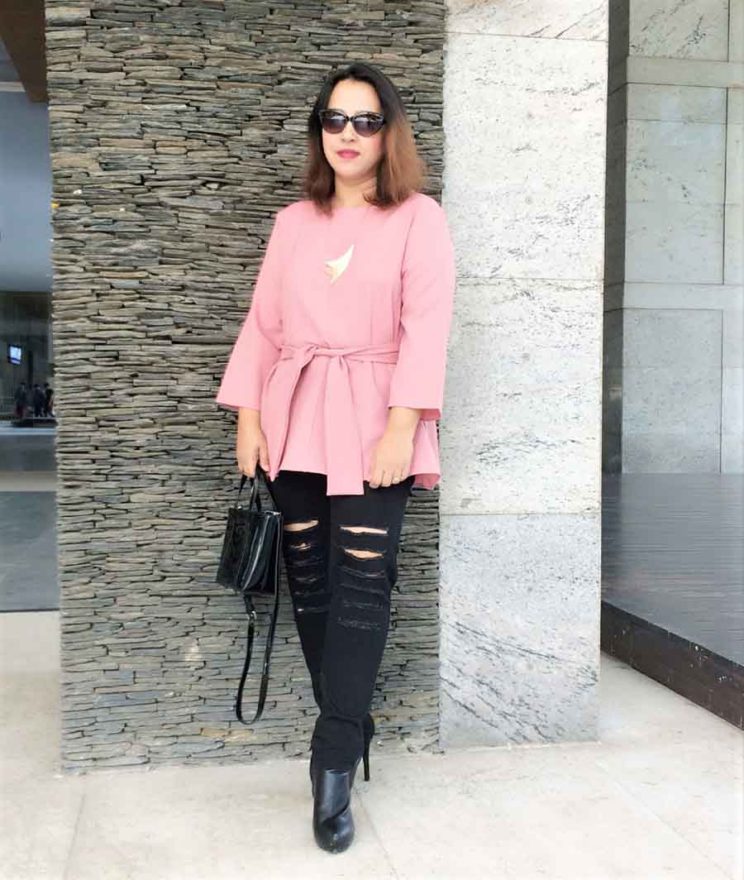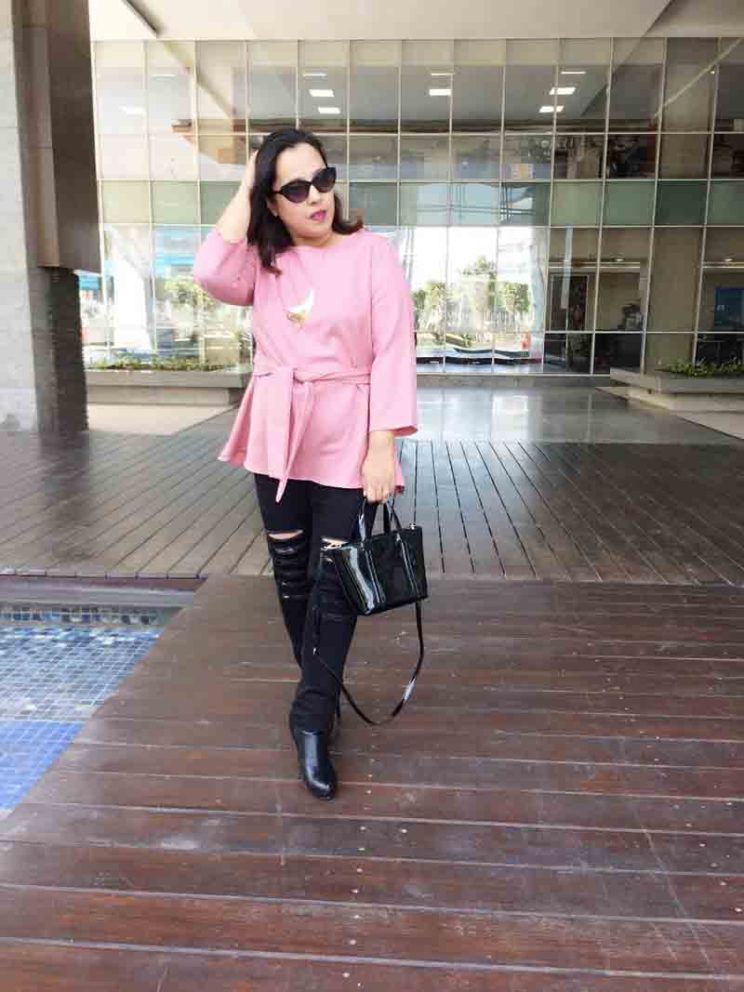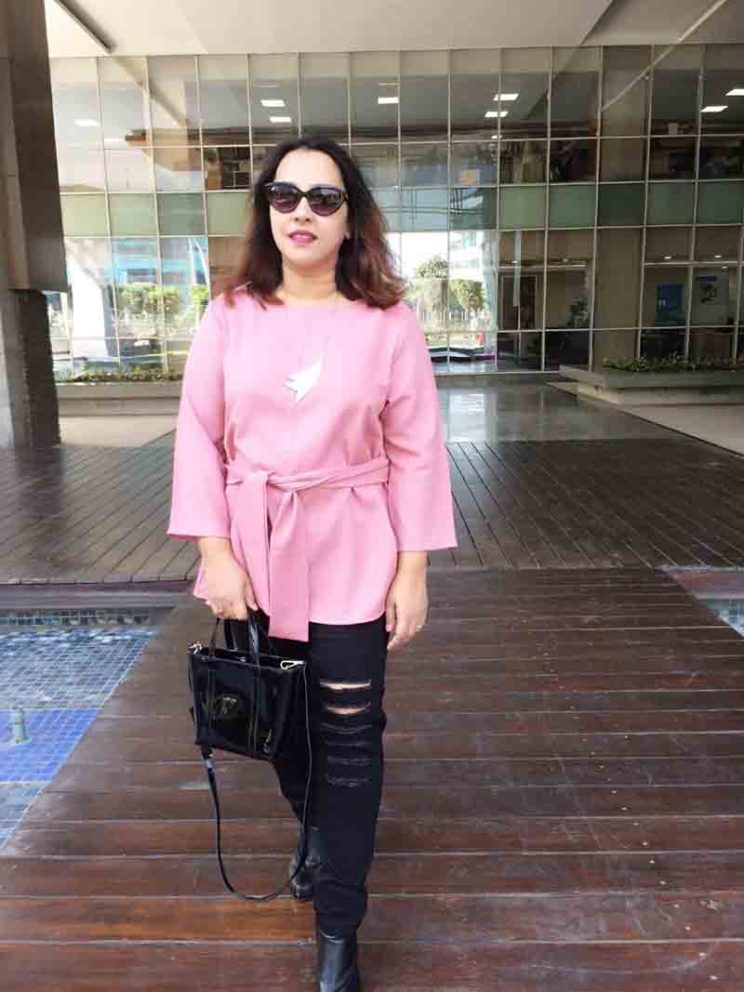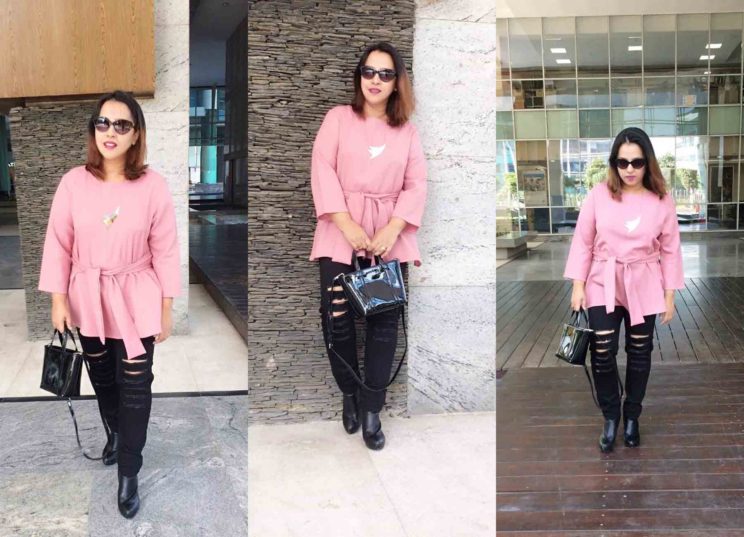 Belted Pink Top: Rosegal | Black Ripped Denim: Forever 21 (Similar here, here & here) | Black Bucket Tote: Forever 21 | Ankle Boots with heels: Aldo (Similar here & here) | Necklace: Lifestyle | Sunglasses: Lenskart
LOOK 3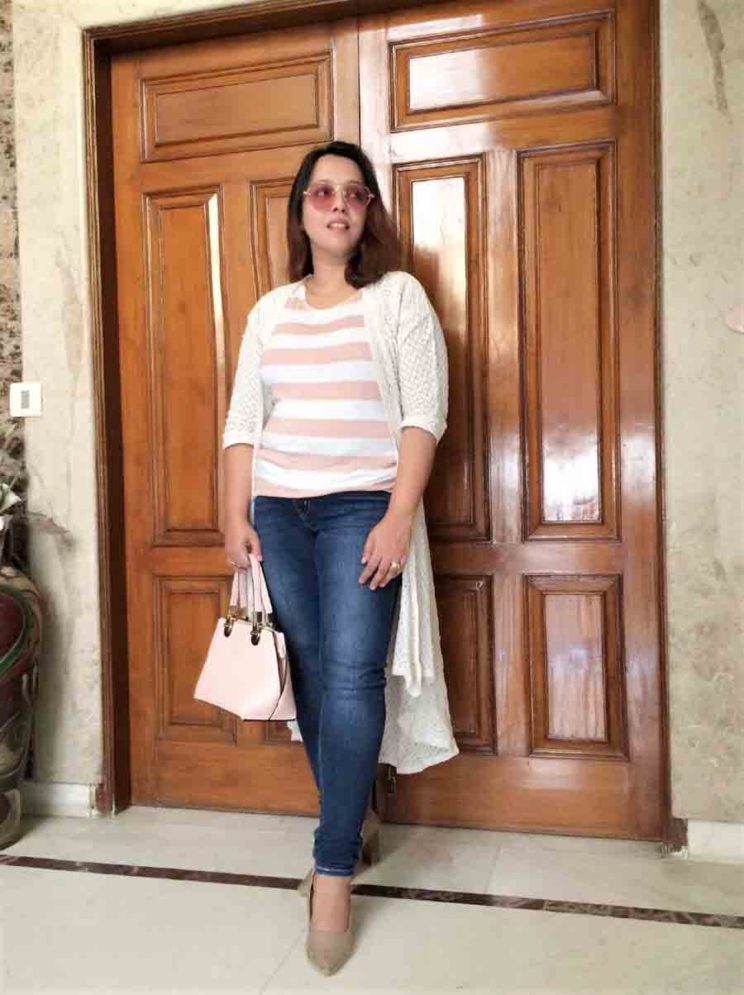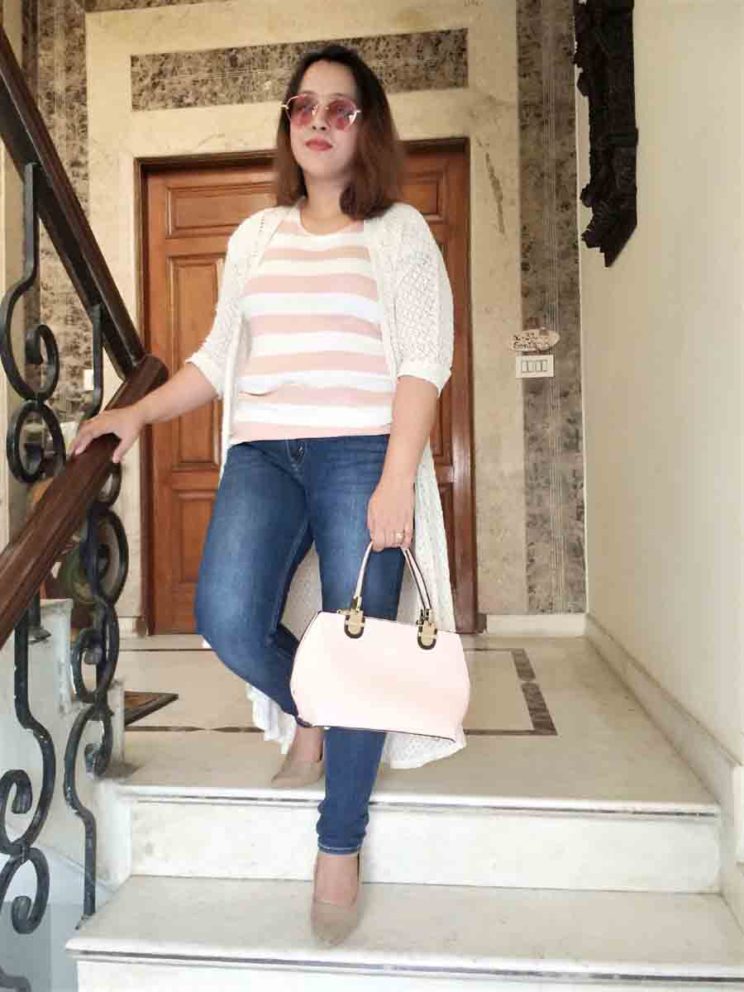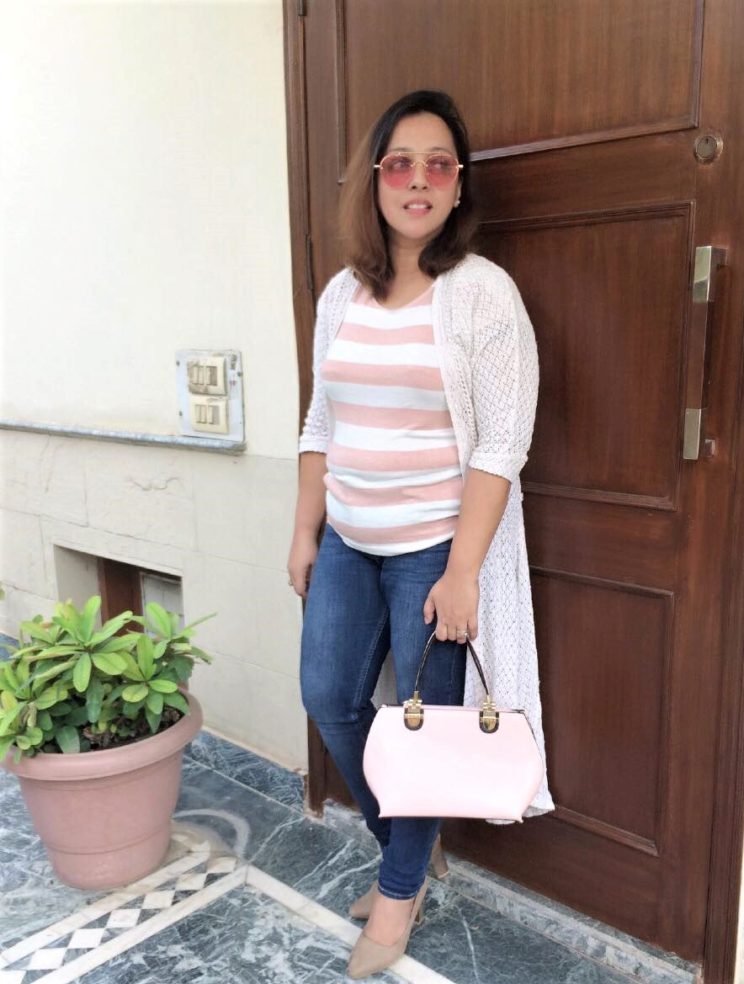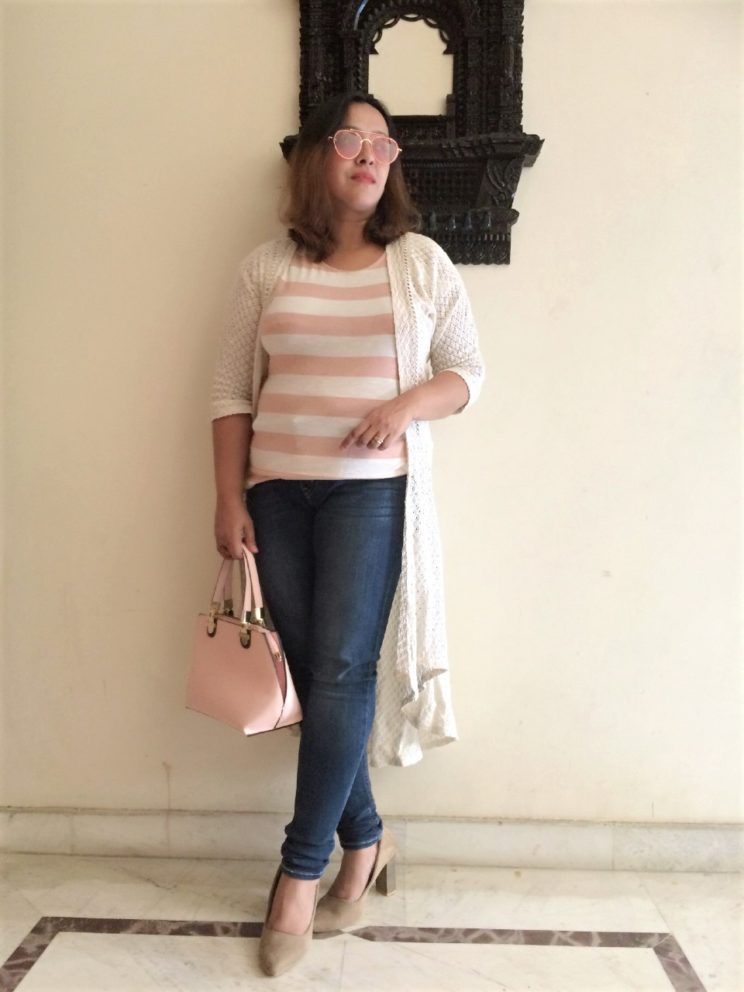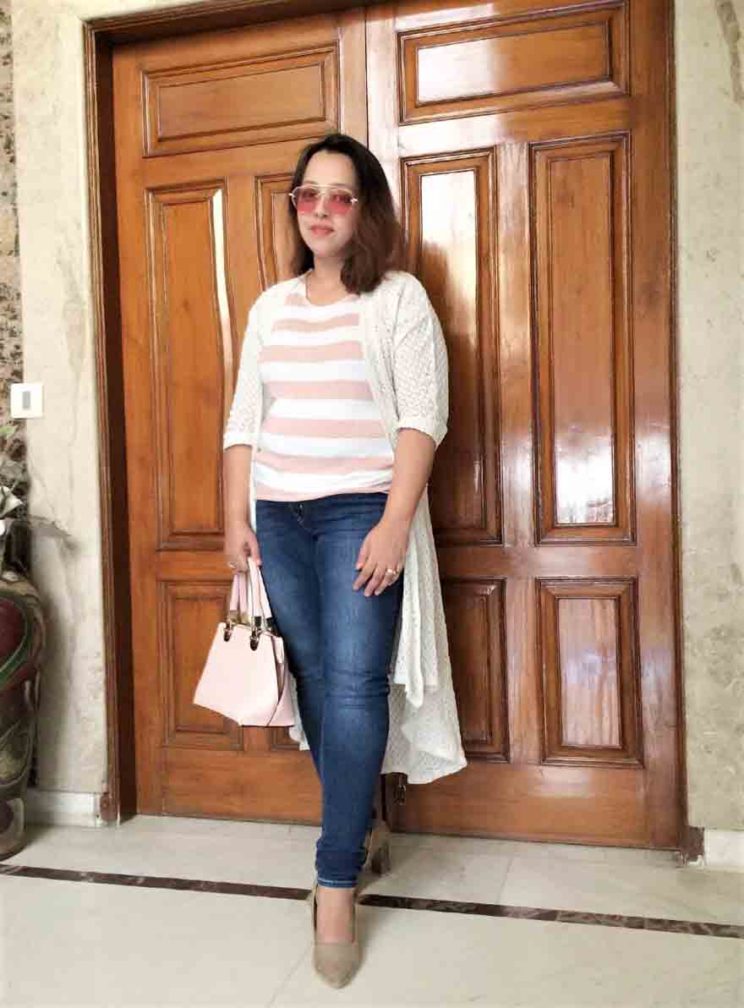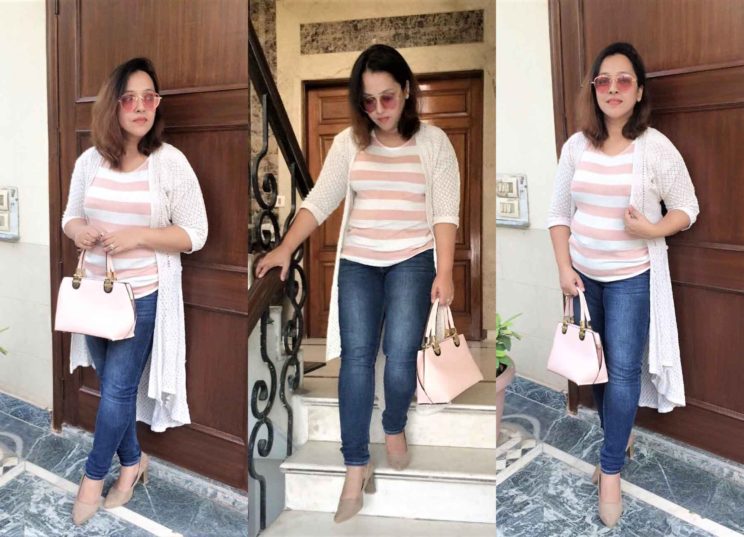 Striped T-shirt: Vero Moda | Shrug/ Jacket: Global Desi | Denim Jeans: Vero Moda | Beige Pumps: Vicenza | Bag: Lavie (Similar here) | Colored Sunglasses: Primark
FOR CONSTANT UPDATES, CONNECT TO:  FACEBOOK | TWITTER | INSTAGRAM
Coming back to the link-up, please join me in welcoming Jennie of A pocketful of Polka Dots who is doing a superb job of sharing the latest fashion trends & some very useful style tips through her blog. She is a self confessed shoe-aholic and loves all kinds of polka dots. I believe that Jennie is a true inspiration to all women not just over 40 but also under, for the kind of charisma, confidence & panache she portrays through her chic & immaculate fashion styling and immense knowledge of the finer nuances of fashion! Thanks once again Jennie for the collaboration. You can know more about her by following her through the links given below:
Meet your host for Fabulous Friday
Jennie of A Pocketful of Polka Dots. ∼ Hey y'all, I'm Jennie
and I am a 48 year old frugal fashionista! I am mom to two wonderful
(and handsome!) sons and Glamma to one very spoiled Pitsky. After
spending most of my life in black and boring clothes, I now enjoy
trying new trends, am a confessed shoeaholic, believe life is too
short for boring hair, and never met a polka dot I didn't like. I am
also an avid photographer, reader of Jane Austen, Paleo/Primal
enthusiast, and lover of DIY. You can follow me here ∼
Bloglovin| Facebook| Instagram| Pinterest| Twitter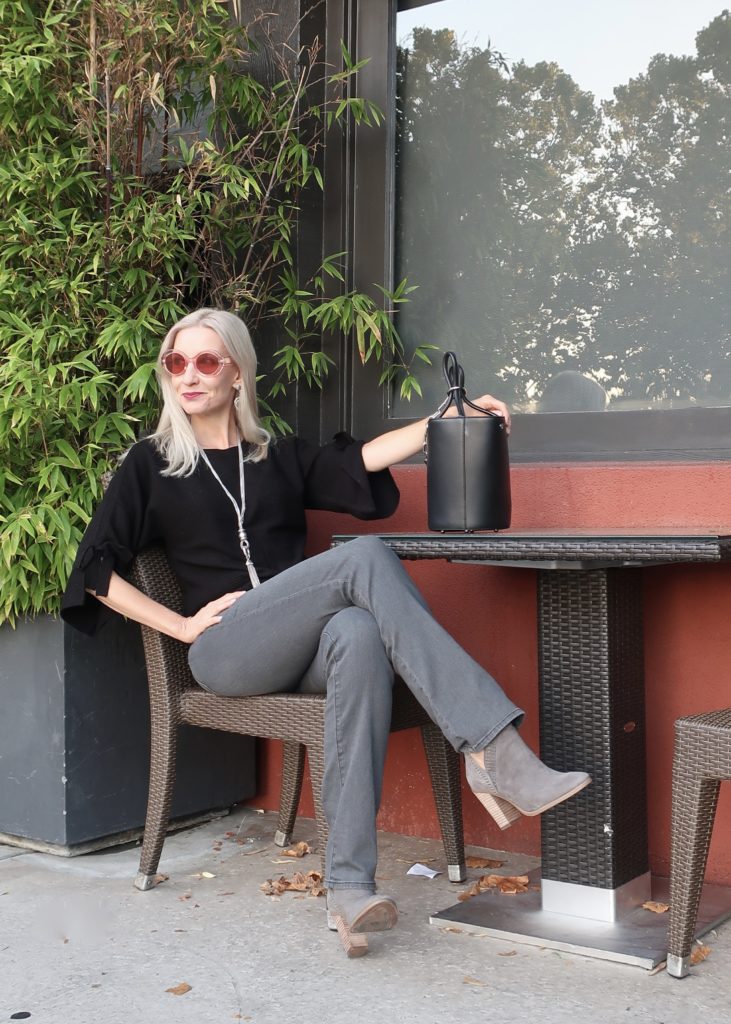 My favorite look from last Friday's link up was of Dawn Lucy of Fashionshouldbefun.com ! I love the minimal tone of grays & black of Dawn's outfit with the colored sunglasses adding that edge to the whole look. I think it's a great transitional outfit for the current season. Do hop over to Jennie's blog to see who she is featuring from last Friday's link up!