What is the Fab 40's group
The Fab 40's is a group of five stylish fashion bloggers from around the globe. Each month we choose a different theme and invite a guest blogger also in their forties to join us. This group's goal is to take on style trends and show how we each interpret and incorporate them into our own lives. With six widely varied views, you are certain to find something that speaks to you each month and encourages you to have fun with fashion after 40.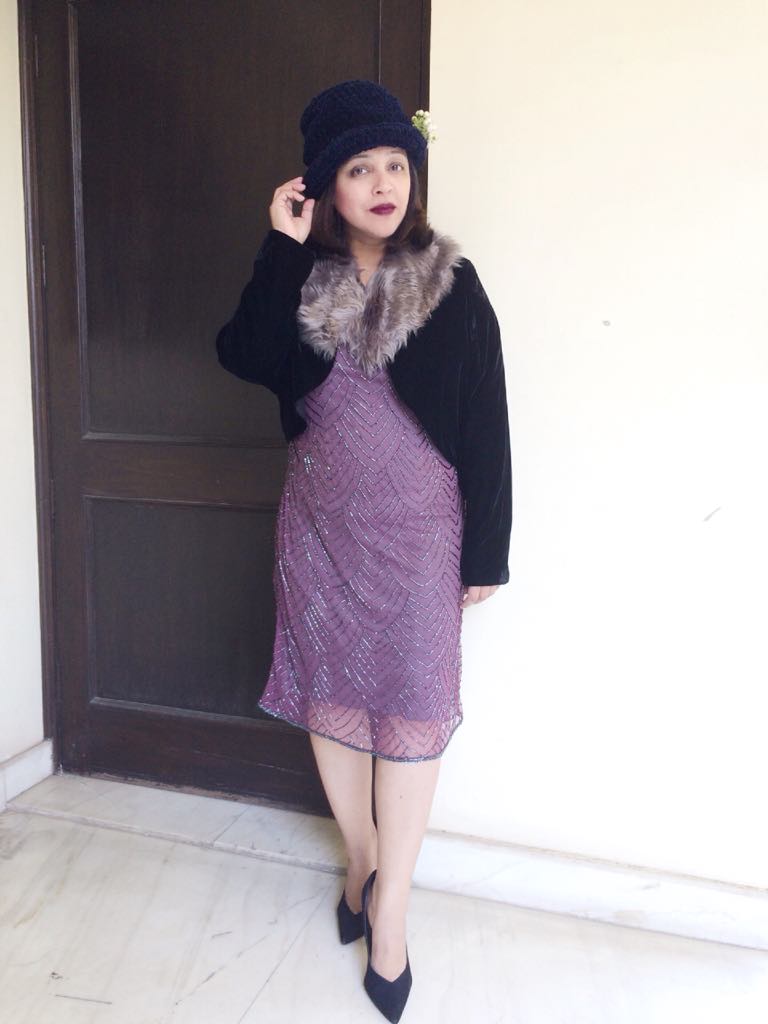 What a fabulous theme to begin the new decade with! And what better than to bring the glamour and glitz of a bygone century into the current one. My dear friend, Shelbee chose the theme for this month which is so damn exciting and challenging at the same time.
OK, 1920's! What is the first thing that comes to mind? Undoubtedly it has to be Coco Chanel, a name that has maintained its popularity in the fashion world even till date. Coco Chanel is a name that is known for her timeless designs, trademark suits and little black dresses. But one of the main looks of the 1920's was notably the 'flapper fashion' which espoused an androgynous appearance. Well one can easily see a few trends from the flapper style being incorporated even in the 2020's such as the fringe skirts, bead & sequin dresses, faux furs & metallic tone footwear!
And who can forget Mary Crawley from the popular TV series "Downton Abbey" or Daisy Buchanan from the romantic drama "The Great Gatsby". Well these iconic characters portray the 1920's fashion in the truest sense of the word; the perfect bob, beaded & feathered headbands, flat silk crepe dresses, felt hats & bonnets, bow pumps, long pearl necklaces, faux gemstones, it goes on & on….This was luxury, elegance & decadence of the highest order. And to recreate that for the 2020's was something I was totally roaring to go about!
I have owned this beautiful burgundy beaded dress since the last 4-5 years but recall having worn it just once till date. Yes, I just had a guilt pang but I will make up for it soon.This was my perfect inspiration piece for today's theme. Adding luxury and refinement to my dress was easy! I topped it with a black suede shrug that was so typically 1920's. The faux neck fur and the cloche hat went perfectly well with the theme. I don't know if you can see a small flower on my hat; it was a fun thing suggested by my eleven year old daughter. But I must say, this little DIY hat looked spot on. And for my footwear! Black suede pumps, OK, these may be too 2020's but I think they settle in beautifully with the overall look. Don't you think so? All in all, it's a look that is sophisticated, chic, 1920's and also 2020's 🙂
Much has been written about 1920's fashion, and for good reason. It is easily one of the most influential, creative and unique eras of the modern fashion history. The most stunning thing you will notice about 1920's fashion is the shape of the silhouette. It is strikingly straight and flat. While most fashions accentuate the figure in some way or another, it almost seemed like, at times, any shape other than straight was a big no-no. This straight shape is a very distinct element of 1920's style. And for some strange reason, I observed that even my burgundy dress was particularly straight and I could not be happier!
Another thing that I would like to share is that prior to the '60's, men and women changed lot of clothing in a single day. There was an outfit for every time of day, every type of outing, and every type of party. Add to that the specific types of clothing for your age, class, and occupation, and you have one huge wardrobe! Each type of clothing in a 1920's closet had a certain set of guidelines as to when they were to be worn. There were "rules" for morning dress, afternoon dress, and evenings. Can you imagine a similar kind of rule set or codes working in today's times? Totally unthinkable, isn't it?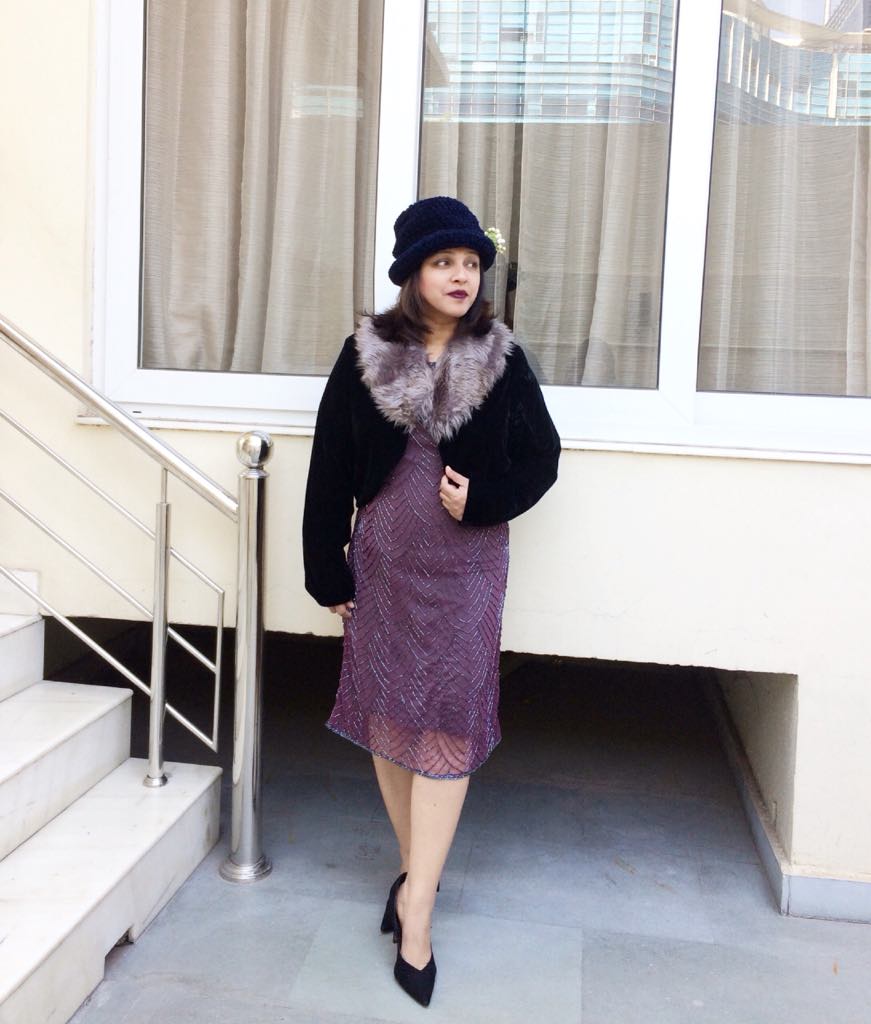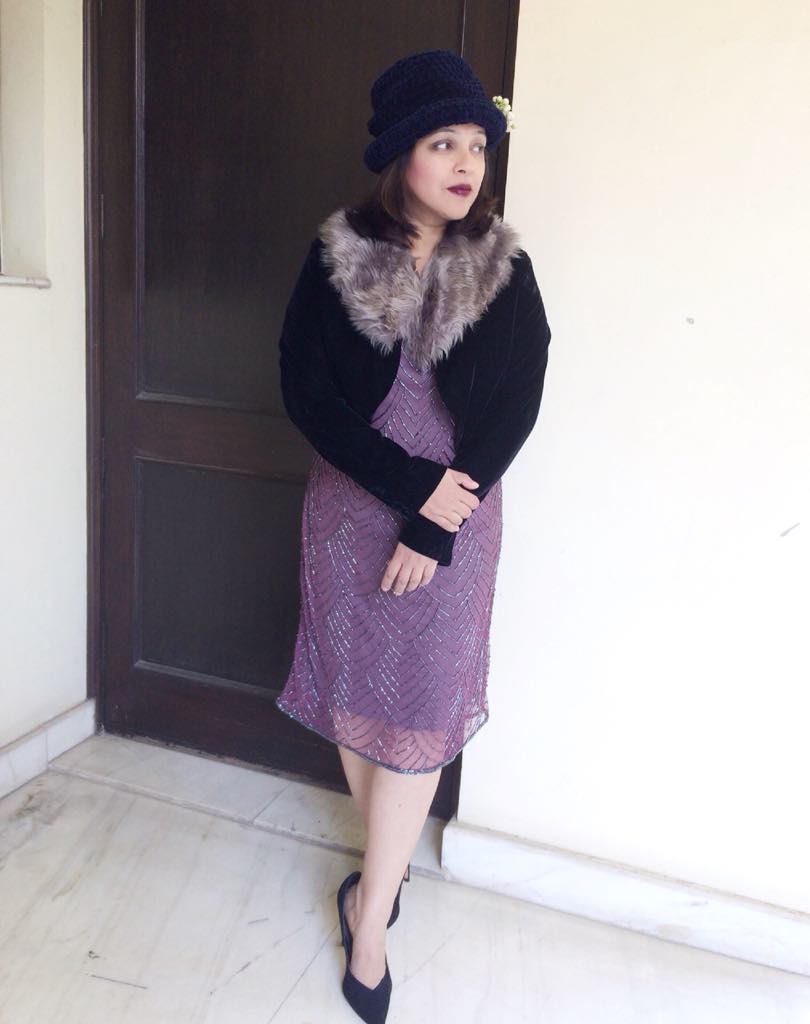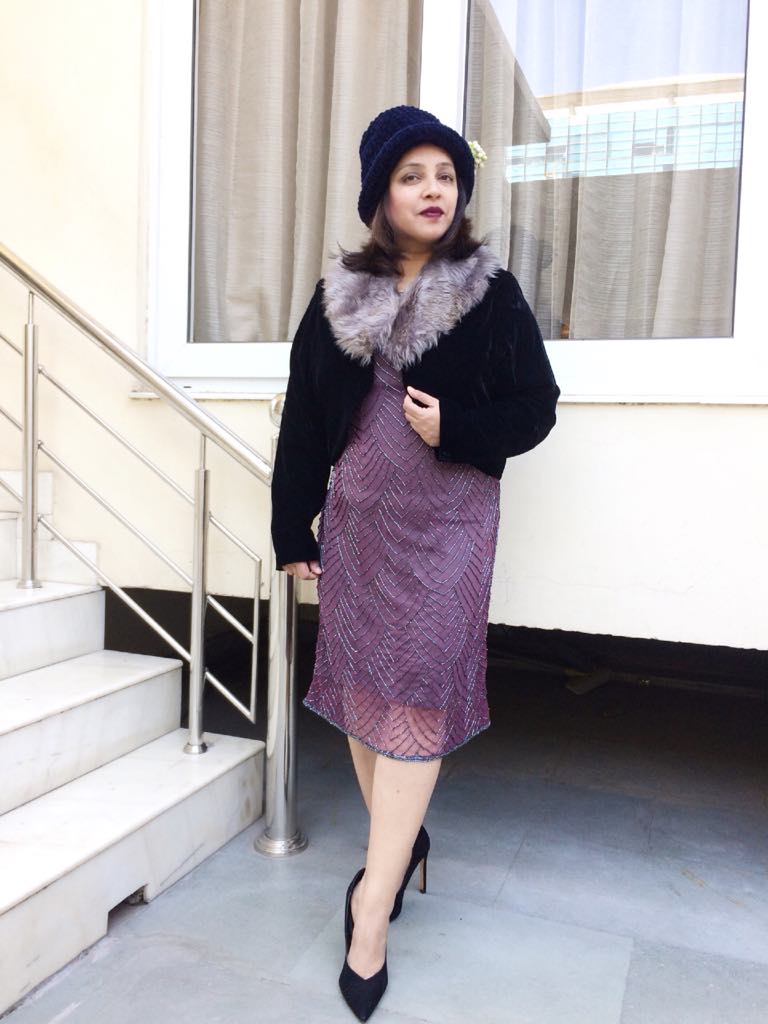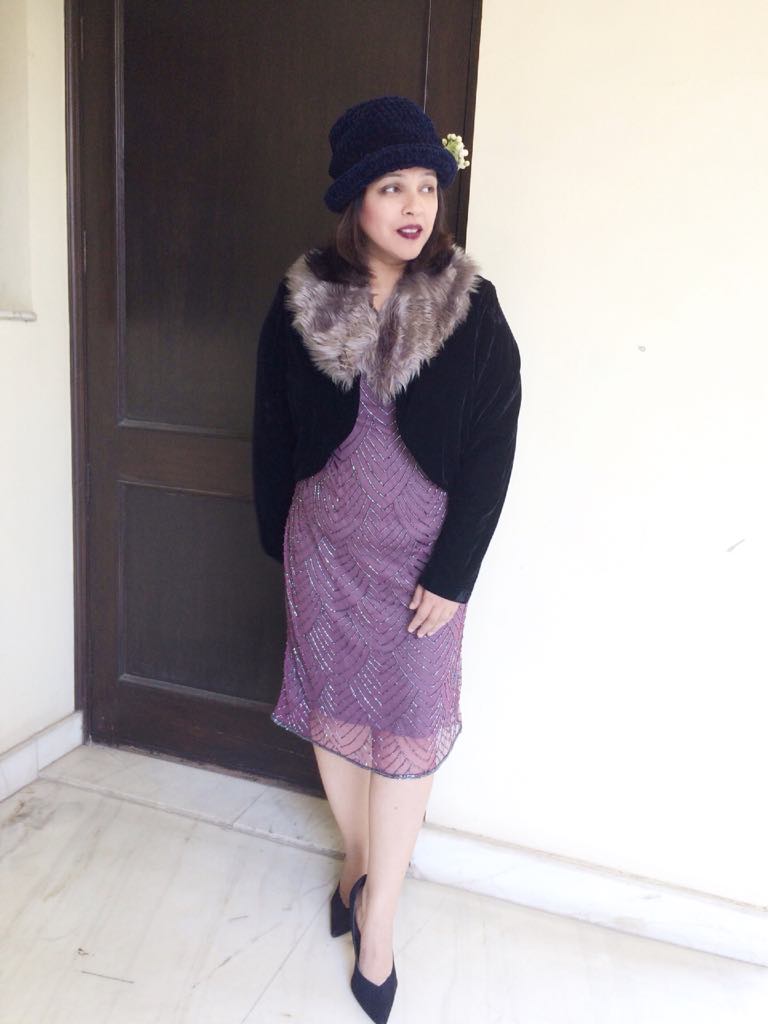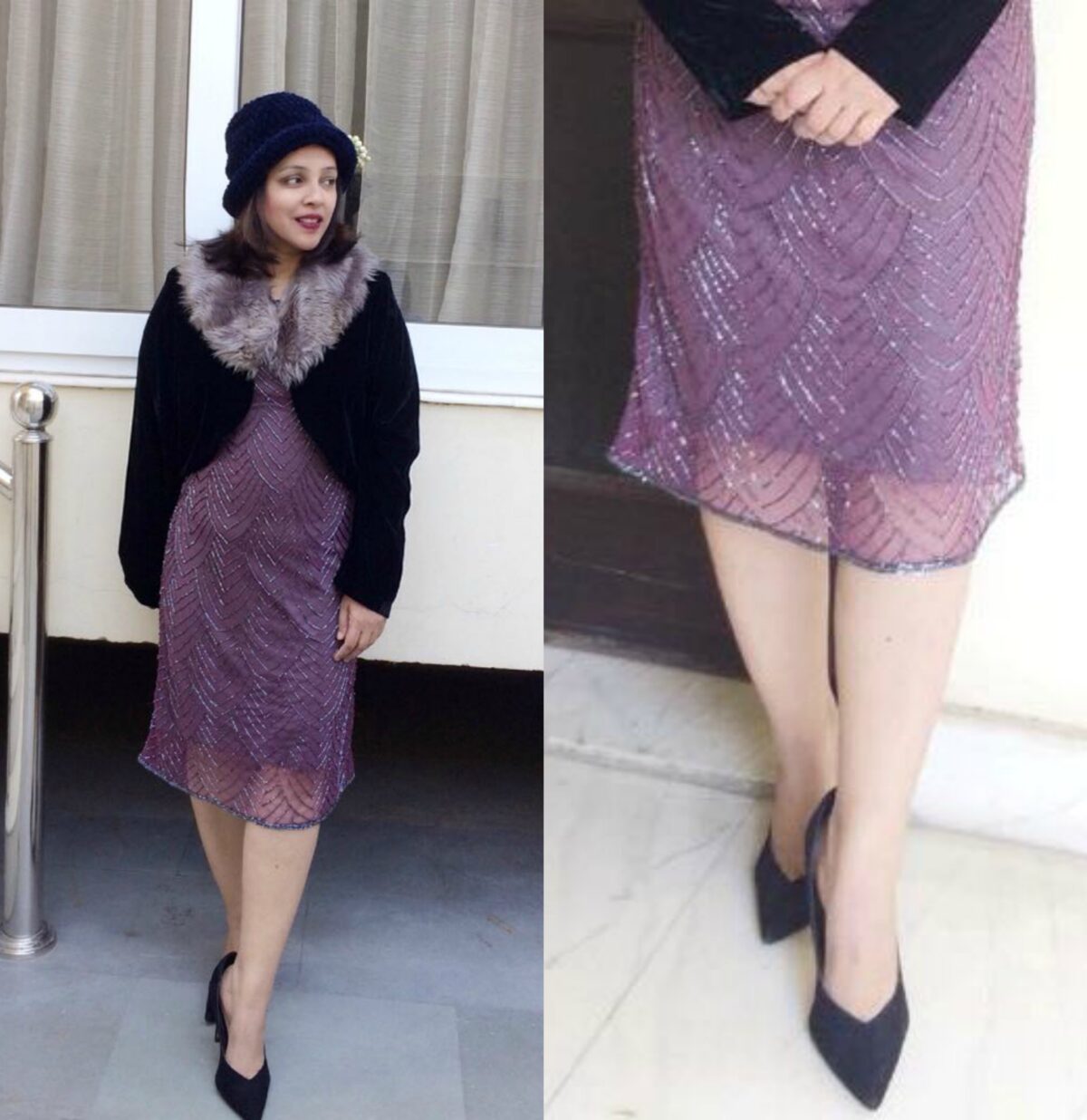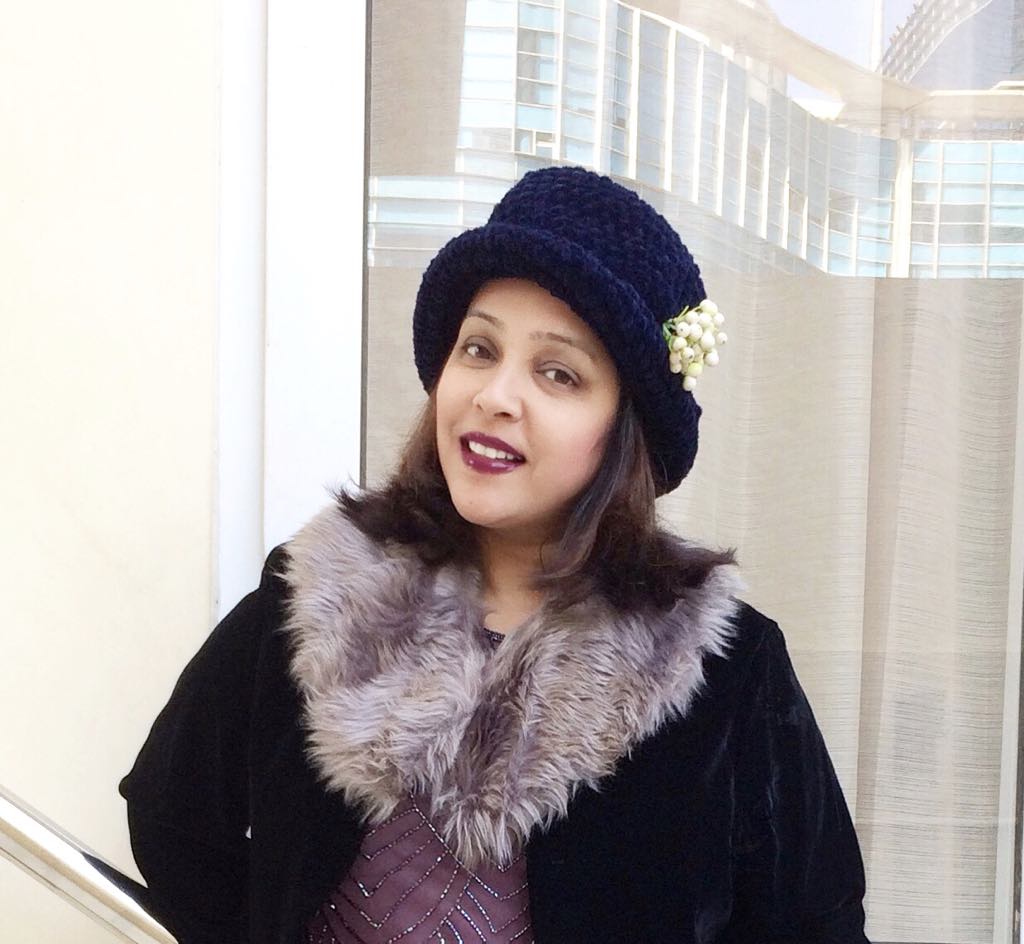 Bead Dress: Trendy Diva | Suede Shrug: Cover Story | Neck Faux Fur: Local Market | Cap: Local Market | Pumps: Zara
---
Let us now get on with the styles of my fellow fab 40 bloggers and see how they are meeting the roaring 20's. Do visit their individual blogs to read their inspiring stories and to take a closer look at their outfit !
Daenel | Living Outside The Stacks
Daenel has truly lived up-to the theme by making a vintage style frilly layered dress worthy of 2020's. How gorgeous she looks in that picture which gives a real art deco vibe with that antique radio and painting on the wall. Those colors of vintage sepia in the background and in her dress coupled with modern day black is a fantastic nod to today's theme. A great combination of classic and modern day trends. Love that pop of cherry on her lips!
---
Suzy | Suzy Turner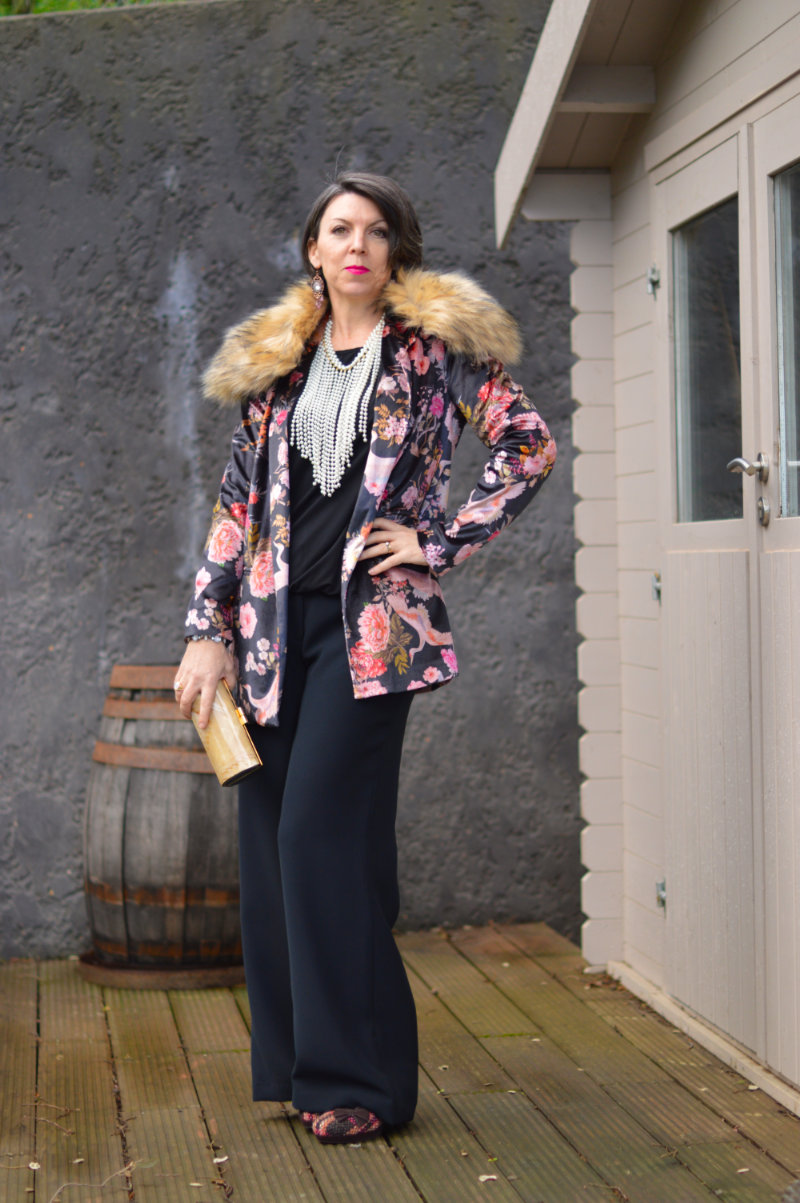 Black palazzo pants-Next (from eBay) | Floral velvet jacket-Stradivarius | New shoes-Ruby Shoo | Black blouse-old | Clutch-inherited from my late step-mother-in-law | Necklace, bracelet and ring-Gifts from mother-in-law | Earrings-old | Faux fur 'scarf'-the removable neck-piece from another coat
Suzy is a vision of power, elegance & sophistication in her outfit! Look at the grace of that camel fur, the ultra luxurious floral velvet jacket the flowing trousers and the oh-so-stunning cute shoes. For me, its a look that is super confident, bold & statement making. The pearl necklace further adds glitz and sparkle to a look that can easily transform itself from the 1920's to the current times. Brilliant Suzy!
---
Shelbee | Shelbee On The Edge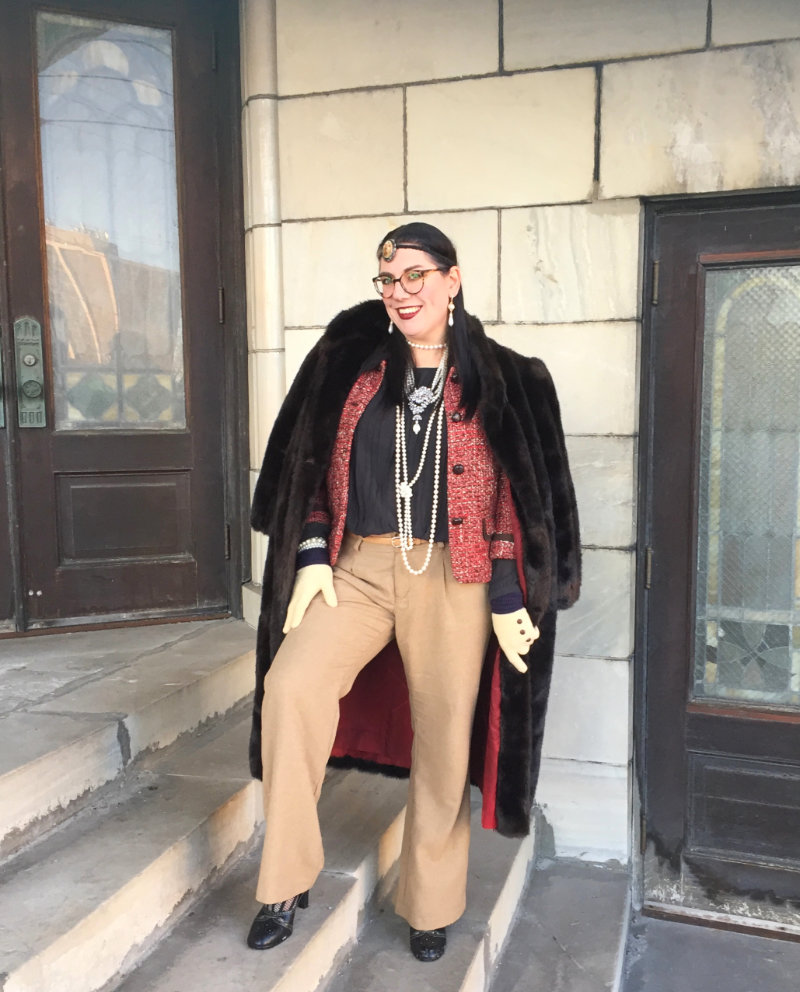 Faux Fur Coat-Gift from Husband (Thrifted) | Blazer-Talbots (Thrifted) | Blouse-Loft (Thrifted) | Pants-Old Navy | Shoes-Franco Sarto (These are about 15 years old) | Belt, Ankle Socks, Earrings, and some necklaces-So old I don't remember where they came from, some were thrifted |Headband-Target | Cameo brooch on headband-Etsy |Gloves-Gift from Sister (Thrifted)
Shelbee is a queen of details. You just cannot miss those gorgeous little details of glittering multilayered necklaces, the statement brooch headband, tonal multi-layering jackets, the perfect pair of gloves and those so typically 1920's shoes. I must say this stunning lady really knows how to experiment and have fun with fashion. You have nailed the theme like a pro, Shelbee! And thank you for this fun theme 🙂
---
Sheela | Sheela Writes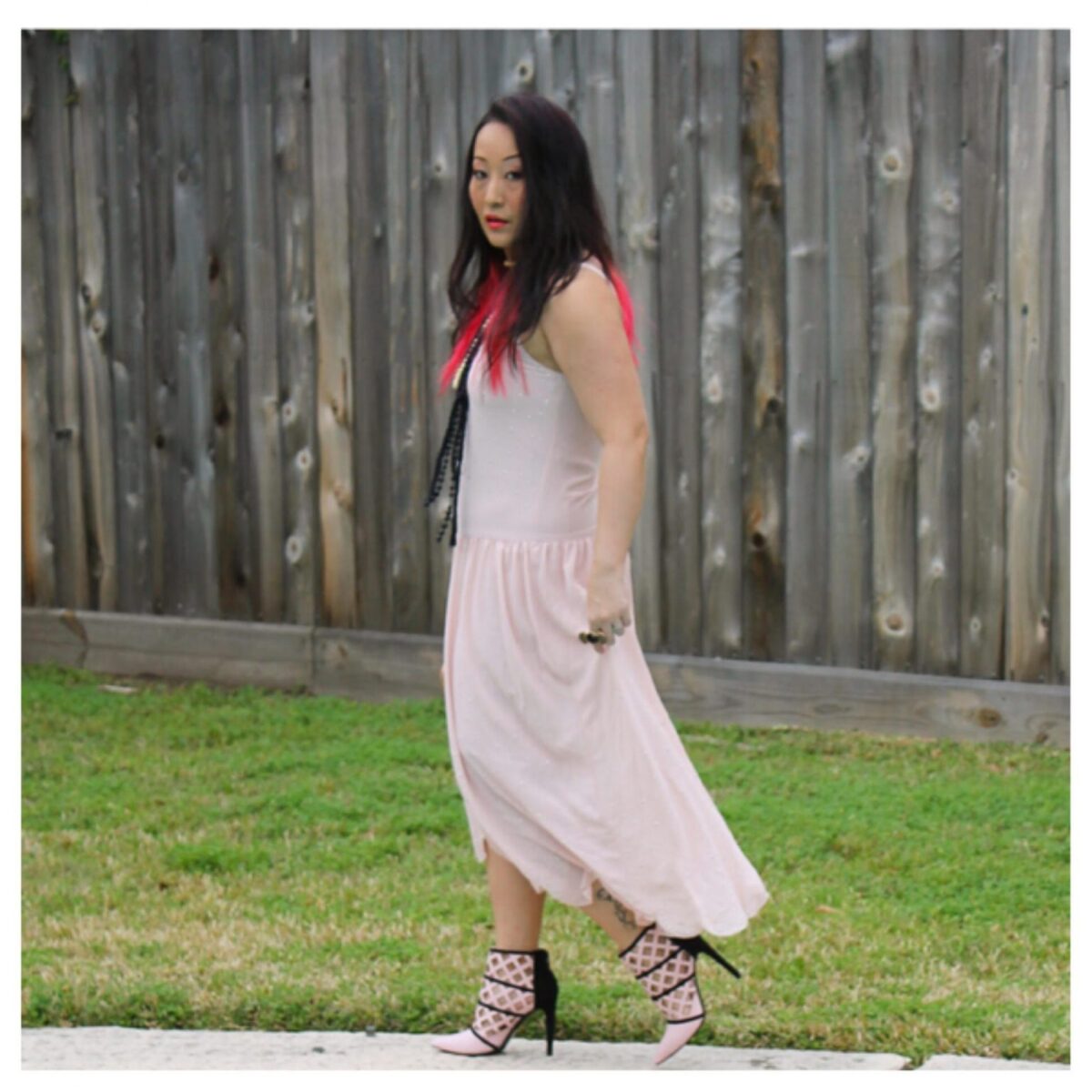 Sheela looks so romantic, feminine & dainty in her delicate pale pink dress. She has gone minimal in her approach this time with a pearl necklace (that is totally vintage-y) and her pointed pink cage pumps (that are totally modern). The strands of colored hair did certainly have their moment in 1920's and Sheela is totally slaying her look with those beautiful coral strands. A simple, clean, modern take on a vintage style look!
---
Guest Blogger of the Month
Carrie | Curly Crafty Mom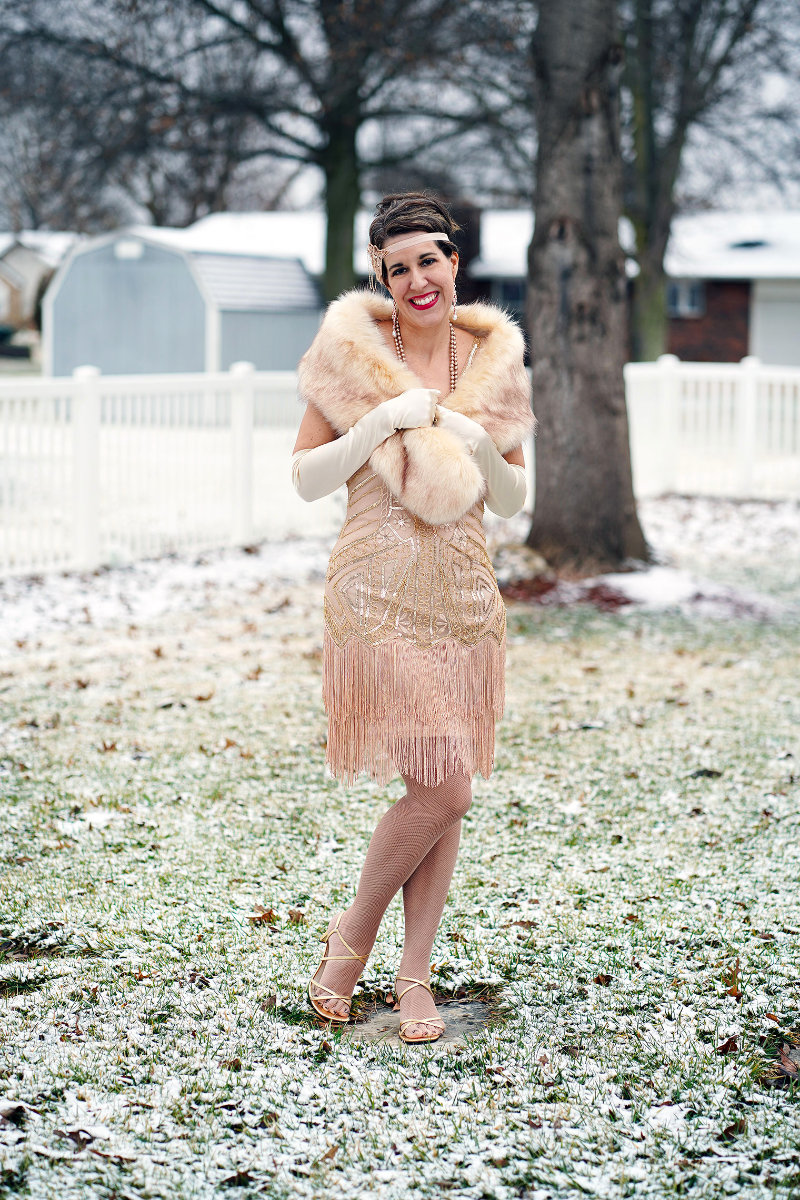 Elastic Headband, Gold Sequin Fringe Skirted Dress, Faux Fur Shawl-Amazon |Gold Heels (Old) | Nude Fishnets (Old)
And this time we have Carrie of Curly Crafty Mom who is our guest blogger for the month! Thank you Carrie for joining us. It is simply a delight to see you kill the 1920's flapper style to the T. Every little detail, every stud, every trim screams of the period with magnificence & splendor! Add to that the fact that you have gone totally monochrome with blush…Oh my God, its so modern yet so periody. My favorite is the pair of metallic gold strappy heels 🙂
---
So what do you like better? 1920's 0r 2020's? Or would you like to bring a few trends of the past into the present? Do try mixing the trends and let me know of the results in the comments below!
FOR CONSTANT UPDATES, CONNECT TO:  FACEBOOK | TWITTER | INSTAGRAM