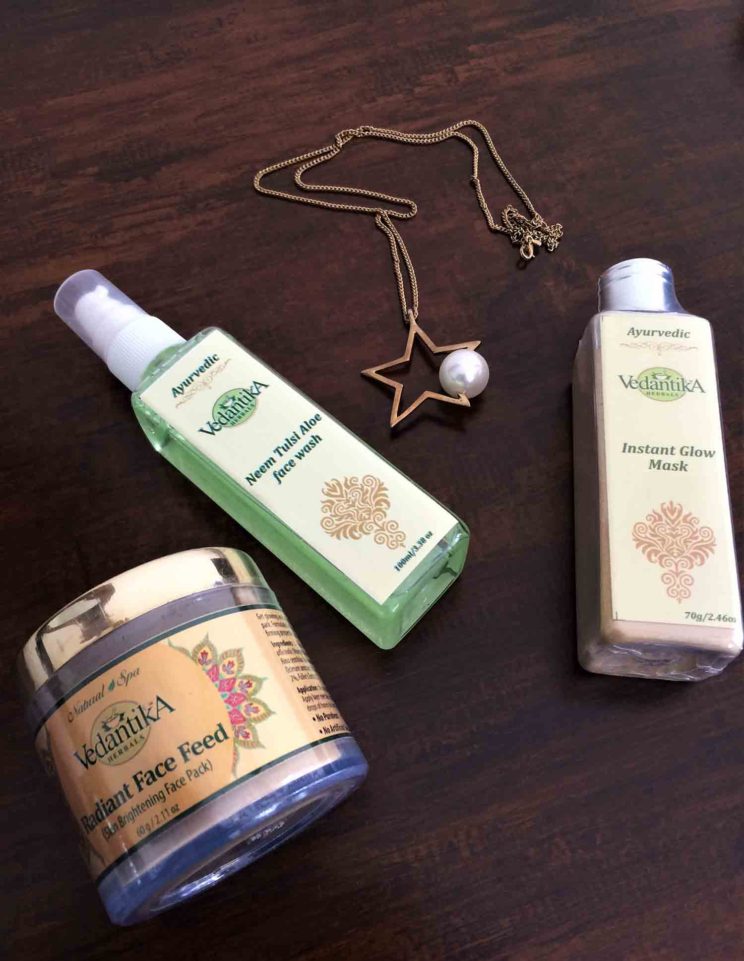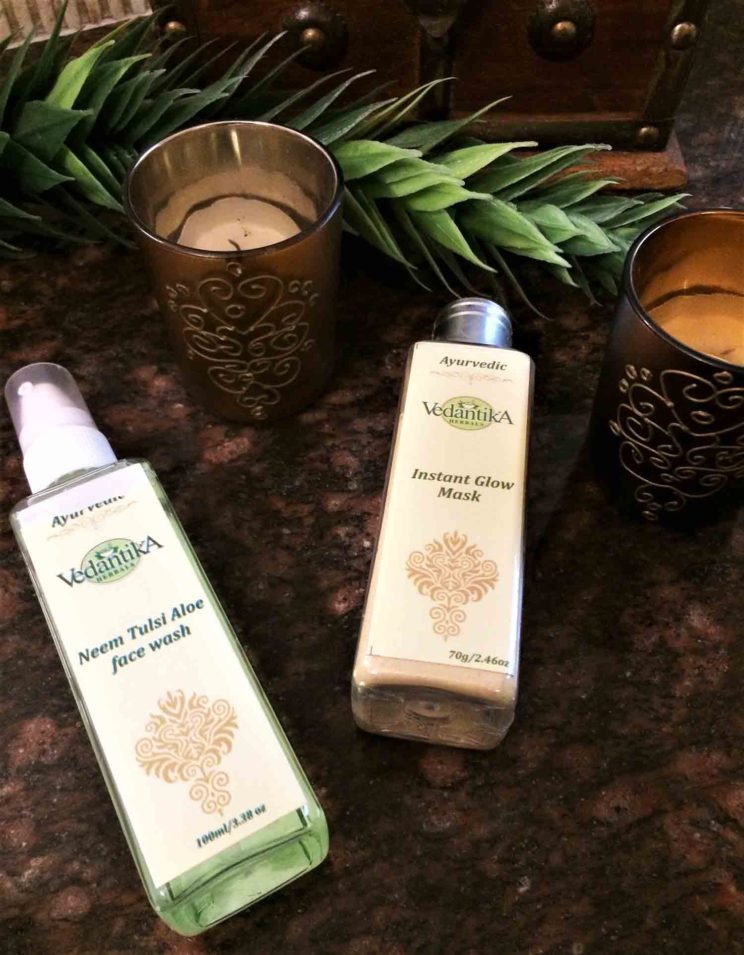 Having a good skin is as important in today's times as wearing the trendiest of clothes. And achieving good skin and the kind of skin you want is a whole lot of work. It is certainly at this point that skin care gathers much more importance than your make-up. And what better way to begin your spring skin care routine than with products that have been inspired by and those that incorporate the power & benefits of Ayurveda, the ancient Indian medical science that was developed thousands of years ago. Ayurveda is based on the premise that health and wellness of every individual depends upon a delicate balance between the mind, body, and spirit. It is this delicate balance that Vedantika Herbals promises to achieve through each and every product that they offer ensuring a natural soothing effect on your mind, body and soul.
Totally intrigued and inspired by Vedantika's products and the whole lot of natural benefits that they claim to bestow, I was excited to sample and review a few of their face products. And this what today's post is all about! So here goes: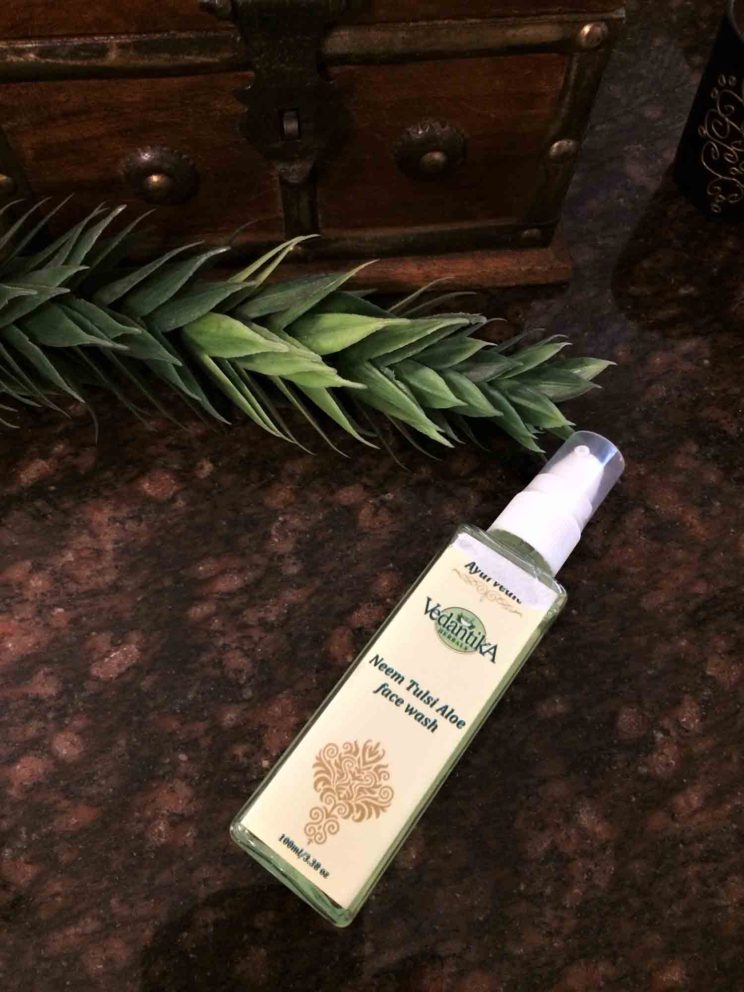 NEEM TULSI FACE WASH | 100ml | Liquid Gel | Rs. 199/-
Now I don't need to elaborate on how cleansing is probably the most essential part of any skin care routine. If you don't have a proper cleanser, then leftover makeup can live on your face overnight and over time age your skin. Vedantika offers a variety of face washes & cleansers to purify your skin. I loved their Neem Tulsi Face Wash which has all the goodness of Neem and Aloe combined in a single bottle. I have been using this face wash since the last good about 10-12 days and the difference is clearly visible. I can feel a naturally softer and smoother skin than ever before. Also my skin feels more hydrated and moisturized, thanks to the aloe vera and honey content of the face wash! I can experience a clearer and a toner complexion of my face after daily usage.
Some Other Highlights of Neem Tulsi Face Wash:
—The antibacterial and antiseptic properties of the ingredients are highly effective against pimples and acne.
—Suitable for all types of skin and excellent for oily and sensitive skin too.
—Rich in antioxidant which heals and repairs damaged cell.
—Extracts of neem, tulsi, and aloe vera is perfect for all skin disorders.
—Regular use visibly reduces blemishes, pimple scars and pigmentation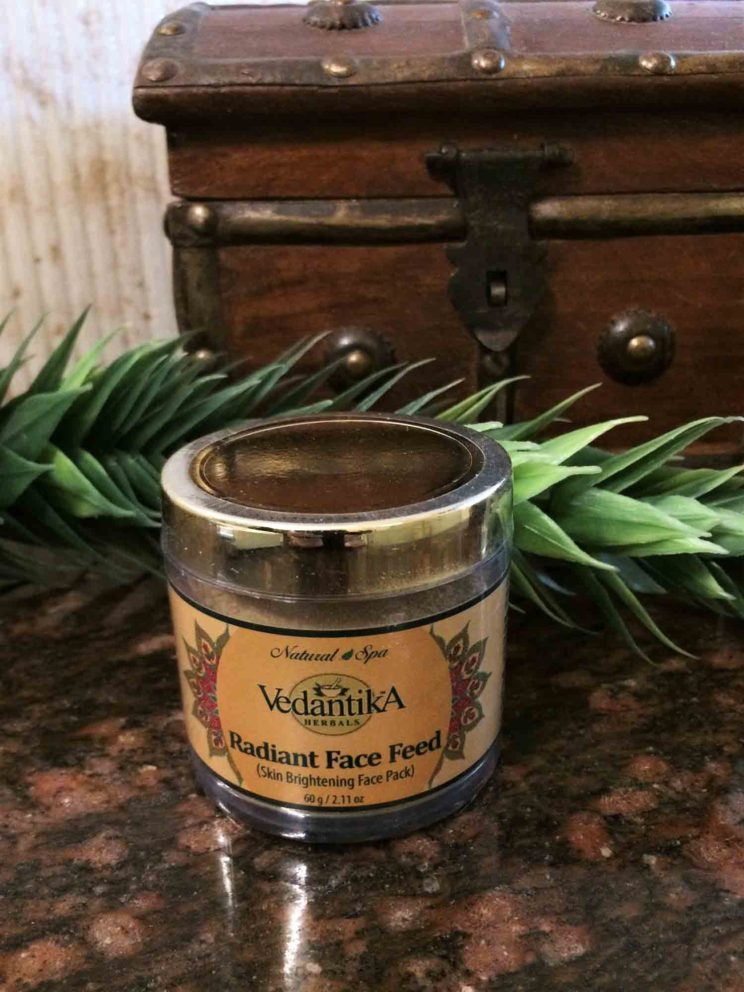 RADIANT FACE FEED | Face Pack | Rs. 599/-
Another important aspect of keeping your face skin healthy is maintaining its glow and fairness! More the natural glow, less the need for a make-up. A naturally, glowing skin automatically looks beautiful. So after making my skin soft & supple with the face wash, I tried Vedantika's Radiant Face Feed. It was very simple to use and most effective in rejuvenating my skin with an unparalleled glow. All I did was mix a little quantity with water and applied a layer of it evenly over my face & neck. I let it stay for about 5-7 minutes and then washed it. What I got after that was nothing less than magic! It was like complete revitalization of my face with an infused bout of energy and natural glow. Formulated with precious traditional herbs, Radiant Face Feed has skin firming properties too while making your skin vibrant and radiant. I think all credit goes to the fact that this face pack is 100% natural and chemical free and made purely from natural ingredients.You can easily make out the difference if you were to apply a chemical base face pack!
Radiant Face Feed is composed of:
—-Daucus Carota (Carrot seed extracts) – Known as its skin healing and rejuvenating
properties. It is soothing, relaxing and very beneficial in slow down ageing.
—-Calendula Officinalis (Marigold flower) – The herb stimulates the production of
collagen. It gives natural shine on your skin. It provides antioxidant protection that
reduces the appearance of wrinkles and ages spots, and even the visibility of scars.
—-Santalum Album – It has very calming and cooling effect on the mind and body. It
removes the excess oils and cleansing the skin pores, killing the bacterial infection on the
skin and moisturizing the skin to provide the radiant glow to it.
—-Multani Mitti – It is an excellent skin cleansing agent, ridding your skin of dirt, oil and
grime while its high absorbing properties leave the skin feeling soft and radiant.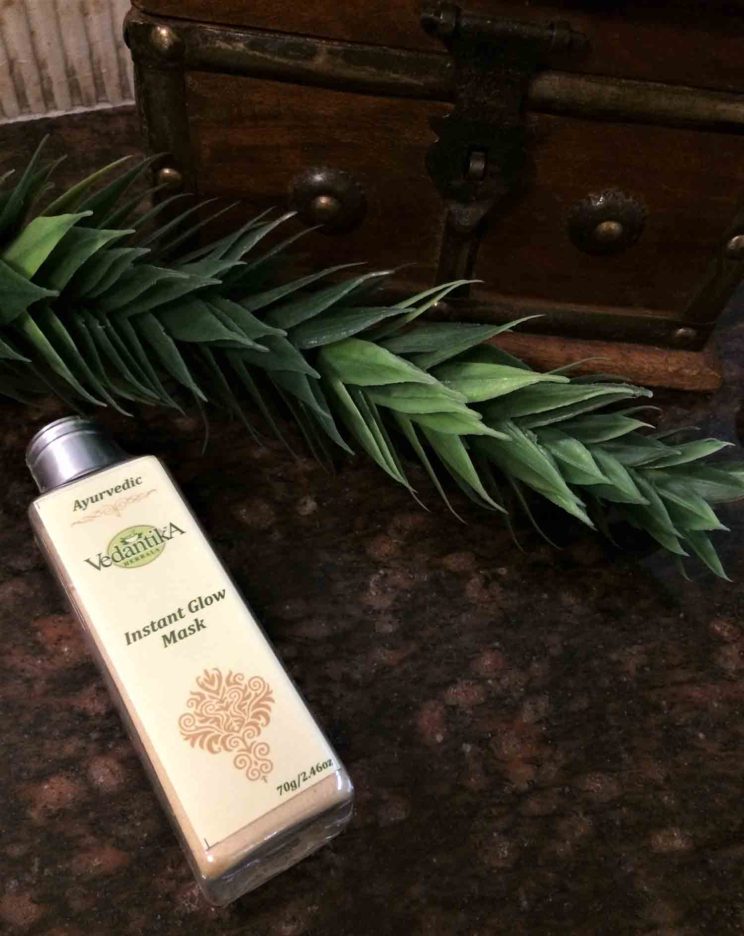 INSTANT GLOW MASK | 70g | Powder Form | Rs.250/-
Yet another popular Vedantika face product is their Instant Glow Mask. It's almost like the power of beauty packed in a small cute bottle with a promise of instant fairness, glow and rejuvenation of your skin, almost within minutes. With me working under pressure and tight deadlines almost all the times, this kind of skin care product suits me perfectly. It smells like camphor and is slightly grainy, almost like a scrub.The color & texture of the powder reminds you of sandalwood. It is indeed a quick way to revive, soothe and brighten tired and dull skin. Post application, I recall a soft, smooth, firm & youthful skin. I actually felt radiant and glowing from within! It was simply like all the goodness of nature in one pack.
Some Other Highlights of Instant Glow Mask:
—-Instant Glow Mask is good for all types of skin.
—-Main ingredients include Sympiocos Racemosa, Ocimum Sanctum, Berberis Aristata, Cinnamomum, Camphora, Myristica Fragrans, Santalum paniculatum, Rosa Centifolia & Fullers Earth.
—-Multani mitti (fullers earth) contained in this mask deeply cleanses clogged pores and purifies the skin.
—-Nutmeg fades out acne/pimples marks leaving the skin clear and fresh.
—- Tulsi with its anti-inflammatory, antibacterial and antiseptic properties keeps the skin germ, bacteria and infection free and prevents acne and pimple re-occurrence.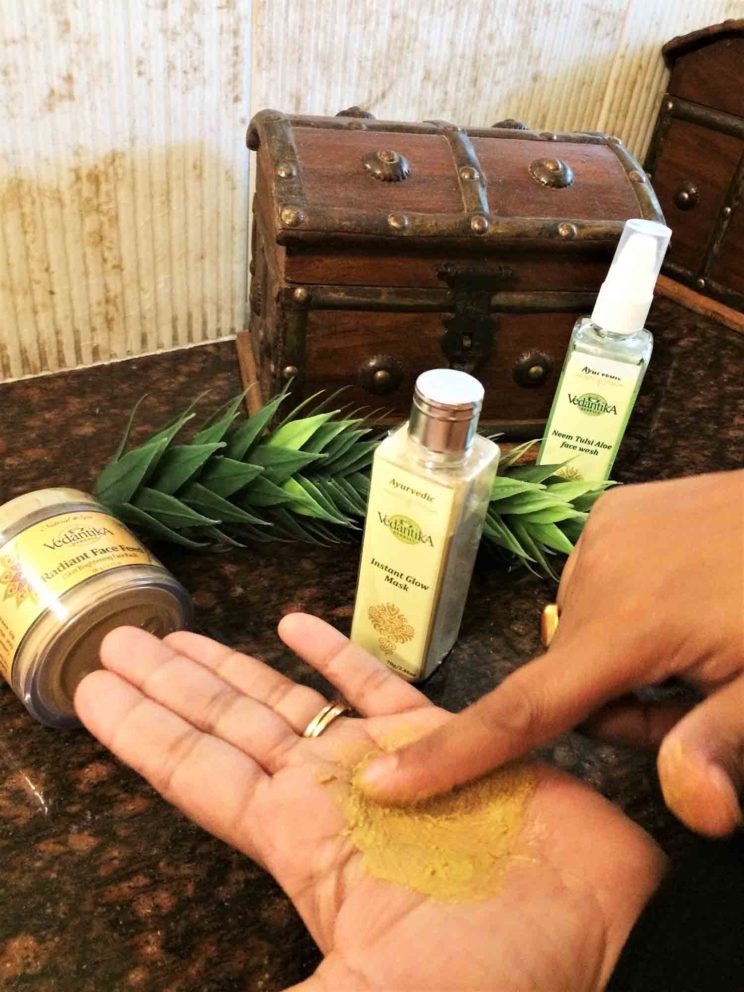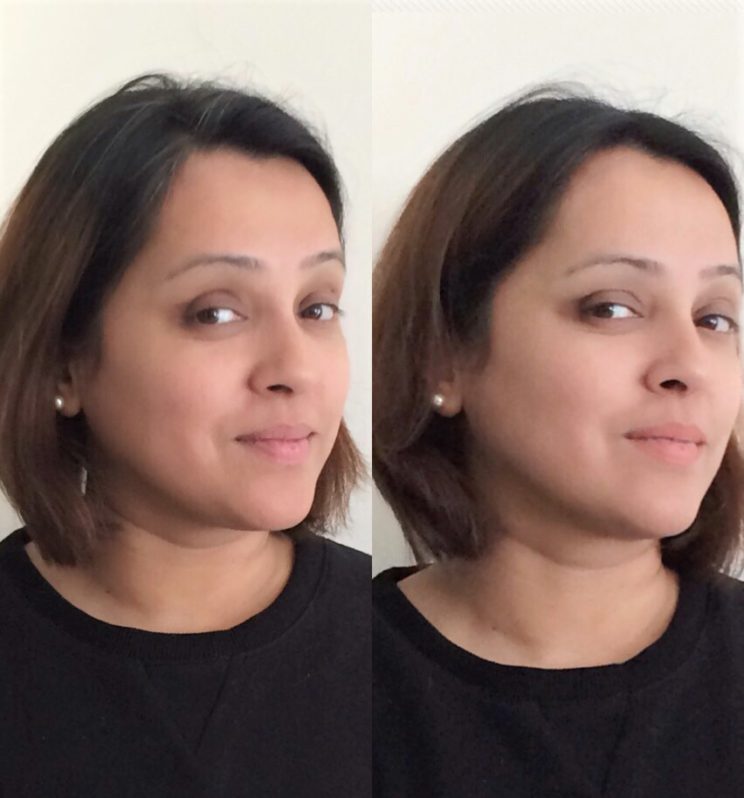 Pre & Post Application of Radiant Face Feed Pack
I am completely sorted with my skin care routine after using the Vedantika Herbal products. For a lazy person like me, who does not believe in going to parlors too often, these three face products are an absolute blessing. Plus I am not too much of a make up person. I firmly believe that maintaining a natural glow is far important than using all chemical base cosmetics to brighten up your skin. And honestly, using these 3 face products has made a huge difference to my skin! It feels hydrated, replenished and most importantly rejuvenated. I can't wait to try out the rest of Vedantika's products very soon. Must say that their approach to harnessing the ancient Ayurvedic wisdom to tackle modern day health and skin problems through their innovative, nature-based products, is totally commendable and the need of the hour!
For more information and for placing your order, click Vedantika Herbals